LAS Noticias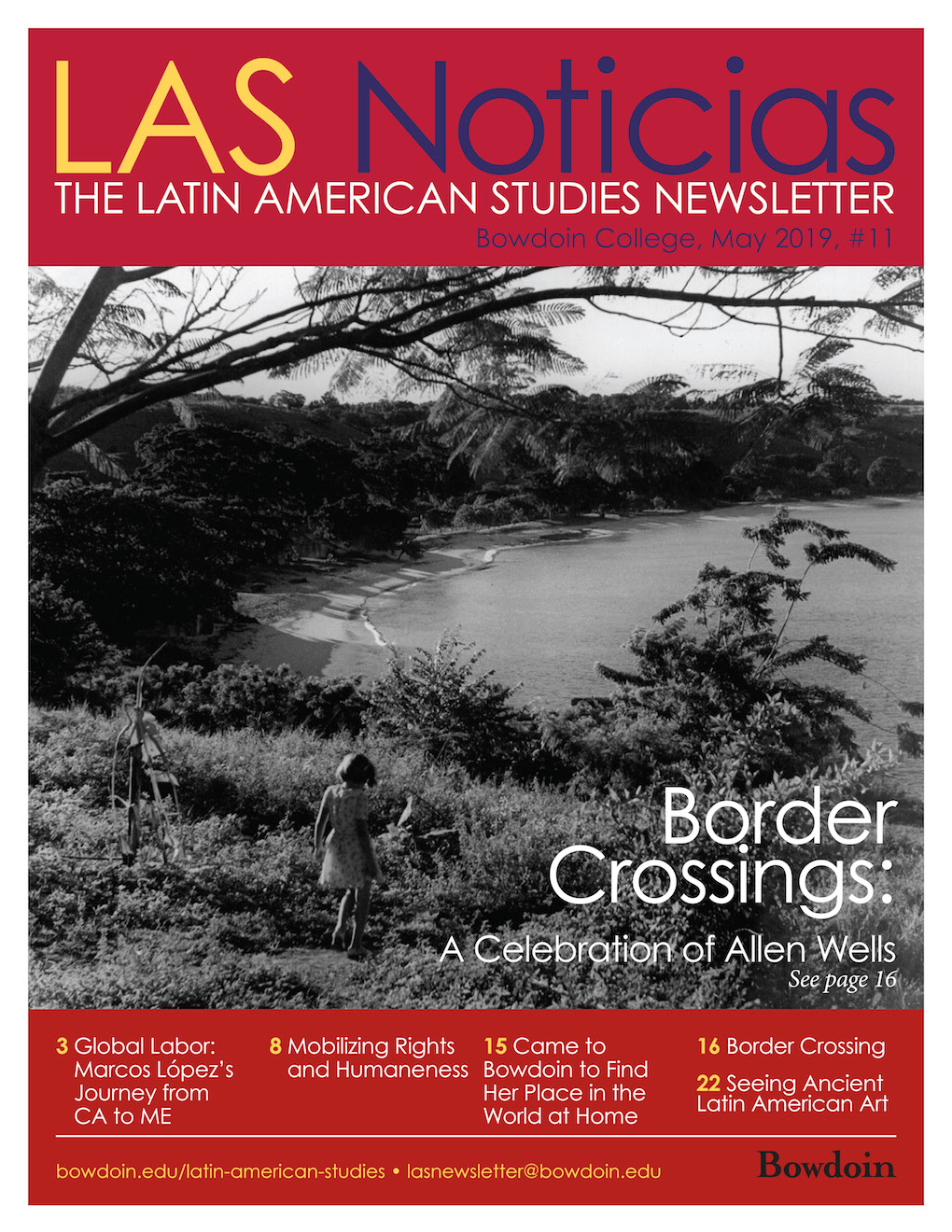 Dear Alumni, Students, Colleagues, and Friends:
With this version of LAS Noticias we are saying goodbye to the traditional printed form of our newsletter. We are pledging to build on the robust community of our students, faculty and alumni, through a more engaging and up to date website, currently under construction. For those of you who wrote contributions and submitted updates on your life year after year, we are deeply thankful for your support. We'll be in touch and will continue to keep you informed on your friends, professors and new passionate students and researchers of Latin American Studies at Bowdoin.
As usual, LAS Noticias brings you snapshots from a year full of intriguing courses, thoughtful student initiatives (page 11), exciting alumni adventures beyond Bowdoin (page 18), and thought-provoking events (pages 20, 21, and 24).
This number opens featuring Marcos López's contributions to the LAS Program, our curriculum and students, and to his field, captured in an interview by our new historian of Latin America, Assistant Professor Javier Cikota (page 3). Our piece on Susan Wegner's course (page 22) gives you a taste of the amazing work that our professors lead in the classroom. We also continue to celebrate our faculty members' groundbreaking research and numerous achievements (page 5).
Expanding on our faculty news, let me share that, in the 2019–2020 academic year, LAS will continue to experience some renovation. Our postdoctoral fellow, Marcio Siwi, will leave us to assume a tenure-track position at a Towson University. After three years with us, Sebastian Urli will transition into an Assistant Professor line in Hispanic Studies, where he'll continue to delight both his students and colleagues with his passion for poetry and his expertise in the Southern Cone. Professor Ireri Chávez-Bárcena, a specialist in Colonial Latin American music, will join the Department of Music, where she will teach a course titled "Experiencing Latin American Music". Meanwhile, Irina Popescu, who came to us last year also as a postdoctoral fellow, will assume a position as a Visiting Assistant Professor. Irina will widen her repertoire by teaching an advanced seminar in the Fall on "Women, Activism and Performance in Latin America." LAS faculty as a whole will be also working on the design of a new introductory course featuring contributions representative of our diverse areas of research and disciplinary backgrounds.
Turning to our students, we are highlighting Brandon Morande's inspiring work about homeless people in Latin America and the United States (page 8), among other fascinating samples of ours students' engagement with Latin American realities beyond the classroom (page 11). We had an extraordinarily fruitful season of summer research projects, six of which have been awarded LAS Fellowships this year. We look forward to the outcomes of our students' explorations of media, dance, literature and social aspects of Argentina, Colombia, the Dominican Republic, Brazil, Texas and the Francophone Caribbean (page 12). Thank you faculty for your advising of these fabulous projects. This number brings us also the reflections of members of our Latin American Students Organization—LASO, on their experience and leadership at Bowdoin (page 13).
Finally, I am faced with the bittersweet duty of saying goodbye to Allen Wells, who is formally retiring this year. Allen, none of my words could suffice to express our appreciation for the incredible gifts you gave each of us, as a professional, and as a dedicated, inspiring, and unforgettable educator and mentor, both to our students and to your colleagues. Our readers will hear echoes of your impact on each of us over decades of teaching, through the piece on the symposium that the Department of History and the Program of Latin American Studies hosted on your honor last Fall (page 16). I have convinced myself, after long denial in face of your departure, that you'll be always somehow around, lending us your wisdom when in need. We know as well that you will continue to enlighten us with your research as you publish your current book project, and more. Nevertheless, we all wish you lots of free and fun time. You have earned it through a life of giving! Keep enjoying the growth of your grandkids, and the love of your extended family of friends, colleagues and mentees.
Cordialmente,
Nadia Celis
Program Director, Latin American Studies