Published July 27, 2023 by Tom Porter
Summer Fellows Embrace Kent Island Life in Stewardship Program
After graduating in May this year, Charlie O'Brien and Reed Warburton decided they weren't quite done with College yet and chose to spend the summer at the Bowdoin Scientific Station (BSS) on Kent Island, learning how to live off the grid.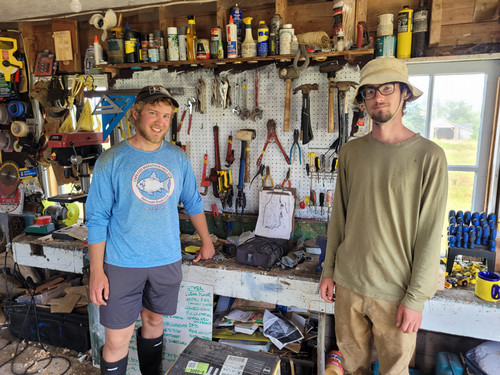 Earth and oceanographic studies major O'Brien and Warburton, who majored in biology and psychology, are capping their Bowdoin experience with an immersive fellowship learning how to be island stewards on this isolated strip of land in the Bay of Fundy, where every summer a handful of students spend a couple of months doing (mostly) ecological research.
"The Island Stewardship Fellowship is a summer opportunity offered by the BSS during which students learn a wide range of skills related to living on a remote island off the grid," said Assistant Professor of Biology and Patty Jones, who is supervising the fellowship. Jones is also director of the BSS on Kent Island, a 200-acre parcel of land that has been in Bowdoin's possession since 1936, when John Sterling Rockefeller donated it to Bowdoin in exchange for a dollar and a promise that the College would maintain it as a bird sanctuary.
"Island stewards engage in discussion and planning about infrastructure and land management," continued Jones, "and they gain skills in carpentry, solar power maintenance, boating, project management, and forestry." The stewards are involved in the creation and maintenance of scientific equipment for all types of research,  she explained, including intertidal, ornithological, and meteorological (the BSS maintains its own weather station!).
Each fellow has a particular subproject they are more focused on, depending on their interests. O'Brien has been looking at how to remove invasive plant species, while Warburton explored a variety of areas, including providing infrastructure and physical space for scientists and artists in residence, as well as troubleshooting new scientific equipment for ornithological and weather studies.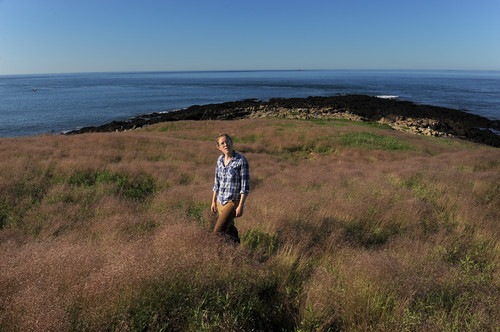 "Being an island steward has been an intensely rewarding experience," said Warburton. "Most of the projects we do have a direct positive impact on the other student's lives and work, and that makes even the harder tasks worth it."
O'Brien said he has enjoyed tackling projects that help keep scientists functioning at their best. "Learning about the science that is happening and playing a small role in it is a privilege," he added. "I think the community we have made on the island makes the more difficult responsibilities worth the trouble. Furthermore, I have learned practical skills and gained self-knowledge during my time here."
"This fellowship is important because it is a unique opportunity to understand all the mechanics of remote living and skills in restoring and repairing infrastructure and equipment when there is limited access to supplies," explained Jones. "As with all our fellowships," she added, "they are also involved in all aspects of research, participating in every study system." The breadth of experience offered to all Kent Island residents informs the other tasks they perform, she said. "Kent Island is a sum of its parts: The land, the people, the research, the art, the community, and the infrastructure work in concert to make what we do possible. As with the artist in residence, the island stewards provide a unique perspective on the program, history, and community."