"Fogseeker" Gift Secures Future of Kent Island Weather Station
Published by Tom Porter
"We use it every day," said New Brunswick fisherman Russell Ingalls, when asked how important the Kent Island weather station is to those who ply their trade in the often stormy waters off Grand Manan in the Bay of Fundy.
Ingalls and his colleagues check their phones every morning before heading out to sea, casting an eye over the latest weather data from the Kent Island station, which monitors wind speed and humidity, and which, through a live webcam feed, tells the fishermen exactly what they need to know about the condition of the ocean (or "sea state," as it's known.)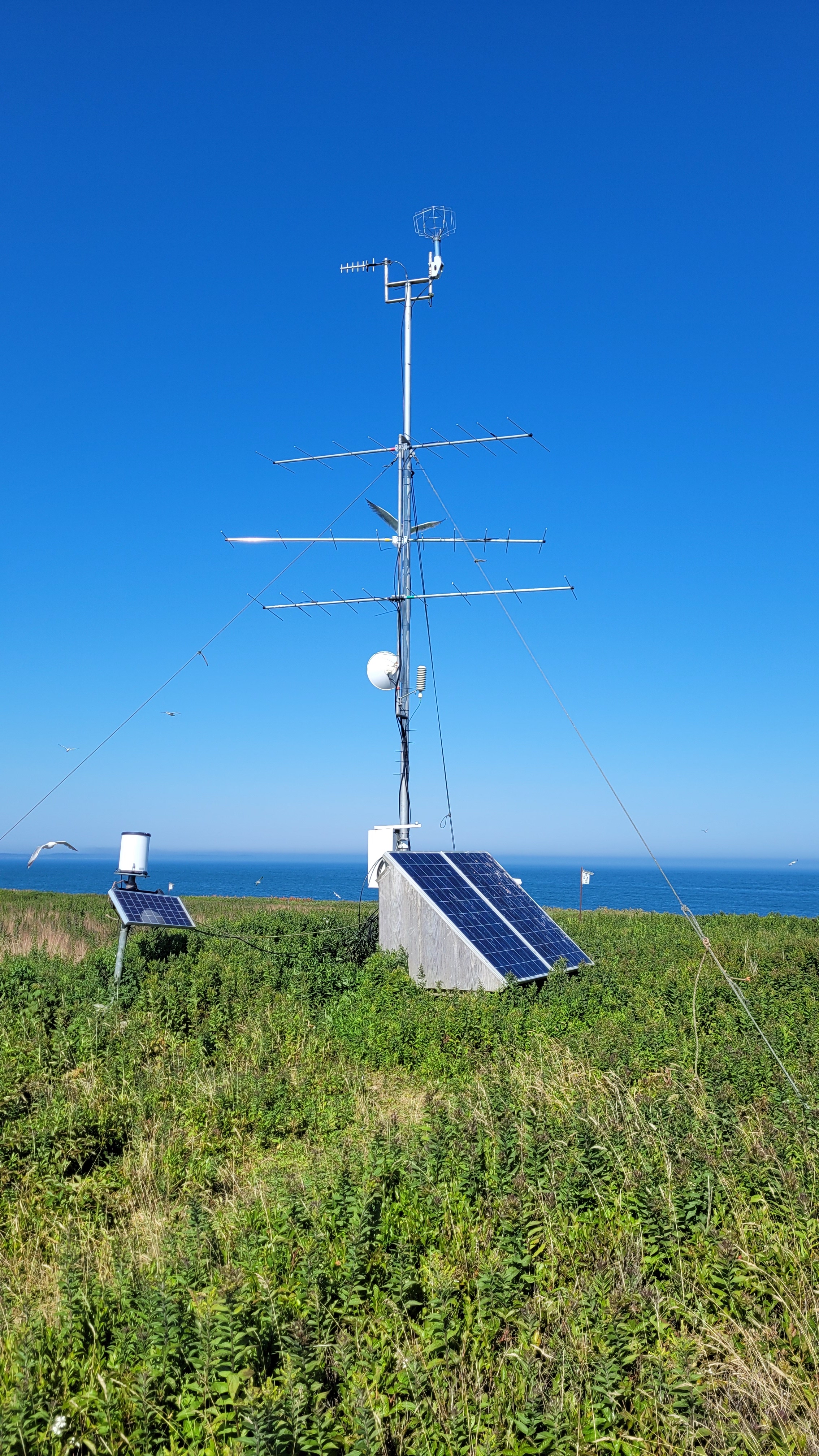 "Right now, it's the only possible way to judge the sea state out there without being on the water. Everybody uses the weather station, and we all really appreciate it," said Ingalls, who is also the year-round caretaker of the Bowdoin Scientific Station on Kent Island, which is about seven miles south of Grand Manan Island.
The current weather station, which also supplies valuable meteorological data to scientists, has been in operation since 2013, when it was built and installed by Jim Cunningham, son of cloud physicist Robert ("Bob") Cunningham, who spent seventy summers on Kent Island recording weather data and studying fog chemistry.
Thanks to a generous gift from Jim Cunningham, who lives in Massachusetts, the weather station's future is secure. The younger Cunningham's gift establishes an endowment called the Fogseeker Fund, which will pay for important upgrades to the weather station's sensors as well ensuring its continued maintenance.
"The Bowdoin Scientific Station has been such an important part of my family," said Jim Cunningham. "This is my way of continuing that work in hopes that future generations of scientists will learn and benefit."
The fund was set up by Jim in honor of his father, whose nickname was Fogseeker (named after his boat) and who died fourteen years ago aged eighty-eight.
According to his obituary
, Bob Cunningham first went to Kent Island as a teenager in 1937s, when he was hired by Bowdoin College to milk the cow that lived at the newly established field station. A keen weather watcher even then, he began recording weather data in a notebook. He returned regularly to Kent Island for the rest of his life, earning a PhD from MIT and becoming an internationally regarded cloud physicist along the way.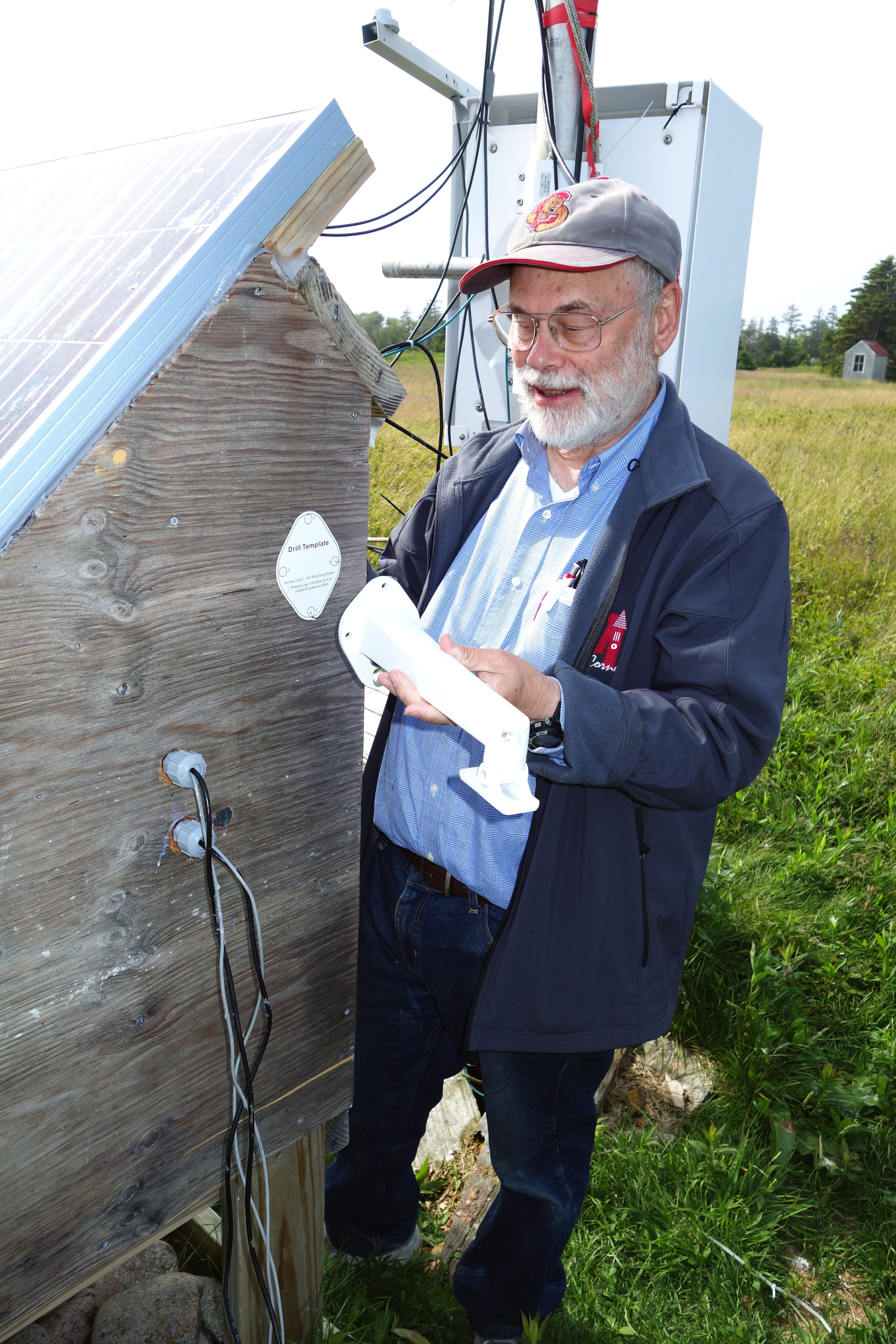 Cunningham, who often worked alongside Bowdoin students at the scientific station, was a much-loved fixture on the island, known for his apparently innate ability to gauge the weather, recalled Anne T. and Robert M. Bass Professor of Natural Sciences Emeritus Nathaniel Wheelwright, who himself spent many summers on Kent Island, directing student research.
"After spending so many decades on Kent Island staring at the clouds and fog, Bob had developed an uncanny sixth sense about its weather. I remember one early May morning when my students and I were setting up mistnets to band birds in the North Field. It was sunny and mild, T-shirt weather. We noticed Bob scrutinizing the sky, then he muttered to himself, 'I think it's going to snow.' Sure enough," said Wheelwright, "an hour later the wind picked up and we had to scramble to take down the nets in a snowy squall."
As well as being important for the local fishermen, the weather station provides an invaluable resource for researchers. An enormous volume of data is collected on Kent Island, a regular nesting spot for migratory birds like the Savannah sparrow and the Leach's storm petrel, said Assistant Professor of Biology Patricia Jones, who is also director of the Bowdoin College Scientific Station. "As well as the bird data, we have data on terrestrial insects, and it's really important to have a record of weather data to study how climate affects animal populations." For example, she explained, if you know how many eggs a certain bird species produced in a particular summer, you also want to know how hot it was. "In order to study the long-term effects of climate change, you need the weather data," stressed Jones. "Having high quality local weather data from the same site makes our long-term datasets on bird populations extraordinarily informative."
The current weather station records air temperature, ground temperature, windspeed, humidity, rainfall, solar radiation, and barometric pressure, as well as employing webcams to monitor sky and ocean conditions. All this information is recorded, said Jones, meaning historic data going back to 2013 are available to researchers. Before 2013, there are written records dating back to 1937, when Bob Cunningham started taking notes in between cow-milking duties.
The next chapter in the story of the weather station is an exciting one, said Ian Kyle, assistant director of the Bowdoin College Scientific Station. The upgraded facility should be rugged enough to operate year-round, exposed to challenging conditions in a location that is unoccupied for half the year, including the bleak winter months. "The biggest problem we had in keeping the station operational all year," he said, "was having a consistent and reliable power supply, but thanks to a new and improved solar power system—again funded through a gift*—this has now also been solved."
Furthermore, said Kyle, the Fogseeker Fund is paying $11,000 for the installation of one new air quality sensor, which will bring the station up to the standard of what you would find at any modern airport. The new equipment, he explained, will enable the station to measure atmospheric conditions in even more detail, with a greater level of accuracy. "We'll be able to detect very small particles and measure levels of sulfur dioxide, nitrogen oxide ('sox' and 'nox') and particulate matter (PM10 and PM2.5) in the air." All of which will enable an even deeper understanding of fog chemistry, building on Bob Cunningham's original research on air quality which became a reference for standards in the Clean Air Act of 1970 .
*Paid for by the Andrew Towle and Patricia O'Brien Towle '76 Fund for Kent Island.
Editor's note: Shortly after this story was published, Jim Cunningham died on September 2, 2022, in Lincoln, Massachusetts, after living with pancreatic cancer. He was 73.