Irma and William Thalheimer '27
In 1981, Irma and Bill Thalheimer '27, deeded their Orr's Island property to Bowdoin with the provision that they could continue to enjoy it for the rest of their lives.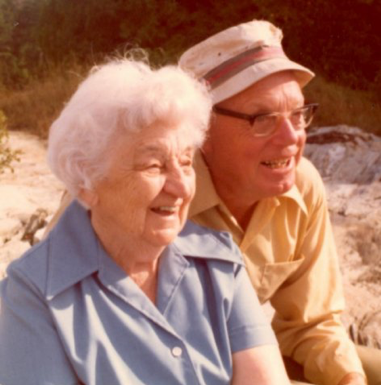 Located 12 miles from campus, the property contained 118 acres of fields and forests, nearly two and half miles of undeveloped ocean frontage wrapped around two peninsulas in Harpswell Sound, and a well-maintained farmhouse and barn. The Thalheimers' purchased the property for their summer home and then moved there in retirement. Bill died in 1986 and Irma died in 1994.
Now home to Bowdoin's Schiller Coastal Studies Center, the former Thalheimer property is the site of the Bowdoin Marine Science Semester. BMSS students and faculty take advantage of on-site resources including: the farmhouse (for classroom and digital computation work); terrestrial laboratory; marine laboratory (with flowing seawater); and, docks and piers.
The property also includes the Bowdoin sailing center and five miles of hiking trails. The Thalheimers' careful stewardship of this remarkable property resulted in the College becoming only the fifth owner of this pristine land in over more than 120 years. With their gift of this property, Bill and Irma left a legacy to both Bowdoin and Harpswell. The generosity of the Thalheimers has allowed Bowdoin to offer an exceptional and unique academic experience to Bowdoin students now and in the future.
---
Please note that we are prohibited from giving legal or financial advice and none of the information above should be interpreted as such. We encourage you to consult with your own legal counsel or financial advisor before deciding whether or not to proceed with a gift.