Events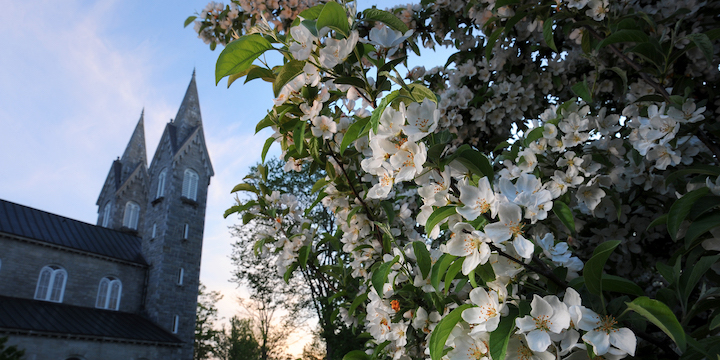 Upcoming Virtual Events and Programs
For the time being, all in-person gatherings have been canceled. Please visit the COVID-19 FAQ page for Alumni for more information about Bowdoin events and visitors to campus.
Santagata Lecture: An evening with Jonah Goldberg and Mara Liasson
Two of America's most brilliant and experienced political analysts and reporters, Jonah Goldberg and Mara Liasson, share the stage to deliver clear-cut analysis on the headlines impacting the race for the White House in 2020.
Goldberg is a popular syndicated political columnist, former National Review senior editor, and best-selling author. He offers audiences a bold, provocative critique of the political landscape with an approach that centers on liberal and conservative ideologies, economic policy, and the changing role of modern-day media. 
Liasson is best known for her work as National Public Radio's former White House correspondent and for her reporting on NPR programs such Morning Edition and All Things Considered. Fearless in her opinion, she offers audiences a perceptive view of the candidates and the issues of the 2020 campaign. 
The discussion will be moderated by Andrew Rudalevige, Bowdoin's Thomas Brackett Reed Professor of Government.
There will be an opportunity to ask questions before or during the talk. To do so, please email your question to jadolf@bowdoin.edu.
Monday, September 21st at 7:30 PM EDT
View Livestream
Conversation with President Clayton Rose and Trustee Phil Schiller P'17
Please join us for a conversation with President Clayton Rose and Bowdoin trustee Phil Schiller P'17. Phil recently advanced to a role as an Apple Fellow after more than thirty years with Apple, where he has been involved in the conception and design of some of the company's most important products—among other innovations, he is credited with the idea for the original iPod's click wheel interface—and where he oversaw worldwide marketing and the App Store. Apple CEO Tim Cook said of Phil, "Phil has helped make Apple the company it is today, and his contributions are broad, vast, and run deep." Phil and his wife, Kim Gassett-Schiller, are the parents of Mark Schiller '17. A 2017 gift from the Schillers launched a new phase of development for coastal studies and research at Bowdoin, and the Schiller Coastal Studies Center is named in their honor.
Friday, October 2nd at 4:00 PM EDT
Register
Bowdoin Coffee Break featuring Linzee Troubh '09
Join Linzee Troubh '09, Director of Development, Film & Television at The Atlantic, for a discussion of film and television production. Linzee is responsible for mining the magazine's 163 years of archives to identify potential stories to be adapted for the screen. Prior to joining The Atlantic in 2019, she spent two years in a similar position at BuzzFeed, where she received an Emmy nomination as Executive Producer of Netflix's Follow This. Before BuzzFeed, Linzee was the Head of Sales at Cinetic Media for almost seven years, working on dozens of independent features and documentaries including Boyhood, Exit Through the Giftshop, The Babadook and Amy. She began her career at the Tribeca Film Center.
Tuesday, October 6th, 2020 at 8:30 PM EDT
Email Denise Zavitz to register.
Beyond the Reading Room: Archives in the World with Book Artist Maureen Cummins
Maureen Cummins has cranked presses from California to the Eastern Arctic and has produced over forty limited edition artist's books, many based on historical research. She has created projects based on slave narratives, the Salem witch trials, the gendered history of lobotomies, and interviews with Syrian and Iraqi refugees. Cummins currently lives and works in Mt. Tremper, NY. Join us for a lively discussion with Cummins on how archival research informs her art practice and to celebrate book arts!
Thursday, October 16th at 10:00 AM EDT
Register
Virtual French Wine Tasting with Tom Wilcox '09
Bowdoin Community in Boston: Join Tom Wilcox '09, founder and owner of Ansonia Wines, for a Saturday afternoon Zoom wine tasting this fall. Pick up your five 5oz samples at noon from one of two pickup points – South End Boston or Newton – and then join Tom at 4:00 PM on Zoom as we taste through the wines together. Not in Boston but still want to join in the fun? Contact Tom for details and pricing to have full bottles shipped to your US address.
Ansonia Wines is a boutique importer/retailer specializing in small-batch wines from family wineries around France. The tasting lineup will include wines from Burgundy, Bordeaux, Loire Valley, & Rhône Valley.
$40/person | Saturday, October 17th at 4:00 PM EDT
Register
Beyond the Reading Room: Archives in the World with Sociologist Pamela Zabala '17
Learning from the Past?: An Archival Exploration of Bowdoin's Racial History. In this presentation, Pamela Zabala '17 highlights the role of archival research in her 2017 honors project on incidents of racial bias at Bowdoin. She will discuss how access to archival materials allowed her to contextualize the incidents at the center of her project within the broader historical context of race and racism at Bowdoin. She will also discuss some of her current graduate research on race and discuss the pros and cons of using archives in sociological research.
Thursday, October 22nd at 12:30 PM EDT
Register