Events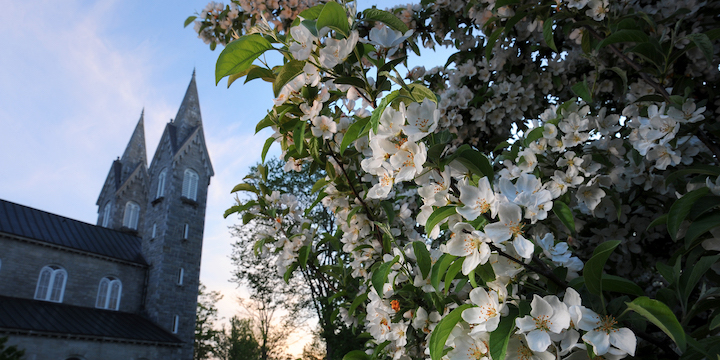 Upcoming Virtual Events and Programs
For the time being, all in-person gatherings have been canceled. Please visit the COVID-19 FAQ page for Alumni for more information about Bowdoin events and visitors to campus.
Beyond the Reading Room: Archives in the World with Don Westfall '72
Join Special Collections and Archives staff and alumnus Don Westfall '72 for a discussion of his extensive research in the College archives on Bowdoin's historic acquisition of land in Maine.
This virtual lecture series features artists, scholars, and Bowdoin alumni who rely on archival research for their work. Each speaker has a connection to Bowdoin Library's George J. Mitchell Department of Special Collections & Archives, either having consulted our collections or having their own work represented therein. Join us to learn more about the role of archives in scholarship and creative practices.
Thursday, December 3rd at 9:30 AM EST
Register
Conversation with President Clayton Rose and Kenneth Chenault '73, H'96
President Clayton Rose speaks with renowned leader and business strategist Ken Chenault '73, H'96, former CEO of American Express, now chairman and managing director at venture capital firm General Catalyst and board member at Airbnb, Berkshire Hathaway, and more.
Thursday, December 3rd at 4:00 PM EST
Register
Quarantine with Netfilx Queer Eye's Jonathan Van Ness
Jonathan Van Ness is an Emmy-nominated television personality, podcaster, and hairstylist to the stars. He can be seen starring on Netflix's "Queer Eye" and Funny or Die's "Gay of Thrones." Join him as he entertains Polar Bears with stories and answers questions on Zoom. The conversation will be moderated by Chanel Matthews '21 and David Calzadillas '23.
Saturday, December 5th at 8:00 PM EST
Networking Event with Bowdoin's Native American Students Association
The Native American Students Association (NASA) invites all current and past NASA members and Native American-identifying students and alumni to a NASA Alumni Networking event. NASA will share highlights of the group's current work and photos from the NASA scrapbook, and students and alumni will have a chance to meet up in breakout rooms. 
Tuesday, December 8th at 8:00 PM EST
Register by emailing NASA co-leader, Amanda Cassano '22  at acassano@bowdoin.edu
Celebrate the Season with Bowdoin College
Whip up your favorite Bowdoin treat, sit back, relax, and celebrate the season with Bowdoin!
The show will feature performances by: Claude Bonang '52, Victor Fields '75, members of The Photons (Jim Jenson '82, Randy Shaw '82, Keith Shortall '82, and Doug Taylor '82), Matt Roberts '93, Samantha Farrell '05, Coretta King '12, Allen Wong '14, Anne McKee '20, Finnegan Woodruff '21, Henry Jodka '24, Randy Nichols, Bowdoin's executive director of safety and security, and more!
Thursday, December 17th at 7:00 PM EST
Register