Carbon Neutrality
"By achieving carbon neutrality two years ahead of schedule, Bowdoin College is demonstrating the leadership and innovation needed to help meet the shared goals of the Climate Leadership Network."
—Tim Carter, president of Second Nature
In June 2007, Bowdoin joined 270 colleges and universities in signing the American College and University Presidents Climate Commitment and pledged to achieve carbon neutrality by 2020. In April of 2018,
carbon neutrality was achieved
two years ahead of schedule, making Bowdoin only the third college in the country to have achieved its commitment.
Through a variety of energy projects, campus engagement, and a greening of the Maine electrical grid, the College has reduced its onsite carbon emissions by 29 percent—surpassing its original goals. To achieve this emissions reduction milestone, the College has updated much of its campus infrastructure. These projects have included installing a cogenerations turbine, converting buildings from oil to natural gas, insulating pipes, and replacing thousands of lights with efficient LEDs.
To account for our remaining emissions, Bowdoin is investing in carbon offsets with regional impacts, and in renewable energy credits (RECs) associated with wind farms. These tools will help the College maintain a net-zero carbon footprint as it continues to actively pursue ways to reduce its greenhouse gas emissions. In 2019, after launching a campus-wide initiative to gather input from students, staff, and faculty, Bowdoin will present an updated Climate Action Plan, with specific goals to meet by 2030.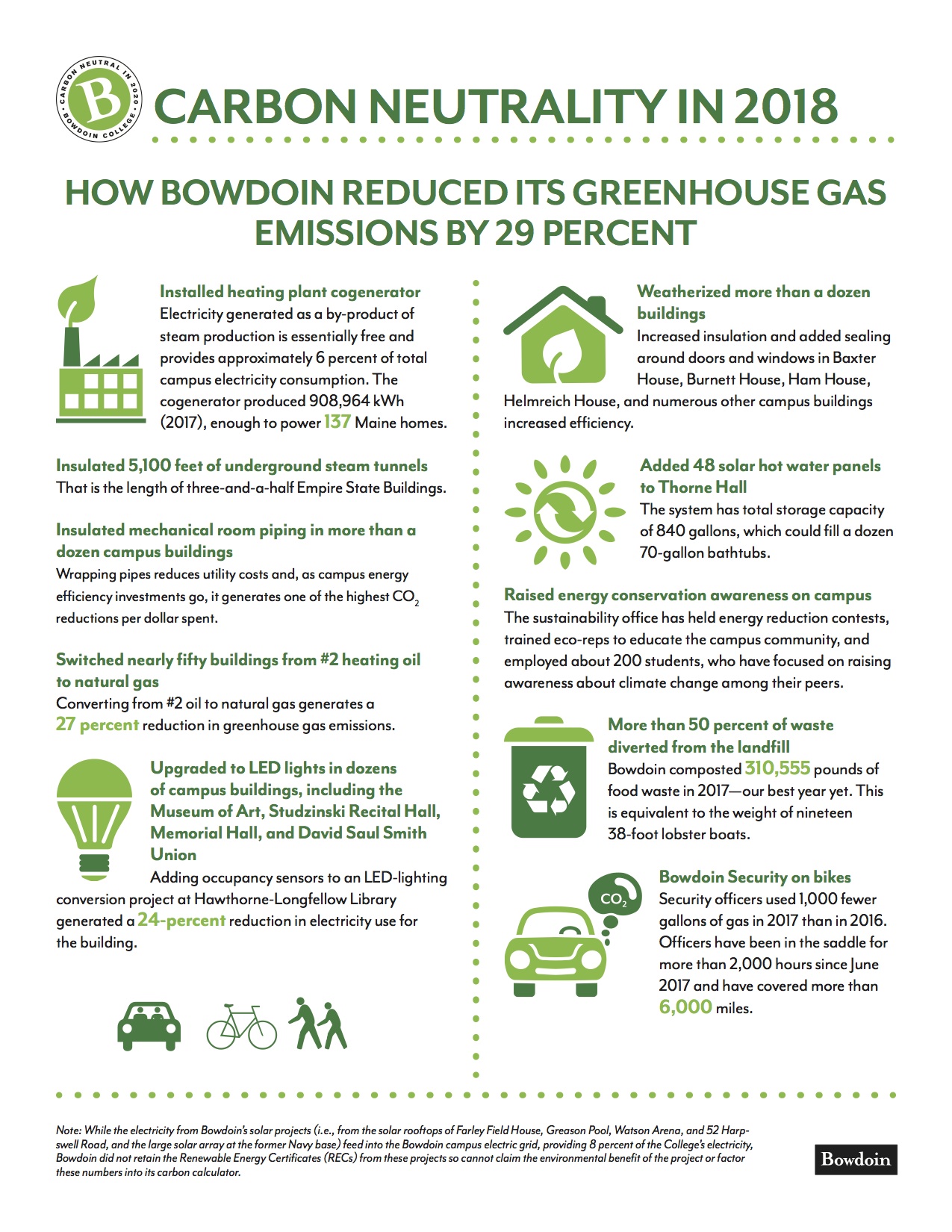 Looking Forward: The 2030 Climate Action Plan
Now that Bowdoin has reached its goal of carbon neutrality, it will continue to work on decreasing its reliance on fossil fuels. Over the 2018-2019 academic year, the Office of Sustainability will gather feedback from the Bowdoin community to develop specific 2030 sustainability goals and a plan to meet them. Through community forums, hosted discussions and events, and tabling in Smith Union, students will be able to have a voice in the planning process.