Honors Projects
Highly qualified sociology students may choose to pursue a year-long honors project in their senior year.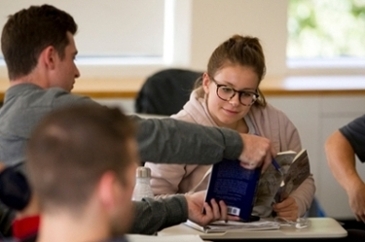 HONORS: General Guidelines:
(Please note: the Sociology Department has recently made some changes to the Honors process, so please read carefully).
Completing an honors thesis under the guidance of a faculty member in the department offers a unique opportunity to explore a topic of special interests and hone research and writing skills.  Successful projects develop out of students' intellectual passions, self-directed research efforts and determination, willingness to seek out the particular expertise of faculty members, ability to listen to advice and revise and rework ideas within the framework of these standards and deadlines.

To earn Honors in Sociology, a student is required to complete a written project of roughly 30 pages that is based on independent research and demonstrates the ability to clearly articulate a research question, critically synthesize and evaluate various theoretical perspectives and methodological approaches, sustain an argument with appropriate evidence, and situate findings into key sociological debates. Research projects may be based solely on an analysis and synthesis of secondary sources or may integrate secondary and primary data collection and analysis. Honors work requires students to work creatively and independently. Students considering honors work are strongly encouraged to apply for a summer research fellowship before their senior year. At the same time, students should expect to refine goals and revise written text in response to faculty suggestions.

To pursue honors, students must maintain a minimum GPA of 3.5 in the courses taken for the major to be eligible for honors. An Honors Project usually involves two semesters of independent study under the direction of a faculty advisor. Interested students must submit a proposal in the spring of their junior year. Proposals for spring 2020 are due 7 May 2020. For more information on honors, click here.
Recent Honors Research Topics
Social interactions and behavior at a local skate park and teen center
The changing potato industry in Northern Maine
Educational experiences of 1.5 generation Somali immigrants
Migrant strategies for navigating the US/Mexico border