Associate Professor of Romance Languages and Literatures
Katherine Dauge-Roth's scholarly interests span the literature, history and culture of early modern France and the French Atlantic colonies. Her research areas include the history of the body, material and print culture, demonology and mysticism, the history of medicine and astronomy, popular beliefs and practices, and representations of women and gender. She is the author of Signing the Body: Marks on Skin in Early Modern France (Routledge, 2020), which examines the body as written and imprinted by forces both natural and supernatural, through chapters on the devil's mark on witches, self-inscribed stigmata, tattooing in the Americas, Holy Land pilgrim tattoos, and judicial branding. Professor Dauge-Roth is currently editing with historian Craig Koslofsky an interdisciplinary volume on Stigma: Marking Skin in the Early Modern World.
During her 2019-2020 research leave in Paris, she is preparing her next monograph, Lunatics: Men, Women and the Moon in Early Modern France, that puts into dialogue early modern scientific, popular and literary texts and images that used the moon to reinforce or challenge traditional gender roles. She serves as the Executive Director of the Society for Interdisciplinary French Seventeenth-Century Studies and the President of Bowdoin's Alpha of Maine chapter of Phi Beta Kappa.
Professor Dauge-Roth enjoys sharing her research interests with her students in seminars on the history of the body, representing the occult, and the fait divers in journalism, literature, and film. She regularly teaches the section's innovative "Spoken Word and Written Text" survey that examines oral as well as written sources from the Middle Ages through the abolition of slavery in 1848 to tell a more complete story of what will become the Francophone world. In "Contemporary France through the Media," her students navigate the politics and pressing social issues facing France today though multi-media units drawn from the current French press and hone their argumentation skills.
Katherine Dauge-Roth is deeply committed to inclusive pedagogy and to the development of her students' linguistic and cultural fluency, critical analysis, presentation, and writing skills across the curriculum, from beginning language courses through upper-level seminars. She won the Karofsky Teaching Prize in 2005 and has authored and co-authored several articles on teaching the early modern period and contemporary France.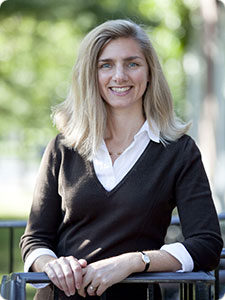 ---
Education
PhD in French Literature, Department of Romance Languages and Literatures, The University of Michigan
MA in French Literature, Department of Romance Languages and Literatures, The University of Michigan
DEUG in Lettres Modernes, Université de Caen
AB in French and History, Colby College