New Book Explores Significance of Skin Marking in Early Modern Era
By Tom Porter
Associate Professor of Romance Languages and Literatures Katherine Dauge-Roth has coedited a collection of essays examining this relatively new area of academic study.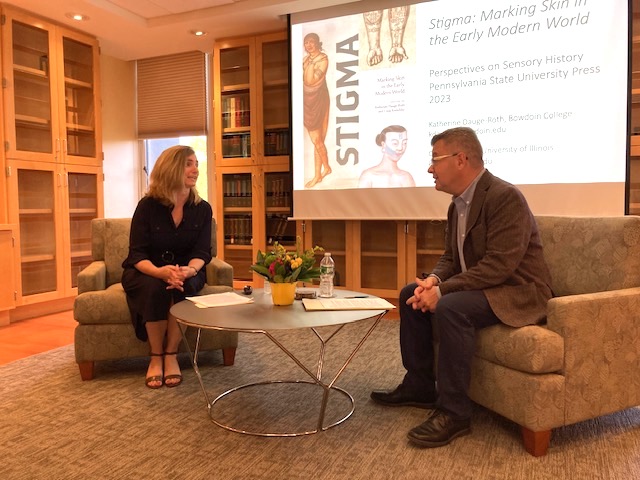 Whether it's through tattooing, branding, beauty marks, or scarring, by the eighteenth century, skin markings had become an important mark of identity, she said.
Dauge-Roth, whose expertise includes the history and culture of early modern France and the French Atlantic colonies, has teamed up with historian Craig Koslofsky from the University of Illinois to compile Stigma: Marking Skin in the Early Modern World (Penn State University Press, 2023.) [NOTE: A paperback version will be out in January 2024.]
The book's ten essays examine how the distinctive skin marking practices of Asia, Europe, Africa, and the Americas began to circulate and reshape one another in the early modern world.
"Scholars are finally paying attention to the importance of our largest organ," said Dauge-Roth at a recent book launch event she and Koslofsky held on the Bowdoin campus. "A protective yet porous layer that lies between the individual and the world around them," she continued, "skin is a highly visible surface, but its meanings are far deeper than we may think."
She paid tribute to the "vitally important work" now being done in critical race studies and skin studies that opens up "new and urgent questions" for contemporary scholars to tackle, given the central role of skin in our society today—"be it in the persistent racist assumptions made and violence perpetrated because of the color of a person's skin, or in the tattooed bodies we all encounter daily as part of an extraordinary tattoo renaissance that we're experiencing in this twenty-first century," added Dauge-Roth, who is also author of Signing the Body: Marks on Skin in Early Modern France (Routledge, 2020).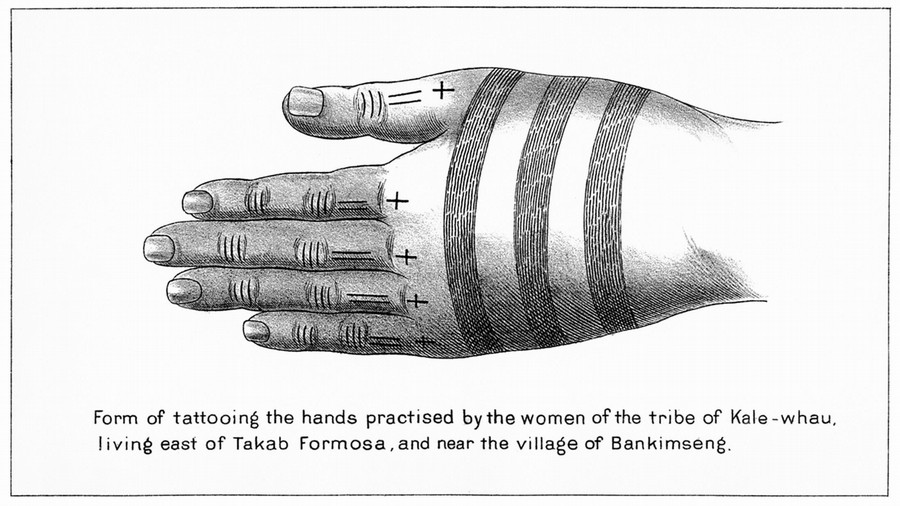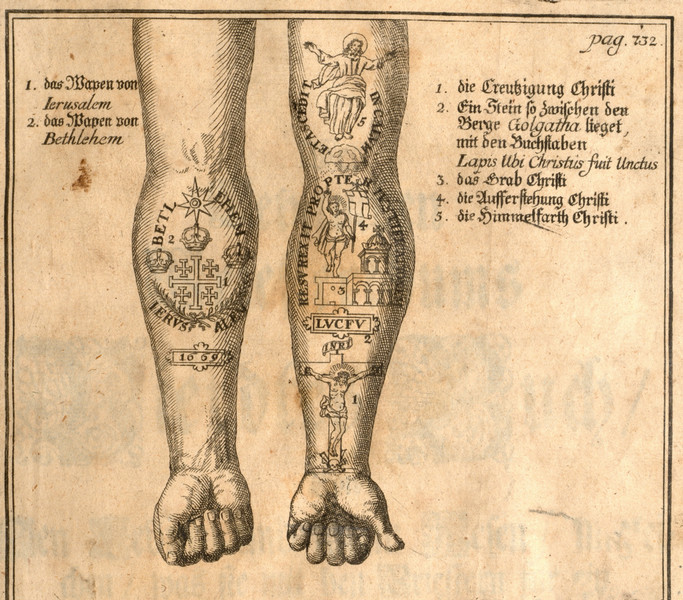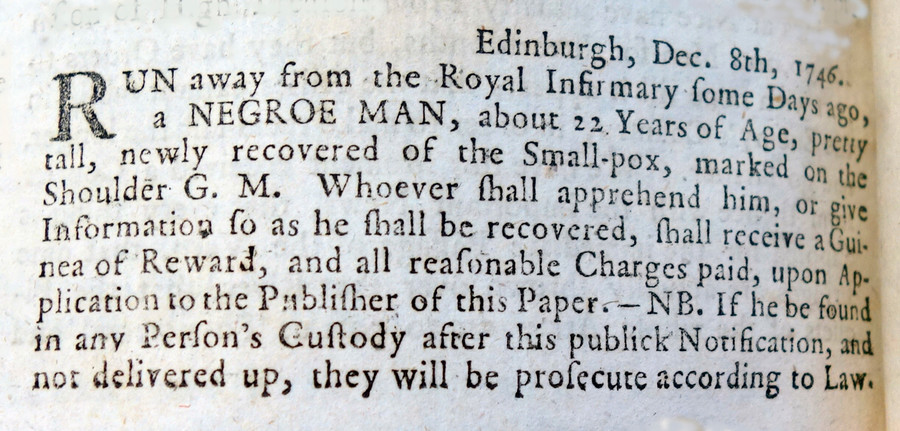 The book covers the sixteenth through eighteenth centuries, an era that can be described as the "first global age," Koslofsky explained. "It's a period when all parts of the world, including the Americas and, eventually, the South Pacific and Australia, are connected politically, economically, biologically, epidemiologically, into one global unit." It was, he added, a time when "bodies were in motion as never before."
"We follow the path of people who traveled, by force or by choice, from the coast of West Africa to the Americas, from mainland China to Taiwan, from Europe to North America, the Middle East, and Asia."
The most profound and horrific form of body marking in the early modern period, said Koslofsky, was the branding of enslaved people by European slave traders. While Africans themselves also took slaves, he explained, it was only Europeans who branded them. "Between twelve million and fifteen million captive Africans were taken across the Atlantic between the fifteenth and nineteenth centuries," he said, "and none of that would have been possible without the branding of human beings as property."
Branding had become so refined by the nineteenth century, said Koslofsky, that researchers have discovered cases of Europeans in Brazil "purchasing slaves in advance and having them marked with their own personal brand while the enslaved person was still in Africa, so that when they [arrived at their destination] they would already have the brand of that owner on them."
Dauge-Roth and Koslofsky talked about other skin marking practices, including tattooing—from the Indigenous tattoo artists of North America, Taiwan, and the Philippines to the Coptic Christian tattooists offering their services to European pilgrims in what is now Israel and Palestine.
Many Europeans, both Catholic and Protestant, made pilgrimages to the Holy Land during this period, explained Dauge-Roth, and it was common for them to receive quite intricate designs of biblical imagery on their bodies while they were there, to celebrate their experience.
Experts were tapped from a every corner of the humanities for this project, added Koslofsky. "We have scholars from English, French, and German literature and history, American studies, and East Asian studies." The result, he said, was "a book that, like this early modern period, really tries to be global in scope."
FUN FACT(s):
One of Stigma's contributing authors is Ana Fonseca Conboy '04, who majored in biochemistry and minored in francophone studies at Bowdoin before becoming a scholar of French literature and culture, with a specialty in theater.


She is associate professor of French studies at the College of Saint Benedict and Saint John's University in Minnesota. Her essay is titled "The Invisible Mark: Representing Baptism in Early Modern French Dramaturgy."
Published October 05, 2023