Assistant Professor of German
Jens Elias Klenner joined the faculty of Bowdoin College's German Department after receiving his Ph.D. in Comparative Literature from Princeton University and his Dr. phil. in German from the Universität Konstanz.
Jens' research focuses on contemporary Austrian and German literature and culture, on the relationships of literature, the visual arts, and aesthetic theories, and on questions of literary form and the environment. Jens maintains an active interest in the German philosophical tradition as well as its Anglo-American and European reception.
His essays on Bernhard, Brecht, Celan, E.T.A. Hoffmann, Kafka, Jelinek, Simmel, and collective memory appeared in edited volumes and journals including Colloquia Germanica, New German Critique, Modern Austrian Literature, and the Journal of the Kafka Society of America. Together with Juliane Prade-Weiss, he edited the 2019 special edition of  Monatshefte on the nexus of language and revenge. Jens book on poetic form and Alpine formations Writing the Mountains: The Alpine Form in German Modernism is under contract with Bloomsbury Academic (New Directions in German Studies). Writing the Mountains reveals how landscape and discourses of environmental formation impress themselves on the literary imagination and argues that mountains serve as dynamic spaces of material change that generate new aesthetic and narrative forms. Through close readings of several canonical works by German, Austrian, and Swiss writers in which the mountains are depicted as unknowable, labyrinthine, or mercurial, Writing the Mountains uncovers the surprising transformations that landscape and the material environment can enact on the subjects within a story and on the way in which that story is told.
At Bowdoin, Jens teaches the full range of German language courses from elementary to advanced German, classes cross-listed with Environmental Studies on the relationships of wilderness and civilization, of nature and knowledge, and of climate and fiction, as well as advanced seminars in German on crises and catastrophes, on cultural objects "Made in Germany," and on contemporary German and Austrian culture.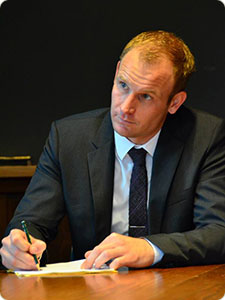 Education
PhD, Comparative Literature, Princeton University
Dr. phil. German, Universität Konstanz
MA, Comparative Literature, Princeton University
MA, American Studies, History, Cultural Studies, Friedrich-Alexander-Universität Erlangen-Nürnberg