Seven Days in the Life of the McKeen Center
By Rebecca Goldfine, Tom Porter, Adam Bovie
During any given week at the McKeen Center for the Common Good, hundreds of students are contributing—
in many different ways
—to the community beyond Bowdoin's campus.
We followed a number of these students over seven days to report on the range of activity that flows from the McKeen Center, the campus nexus for applying the common good.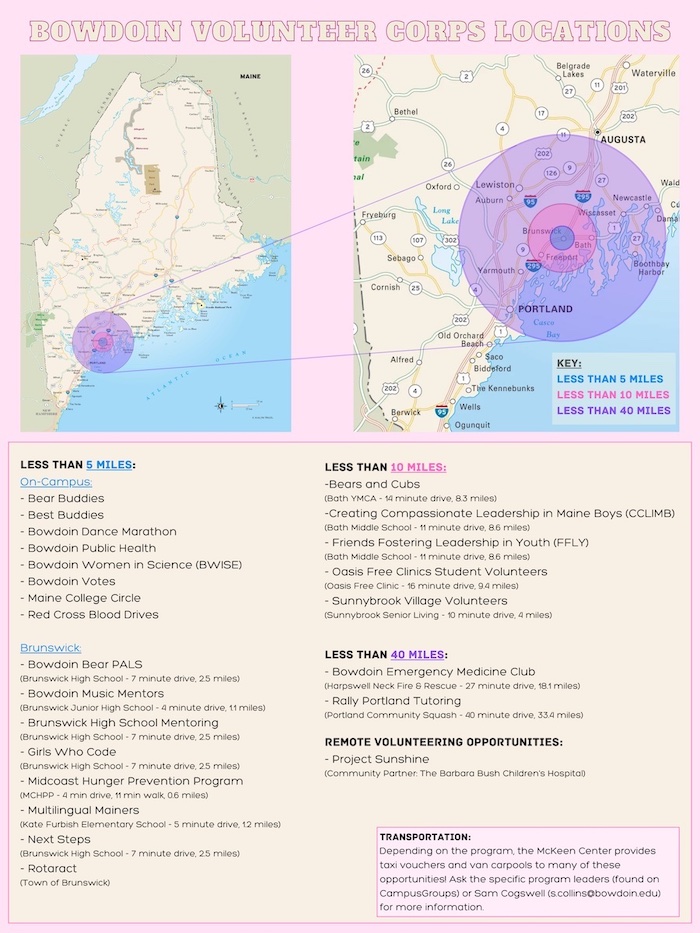 We met students in a seminar class as they prepared to lead Alternative Spring Break trips next March. We observed others learning about the practice of philanthropy through the Common Good Grant Program. More were out and about encouraging civic engagement with Bowdoin Votes. Another cohort was devising innovative projects to help nonprofits through the Student Community Action Network.
Additionally, we trailed some of the many students involved in Bowdoin Volunteer Corps, which comprises twenty-four student-led clubs that focus on specific aspects of service—from food insecurity to public health. Just in the Corps alone, 280 students were active in the 2022-2023 academic year. (And many also belong to more than one club.)
In total, over 40 percent of the student body participated in McKeen Center programming last year. While the Center's staff of six oversees all of its programs, all have components led by students. 
"Our programming is driven by student initiative and leadership," said Sarah Seames, McKeen Center director. "We provide a structure of support and the framework for ethically and effectively engaging in communities and then rely on students to come to us with the issues they are passionate about and want to lead on."
By offering so many ways to engage with the common good, the McKeen Center enables students to discover how their unique "talents, passions, and academic pursuits" can be used to better the lives of others and create positive change locally, nationally, and internationally.
Sunday, 3:00 p.m., Harpswell Fire and Rescue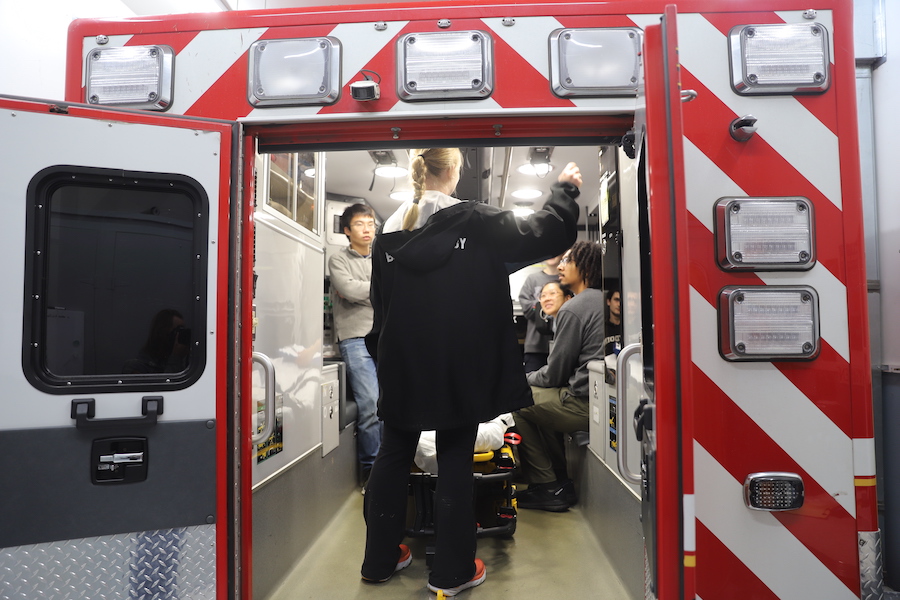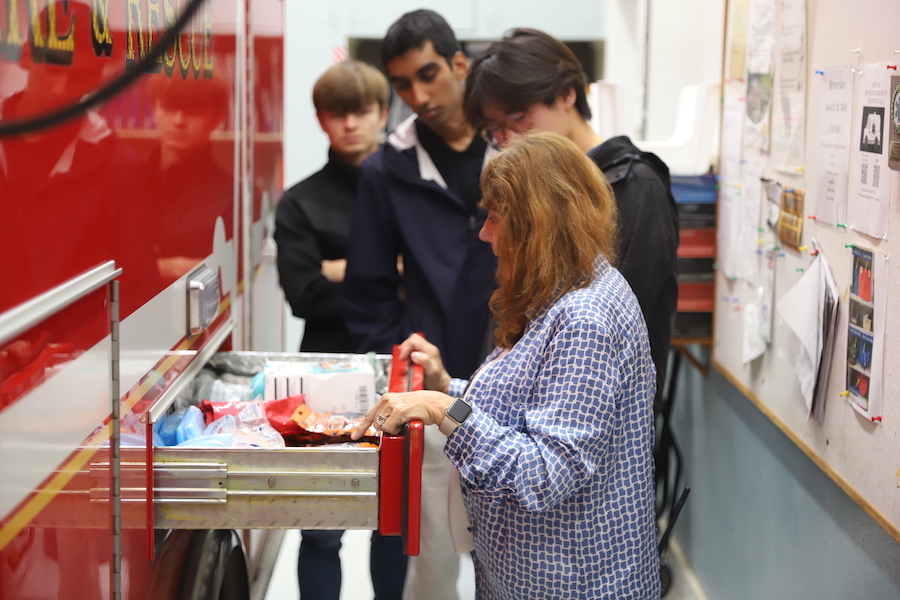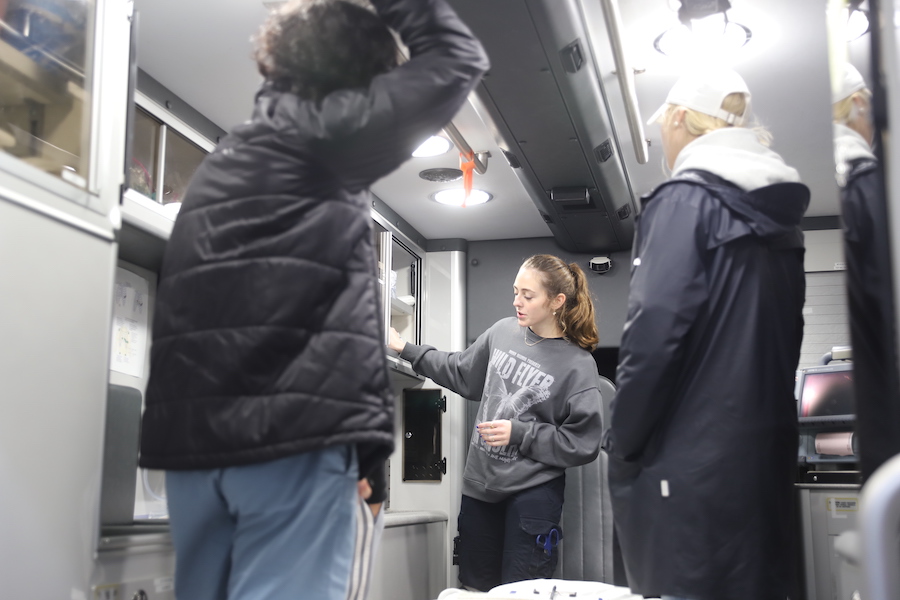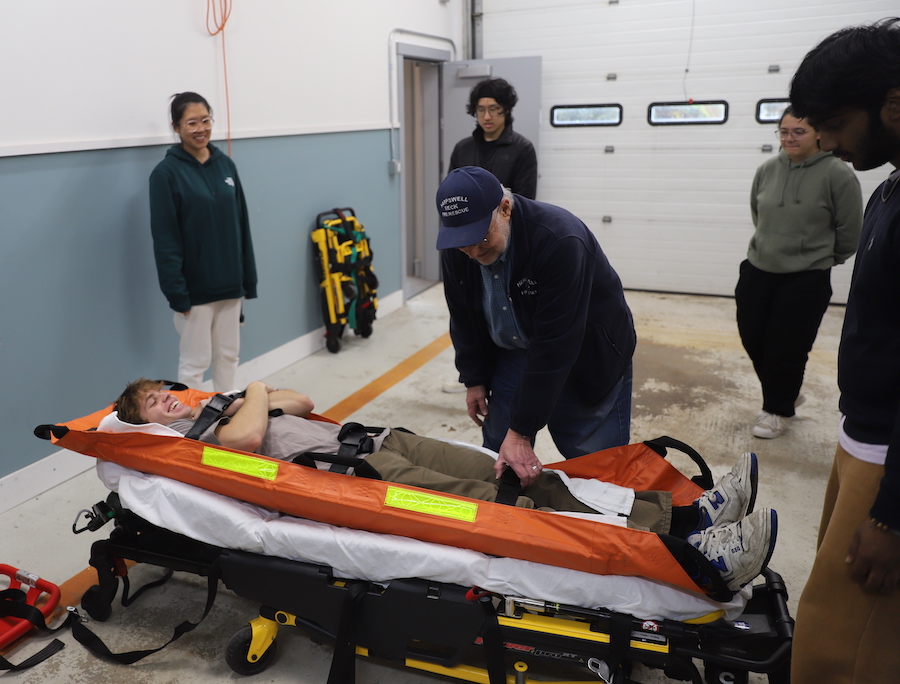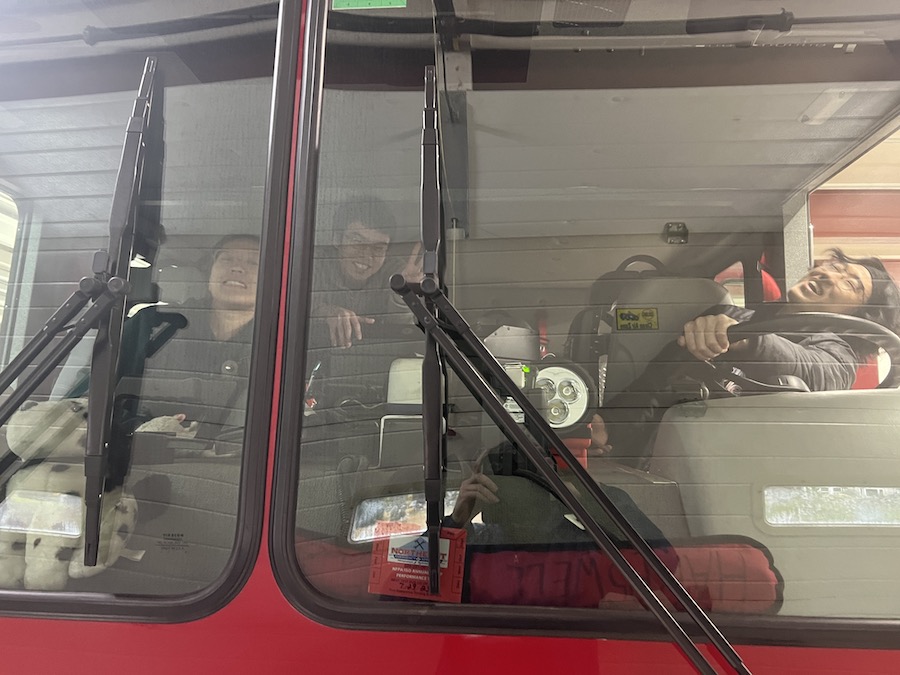 The Bowdoin Emergency Medicine Club (BEMC) met at the Harpswell station on a recent Sunday afternoon to learn about the ambulance they'd be riding in and review first aid skills. 
Club co-leader Emmy Wheatley '26, an experienced emergency medical technician (EMT) who was in the middle of her shift at the station, pointed out to the students crammed into the ambulance the locations for sterile water, splints, IVs, oxygen tanks, trauma supplies, and other necessities required to care for stricken people.
The BEMC, now in its second year, is a Bowdoin Volunteer Corps club founded by students to offer real-world medical experience to licensed EMTs on campus. While the group would like to one day respond to campus calls, the club is currently most active in the town of Harpswell, where the local volunteer crew—made up mostly of retirees—appreciates the extra help from students.
"It's an opportunity to form connections and help the community," Wheatley said. "[The Harpswell team] cares greatly about their community. And this opportunity to teach us younger EMTs betters our futures and betters the community's future."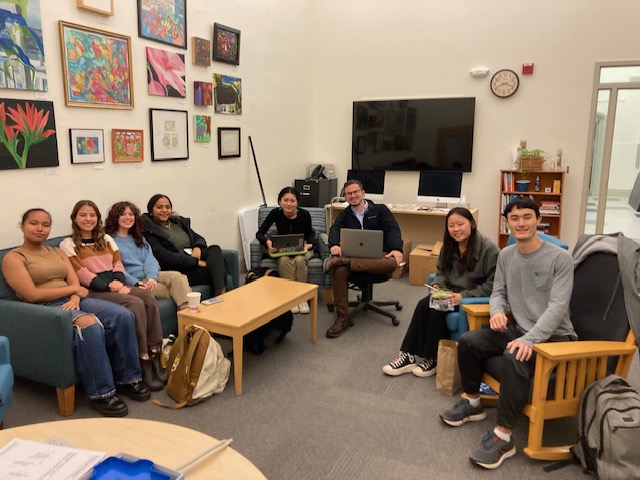 Monday, 7:30 p.m., McKeen Center
About halfway through their regular Monday evening meeting, the six students who will lead Alternative Spring Break trips this March divided into pairs to discuss the following question: What role should education play in society and how do we ensure equity in achieving that role? 
"It's what we call a snowball discussion," said Daniel Miró-Chinea '19, assistant director of the McKeen Center. "We start in groups of two, then join another partner-pair before coming together at the end for a group-wide conversation." The idea, he said, is for students to familiarize themselves with the process of conducting group discussions and working in a team.
The ASB program was set up twenty years ago to give students the opportunity to spend their mid-semester break learning from communities, many of them quite different from the ones students have grown up in. The students at this meeting will lead three different ASB trips next semester focusing on inequality in women's health care in Chicago, disparities in New York City education, and challenges facing migrant communities in Immokalee, Florida.
Joining each trip will be ten student participants, all motivated by a desire to do something productive and meaningful during their vacation.
Chinwe Bruns '26 and Gwen Abbott '26 will lead the trip to Chicago, where they'll work with and learn about local clinics and community initiatives regarding reproductive health. "Women's health care is such an important issue in the post Roe v. Wade landscape," said Bruns. Chicago stood out, she said, because it's surrounded by states with legislation to restrict abortion, so the city has been seeing a large influx of women seeking medical help.
Tuesday, 11:00 a.m., Bowdoin Chapel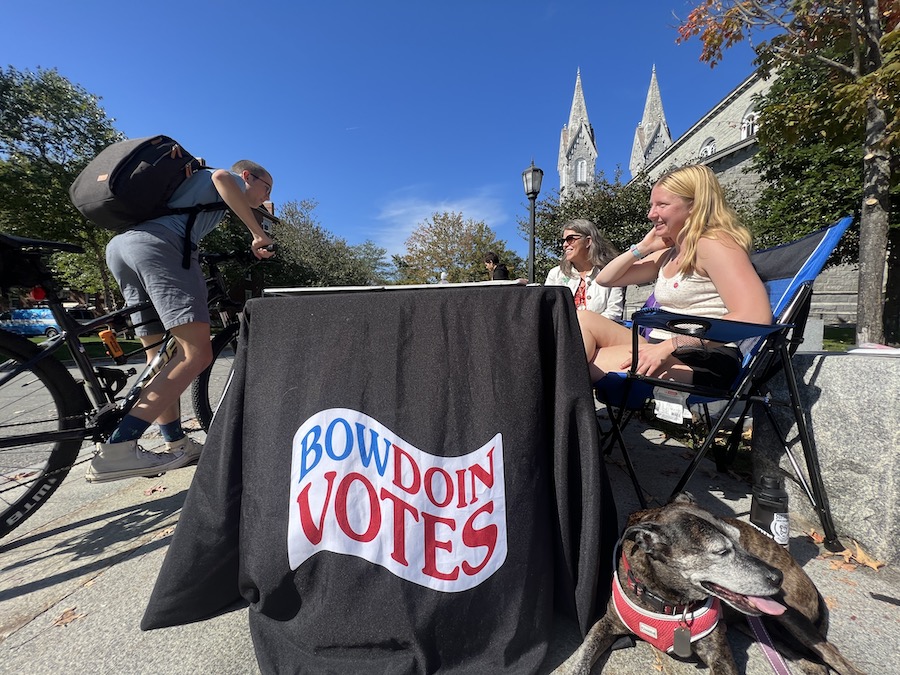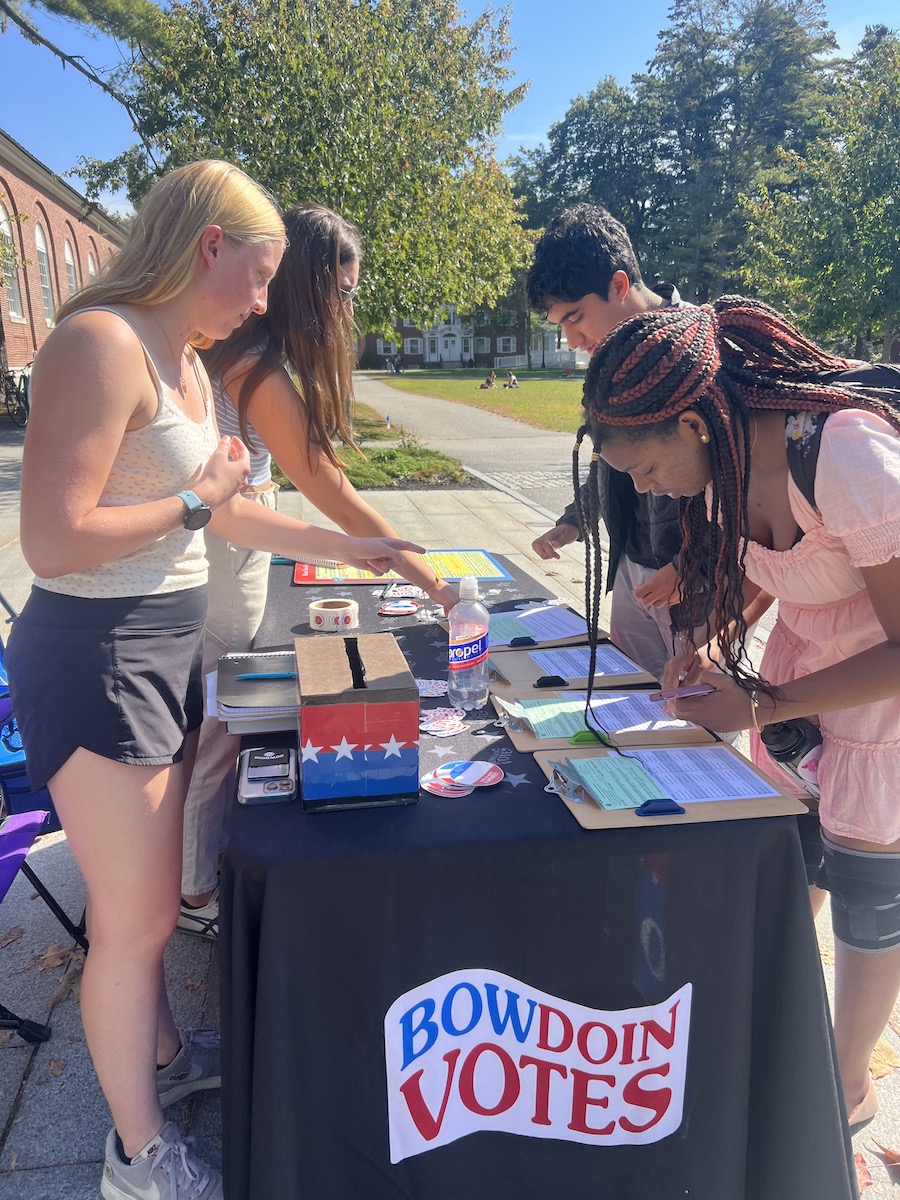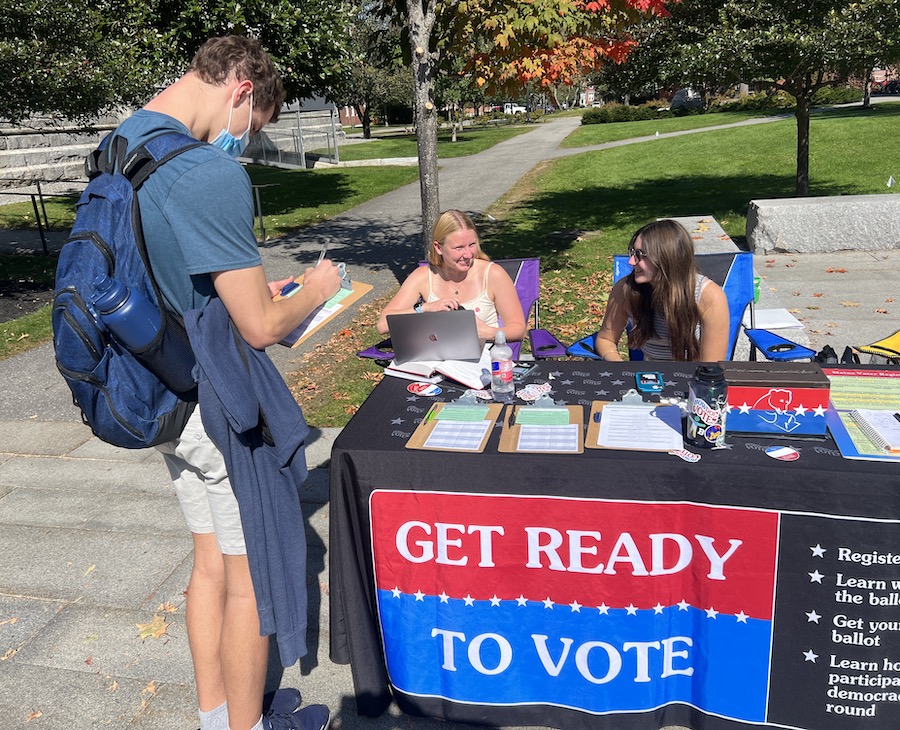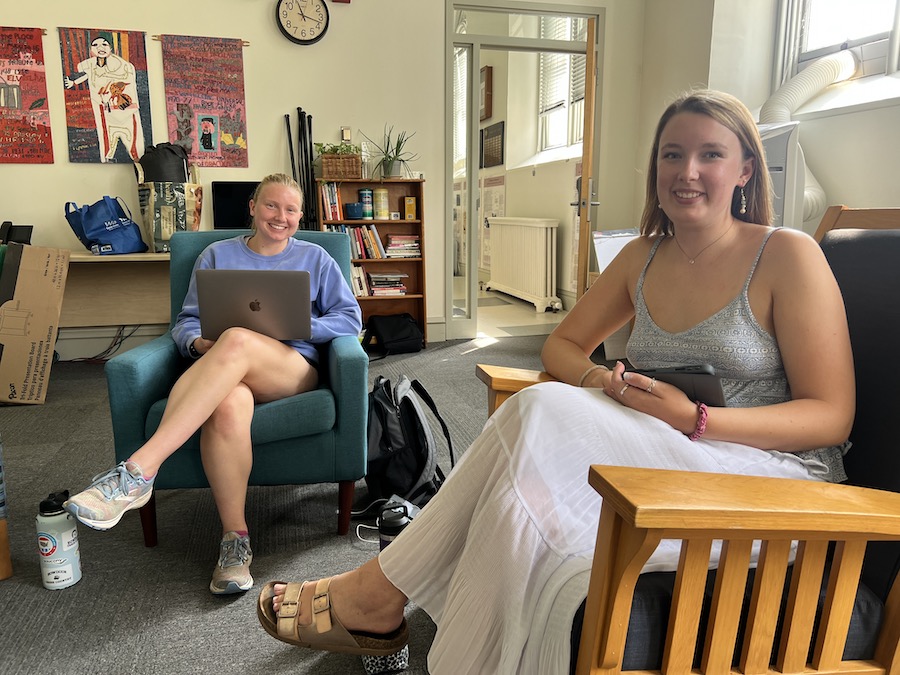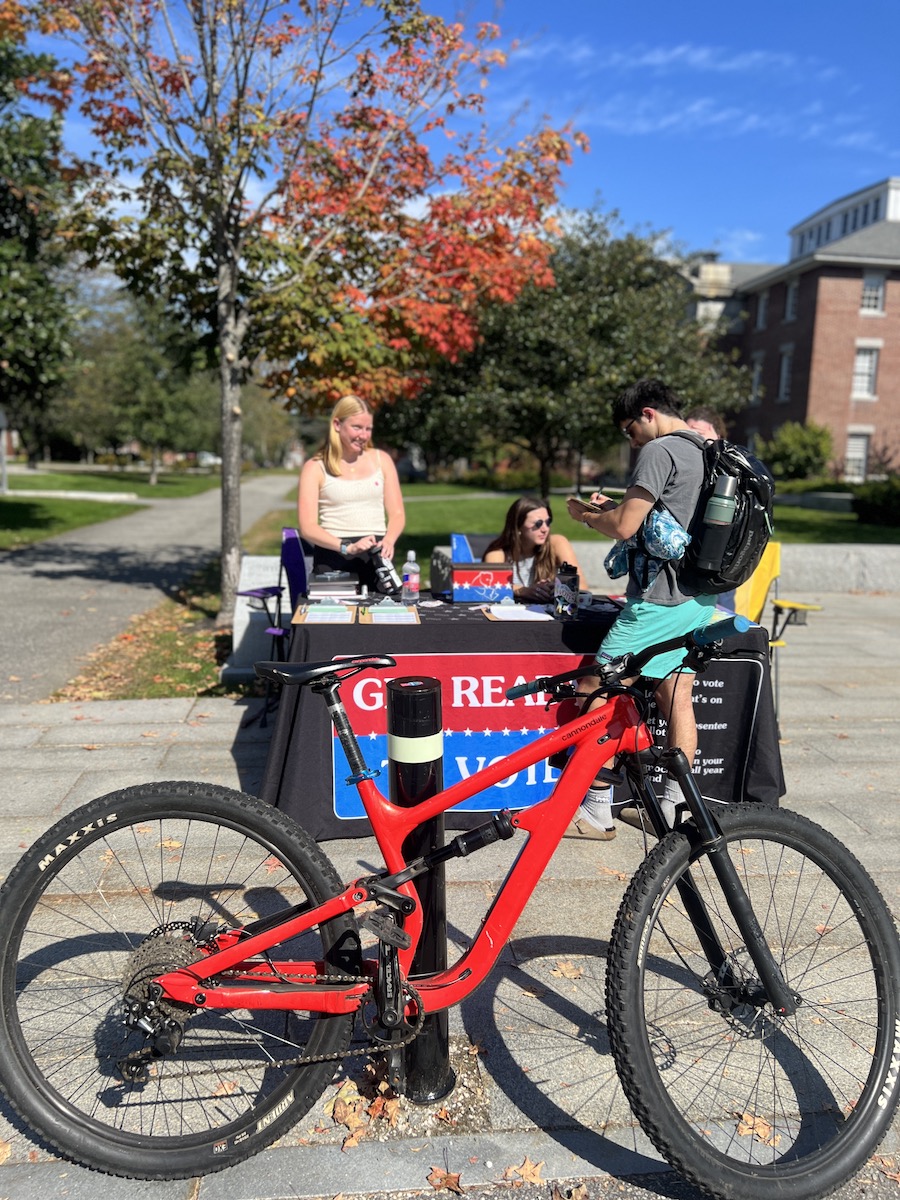 On a Tuesday morning, members of Bowdoin Votes, a nonpartisan group dedicated to increasing civic engagement on campus, had set up a table outside the Chapel. Their mission that week: to register students to vote and steer them toward resources about the upcoming election.
A student rode up on his bike. Bowdoin Votes program assistant Jane Hirschman '24 greeted him with, "Hi, how's it going?" "Solid, solid," he responded. "I just wanted to make sure I had my absentee ballot." Hirschman made sure he had what he needed. 
Amari Polk '24 walked over. "Hi! I saw on the posters that I had to re-register." Students who change residences from year to year—almost all of them—must register anew each year. Though Polk is from New Orleans, she will register in Maine. "I've been voting since 2020, my freshman year," she explained. "I am pretty sure I would not have been voting if Bowdoin Votes wasn't on campus. It's so easy and accessible—it's right here."
Meanwhile, Bowdoin Votes volunteer Noah Rossin '27 was busy pitching democracy, calling out to passing students, "Hey, have you re-registered?" Ravi Mehta '26 strolled up. As he filled out his registration form, he said this was his second year voting. "But I hope to become a regular voter," he added, a goal greatly helped by the vans Bowdoin Votes drives to and from the polls every Election Day. "That was awesome," Mehta said, of 2022. "They had pastries, too."
Another student walked up, backpack slung over his shoulder. He had several questions about voting via absentee ballot for the experts at the table, queries he charmingly couched with, "I am asking you all these questions because I know you know all the answers!"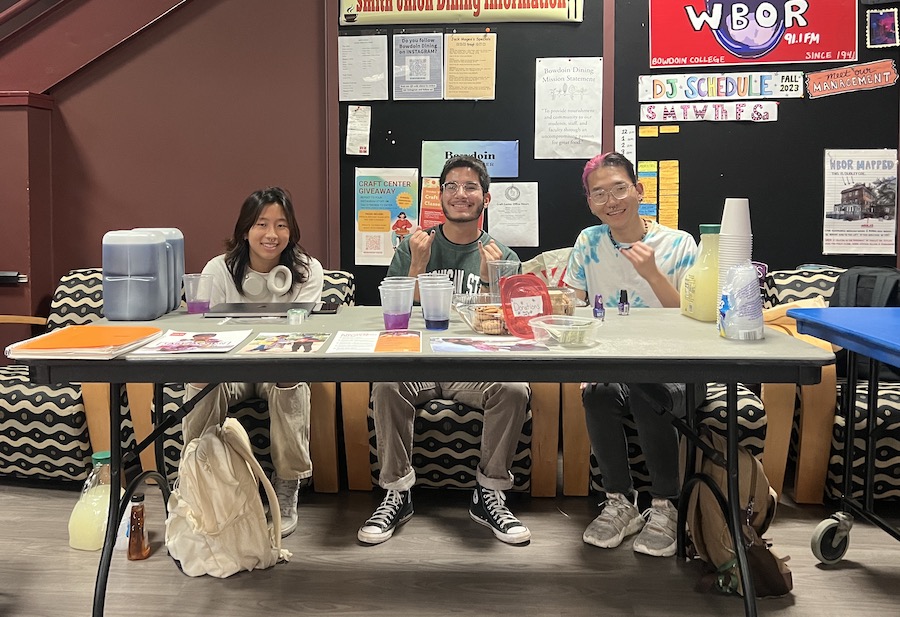 Tuesday, 4:30 p.m., Smith Union
On Tuesday afternoon, three leaders of Bowdoin's Rotaract Club—Carina Lim-Huang '25, Diego DeSousa '25, and Ryan Kang '25—were offering cups of purple-colored lemonade and a swipe of purple nail polish in Smith Union, where they were raising money to combat polio.

Rotaract is the student arm of the Rotary Club, and this day was Purple Pinky Day, the Rotary Club's annual fundraiser to vaccinate children against polio. For every dollar donated, two dollars are contributed by the Gates Foundation to pay for one dose of vaccine for a child. Last year, Bowdoin Rotaract raised $200 on Purple Pinky Day (named for the custom of painting every vaccinated child's pinky fingernail purple to mark them as vaccinated). 
This activity was one of several volunteer opportunities Rotaract had arranged for its members in October. Each month the organization's leaders come up with three new ones. "Students are really busy and it's hard to fit volunteering into their schedules," Lim-Huang said. "We take on a wide variety of causes and give them a menu of options. It's just a one-time commitment every month."

Though she initially joined the Bowdoin Volunteer Corps because her good friend Kang asked her to, Lim-Huang said it's grown into a passion. "Understanding the common good has helped me engage with it better," she shared.
Tuesday, 5:00 p.m., Mid Coast Hunger Prevention Program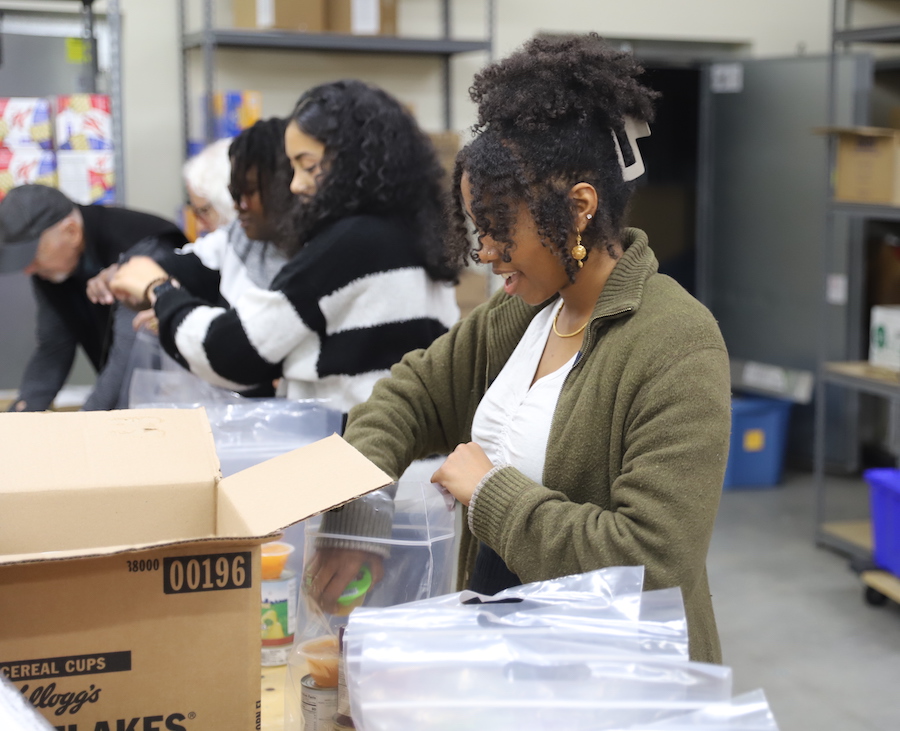 On Tuesday evening, Bowdoin Public Health (BPH) club members Karren Akwei '24, Karen Gonzalez '25, and Amal Mohamed '27 were filling plastic bags with nonperishable food at the Brunswick-based Mid Coast Hunger Prevention Program (MCHPP). The bags would be delivered to nearby schools where teachers would stuff them into the backpacks of students who don't have enough to eat. The agency also supplies food pantries at high schools for older students. In these two ways, the program helps feed about 255 local students.
The Public Health Club has about thirty active members, although its membership is closer to 120, making it one of the biggest Bowdoin Volunteer Corps groups. Besides supporting local organizations, such as MCHPP, the Adaptive Outdoor Education Center, and Maine Public Health Association, the club offers campus programming, like an upcoming career panel and a CPR training course. 
As the three Bowdoin volunteers packed soup cans, breakfast items, tuna fish, pasta sauces, juice boxes, and other items, they explained why they were helping. Mohamed said she had grown up in a "food desert" where fresh food was hard to come by. To combat this, she started a garden at her high school to grow vegetables to give away. Gonzalez and Akwei said they wanted to be involved in the community. "It's nice to give back to kids who need the food," Akwei said.
Wednesday, 11:30 a.m., Smith Union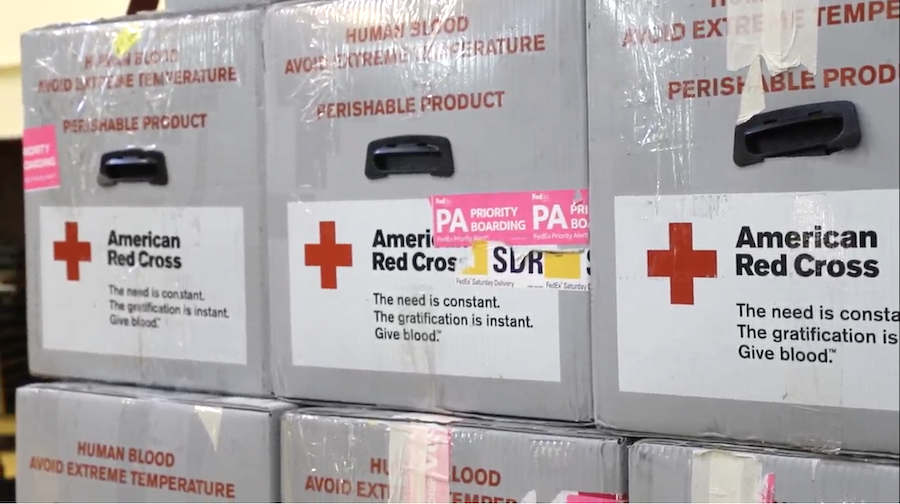 Aubrey Demurjian '25 rushed over to Morrell Lounge after her morning class to meet the American Red Cross team and help them set up for this semester's blood drive. As leader of the Bowdoin Volunteer Corps group that oversees the effort, Demurjian manages all of the logistics on the College's side.
Interested in medicine and on the "health track," she started volunteering with the club her first year and got starting leading it last year. "It's nice to work with something outside of school," she said. Sixty-four donors signed up this fall to give either one or two pints of blood during the five-hour event.
Wednesday, 7:30 p.m., Banister Hall
Students in the Common Good Grant program were gathered this evening to gear up for "the ask." Each week at their Wednesday meeting, they focus on a different aspect of the philanthropic process as they prepare to raise money for local nonprofits. 
Maria Stone, a leadership gifts officer in Bowdoin's Office of Development and Alumni Relations (DAR), and Rachel Morse, DAR's assistant director of annual giving, were on hand this session to discuss "the art of the ask."
"Philanthropy is a combination of time, talent, and treasure," said Stone. "Although it's often regarded as just a financial matter, if someone supports with one of these three, the other two tend to follow."
One of the most critical takeaways for students, she added, is the importance of long-term relationship building. She told the group to keep in mind they are planting seeds that they may or may not see the growth of during the length of the program.
The Common Good Grant Program, set up in 2001, strengthens bonds between the College and the greater Brunswick community while teaching students about charitable causes, grants, foundations, and nonprofits. In its twenty-two years, the program has distributed more than $420,380 to more than 195 nonprofits. 
Starting with an initial base of $10,000, provided by an anonymous alumni donor, students select nonprofits to work with and then solicit donations from alumni and others to augment the starting amount. Last year the program gave away record amounts to midcoast organizations.
Before the end of the semester, students will also get the chance to conduct practice asks with members of DAR as they prepare to solicit community prospects in early 2024.
Jack Roberts '25, a computer science and math major, said he joined the Common Good Grant program because it offers a rewarding and educational philanthropic experience. And "it has allowed me to learn about and feel more involved in the midcoast Maine community I am a part of while at Bowdoin."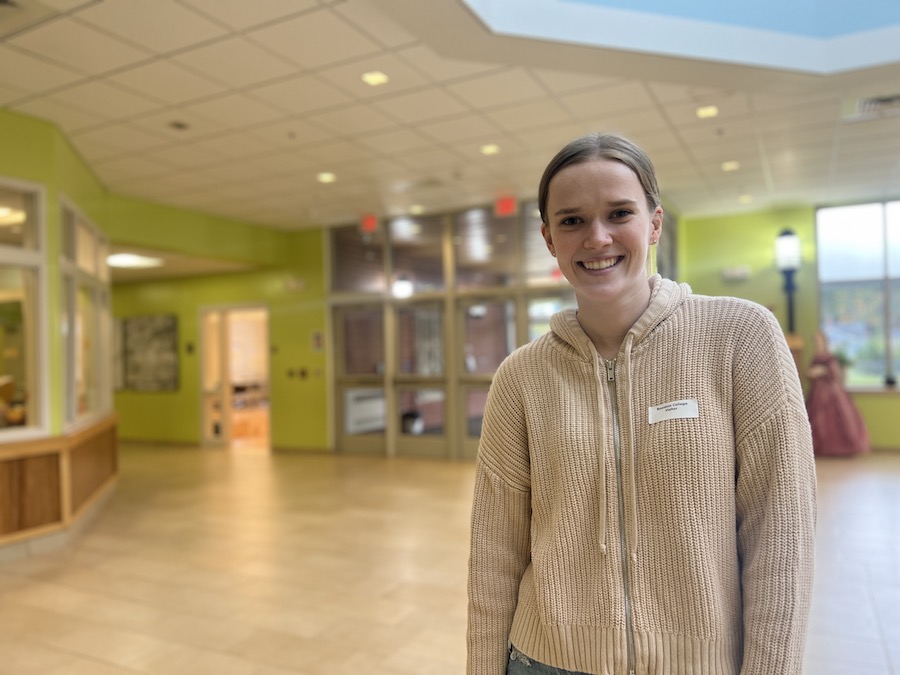 Thursday, 9:30 a.m., Harriet Beecher Stowe Elementary School
Each weekday, some of the thirty Bowdoin tutors who are part of America Reads or America Counts visit one of four local schools to work with young students.
On Thursday morning, Anneke Halliday '25 was on her way to tutor a student in the fourth grade who was struggling with reading. "I just love kids," Halliday explained. "I like to be in the school, surrounded by all the sweetness and excitement of children."
College students who are eligible for the federal work-study program serve as either math or literacy tutors for the third to eighth graders. Tom Ancona, McKeen Center associate director, and program assistant Sammy Braverman '24, recruit, hire, and trainsthe Bowdoin participants, and then matches them with teachers at partner schools.
Depending on what teachers need, Bowdoin students meet one-on-one with an individual or with a group of children, or they help with assignments during class time.
Thursday, noon, Oasis Free Clinics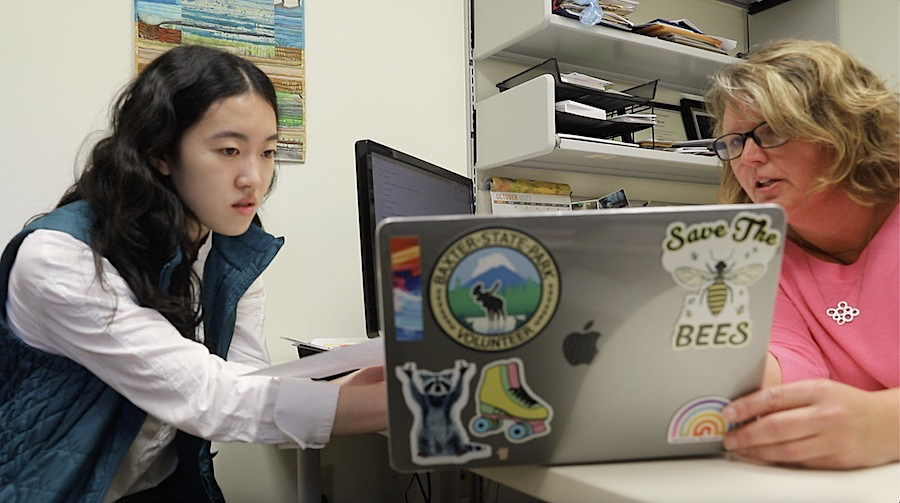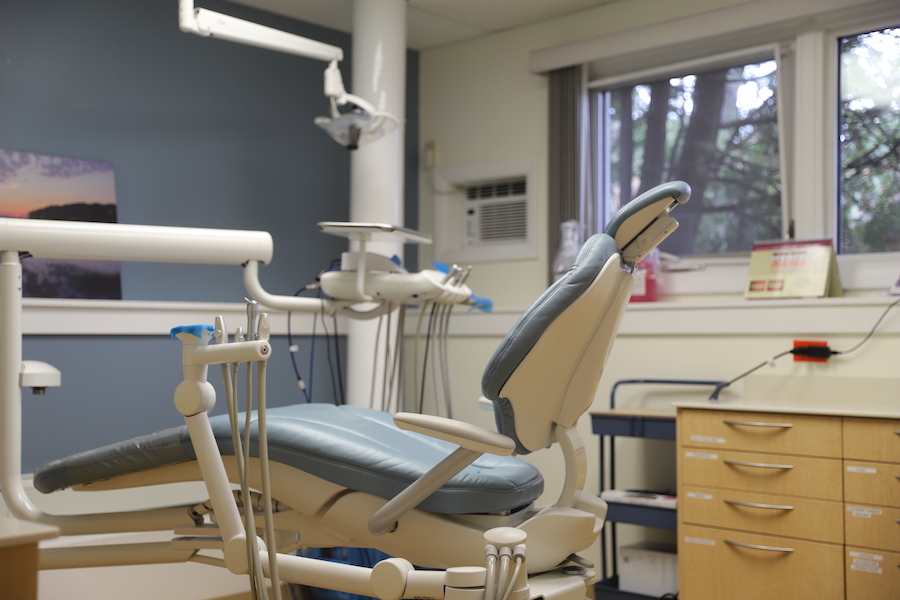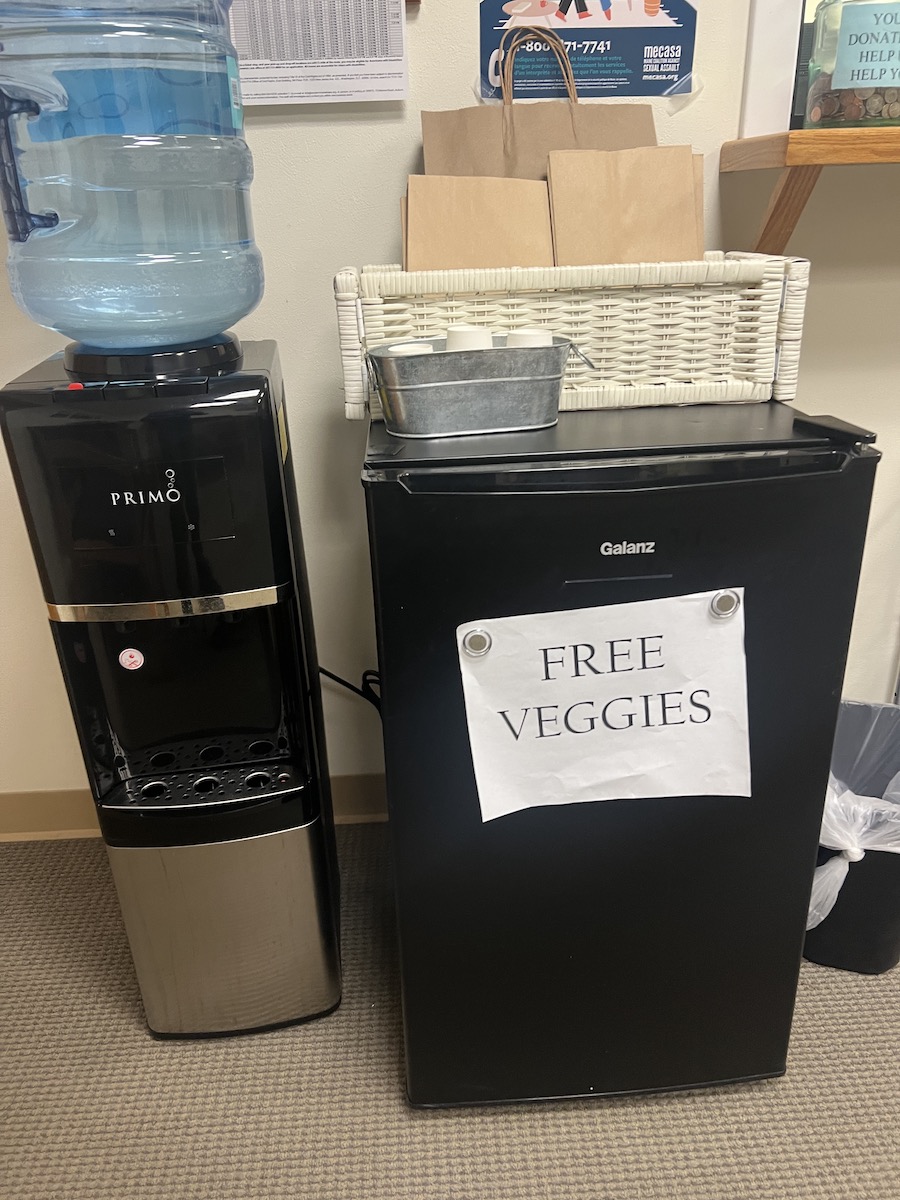 Every week, Miranda Maung '25 takes a four-hour shift at the Brunswick-based Oasis Free Clinics for the straightforward reason that she "has a passion for health care and public health," she says, adding, "and I love volunteering."
Maung co-leads the Bowdoin Volunteer Corps club of Oasis participants, of which five are as active as she is. On this afternoon, executive director Anita Ruff had asked Maung to analyze data about the clinic's dental visits and donors. Oasis offers free medical, mental, and dental health care, as well as free medicine, to patients who have no health insurance and can't afford services.
As Maung worked on the data, she sat in a chair across from Ruff. "Many, many Bowdoin students have sat on that chair," Ruff said. Working with students, she continued, is a favorite parts of her job. "Our goal is to show them that there are many ways to provide health care and many ways to help people, well beyond being a physician," she said. "They see a different side of medicine here."
Friday, 10:10 a.m., Harriet Beecher Stowe Elementary School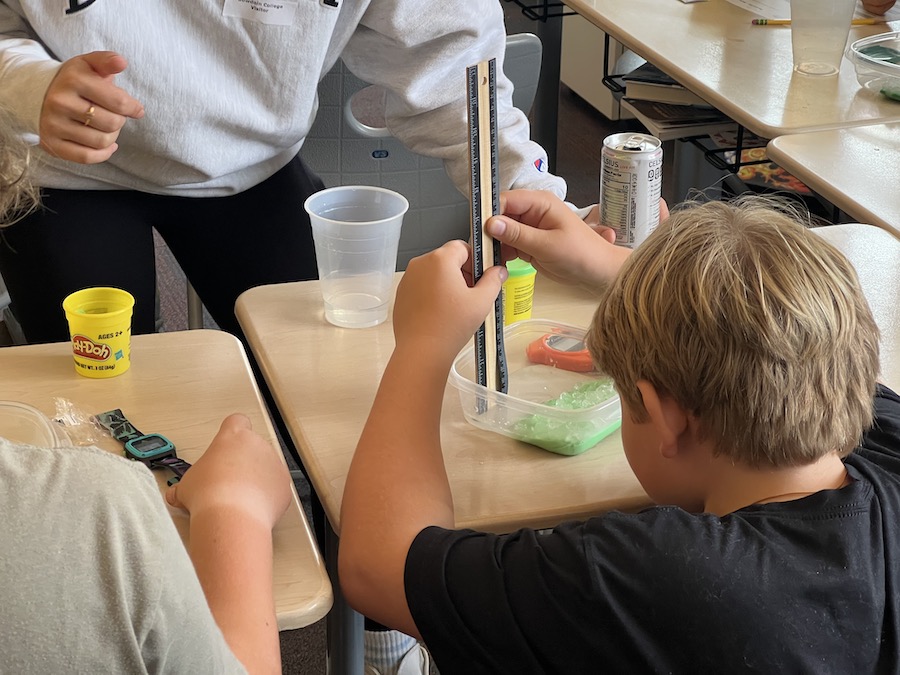 At 10:10 a.m., three members of Bowdoin Women in Science, or BWISE, walked into Marc Mazerolle's classroom to teach a lesson to his fifth graders about sea level rise.
BWISE, now in its sixth year, was founded by two science majors to form a community of Bowdoin women in the often male-dominated science fields, and to provide younger students with female scientist role models. Every Monday evening, the members meet to plan that week's science lesson, which always includes an experiment.
As soon as Devin O'Loughlin '24, Anju Chenaux-Repond '25, and Hanna Cha '25 entered Mr. Mazerolle's classroom doorway, a few students couldn't contain themselves. They jumped out of their chairs. One girl held her arms over her head and cheered, "Yessss! You're here!"
Before launching the day's experiment, O'Loughlin asked whether anyone could explain why the oceans were rising. A few children raised their hands. "Climate change is melting icebergs," one responded.
O'Loughlin followed this with another query: And what did they think contributes more to sea level rise, melting icebergs in the ocean or melting glaciers on land? The students were divided on this tricky question, so the three BWISE teachers started dispensing equipment—playdough, Tupperware bowls, water, ice, a stopwatch, and a ruler—for an experiment that would reveal the answer.
After completing the assignment, every student could see that melting glaciers on land cause water to rise more. The students discussed why this might be. Next, Chenaux-Repond asked, "Do you know ways we can slow down global warming?" Many students did; they raised their hands. One answered, "Electric cars and trucks!"
Mazzerole said that having Bowdoin students teach a weekly lesson is a gift. "The activities they present are engaging and also allow students to think beyond the classroom to their impact on Brunswick and the world," he said.
And what was BWISE planning for next week's lesson? An experiment with solvents that involved candy corn in honor of Halloween. "We definitely have noticed that candy-related experiments tend to go over well, so they've been incorporated into a few!" O'Loughlin said.
Friday, 11:00 a.m., Mid Coast Hunger Prevention Program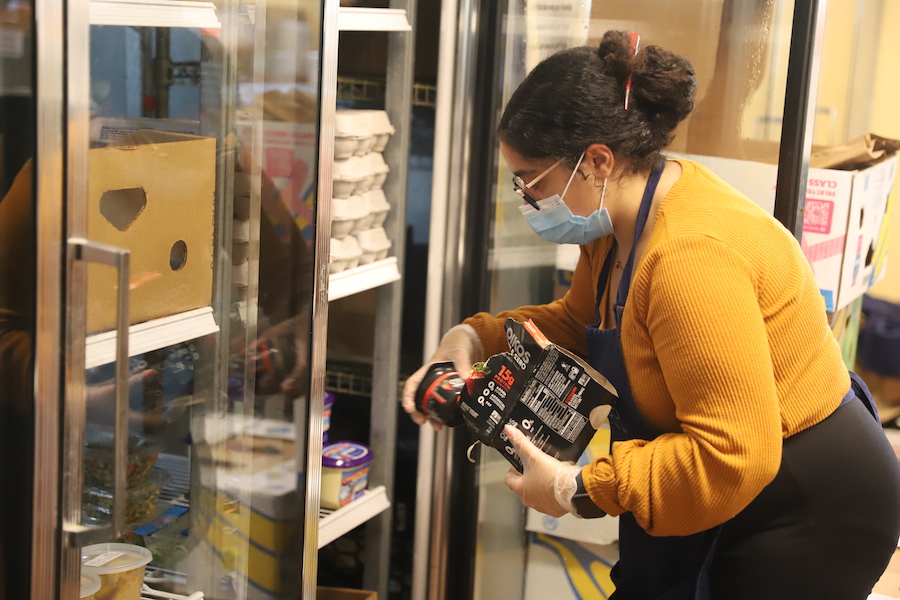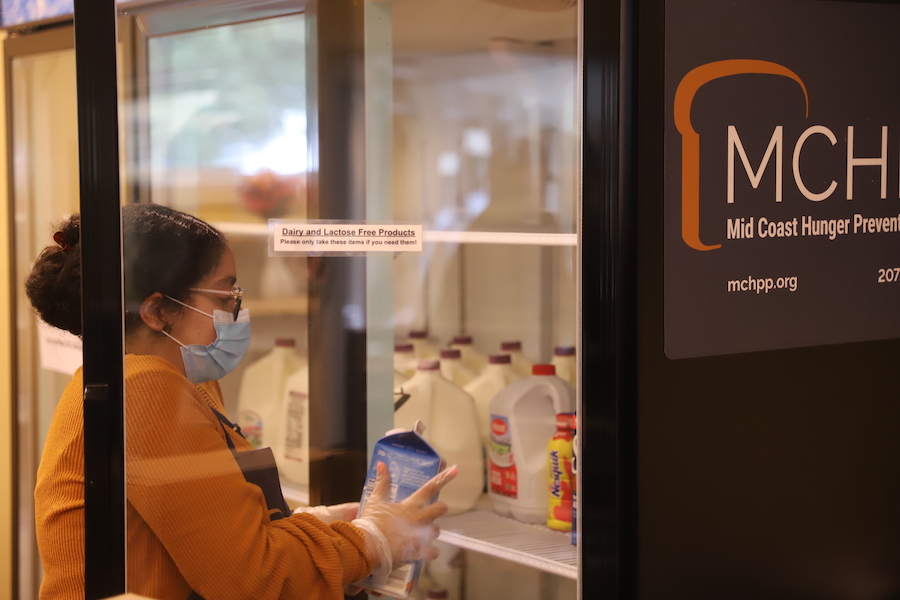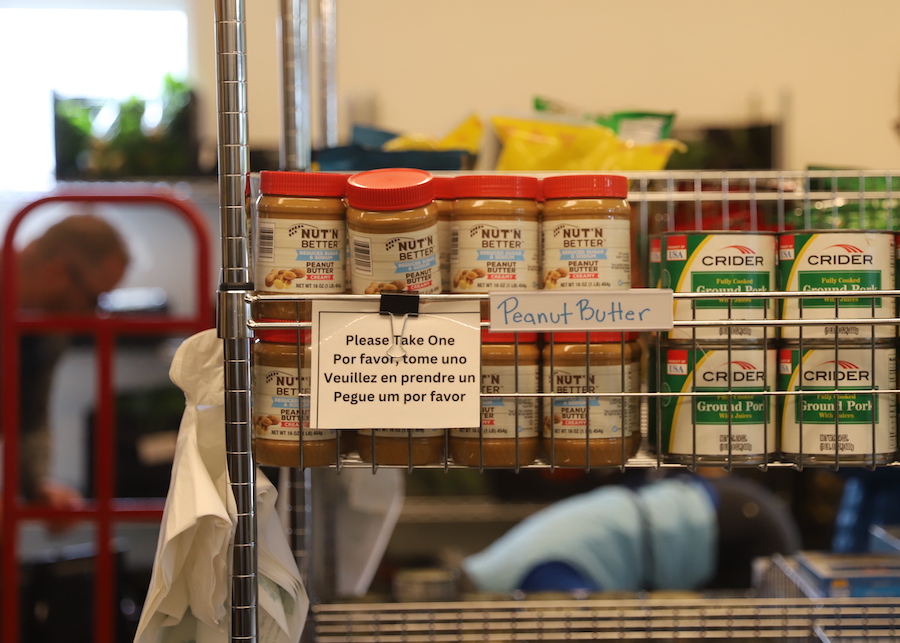 Sara Morcos '24, who co-leads the large cohort of Mid Coast Hunger Prevention Program (MCHPP) volunteers for Bowdoin Volunteer Corps, volunteers herself every Friday at the food pantry. Fridays are one of four weekdays when MCHPP opens up its "store" to anyone in need of free food.
By 11:30 a.m., people were lining up at the doors for the noontime opening. When they enter, they can grab a grocery cart and peruse the shelves, taking what they want. On a recent Friday, sixty-seven people visited the pantry.
In the hour before opening, Morcos stocks the store with dairy, meats, cut fruit, juices, loaves of bread and other items—much of it donated from grocery stores. If something looks sketchy, she tosses it. "If I wouldn't eat it, I won't stock the shelves with it," she said.

Throughout her three-hour shift, as people file in and out, Morcos restocks items that get low. Or she'll jump in to weigh someone's food at the exit or load a car with heavy bags. She said she's dedicated to MCHPP because she "loves helping others."
Though Morcos was the sole Bowdoin student there on this particular Friday, any member of the club can sign up for a weekly shift. Morcos says that besides her, about five are active volunteers. 
They join a robust community volunteer base; several were on hand this morning to help stock and organize the pantry. One MCHPP staffer called out to the workers, "Okay, how are we all feeling?" "Good!" was the general reply. She then answered her own inquiry: "Most of the time I feel decent, and sometimes I feel excellent. If you have to have a range, that's a good one."
Friday, 2:00 p.m., Banister Hall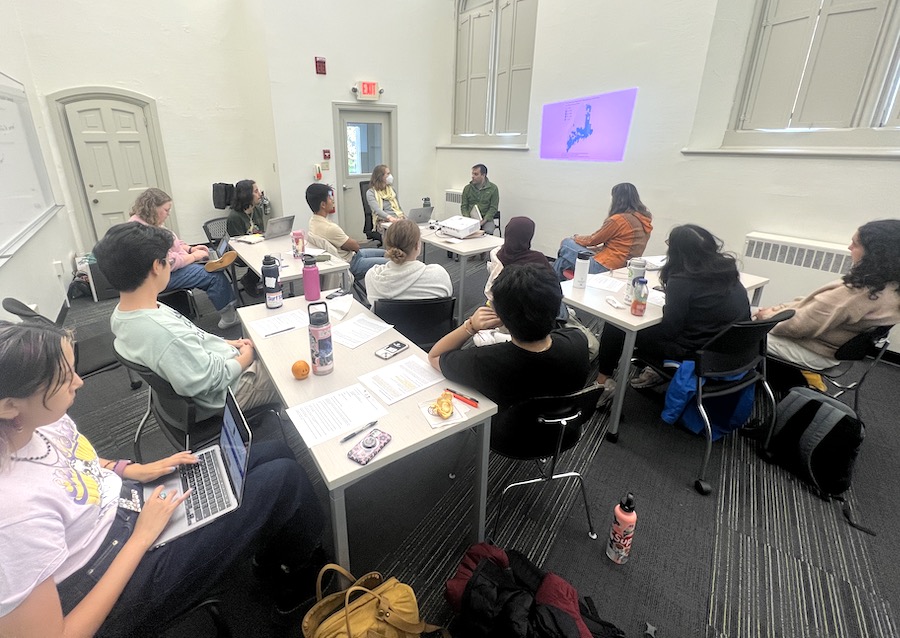 The students in this year's Student Community Action Network (SCAN) congregated Friday afternoon for their weekly seminar. On this day, Ian Yaffe'09 was giving a talk about his work with diversity, equity, and inclusion at the Maine Department of Health and Human Services.
The curriculum of the weekly SCAN meetings—which often have a guest speaker—provides an overview of the nonprofit sector, covering such topics as measuring impact, running a fundraising campaign, and the potential for corporations to make a difference in communities.
The afternoon seminar is the one time during the week when SCAN students get together. The other days, they are logging hours on their own for a local nonprofit of their choice. They are each asked to develop a specific project.
SCAN differs from other other McKeen Center volunteer programs in that it compensates students for this time, expecting in return a significant contribution from them. In this way, it shifts student engagement from direct service to what SCAN student leader Francisco Adame Perez '24 calls "capacity building."
"That is what makes SCAN particularly unique and something I feel like our community partners truly appreciate," he said, "because when a student comes in and proposes to implement a project that helps the sustainability of their long-term mission, working on something that the organization hasn't been able to work on because of limited capacity, it expands what is possible for them."
This year, SCAN students are working with, among others, Pine Tree Legal Assistance, Midcoast Literacy, and the College Guild. 
"SCAN allows students to connect with a passion of theirs, and be able to develop that passion throughout the semester," Perez said.
Saturday, 1:00 p.m., Reed House Kitchen
An hour into baking, the Reed House kitchen counters were covered with the detritus of what looked like a promising lasagna: scraps of thick pasta sheets, dabs of bright sauce, lots of cheese. Members of the Bowdoin Public Health Club were putting the final touches on the dish, which was destined for housebound people who rely on assistance from Harpswell Aging at Home. 
Other club members were at the dining table, folding delicate origami hearts to add to cheerful handwritten notes they would send along with the meals. The club tries to cook two to three meals a semester for the organization's Meals in a Pinch program. Sometimes they also help out around people's homes, raking yards or stacking wood. These activities are part of many the club engages in to support area nonprofits focused on community health.
"We send out regular emails with volunteer activities," said co-leader Sam Koegler '26. "So, it can be a high commitment or low commitment. But we ask members to commit to two volunteer events a month."
Koegler says many students in the club, like her, are on the pre-med track or interested in health policy. She personally appreciates rounding out her campus activities—which include doing research in a science lab—with community service. "It's important to see other areas of health that you can support," she said.