Four Students Journey to the Arctic by Sea and by Land
Published by Rebecca Goldfine
By schooner, ferry, plane, and on foot, the students are adventuring to northern latitudes for different purposes this summer—to do research, to learn new skills, and to travel just for the sake of exploration and personal reflection.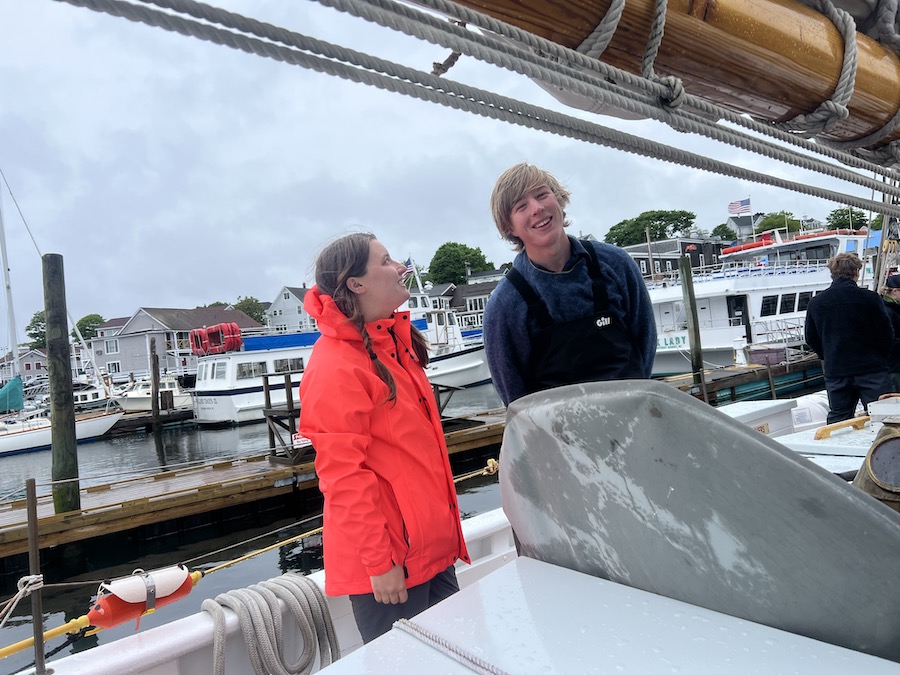 By Sea
On June 6, the schooner Bowdoin—the same tough boat that explorer Donald MacMillan (Class of 1898) had built in 1921 to withstand the rigors of Arctic winters—set sail from Boothbay Harbor, Maine, with two Bowdoin students aboard.
This summer, Lilli Frank '25 and Reed Carlman '24 are part of the Bowdoin's crew for its six-week voyage to Labrador. With eleven others, including six Maine Maritime Academy students, they're sailing up the coast of Maine and Nova Scotia, arcing west into the Gulf of Saint Lawrence, and then hugging the rugged Labrador coast. Their final destination is Nain, the northernmost settlement of the province. They'll arrive three weeks after departure.
The goal of the journey is four-fold. The eighty-eight-foot, two-masted vessel, which is owned by Maine Maritime Academy, is used to train students and to give them sea credits. The trip this summer is also a test run for the schooner's longer and more challenging passage to Greenland next year.
Additionally, the Bowdoin will be collecting data on microplastic pollution, part of a larger study to determine what plastics are in the ocean and where they come from, Frank said. Finally, the crew means to reestablish relationships with Labrador's coastal communities, many of which were initiated by MacMillan.
Schooner Bowdoin docked at Boothbay, where the crew was giving tours to the public over the weekend. Donald MacMillan made twenty-six trips to the Arctic on the Bowdoin between 1921 and 1954.
The trip will mark the first time Bowdoin students have sailed on Bowdoin since 1954. When some berths became available this spring, the schooner's captain contacted Susan Kaplan, director of the Peary-MacMillan Arctic Museum and Arctic Studies Center, to extend an invitation to her students. 
Carlman and Frank jumped at the opportunity. They are both history majors (Frank is also majoring in earth and oceanographic science), and were drawn to the chance to follow in MacMillan's wake.
"I am really interested in trying to make my degree seem useful!" Carlman said with a smile. "Or trying to make history relevant, and that can feel difficult sometimes. But history is important because it tells us what forces shape our life."
He also acknowledged that while the past will feature prominently on the trip for him, the region "is one of the fastest-changing environments of the world," as climate and geopolitics reshape the Arctic.
Frank, who is a visual arts minor, will be taking black-and-white photographs with a 35mm camera, the same kind of camera MacMillan used on his voyages. She'll try to recreate MacMillan's photos of the landscapes to show how they have changed over the last century.
Frank said she wanted to join the Bowdoin on its trip because she loves to sail and would like to get her captain's license for small boats one day. "I've always felt more comfortable on the water than on land," she said. "I've also struggled to find my place at Bowdoin and I want to find my place. I feel like this is an opportunity to do a ton of thinking and reflecting on that, and also seeing where I might fit in."
Carlman, too, is anticipating stretches of rest and contemplation, in between four-hour watch shifts. He thinks his love of the ocean comes from growing up in the vast open spaces of Wyoming.
Both students are also looking forward to periods of having no phone and no internet access. Frank's mother, who was visiting her daughter on the Bowdoin before she set sail, approves of her daughter taking this time to disconnect.
"As a parent I don't want to hear from Lilli," Gretchen Weisner, of Ellsworth, Maine, said. "I want her to experience this and not worry about getting in touch."
By Land
In early June, Aggie Macy '24 and Caleb McDaniels '25 flew to Ilulissat, Greenland, a community of colorful buildings clustered on a rocky coast at the end of a glacier. They pitched their sturdy green tent on the outskirts of town and explored the area before heading off on their intinerary—to Qeqertarsuaq, Aasiaat, Sisimiut, and Kangerlussuaq.
Though the two are traveling together along the western coast by ferry and by foot, they have different missions: Macy, an environmental studies and anthropology major, is working on a historical-anthropological project. McDaniels, a physics major and earth and oceanographic science minor, is assisting a faculty member's study of river sediment. 
While the trip has an academic focus now, it began with a yearning to have an outdoor adventure in a remote and beautiful part of the world. Macy and McDaniels applied for and received the Bowdoin Outing Club's Beyond the Pines grant last fall, but then saw the research potential of spending weeks in the Arctic (five weeks for Macy, eleven for McDaniels.)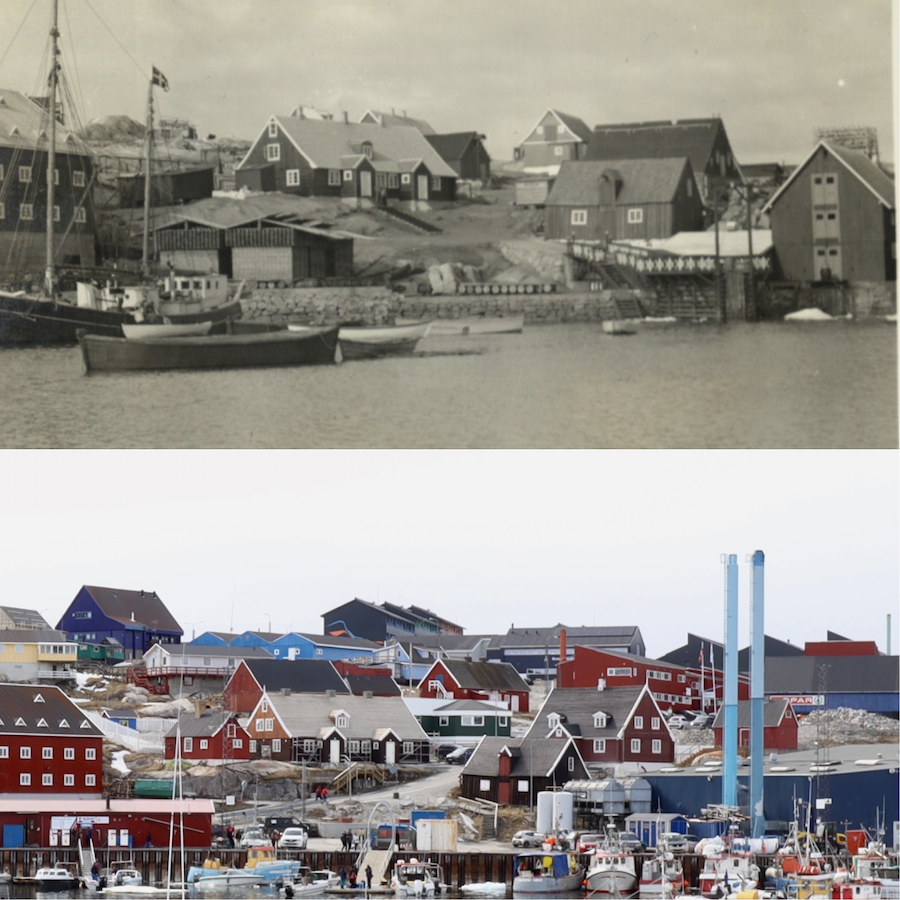 Macy received additional funding from the Arctic Studies program and an anthropology fellowship to collect data for an honors project examining "the changes and the constants" that have taken place in the region over the last one hundred years.
For the next few weeks, she plans to retrace MacMillan's 1926 Greenland journey, using his original maps, photographs, and journals as a guide. "In Greenland, I will visit five villages along the coast, camping in each settlement and interacting with the landscape and communities," she wrote about the trip, adding, "I will keep a handwritten ethnographic journal, like MacMillan, to emulate his process of record keeping."
Her work builds on a fellowship she had last summer in which she created an interactive exhibit for the new Peary-MacMillan Arctic Museum that allows visitors to explore 750 Indigenous places and place names in Greenland. Macy translated the Inuktitut names into English using a dictionary Donald MacMillan wrote in 1942. The exhibit highlights the descriptive and historical nature of the names that connect the Inuit people to their land and past. 
This spring, Macy spent hours in Bowdoin's Special Collections and Archives, transcribing MacMillan's journals and scanning his photographs. As she travels, she is trying to replicate these old images with her modern camera, and sharing the results with people she meets and on a public Facebook account. She hopes that by circulating these images, locals will be encouraged to share stories with her about the places she is visiting.
So far, she said, "I have gotten a lot of people expanding on those place names, telling stories of the areas, sharing info, and also learning of many place names not shown on the map." In each town, she is connecting with museum directors and tourism operators who can point her to others who speak English and wish to talk with her, she added.
As she gathers stories and memories, Macy said she is keeping an open mind. "I am apprehensive to have an agenda going into conversation with people—I want to see where the conversations lead," she said. "I am trying to avoid having expectations or extracting specific information from people here. I'm trying to be respectful."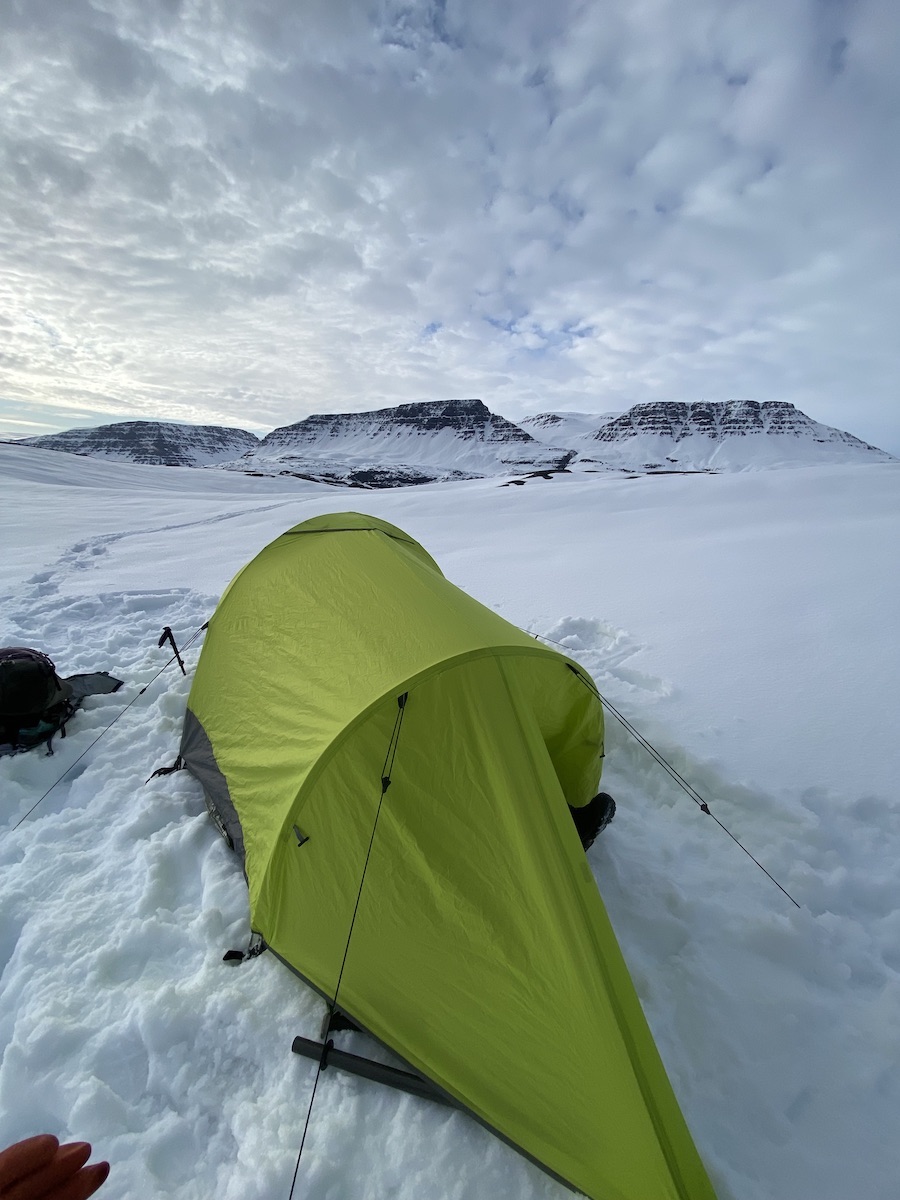 For the first week or so after arriving in Ilulissat, McDaniels was happy to assist Macy with her research because the rivers were still frozen and a couple of feet of snow still blanketed the ground. When the water starts to flow again, he will gather samples from as many as sixty glacial rivers that begin deep within Greenland's massive ice sheet. He'll transport the samples back to campus where he and Evan Dethier, a visiting assistant professor of earth and oceanographic science, can measure the amount of suspended sediment in the water column.
Dethier is using these samples to help develop an algorithm that can remotely sense river sediment anywhere on Earth using satellite images, McDaniels explained. While Dethier has access to public data and river samples from other parts of the world, he doesn't have a lot of information about Greenland's rivers.
"The more samples he can get, the more precise the algorithm will be," McDaniels said. The aim of the sediment study is to help determine the nutrient transfer from rivers to oceans, as well as to better understand how river dams are impacting the movement of sediment and nutrients downstream. But the Greenland samples are special in that they'll also provide information into the changing ice sheet, McDaniels said.
"There's a lot of unknowns up here," he said. "As the ice sheet recedes because of climate change, any information that can be gathered about it is helpful." His trip is supported by a Maine Space Grant Consortium Undergraduate Research Experience grant. 
McDaniel's sampling itinerary will take him along the edge of the ice sheet. He'll camp with Macy for the first five weeks and then head out solo after she returns home. To stay in touch with the outside world, he's brought along a reliable satellite messenger.
While the students' academic interests are providing the catalyst for a lot of adventures, they're also not forgetting the original intention for their trip. When they reach Aasiaat, Macy will run the Midnight Sun Marathon. And when they get to Sisimiut, they'll set out on a ninety-mile hike along the Arctic Circle Trail to Kangerlussuaq. 
As they gather data for research, they're reveling in the stark beauty of the land and the odd sense of time suspended during days that seem to never end. "Time doesn't exist, we discovered!" Macy said. 
"It's certainly not a traditional summer," McDaniels said.