Published February 09, 2023 by Rebecca Goldfine
After the First Semester, Faculty Reflect on the Impact of Technology on Their Teaching
In a new initiative Bowdoin launched last year called the Digital Excellence Commitment (DExC), every student is now provided a MacBook Pro, iPad mini, Apple Pencil, and a common suite of software.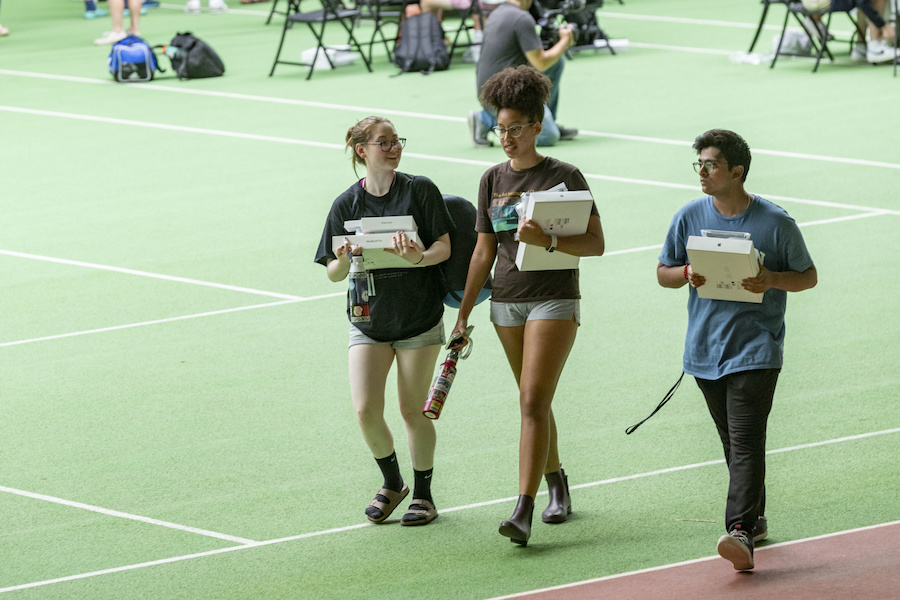 The project aims to foster digital equity among students and to inspire innovative teaching and learning. 
To gauge outcomes from the initiative's first semester, the DExC subcommittee, organized under the Committee on Teaching and Classroom Practice, reached out in December to faculty who taught during the fall semester to seek feedback on whether the technology had altered their classroom experience. The results of the survey were shared with the College community in early February. 
Senior Director for Digital Innovation Sherri Braxton, who leads the DExC subcommittee, said it is important that Bowdoin be "very intentional on gathering data from faculty and students to identify best practices and to improve their experiences."  
DExC Survey Results 
Of the eighty-nine faculty members who responded, 51 percent indicated that the new technology had been only positive. Another 27 percent of faculty noted the technology had both positive and negative effects. Fewer than 3 percent indicated that the technology had been solely negative.
Braxton said she was pleased both with the survey response rate—47 percent of faculty who taught in the fall—and what the results imply. "We expected that there would be some challenging areas as faculty learned to integrate this technology but, overall, this was a positive response for the first semester," she said. 
The survey asked faculty three closed-ended questions that inquired about the effects of DExC on their teaching, what they observed students using the tech for, and what they assigned students to do with the hardware and software.
The survey also included space for open-ended comments. Faculty weighed in on the pros and cons of the technology on several aspects of their teaching, including note-taking, course readings, and group work.
The College's Office of Institutional Research, Analytics, and Consulting (IRAC) analyzed the results. Here are three takeaways from the open-ended comments:
A small group of faculty members recommended that Academic Technology and Consulting develop training modules or user experiences to strengthen students' abilities to use their devices effectively.
The College is working on rolling out new trainings in multiple formats for students, as well as faculty and staff, to aid in the use of technology. The plan is for these to be available in the fall of 2023. 
Eleven faculty members stressed the important role of the DExC initiative in leveling the technological playing field for Bowdoin students.
"The iPad/MacBook initiative has leveled the access to technology for all students," one professor wrote. "I know what all of them have and when asking them to do work in class or at home, my expectations can be clear because all students have the same devices." 
Braxton said statements like this were especially heartening to read, as the DExC project's mission is to create equity among students no matter their family means. "Even if the technology wasn't directly integrated into the pedagogy this first term, these were huge wins," she said.
About a third of faculty members who wrote in a comment worried that MacBooks and iPads negatively impacted students' concentration and focus in the classroom.
One faculty member described students as "constantly on their machines, doing everything else (texting, online shopping, doing work for other courses) BUT paying attention in class."
Braxton acknowledged that the technology will likely shift the way some professors run their classes. "We have already seen some faculty adopting new strategies for classroom management," she said, "where they carve out a time when students all bring out their iPads or MacBooks or get rid of the tech and engage in active learning. But this has to be planned and intentional."
Next Steps
In early February, after faculty had some time to reflect on the DExC survey results, the DExC subcommittee invited professors to participate in an open dialogue, or "listening session," as Braxton called it, to allow professors to discuss both the successes and the challenges that have come with embracing the technology, as well as possible solutions to those challenges.
The DExC subcommittee will continue to offer focus groups for faculty as part of its strategy to collaborate and engage with Bowdoin's teaching community, Braxton said "We want faculty to be engaged in this and to have a voice and contribute to the ways we're supporting them," she added.