Published April 07, 2023 by Rebecca Goldfine and Adam Bovie
New 3-D Campus Maps Make Getting Around Easier for Everyone
Two Bowdoin employees—one with expertise in accessible technology and the other an expert 3-D printer—have collaborated to create the College's first tactile 3-D map.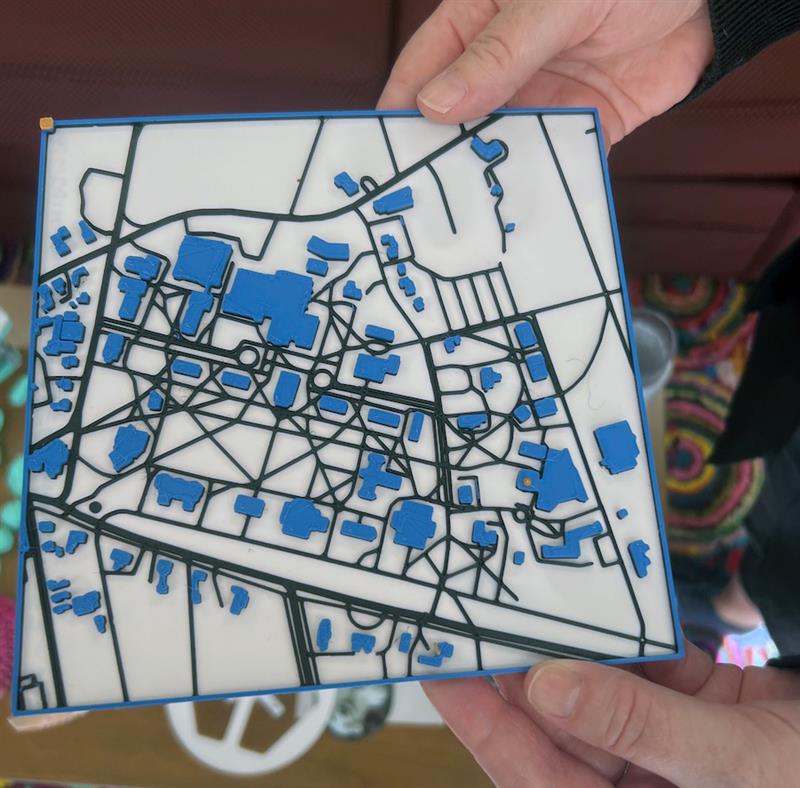 Digital Accessibility Consultant Juli Haugen was recently inspired by a visit to the Coastal Botanical Garden in Boothbay, where she walked around an inclusive garden designed to stimulate all five senses. The garden entryway also has a raised, touchable map to help those who are blind or have low vision orient themselves in the space.
Haugen, whose job at Bowdoin is to help build an accessible digital environment and ensure every student can fully participate in the academic experience, approached David Israel about creating a similar map for campus. 
Israel, Bowdoin's senior producer for academic new media, had already been experimenting with the tactile map program for scholarly and classroom uses, and he's always up for the challenge of building new objects with a 3-D printer, from art replicas to laboratory equipment. Israel does his 3-D printing in Bowdoin's Makers Space, which he founded and oversees, at 102 Jewett Hall. The space is open to students, staff, and faculty.
Using interactive software called Touch Mapper, Israel designed the first map prototype out of biodegradable plastic. It will be available at four locations on campus: admissions, the events office, Smith Union, and the human resources building. Once enough people have used the 3-D maps and given feedback, Israel said he can alter the design to better meet the needs of end users.