Two Next Leaders Fellows Recognized with EDUCAUSE Awards
By Bowdoin News
Two members of the inaugural cohort of the Next Leaders Fellowship program have been recognized with EDUCAUSE awards, which bring peer endorsement and distinction to professional accomplishments in the field of higher education information technology.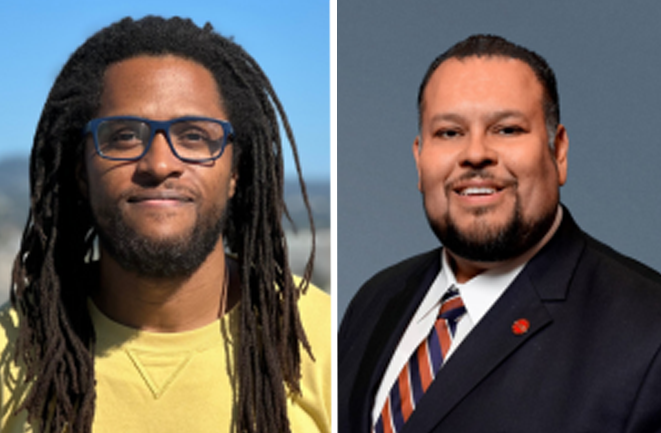 Wes Johnson, executive director for IT experience at UC Berkeley, has been selected to receive the 2023 Rising Star Award in recognition of his collaborative and creative approach to problem-solving, stellar interpersonal and communication skills, dedication to personal and professional growth, and commitment to advancing DEI-focused hiring practices. 
Felix Zuñiga, the information technology services engagement partner at the California State University, has been chosen to receive EDUCAUSE'S 2023 DEI Leadership Award, for his advancement of DEI-related practices and initiatives, for ensuring that diverse perspectives and voices are heard and elevated, and for exemplifying strong DEI leadership, community involvement, and service to the greater EDUCAUSE community. 
Johnson and Zuñiga are members of the inaugural class of the Next Leaders Fellowship (NLF) program, which was launched in 2022 under the direction of Michael Cato, Bowdoin's senior vice president and chief information officer.
Designed for tech professionals working at colleges and universities around the country, NLF offers professional development to professionals with a focus of increasing representation from historically excluded backgrounds. 
It aims to equip them with a network of peers and mentors—as well as new skills and experiences—so they feel better prepared to seek and attain senior leadership roles in the educational technology field. 
Bowdoin College is the lead sponsor of the NLF program in partnership with a group of sponsors including EDUCAUSE and NERCOMP, two nonprofit professional associations working to advance higher education through the use of information technology.
Published September 18, 2023