Published May 28, 2021 by Tom Porter
More Than a Dozen Bowdoin Graduates Offered Fulbrights, Other Awards
Thirteen Bowdoin seniors and a recent graduate have been offered prestigious Fulbright grants this year, enabling them to study and work overseas for the upcoming academic year. A handful have also been offered other awards.
The Fulbright U.S. Student Program, founded by US Senator J. William Fulbright in 1946 and sponsored by the US government, is designed to increase mutual understanding between the United States and other countries. Each year, applicants are selected in a competitive process to teach English or to pursue studies or research in one of more than 160 nations around the world.
Of this year's cohort, at least fourteen scholars, most of them graduating seniors, were offered Fulbrights, twelve of whom accepted. Two of them declined in order to accept different awards. A further student, also a graduating senior, won another, similar grant to teach overseas.
"Undaunted by the challenges of this past year, our applicants devoted tremendous thought and energy to the arduous Fulbright process," says Director of Student Fellowships and Research Cindy Stocks. "We are proud of every applicant and excited that this year's recipients will have the opportunity to draw upon the best of their Bowdoin education and contribute to the common good as cultural ambassadors in their host countries."
Meet the scholars: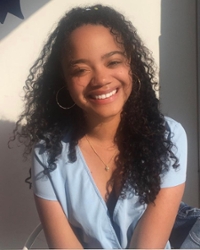 Noelia Calcano '21, English Teaching Assistant, Spain.
Majors: Government and Legal Studies, Hispanic Studies.
Calcano will be returning to Madrid, where she studied abroad during the fall of her junior year. Throughout her time at Bowdoin, she explored her passion for public service through her involvement with Bowdoin Public Service and professional experiences with the Maine ACLU, Congressman Jared Golden's office, and the Immigrant Legal Advocacy Project. "Having worked as a mentor, tutor, and teacher, I am excited to employ creative pedagogies to instill a love of language learning in my students," says Calcano. "During my time outside the classroom, I also hope to intern for a legal organization that supports immigrants, a project that connects to my honors thesis in international relations about protections for climate migrants in the US."
Lily Anna Fullam '21, English Teaching Assistant, Spain.
Major: English
Minor: Mathematics
As an ETA in Spain, Fullam hopes to engage with students and build their language skills across different subjects. "I also plan to connect with my host community through interviews about their experiences over the past year. I will then compile what I've learned, using my printmaking skills to create an artist's book as a culmination of both their stories and my own," she adds. Her experiences as a writing assistant at Bowdoin, as a camp counselor, and as a reading tutor at a local elementary school have prepared her to navigate teaching environments with any age group, adds Fullam.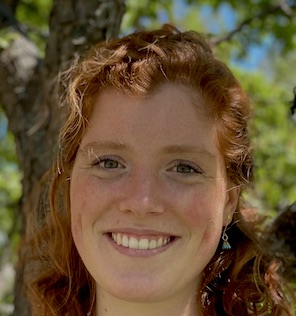 Jillian Galloway '21, Study/Research Award, Iceland
Major: Biology
Galloway will be examining how changing ocean chemistry and temperature patterns are impacting seabird populations in Iceland. "By studying the ecology of a species that inhabits both terrestrial and marine spheres," she says, "I plan to engage with climate change impacts on both ecosystems. I hope to use my interest in education and science communication to further understand and become part of the local Icelandic community in the Westman Islands."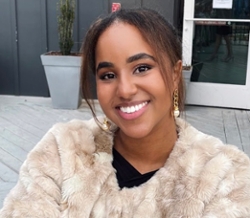 Audree Grand'Pierre '21, Study/Research Award, Australia
Majors: Psychology, Visual Arts
Minor: Anthropology
Grand'Pierre will be conducting research at the University of Queensland in Brisbane on ties between minority burnout and interracial encounters. Coming from a Haitian immigrant family, and attending a predominantly white college in Maine, Grand'Pierre says she also contributes a personal understanding of her research field. In her project, Grand'Pierre proposes to look at a lesser explored, more subtle form of prejudice within interracial encounters. "Specifically," she explains, "I will test the hypothesis that, when interacting with majority group members, minority group members often feel pressure to perform in a certain positive way to appease majority audiences and overcompensate for negative stereotypes about their race. The consistent pressure to perform, I suggest, can lead to debilitating minority burnout, and psychological distress."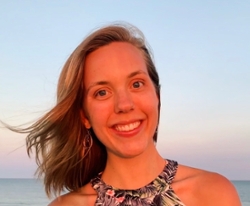 Kimberley Hancock, '21, Study/Research Award, India
Majors: Mathematics, Computer Science
Minor: Asian Studies
Hancock will be carrying out in research in India's telecommunications field; more specifically, she will look at efforts to empower female digital entrepreneurs. "I will be working with the Digital Empowerment Foundation, one of the world's leading practitioners in the field of information and communication technology for development. While access to digital technology has grown exponentially in India in the twenty-first century," she explains, "this has also come with a rise in information poverty in rural communities. My project will focus on the barriers to access women face in using digital tools. Ultimately, I seek to better understand how the internet can help rural communities achieve greater socioeconomic equality. Given the hard impact of COVID-19 on India right now, especially in rural communities, the relevance of this project is greater than ever."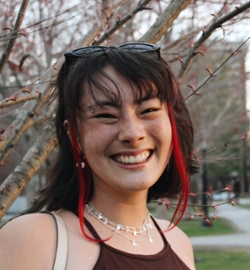 Ayana Harscoet '21, English Teaching Assistant, Taiwan
Major: Environmental Studies-Biology (coordinate major)
Minor: English
Harscoet says Taiwan presents a uniquely diverse physical and cultural landscape, making it an incredible place to expand her cultural and environmental consciousness. "As an ETA in Taiwan, where mountains meet megacities, I'm excited to teach English through an environmental lens, learning about local ecological stewardship from my students and peers," says Harscoet. "In doing so, I hope to expand my knowledge of East Asian environmental advocacy as well as my understanding of what it means to be in a community, forming relationships through food, music, storytelling, and outdoor recreation. What's more," she adds, "I really love teaching!"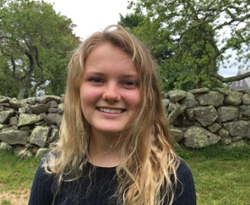 Eliza Jevon '21, English Teaching Assistant, Taiwan
Major: History
Minor: Cinema Studies
"I love to teach, especially young children, and to explore new places and cultures!" says Jevon, who seeks to build a "relationship of trust" in her Taiwanese school. "As an English Teaching Assistant in Taiwan," she says, "I would apply my diverse teaching experience as an English elementary school teaching assistant and private English tutor in Paris and children's sailing instructor in Boston." The flexibility, creativity, and independence gained from these experiences, says Jevon, as well as from her time studying abroad, provide her with "the skill set to excel as an English teacher in Taiwan and thrive in a new cultural setting." She is also cognizant of the emphasis put on learning English because of its global reach. "Teaching English  gives [students] the power to tell their story," she says.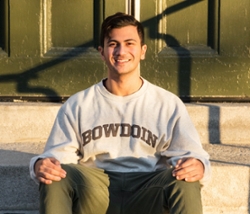 Mohamed Kilani '21, English Teaching Assistant, South Korea
Major: Education-Hispanic Studies (coordinate major)
Kilani, who immigrated to the US from Jordan as a child, says he strives to be "a global citizen, making relationships and friendships regardless of differences and cherishing similarities as one human community." He says he plans to combine his interests in linguistic and cultural proficiency to teach English in South Korea. "I'm a multilingual Iraqi-American; I'm uniquely resilient, driven, and dedicated to utilizing my skills to improve the lives of others. I can relate to and help South Korean middle school students, having known myself the struggle and difficulty of learning English in middle school," says Kilani.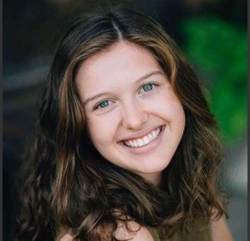 Emily King '21, English Teaching Assistant, Taiwan
Major: Neuroscience 
Minor: Chinese
After spending over a decade learning the Chinese language, King says she hopes to instill in others, particularly the younger generation, the same appreciation for the art of language that she has developed. "I am also eager to take my lifelong friendship with the Chinese language to another level, and I can think of no better way of doing so than through the immersive experience of living and teaching in a Chinese-speaking country," she says. King is also motivated by a passion for mentoring and educating others, she says, especially children. "Experiences as a sports coach, camp counselor, tutor, peer mentor, and volunteer at St. Paul Children's Hospital have reaffirmed my love for engaging with children while equipping me with the necessary skills to create meaningful connections."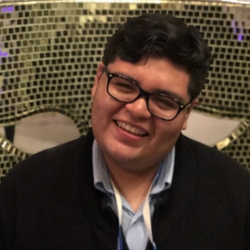 Louis Mendez '19, English Teaching Assistant, Brazil
Majors: Government and Legal Studies, Neuroscience
Mendez has worked as a high school teacher since graduating from Bowdoin, and currently teaches in a predominantly Hispanic community with varying levels of English proficiency, where he says he has used his bilingualism and shared experiences to create a classroom accessible to all students. "I specifically decided to apply to Brazil because it is an excellent place to gain further insight on the factors interconnecting Brazilian race relations, social cohesion, and educational and social equity—topics which I explored in depth during my government studies from a US perspective," he says. "As an ETA in Brazil," Mendez adds, "I hope to gain a deeper understanding of the Black and Indigenous history in the Americas and the inequities that have accompanied them, while also helping my Brazilian students achieve their personal and professional aspirations."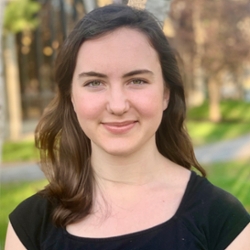 Grace Pettengill '21, English Teaching Assistant, Spain
Majors: Biochemistry, Gender, Sexuality, and Women's Studies
As an ETA in the Canary Islands, Pettengill says she plans to draw on her experiences teaching adult immigrant English students and working at the Bowdoin Children's Center. "As a gender, sexuality, and women's studies student," she adds, "I am curious how gender and sexuality are talked about in Spain, especially considering Spain's ranking among the most LGBTQ friendly countries in the world. Specifically, the Canary Islands are of interest because of their prominent LGBTQ tourism and cultural events. I plan to engage with local advocacy groups to gain an understanding of how communities foster affirming environments."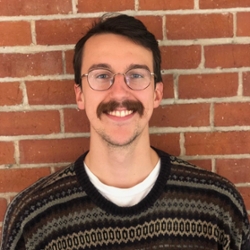 Archer Thomas '21, English Teaching Assistant, Serbia (declined)
Majors: Government and Legal Studies, History
Self-confessed "language nut" Thomas had a difficult choice to make earlier this year and ended up declining his Fulbright scholarship to accept a Thomas J. Watson Foundation fellowship. This provides him with the funding to spend the next twelve months traveling the world by rail. Specifically, he will be exploring public transit systems in London, Berlin, Moscow, Tokyo, and Mexico City. He will be researching how different transportation systems are coping in the aftermath of the pandemic. Read more.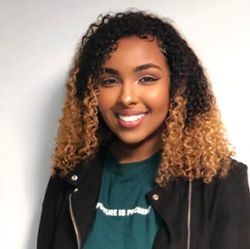 Elwaad Werah '21, Study/Research Award, Trinidad and Tobago
Major: Education-Government and Legal Studies (coordinate major)
Minor: Africana Studies
Werah will be studying aspects of Trinidad's education system, specifically the country's Secondary Entrance Assessment (SEA) and analyzing whether it functions to promote or hinder equity. "I will be considering its political, social, educational, and the current COVID-19 pandemic impacts to help address the matter," she says. Werah became interested in the subject while studying abroad in Trinidad in the spring of 2020, particularly in parallels between the SEA and the SATs in the US. Her previous stay in Trinidad was cut short due to the COVID-19 pandemic, and she is looking forward to her return.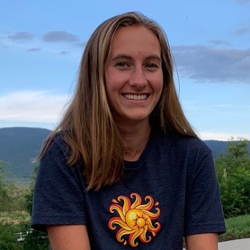 Anneka Williams '21, Study/Research Award, Denmark (declined)
Major: Biology
Minor: Earth and Oceanographic Science
Williams will be heading to Denmark this fall, but not as a Fulbright scholar. She declined that honor in order to accept funding for two years of study at the University of Copenhagen, where she will be earning a master's in climate change. "This is a program that is grounded in climate science," she says, "but it offers an interdisciplinary approach to the study of climate change so includes coursework on the economics and the social impact of climate change. I'm excited about this program because it will help me develop an international perspective on climate change. It also allows me to travel to different countries all around Europe to complete my coursework, while the interdisciplinary nature of the program will help me better translate climate science into action."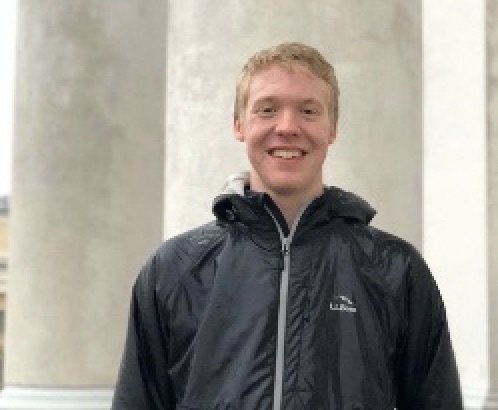 Also heading abroad this fall will be anthropology major Lowell Ruck '21, who has been awarded a teaching assistantship by the Austrian government. The program is administered by Fulbright, he explains, although it's not technically a Fulbright grant. "I will be spending the next year in St. Pölten, Austria, working as an English teaching assistant in a high school," says Ruck. "I'm excited to return to Europe, especially after my semester abroad in Sweden was cut short by the pandemic," he adds, "and I'm looking forward to improving my German language skills and cultural knowledge in an immersive environment."