Published November 27, 2019 by Bowdoin Magazine
A New Look for Russwurm
As part of Bowdoin's AF/AM/50 celebration the College commissioned a new portrait of John Brown Russwurm.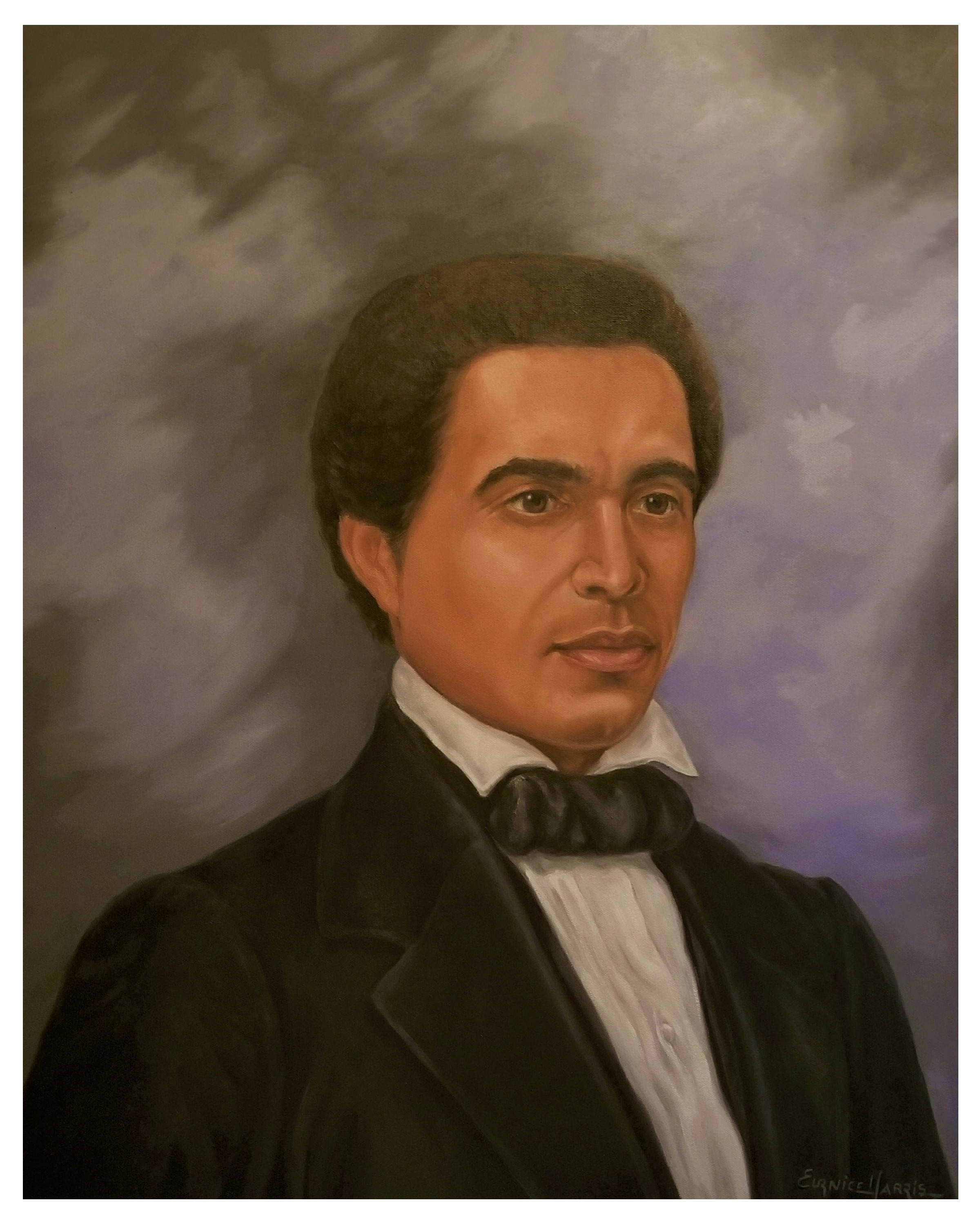 The first photograph was taken in 1826, the year that John Brown Russwurm became the first African American graduate of Bowdoin, but photography wasn't widely available until well after Russwurm's death in 1851. There are no known photographs of him, and only a handful of artistic likenesses. As part of Bowdoin's AF/AM/50 celebration, Benjamin Harris, who is director of the student center for multicultural life, diversity, and inclusion at the College, commissioned a new portrait of Russwurm from artist Eurnice Harris.
Harris explains her artistic process for this project: "Among the many portraits that I've done, this was my first historic portrait. This commission was guided by several things. The significance of Russwurm's status as the first graduate of African descent from Bowdoin meant that the portrait needed to reflect the essence of a trailblazer, a triumphant man, and a scholar. It mattered to achieve a college degree during a time when in many parts of the country blacks were still enslaved and it was still illegal for them to receive a basic education. The glory of that accomplishment needed to shine through this portrait. I was excited to be a part of a project that will provide generations with a visual representation of a man who achieved great feats during a time when so many people of African descent were restricted from citizenship, freedom, and education."
Harris explained, "This project required several techniques. Russwurm was born in Jamaica, in 1799, to an English merchant father and an unknown slave mother. At this time, photography had not yet been invented; therefore, there were no photo references of him available. After conducting my own research, I came across several artists' renderings of Russwurm but, as one might imagine, each of these depictions were different. I found a pen and ink etching of him, which may have been the reference drawing that the other artists used. I decided to use the etching as my main reference as well."
She continued, "My mission was to paint a lifelike portrait of John B. Russwurm, with the limited resources that were available to me. The style of the portrait would be traditional, which means it would be realistic and as historically accurate as possible. Before I picked up a pencil or paintbrush, I took a few days to study my reference drawings, trying to figure out the best way to proceed. After studying the etching very closely, I realized that I could not use the drawing as is. His facial features did not align correctly, there were areas that were too dark to see detail, and it had no color, so I had to figure out a skin tone. I researched the clothing of the 1800s to be true to the period, and finally, importantly, I studied the skin tones of several biracial individuals and took reference photographs of my own. It was time consuming but was necessary to accomplish the level of quality and accuracy. In the end, I'm very proud of the final portrait.  I think it captures the necessary elements, and honors Russwurm's memory by portraying him as the distinguished scholar that he was.
"I would like to thank Benjamin Harris, director of the student center for multicultural life, along with the committee and everyone who assisted with this project and for entrusting me with it. This commission was truly an honor."
Find Eurnice Harris's work online at Facebook and follow her on Twitter at @EurniceHarris. 
---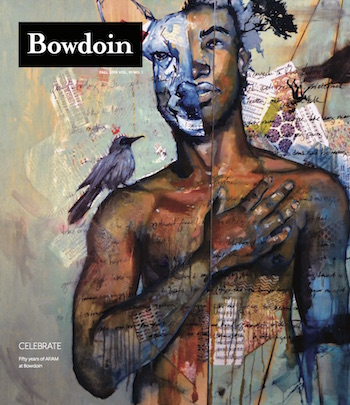 This story first appeared in the Fall 2019 issue of Bowdoin Magazine. Manage your subscription and see other stories from the magazine on the Bowdoin Magazine website.