Published July 20, 2022 by Bowdoin Magazine
Sea Change: Preston Anderson '22
Amid the COVID doldrums and in the wake of George Floyd's murder, Preston Anderson '22 skippered an ambitious national initiative—The Inclusivity, Diversity, and Equity (TIDE) task force—that is changing collegiate sailing.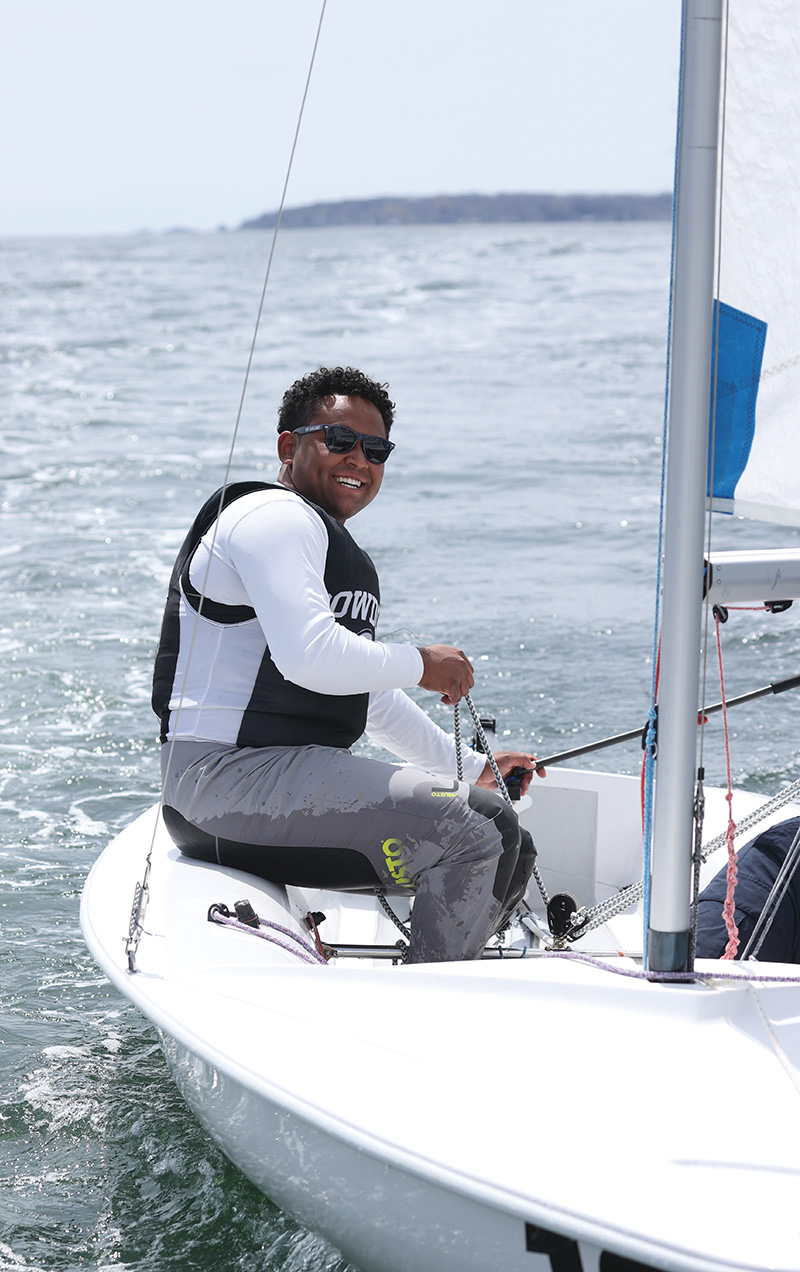 I understand that you learned to sail when you were eight, outside of Chicago. Can you tell me a little bit more about those circumstances and how you were introduced to the sport and your navigation, eventually, to Bowdoin?
I have two younger brothers and a younger sister, and we all went to sports camps and a variety of camps. My parents wanted to expose us to a bunch of different opportunities and experiences. My siblings really loved the sports camps, but I just didn't really engage with it all too much. We were living in the northern suburbs, and my mom would commute downtown to her office and pass by the Northwestern Sailing Center on her way. She asked if I wanted to give it a try. "I don't know, maybe, maybe not," I told her. When I was younger, I had a personality of "You have to put me into doing those opportunities," so she signed me up. We were able to arrange something with Northwestern Sailing to get me to do a private lesson first and I was, like, "Wait, this is actually a lot of fun!" I ended up loving it and sailed throughout middle school and high school. My sophomore year, we were able to start a high school team that got me more into racing. I did a little bit of summer racing with club teams and immersed myself in it, and then ended up coming across Bowdoin in my college search. I had a conversation with Frank [Pizzo '06, Bowdoin's head coach] before I applied, and it sounded like a great opportunity to continue sailing if I got into the school.
What do you think it was that piqued your mom's interest, thinking that you might enjoy sailing?
She always loves telling the story of how I was in first grade and I did a soccer camp. I would not be paying attention; I'd be staring at the clouds and not engaged at all. So, when she saw the sailors out on the water, she was like, "Oh, you might enjoy this."
Did she know people at Northwestern or know people who were sailors?
No. We had no connection at all to sailing. I kind of got thrown in. I'm very connected with the sailing community now and very grateful to have been thrown into it.
What's your favorite thing about sailing? Why do you love this sport?
I love the community. It's a fun, welcoming community. I've met lifelong friends and have had a lot of just really amazing opportunities, especially in the past two years with TIDE and DEI work. Just seeing everyone who wants to be involved and wants to bring in new people, bring in new perspectives, and just bring a bigger group of people into our sport. There's a lot of enthusiasm and it's just impactful to see that. And it's been even more fun to be able to meet people through Zoom and then eventually meet them in person at regattas and talk in person about the stuff that we've been working on, and also to laugh a lot! I feel like we've developed a whole new community within sailing, especially in collegiate sailing.
I feel like just being on the water and being able to just go out with friends and just go sail and compete against friends is a lot of fun to me. Sailing feels very free to me.
What sort of things have you learned or gained from being part of Bowdoin's team?
Our team is very welcoming, but our team has had to deal with a lot of different issues. I think that seeing how we can rally around each other and be able to support each other. When I joined the team, I could see that people wanted to acknowledge our past and ways that we can rectify past mistakes. I think learning from mistakes has been why we've been able to foster a great community on our team.

And I think our coaches have given us an opportunity to really support each other and not just know each other as competitors on the water and teammates, but more as friends—and being able to grow that community aspect I think is definitely something that I've learned. Because sailing's a weird sport. It's very individualistic. But I feel like in collegiate sailing you have more of a team aspect. So it's really buying into that team culture. I think that's something that I've really been able to enjoy and learn the past four years.
So tell me what specifically TIDE is doing.
So there are quite a few things. One of the first few projects we worked on was an education project. We really kind of wanted to find ways to guide teams into having discussions about race, inclusivity, any DEI issue within our own teams. So we were able to put together a program that focused on team culture, and actually launching New England first, where it was more about identity and focusing on different identities within New England college sailing. And then on the national level we were able to take the feedback that we learned from the New England presentation. And we were able to develop a three-part education series or discussion series.
The first one was really setting the groundwork. Focusing on team culture, focusing on ways that we can have discussions as a college community. So to really foster an inclusive environment within college sailing. We kind of built on that for the second one, which was more about specific, more tangible discussions focused on team culture, microaggressions, derogatory language, just really kind of diving into that. And then our third presentation was about, how do you recruit diverse members onto your team if you're a club team? How do you recruit walk-ons? And then focusing on community outreach and retention too. So really having a broad spectrum of discussions on the national level.
Another big project we had was the demographic survey. So really going through that and doing a deep dive of who is represented in college sailing was very interesting to read about.
It wasn't very surprising though was it?
No, the statistics weren't surprising. I think it was fascinating. It was fascinating to see our assumptions of who was representing college sailing talent kind of affirmed.
To what do you attribute Tide's rapid growth and expansion in just a year and a half?
I think that we have a lot of undergraduates who are very enthusiastic about creating change in our sport. Being able to work with an incredible amount of undergraduates to have discussions about ways we can recruit more members onto our team. Because college sailing is primarily club teams. New England, I think, is one of the only conferences, that and the mid-Atlantic conference, that will have many varsity teams. And a lot of club teams are trying to find ways to recruit new members and continue to have their teams grow so that the team will live on past through graduation. So what are ways that you recruit more diverse members? How can we find a way to make our team better by working with other collegiate athletes, working with our peers, working with our friends that we'll see at regattas, to make our sport better? I think a lot of people saw an opportunity to just get involved—there's a lot of enthusiasm about getting hands-on and being able to create change.
Why does it matter to have representation in sailing?
I think that when you restrict yourself, when you restrict the group of people that you have be a part of your team, a part of your community, you're only getting one perspective, and it's very limiting. When you start expanding, you get a bunch of different perspectives, different ways of thinking and different athletic abilities. And I think that when you expand out, you're only expanding the possibility, the potential, of your team. If you want to go far and be very successful, you can't limit yourself, you need to be able to grow and just expand potential.
I feel like I've always wanted to find ways to create change in our sport. I have grandparents that were huge civil rights activists, and they've definitely inspired me, if there's opportunities to create change and create better opportunities. What are ways that I can do that within a sport that historically hasn't been diverse or inclusive?
Learning from what my mom and my parents have told me about what my grandparents did during the civil rights movement has inspired me to create change within college sailing and sailing in general. And I don't know, I feel like I've had a lot of fun doing it, just networking with a bunch of incredible, incredible other collegiate sailors. And I've definitely developed a lot of friendships within it. We've been able to work together and kind of come up with these very powerful presentations and have a lot of success with getting buy-in. So I think there have been instances where I get frustrated, but it's also about what I get from being able to work with incredible sailors, incredibly smart sailors, and just have a lot of fun doing it too.
Do you think that the current situation in our country, after incidents like George Floyd's murder, makes people more willing to take this on now than they might have been?
For sure. I was having discussions in high school about this, and it just seemed like we'd start having conversations and then go back to kind of focusing on competition. Conversations wouldn't get too far. Now it seems like, "Oh, we really want to create change, and what are ways that we can get involved to create change for this sport, because it needs to happen. We won't be successful in our sport unless we can bring more people in." I think people are starting to realize that.
What are some of the things that you've learned in this experience?
Definitely for myself, just learning how to be a lot more patient, but also being able to push for change. Especially now in transitioning into working with our national governing body, having a much bigger, broader scope. I think a lot of people like to work slowly or give excuses for not wanting specific things to happen. And just being able to continue to push and being patient and letting the process play out. But being able to call out when things need to change. I've definitely learned a lot about how to do that appropriately. 
What do you like about sailing in Maine?
Maine's very beautiful. I think this is one of my favorite venues to sail. I feel like the Schiller Coastal Studies Center offers some of the greatest conditions that I've sailed in.
What's next for you in sailing and otherwise after graduation?
I'm going to grad school at Georgetown for sports management. But I hope to stay involved with sailing. I'm currently doing diversity inclusion work for US Sailing, which is the national governing body, and I'm still on as an advisor for TIDE. So I'm still connected with the college sailing world. And I hope to find ways to stay competing. I think there are definitely opportunities around DC when I go to graduate school and when I go home to Chicago. 
---
Preston Anderson '22 is a member of the New England Intercollegiate Sailing Association's (NEISA) executive committee. The founding NEISA TIDE executive committee, including Preston (undergraduate chair), Jonathan Chance '23 (head of education), and Frank Pizzo '06 (varsity coach representative), received the 2020 Robert C. MacArthur Service Award for exhibiting outstanding lifetime service to NEISA.
---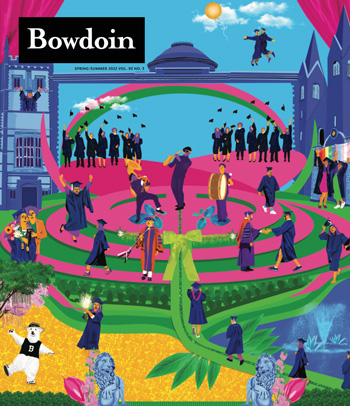 This story first appeared in the Spring/Summer '22 issue of Bowdoin Magazine. Manage your subscription and see other stories from the magazine on the Bowdoin Magazine website.