Student Awards
The Latin American Studies program recognizes and encourages students who have demonstrated excellence in Latin American studies to engage in developing their own research. 
Awards such as the John Turner Prize and the LAS Public Engagement Award aid juniors and seniors who are developing research which contributes to the recognition and understanding of Latin American, the Caribbean, or the Latin American and Caribbean diaspora.
The John Harold Turner Prize in Latin American Studies
Named after Professor Emeritus John H. Turner, this prize is awarded to a graduating Latin American studies major who, in the judgment of the program's faculty, has demonstrated outstanding academic achievement based on coursework in the major, as indicated by academic record and/or independent research in an honors project or independent study.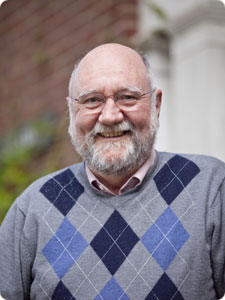 About John Harold Turner
John Turner is a scholar of Renaissance Spanish literature and contemporary Latin American literature, and an authority on the works of Argentine author Julio Cortazar. He has published numerous papers and articles and is author of the book The Myth of Icarus in Spanish Renaissance Poetry.
Turner earned an MA at St. Andrews University, an AM at Indiana University, and a doctorate at Harvard. He joined the Bowdoin faculty in 1971.
A superb teacher, Turner has mentored scores of Bowdoin students in his forty years of teaching, many of whom still count him a personal friend. He was instrumental in establishing the Latin American Studies Program at Bowdoin in 1999, and helped to recruit many of Bowdoin's Latin American scholars.
---
LAS Award for Public Engagement
Established in 2016, this prize is awarded to a junior or senior, majoring in any discipline who has contributed to the recognition and understanding of Latin America, the Caribbean, or the Latin American or Caribbean diasporas through exemplary public engagement, meaningful community service, and/or efforts in public education, intersecting, to the extent possible, with his/her academic studies.
Candidates can be self-nominated or nominated by any faculty member. Candidates must submit a narrative statement explaining the work for which they have been nominated and, if applicable, the way in which that work intersects with their academic studies on Latin America.