Published July 12, 2022 by Jane Godiner '23
Irina Popescu Shares Concerns about Future of Education with Maine News Outlet
On June 29, 2022, the Bangor Daily News published an opinion piece by Irina Popescu, assistant professor of Latin American, Carribean and Latinx Studies, in which she warns about the ramifications of censorship trends facing public school education today.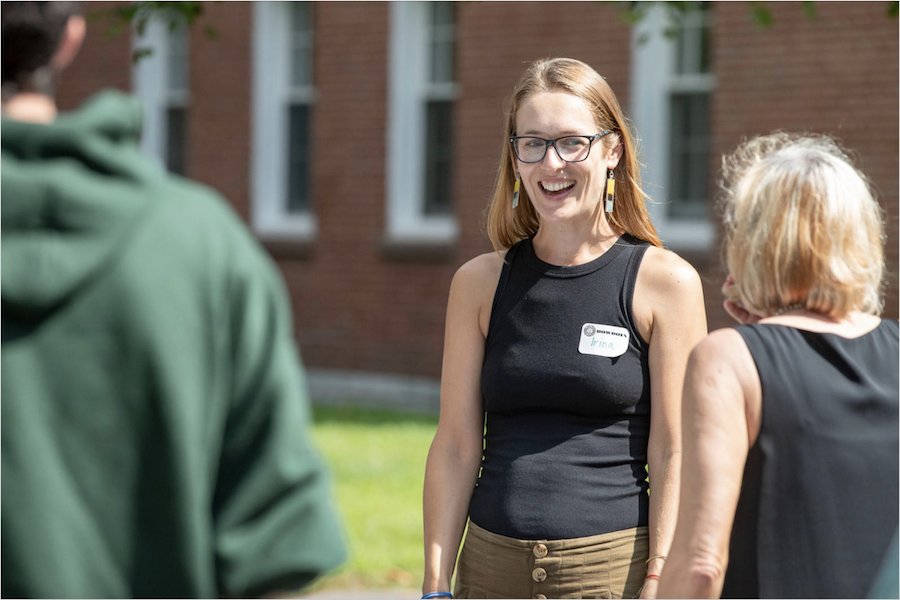 In her column, "School's Out But Public Education is in Danger," Popescu, who is a member of the Maine chapter of the national Scholars Strategy Network, discusses one of her son's favorite books, Julian is  a Mermaid.
The story chronicles a young boy's exploration of gender expression through dress-up, and Popescu argues that it is in danger of being banned in states across the country due to a crop of new legislation, including Florida's Parental Rights in Education law, aka the Don't Say Gay bill.
"When I put on my educator hat, [Julian is a Mermaid] details the story of a child curious to inhabit the world of women and gender performance," Popescu writes in the piece. "When I put on my mama hat, the book nurtures a young child's sense of whimsical, exploratory dress-up."
Popescu uses this personal connection as a springboard for discussing the long-term consequences of this bill.
"The current Florida law erases the histories, stories, and lived experiences of members of the LGBTQ community from the nation's narrative," she says. "This, coupled with the innumerable critical race theory bans across the country, means that our public education system is under attack."
By drawing another personal connection to the history of erasure in her birth country, Romania, Popescu also emphasizes the urgency of this issue.
"I have witnessed how my country, during its lengthy dictatorship, enacted similar measures within the public school system. These measures are still being revised by scholars and activists almost forty years later," Popescu says. "These racist and homophobic procedures are detrimental to the public education system in this country and, if continued, will take decades to unlearn."
Popescu closes by imploring her readership to fight against the passing of oppressive legislature such as this one—for the future of education, but also that of human rights.
"We need to be extra vigilant against these trends. That means running for school board, supporting sensible candidates who focus on the expansion of our children's worldly knowledge, empathy and diverse understanding, and being active in your district's parent organization," she says. "...We must empower ourselves to become the advocates for education that our kids, communities and nation need and deserve."