Published August 05, 2022 by Jane Godiner '23
Environmental Studies Alumna and Student Collaborate on Human Rights Law Notice
In the spring of 2022, then-J.D. candidate Bridget McCoy '15 published an article in the Columbia University Human Rights Law Review—with support from her Bowdoin roots.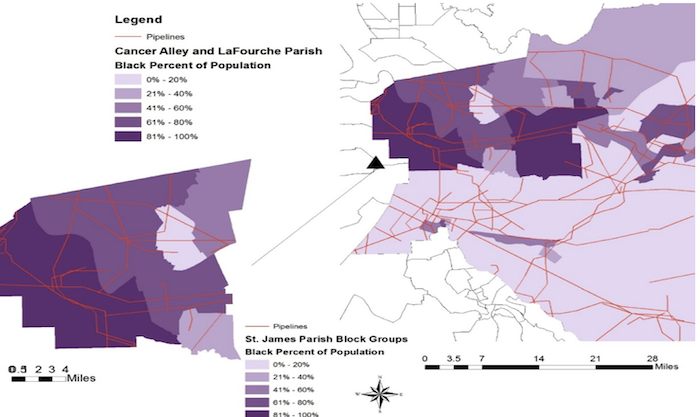 McCoy's article, "Critical Infrastructure, Environmental Racism, and Protest: A Case Study in Cancer Alley, Louisiana," outlines the human rights infringements in the Black communities of Cancer Alley as a result of Louisiana's "critical infrastructure laws."
"When I was working for the Gulf Coast Center for Law and Policy in Louisiana during the summer of 2020, there was a huge movement of protests and organizing that happened in reaction to the killing of George Floyd," McCoy said. "The Louisiana Governor had just vetoed an expansion of a critical infrastructure law, and I looked into it, and it was shocking.These laws essentially make it illegal to be on or near something that is deemed critical infrastructure. It makes any sort of direct action much more consequential."
After learning about these laws, McCoy was struck by their relevance in the communities with which she was engaging in Louisiana.
"It became obvious that it would be almost impossible, particularly in Black communities in Cancer Alley, for them to go about their daily lives and to organize in their own communities without somehow running into critical infrastructure," McCoy said. "I was just about to start staffing the Columbia Journal for Human Rights, and one of the requirements is that you have to write a notice—I was like, wow, this issue of critical infrastructure laws is a very new, emerging issue, and no one has really thought about the other collateral groups that can get caught up."
After resolving to focus her research on the impact of these laws on the free speech of Black communities in Cancer Alley, McCoy became concerned with how best to map her subject matter—both figuratively and literally.
"One of the things I wanted to do was to visually illustrate how saturated and dense these communities are with critical infrastructure," McCoy said. "I reached out to [Senior Lecturer] Eileen Sylvan Johnson, in the Environmental Studies Department, because I did not take GIS [Geographic Information Systems] and figured that there are probably people who are better at this than me."
From there, McCoy connected with then-senior Brianna Cunliffe '22, a government and legal studies major, who began helping her illustrate the maps using her growing GIS knowledge.
"I took a course with the wonderful professor Johnson called Building a Resilient Community, and there was a big focus on applications," Cunliffe said. "We had the option for our term project to opt for a community-engaged project rather than their traditional paper or final or final research projects."
Johnson's open-ended term project structure allowed Cunliffe, who is originally from Louisiana, to immerse herself if McCoy's research once it was introduced to her class.
"I've never seen anyone talk about the ways in which proximity to this dangerous infrastructure also impacts other dimensions of communities," Cunliffe said. "Yes, environmental injustice and pollution is absolutely threatening the health and well-being of these communities in this way, but it might also be threatening their freedom of speech and freedom to assembly."
In the wake of the paper's publish, McCoy believes that her Bowdoin education was critical to its success—not only from a practical perspective in helping her find a research assistant, but in its principles and experiences as well.
"Coming to a large university for law school made me cherish and appreciate my years at Bowdoin," McCoy said. "It was really a joy to connect back with the environmental studies program and to connect with a student who was going through that time in their lives."