Infant Program
Our Infant Program recognizes that each infant has needs a primary caregiver can meet with individualized care delivered so that they feel safe and secure when their family is not with them.
Overview
In the early years, close proximity to caregivers, consistent and predictable practices, and anticipation of having their needs met, allows infants to play throughout their day calmly and independently.  We offer infants opportunities to play without interruption and direction as we recognize that infants are creative, self-motivated, and curious learners from their first months. In the first years, physical development is a paramount skill to master so infants are offered maximum freedom to move in their indoor and outdoor play spaces as they can and follow their trajectory for development.
Philosophy
The Bowdoin College Children's Center Infant Room provides a warm, rich environment where we offer continuity of care, where one on one interaction between the primary educator and the child extends through the first three years. It is in these one-on-one interactions, that children have the emotional support they need to thrive with someone who knows and understands them. The goal of the infant team in this model of care, is that they and the cohort of children travel through the first three years of life together.

Coupled with this care model is our partnership with families where we learn through conversations with parents about their culture, their values, their practices, and their hopes for their child's care.  Building a strong communicative relationship that is built on trust is the foundation of their child's world at the Center.
Meeting the infant where they are respects their growth and interests as well as the freedom to develop at their own pace. While infants in their first year are focused on managing their bodies, we build a program with floor-time as a central focus. With a caregiver nearby, infants learn to move and stretch building self-confidence and physical control.  
In a room designed to be calming to the young child's senses, our environment prepares the conditions for deep, concentrated play, to reduce stress for the babies. Through predictable forms, routines, and relationships we focus on caregiving relationships, believing that the tasks of daily life for an infant provide a natural time for the child to engage in what directly involves them. Our practice focuses on the child's engagement with the process of being fed, diapered, dressed, and napped rather than just completion of the task. We use songs to mark our transitions so that the children learn to anticipate what is coming next.
Toys are selected carefully, and we use natural materials when possible, that are based on their interest, safety, and flexibility. Outside, infants find new physical challenges (e.g., uneven ground, places to climb) and tactile sensory experiences (e.g. sand, grass, trees, bark, mud, water, rocks, snow). This integrated approach to caring for the young child, builds upon the latest research in brain development, attachment, and best practices for infant care.
Daily Schedule
Arrival and Drop Off
Prior to the COVID-19 Pandemic, arrival and drop off in the infant room was an interactive moment between the parent, caregiver and child in the room. Currently we do not allow for parents in our building, so we offer time for parents to be with their children on the play yard at drop off during the beginning of the year and as they become accustomed to the Center, parents may drop off at the front door. Parents fill out daily notes about their child's night and morning prior to arriving and the caregivers use that information to proceed into the day.
Morning/Afternoon Play
Depending on each child's schedule, in the morning the infants may be freely exploring the room moving their bodies and exploring the natural materials and toys that have been selected. The play space consists of many objects to pull up on, reach and grasp, and manipulate. Throughout this time infants are being fed, diapered, interacting with an adult, being cuddled, held, rocked for a nap, or exploring the outdoors. These experiences may occur between an infant and an adult or alone in the presence of an adult.
Eating Small Meals
Infants are fed on their own schedules (however they are offered food every two hours per State regulations). Bottles or nursing infants are offered by caregivers or parents on their individual schedules.  As they grow older, three or four small meals are brought from home and offered by their primary caregivers. Infants are held for bottles or lap fed when they eat solids. As they grow older, they transition to a small chair and table to create a mealtime experience.
Morning/Afternoon Naps
Typically, infants take a morning nap at some point during the first half of the day although the times vary. The process of going down for a nap is individualized and continually discussed between educators and parents. Infants may be rocked, read to, and sung to in a darkened quiet setting until they are ready to sleep in individual cribs or on mats.
Outdoor Time
Outdoor opportunities are offered throughout the day. In the summer we have a grassy yard, blankets, and a sand and water area for all the infants to explore. When the weather is warmer than 25 degrees, we will bring mobile infants outside for play.  We have sleds, snow piles, and paths for crawling and early walking.  One of our understandings of young children's development their enjoyment of an opportunity to experience their new physical skills inside and outdoors. We strive to invite them to meet challenges, opportunities, and enticements through interaction with their world. 
Departure & Pick Up
As the day ends for each infant, we prepare them for their departure this may include a bottle, meal, nap, and/or diaper change. We offer quiet activities like finger plays, stories, songs, and small chores like folding laundry or putting toys away.  Once we connect with their parents, we offer a daily note filled with information about the child's day to complete their transition to home.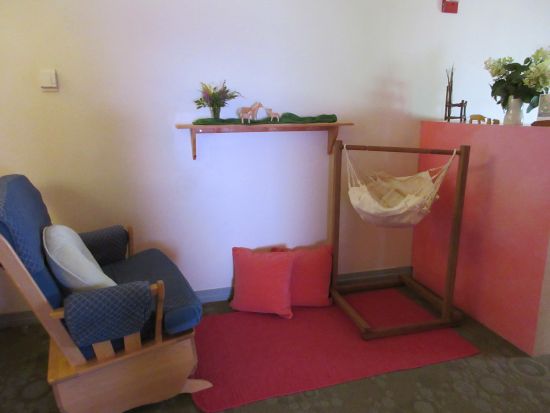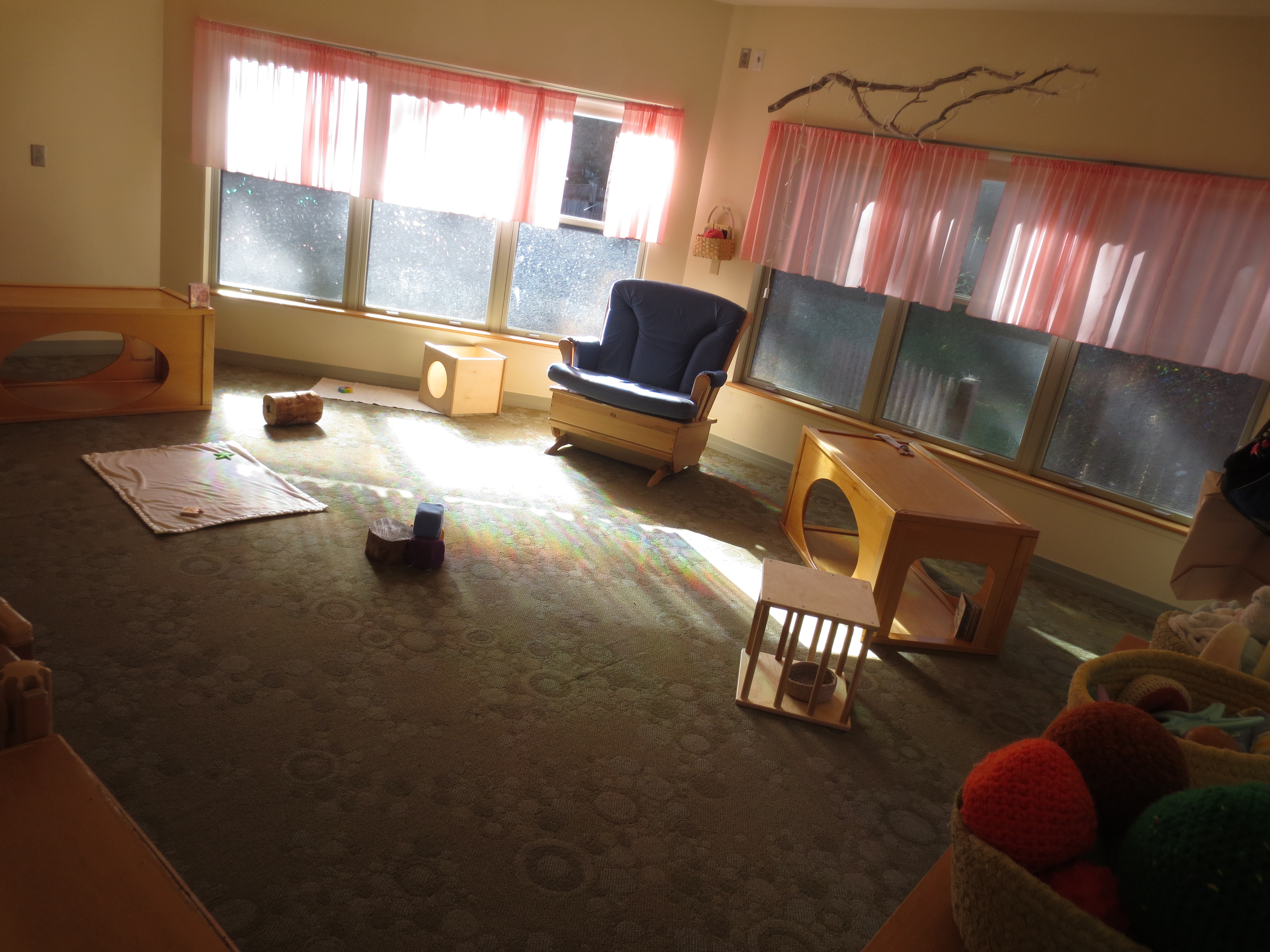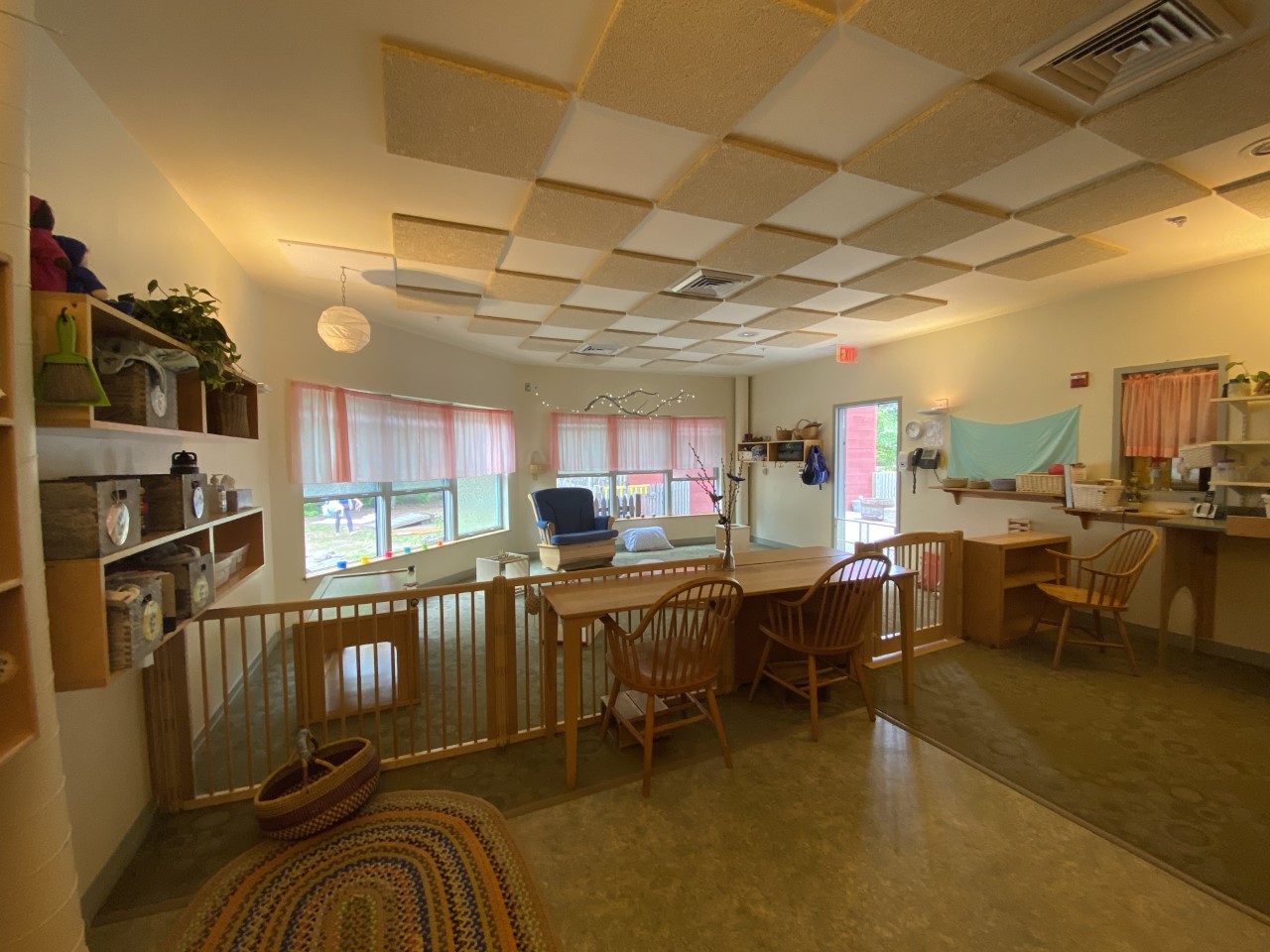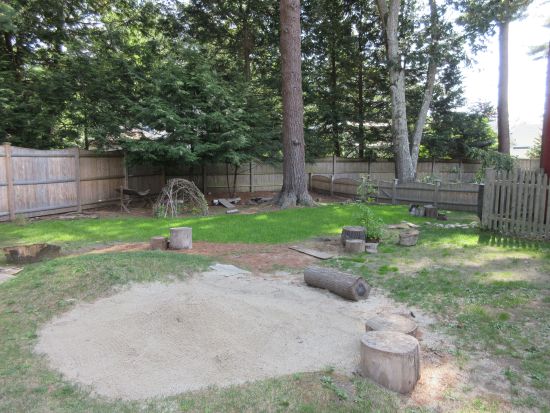 2021-2022 Infant Program Staff
Jewely Hill, Co-Lead Educator

Emily Weaver, Educator
Kristen Wheatley, Educator
Sarah Loshusan, Part-time Educator