Published May 21, 2020 by Ben Wu '20
Bringing Collections to Life Remotely: Working at the Arctic Museum during a Pandemic
On March 11, 2020, during the first week of Spring Break and only days fresh from coming back home, I received the news that many Bowdoin students secretly dreaded: President Clayton Rose announced that the campus would be closing for the remainder of the 2020 Spring semester with a transition to remote learning because of the coronavirus pandemic.
We were only given a week to clear out our rooms and take care of outstanding affairs before the campus completely closed off to students. Thankfully, I was able to continue working remotely for the Arctic Museum for the remainder of the semester.
Like many museums around the world, a renewed priority of the Arctic Museum during this pandemic is to expand access to museum collections and resources digitally through the Museum website. As such, I found my tasks as research assistant changed from documenting and researching new acquisitions and creating long term storage solutions for existing collections, to watching and listening to videos and taped interviews to create transcripts for captioning. Though it was certainly disappointing to not have the opportunity to handle and work directly with objects for the remainder of the semester, I found renewed purpose in my work to further the important cause of increasing the accessibility of the Museum website to visitors.
One of my first tasks was to create transcripts for two of Donald MacMillan's films on the Museum website, specifically the films on walrus hunting and the muskox. Having never watched these before, it was very exciting to see film that connected to the various natural history specimens and museum objects I have seen on display and worked with in storage: I will better understand how muskox act in real life when I look at the Museum's specimen on display, and how the Inuit would have used the kayak hanging in the gallery.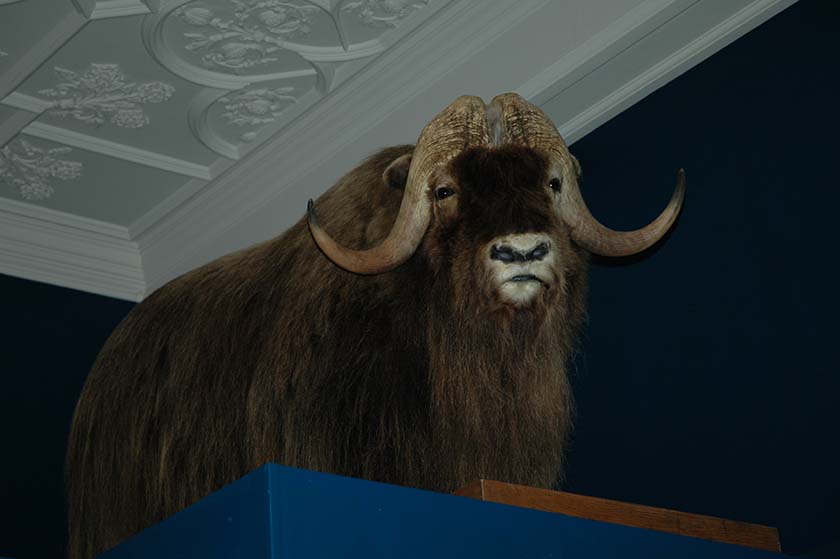 Muskox mount, male, Nunavit, Canada, ca. 1990. Natural history specimen. Gift of Dr. Daniel.
The scenic glass lantern slides taken by Donald MacMillan and other Arctic explorers I helped scan previously all came to life with another one of my tasks, creating subtitles for MacMillan's feature-length lecture film The Far North. I was also asked to review interviews Museum staff recorded with people who were close to Donald MacMillan, and got to learn more about what MacMillan, the namesake of the Peary-MacMillan Arctic Museum, was like in person—his easy-going nature and a "life of the party" who would never run out of amusing and interesting stories about his many escapades.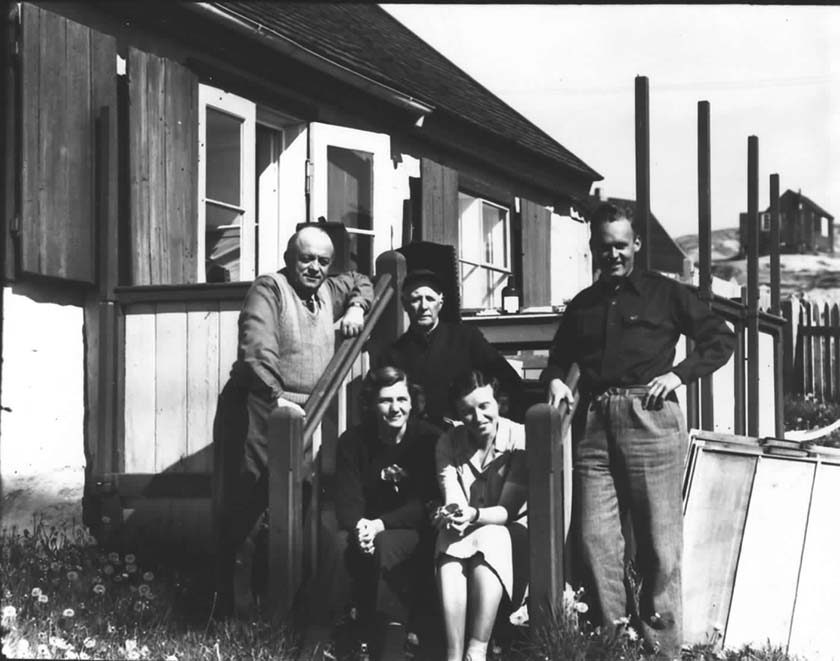 Knudsen and MacMillans and Ed Morse, West Greenland, 1947. Silver gelatin on nitrocellulose. Gift of Miriam and Donald MacMillan.
My final task was transcribing the Museum's interview with Harold Grundy, who spent a long career working on contract to the US military on top-secret projects around the world. Most notably, he worked at Thule Air Force Base in Greenland, in a little known and fascinating chapter on how this Arctic installation took part in the Cold War as a missile detection base and the first line of defense for the West in the event of a nuclear war with the Soviets. Grundy's interview with Museum director Susan Kaplan and Curator Genevieve LeMoine in 2015 was accompanied by a large gift of Cold War memorabilia and nearly 200 photographs Grundy collected over his career, which are all available on the Museum website for digital access.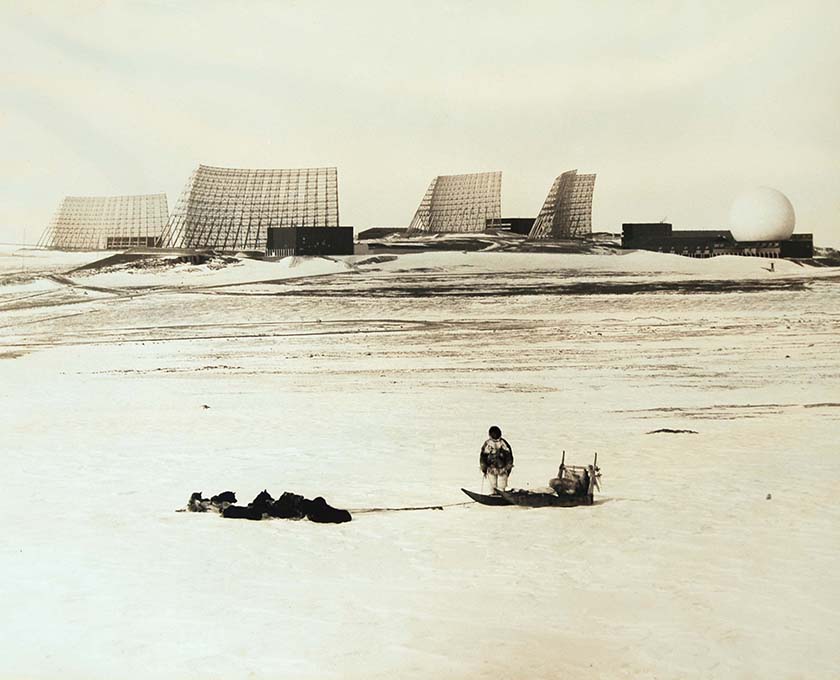 View of Ballistic Missile Early Warning System (BMEWS) with Inughuit man and sledge in foreground, Thule Air Force Base, Greenland, ca. 1962. Silver gelatin on paper. Gift of Harold Grundy.
With no one knowing how long this pandemic will last, it is increasingly important for museums to continue making their resources available to the public, whether for research or educational purposes, or simply for enjoyment, and I am glad to have taken part in these efforts during my time working at the Arctic Museum. Digitization of exhibits and collections, and ensuring their accessibility to all virtual visitors also has the added benefit that the Arctic Museum's resources remain available to global audiences who are unable to visit Bowdoin in person. I hope this post encourages you to continue exploring the Arctic Museum's web content, and hopefully discovering new dimensions of the museum's collection that are not always obvious in a physical exhibit. As it did for me, this will make a visit to the Arctic Museum that much more meaningful when it re-opens sometime in the future.