Collections
The Peary-MacMillan Arctic Museum is home to a diverse collection of over 41,000 objects, photographs, and motion picture films. You can explore highlights of these collections through our
Web Kiosk
. New records are being added regularly.
Bowdoin College has been a repository for natural history items collected in the Arctic since the nineteenth century. The Hubbard Sledge, one of five sledges said to have been at the North Pole with Robert E. Peary, has been on campus since 1911, and the college mascot, a polar bear, was given to the institution in 1918 by Donald B. MacMillan. But the core of the museum's collection was donated by Donald and Miriam MacMillan when the museum was founded in 1967.
MacMillan's collection includes a wide array of objects acquired during his long career in the Arctic, including over 9000 photographs, and dozens of reels of motion picture film. MacMillan's papers are housed in the George J. Mitchell Department of Special Collections & Archives in the Bowdoin Library.
Since that initial donation over 50 years ago, the collection has grown significantly, with more recent acquisitions including significant photograph albums and contemporary Canadian Inuit and Alaskan Yup'ik and Iñupiat art. The museum continues to collect materials relating to exploration and research in the Arctic, the environmental and cultural history of Arctic regions, and historic and contemporary Inuit art.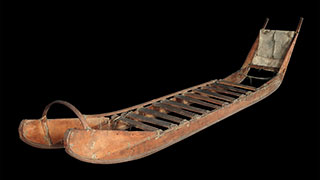 Access the Peary-MacMillan Arctic Museum & Arctic Studies Center Web Kiosk to view the collections.