Published March 22, 2019
Making the Arctic "Cool"
Engaging audiences at the Peary-MacMillan Arctic Museum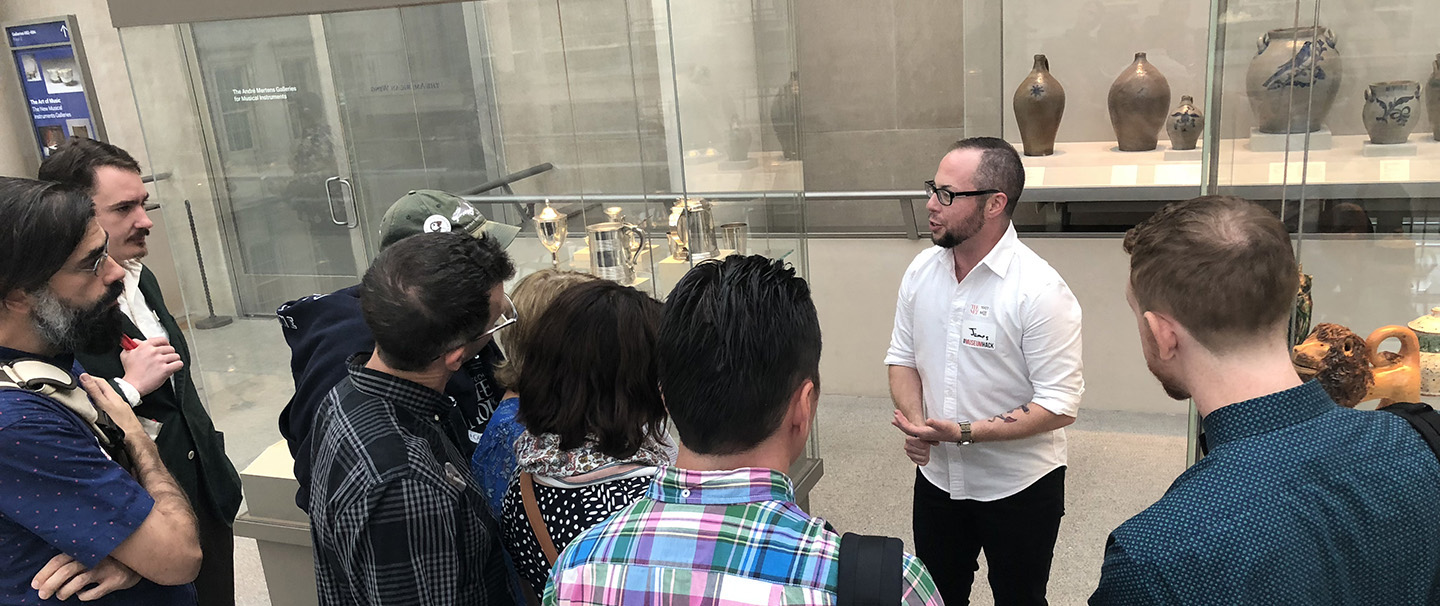 "It's not hard to capture the imagination of a second-grader here," says Peary-MacMillan Arctic Museum Outreach Coordinator James Tanzer, motioning towards the vivid display of Arctic animals in the museum's front gallery. "High school students are often trickier to engage. But I'm committed to changing that. I firmly believe that our museum has something to interest everyone."
At the beginning of October, Tanzer attended a multi-day audience-engagement workshop in New York City put on by Museum Hack, a company that specializes in creating fun and unique "museum tours for people who don't like museums." Museum Hack tours are centered on objects' stories and often ping-pong back and forth between different eras and cultures, a model markedly different than that of most museum chronology- or geography-based tours.
Over the course of the workshop weekend, Tanzer and nine other attendees from as far away as Mexico set up camp with their Museum Hack instructors in New York City's American Museum of Natural History and the Metropolitan Museum of Art (the Met) to learn how to construct factual and fascinating stories about artifacts.
The attendees' final project was to use the storytelling and audience engagement techniques they had learned and practiced over the course of the workshop to create and present their own tour of the Met—twice—to complete strangers. Each attendee was tasked with picking an object on display at the Met that interested them, and creating a Museum Hack-inspired story about the object they would then share with two public tour groups on the last day of the weekend.
"It was pretty intimidating to think about giving a tour at the Met," Tanzer recalls. "I got maybe three hours of sleep the night before we gave our tours."
Though there were several beautiful pieces of Inuit art on exhibit at the Met, Tanzer decided to select an object he knew little about—one that would challenge his storytelling skills. He initially chose an elaborately decorated musical instrument for the project, but on the way to the musical instruments gallery, an odd piece in the American ceramics gallery caught his eye.
"It was a mottled green and brown bottle, shaped like a squirrel," laughs Tanzer. "It was pretty far outside of my knowledge base, but I knew it had to have a great story behind it."
And it did. Over the course of his research, Tanzer learned that, to his surprise, squirrels were extremely popular children's pets in America from the 1700s through the late 1800s. Even adults were swept up in the fad—including Founding Father Benjamin Franklin, who doted on his pet squirrel Mungo (and elegized it in verse upon its untimely death at the jaws of a dog). Perhaps because of the popularity of the pet, ceramic squirrel bottles became all the rage in the late 1700s and early 1800s.
"Today we have viral cat videos and cat tee shirts and Instagram-famous cats. In the 1790s, pet squirrels were showing up in their owners' expensive formal portraits and as collectible ceramic novelty bottles. The cult of the cute, cuddly pet is by no means a modern invention!" Tanzer laughs.
After a half day of research, writing, practicing and perfecting, the workshop attendees felt as prepared as they could be to present their chosen objects on the two public Museum Hack tours of the Met.
"Though I was nervous when the tour began, I knew that if I followed the techniques Museum Hack had taught us, I could tell a really good story about this funny little squirrel-shaped bottle," says Tanzer. "It was a tremendous confidence boost to get a positive reaction from our tour groups, and I was really excited to get back to Maine and translate that success into creating new ways for visitors to connect with the exhibits at the Arctic Museum."
Since returning to Bowdoin, Tanzer has not only used the techniques he honed at the workshop when giving tours, he has used what he learned in New York when preparing the Arctic Museum's student docents to lead tours of the museum's galleries.
"We can't promise you squirrel stories," says Tanzer. "But believe me—the tales we could tell you about muskoxen would give any squirrel bottle a run for its money."