Published January 31, 2019
El Museo del Ártico
La Búsqueda de Tesoros Árticos (The Search for Arctic Treasures)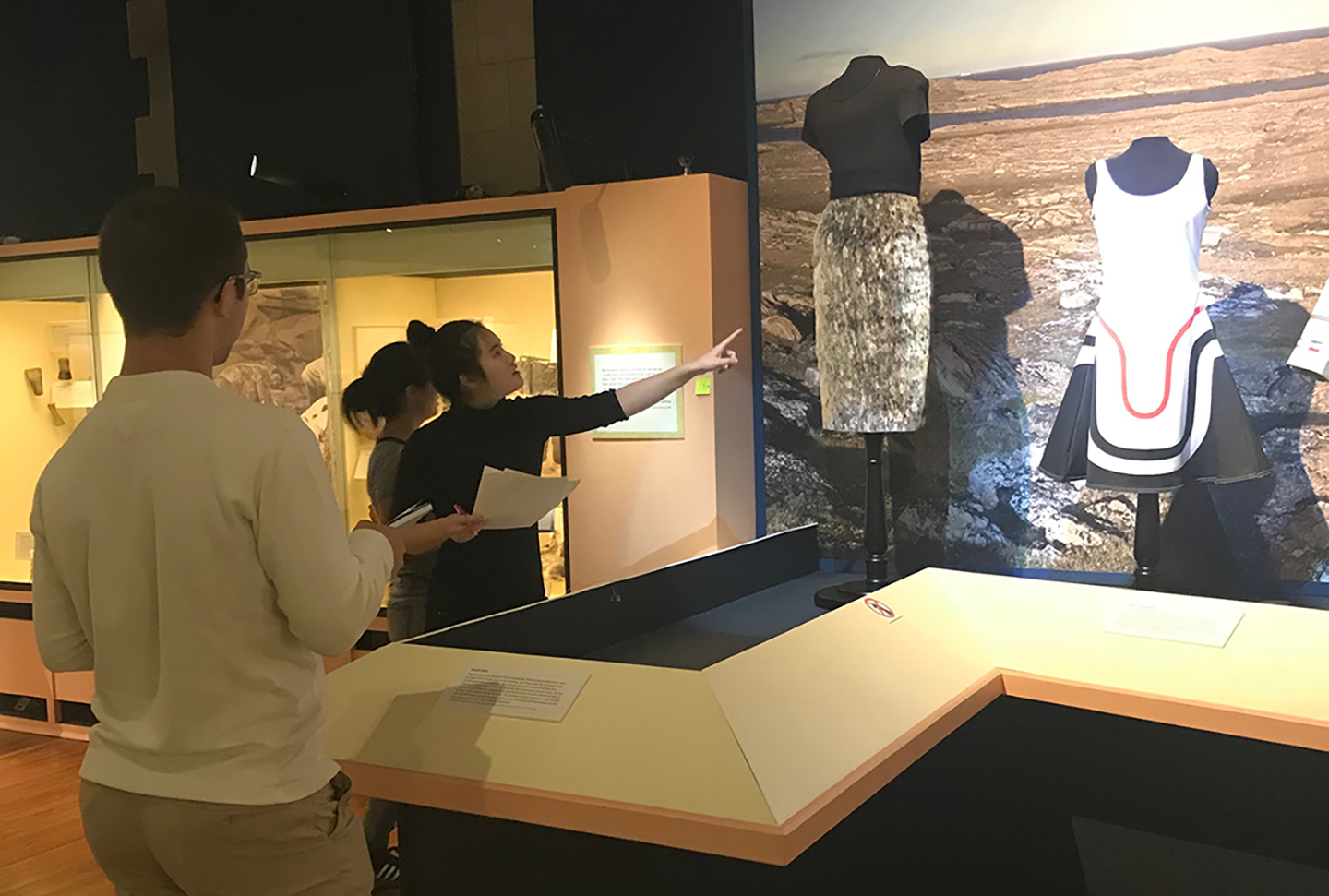 On an autumn day during the Fall 2018 semester, Bowdoin's Arctic Museum briefly transformed into El Museo del Ártico, upon the arrival of Professor Barbara Sawhill and eighteen of her first-semester students who were studying the Spanish language. They were seeking an opportunity to venture outside of the classroom and put their new vocabulary into practice. After a brief introduction to the museum, la búsqueda de tesoros Árticos (the search for Arctic treasures) commenced!
Students were tasked with matching short descriptions written in Spanish to their corresponding objects on display. The hunt incorporated objects from the exhibit Threads of Change: Arctic Clothing and Identity in the North, as the class had recently completed units on clothing and parts of the body. While the clothing they searched for might have been unfamiliar to most Spanish speakers—polar bear pants and a sealskin pencil skirt, for example—the students made good use of their growing collection of Spanish vocabulary words and practice in circumlocution.
Regularly quiet galleries soon came alive with the sounds of English and Spanish, punctuated with an occasional word in Inuktitut. The students moved from object to object quickly, on their own kind of journey, where Spanish language meets Arctic expedition. After all, competition was fierce: tiny arctic animals from the museum shop rewarded top finishers!
After this whirlwind of an introduction to the museum, Professor Sawhill pulled the class back together for a second activity that involved deeper reflection on the exhibits. Each student chose a group of objects to study in which there were at least three animals or people represented. The students' task was to construct a dialogue in Spanish among them. This writing assignment rounded out the first activity's reading, speaking, and listening components. The resulting compositions, often a conversation between predator and prey, were fantastical, funny, and even moving at times.
A collaboration between the Arctic Museum and Hispanic Studies may initially seem unexpected, yet this class visit revealed surprising intersections. Perhaps trying to understand an unfamiliar object is not unlike learning a new language: confounding at first, and gratifying when something finally clicks, like learning the precise word to articulate a feeling, or finding an unnoticed detail that changes the way you think about an object. These small victories stay with us just long enough to remember that there is always a new word to learn, and boundless fascinating objects to discover.