Vyjayanthi Ratnam Selinger
Associate Professor of Asian Studies
Vyjayanthi Ratnam Selinger is a scholar of Japanese literature and culture. Born and raised in India, she moved to the United States to pursue doctoral work in Japanese literature and culture. Her research examines literary representations of conflict in medieval Japan, using conflict as the key node to examine war memory, legal and ritual constaints on war, Buddhist mythmaking, and women in war. At Bowdoin College, her courses range from medieval to modern topics, including Japanese animation, samurai culture, monster culture, and Japanese WWII memory.
She is the author of the book Authorizing the Shogunate: Ritual and Material Culture in the Literary Construction of Warrior Order (Leiden: Brill, 2013.) An active scholar in both Japan and the United States, she publishes and makes presentations in both languages. Her current book project, The Law in Letters: The Legal Imagination of Medieval Japanese Literature, for which she was awarded the Fulbright CORE Scholar Award, examines how medieval writings exploit the dramatic tensions of legal disputes. As a scholar of Indian origin, she has a long-standing interest in cross-cultural flows between India and Japan, and is also working on a project entitled "Transforming the Ramayana: The Chaste Sita in Hobutsushū and Beyond," which investigates the transcultural travel of the heroine of India's most famous epic.
From 2015 to 2018, Dr. Selinger served on the executive committee for the Modern Language Association's Forum on Japanese Literature to 1900.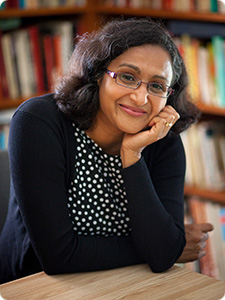 Education
PhD, Cornell University, 2007
MA, Harvard University, 1998
BA, Jawaharlal Nehru University, 1994