Published June 01, 2017 by Tom Porter
Students, Faculty Head to Japan to Study After-Effects of Environmental Crises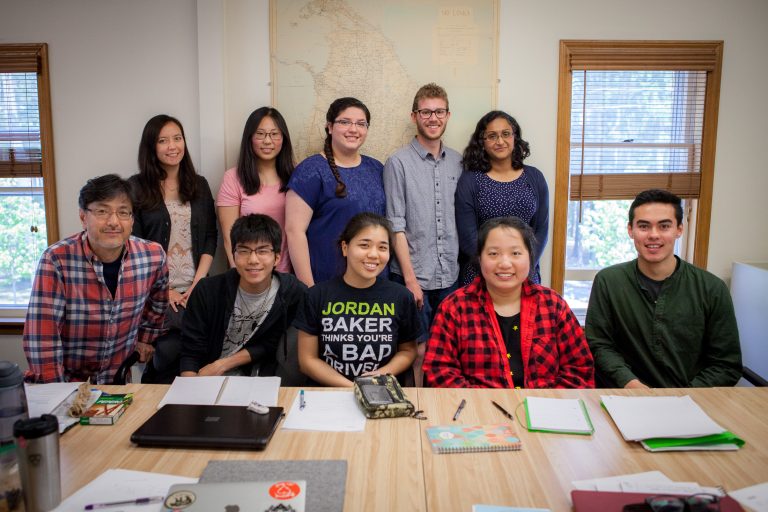 A group of seven students and three faculty from the Department of Asian Studies have arrived in Japan for a have arrived in Japan for a trip supported by a Bowdoin Humanities Initiative grant from the Andrew W. Mellon Foundation. During the twelve-day trip they will research topics related to the theme of "Japan and the Environment."
"This is an exciting interdisciplinary initiative," said Associate Professor of Asian Studies and Director of the Asian Studies Program Vyjayanthi Selinger, who is accompanied by faculty colleagues Hiroo Aridome and Sakura Christmas. Part of the appeal of visiting Japan, said Selinger, is to take a first-hand look at how the country has been dealing with the host of environmental problems that sprung up in wake of its stupendous postwar economic growth, which began in the 1950s.
Selinger spoke to Bowdoin News the week before departing, as the group attended a series of lectures and seminars designed to prepare them for different aspects of the trip. "We're planning to look at individual and collective responses to environmental disasters in Japan, and today's a great example of how we plan to do that." Selinger and the group were listening to a presentation about Japanese fisheries policy from James R. and Helen Lee Billingsley Professor of Marine Biology Amy Johnson, and Research Associate in Biology and Mathematics Olaf Ellers.
"I typically never think about fisheries," said Selinger, "but today we've been diving deep into it with some experts to prepare ourselves for conversations with experts in Japan. We're aiming for a truly binational approach, where we can learn about what both US and Japanese scholars are thinking."
The team will be looking at more than fisheries during their trip, said Selinger. Students will also be focusing on issues such as civic engagement in environmental issues, and medicinal approaches to environmental ills. "Taken together," said Selinger, "the project provides an interdisciplinary lens on individual and collective responses to disaster in Japan."

Karen Chan '18 is looking at the links between air pollution and heart disease, in particular a condition called Kawasaki disease, which affects mainly children.
"The disease causes swelling and is thought to be caused by climate patterns, although it's not known for sure." Chan said a lot cases occur in Japan and Hawaii, where she is from. "My paper will look specifically at public awareness of the disease," she added. Chan is excited that the trip includes a visit to the environmental diseases center at Yokkaichi in central Japan.
For Julian Garrison '19, one of the highlights of the trip will be a guided, behind-the-scenes tour of the Sea Life Park in Tokyo, one of seventeen aquariums situated throughout Japan. Garrison is a marine biology major with a particular interest in aquariums. "After attending a fishery conference, I became interested in how the value of marine life is conveyed to the public. Given how important the ocean is to the ecology and the economy of Japan," said Garrison, "I want to learn more about how this island nation uses aquariums to educate the population about marine life." But aquariums aren't just for education, said Garrison, who stressed their importance in the world of conservation and research. The group will be in Japan until June 11, 2017.