Published July 26, 2016 by Bowdoin College Museum of Art
Hiroshima Art Exchange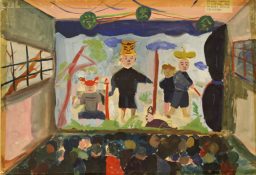 Virginia "Ginny" Crow '18 and Michael Amano '17, two recipients of Bowdoin College Museum of Art Curatorial Fellowships, are collaborating with the Museum and the Asian Studies department this summer to research a post-World War II exchange of children's drawings between Santa Fe, New Mexico and Hiroshima, Japan in 1953. This project is overseen by Anne Collins Goodyear, co-director of the Museum, and Hiroo Aridome, senior lecturer of Japanese in the Asian Studies Department, with support offered by Professor Jayanthi Selinger, Chair of Asian Studies, and Hadley Horsch, associate professor of Biology and Neuroscience.
Organized by the Japanese-American artist Chuzo Tamotzu, the exchange benefits from the multidisciplinary study Bowdoin makes possible. This exchange invites analysis from the perspectives of art history, Asian studies, and political history, in addition to raising the question of how vulnerable populations have confronted and mediated traumatic experiences such as war. Born in Japan, Tamotzu migrated to the United States as a young man and settled in Santa Fe following the Second World War. Tamotzu greatly valued peace and international friendship, explaining that he orchestrated the exchange "to bring goodwill and friendship between the two countries."
Ginny, who is based at the Museum for her ten-week summer fellowship, is researching Tamotzu's life and art in order to better understand the man behind this project and how, with the help of the Santa Fe school system and the mayor of Hiroshima, an exchange with such lasting significance was possible. Michael is spending his six -week fellowship in Hiroshima. There he is speaking with the adults who, as children, created the artwork exchanged in 1953. He is also interviewing current middle school students in Hiroshima. These conversations will shed light on the long-term significance of this exchange and the ways in which pacifist statements like those of Tamotzu both reflect and may have helped shape aspects of modern Japanese identity.
In addition to raising the question of how both American and Japanese citizens took advantage of art that reflected the perspective of children to grapple with the consequences of the atomic bomb, our current study of this exchange brings to light a fascinating tension between past and present. What did these works mean for Tamotzu and his contemporaries? What do they mean today? And how can we better understand an exceptional artist, not yet as well-known as he deserves to be, and the power of a project that is continuing to stimulate ongoing conversations between Japan and the United States? Questions such as these will serve as the foundation of an exhibition of these children's drawings in the spring of 2017 at the Museum, co-curated by Ginny and Michael. If you would like to follow the progress of this research, please visit http://courses.bowdoin.edu/tamotzu-art-exchange-research-2016/.
We look forward to sharing the exhibition with you in the spring. The Museum gratefully acknowledges Dr. Marc B. Garnick '68 and Barbara Kates-Garnick for their generosity in making the international research of these drawings and their exhibition possible.