Schwartz Outdoor Leadership Center
The next best thing to being out of doors for the Bowdoin Outing Club's staff and the 300-plus student members is their headquarters underneath the Bowdoin Pines.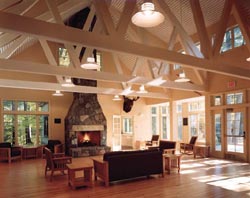 "The Schwartz Outdoor Leadership Center (SOLC) allows student leaders to take responsibility for all aspects of trip planning and logistical preparation; with everything they need to plan and prep for their trips in this one location," Woodruff says. The building is the perfect facility for the BOC to plan and stage trips, but the great room with its fieldstone fireplace serves many other purposes as well. Visiting speakers often present lectures, films are shown there, and other campus members, such as the knitting group, like to gather in front of the fireplace.
The 5,300-square-foot Schwartz OLC is one of the most environmentally friendly buildings at Bowdoin, featuring day lighting, radiant floor heating, and natural ventilation to make the building super energy-efficient. Designed specifically to facilitate the BOC's 100-plus yearly outdoor trips, the Schwartz OLC boasts three offices, five huge trip lockers, a map room/classroom, a commercial kitchen and food prep station, central storage for all BOC gear, a large common space-including a fieldstone fireplace-and a deck, constructed from recycled material made in Maine.