Want to Be in Bowdoin's First Bilingual Spanish-English Play?
By Tom Porter
Bowdoin will be staging its first bilingual main season production next year, a reimagining of the seventeenth-century Spanish comedia classic, "Valor, Outrage, and Woman" by Ana Caro de Mallén, and auditions are looming.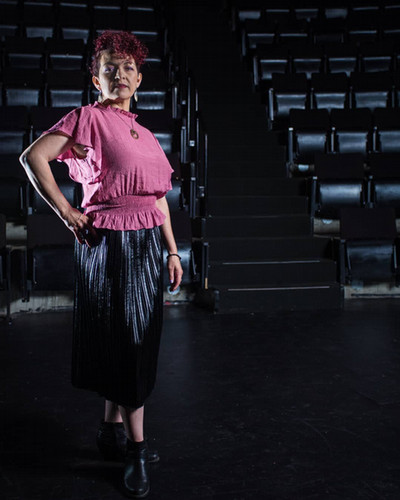 Guest director Sylvia Cervantes-Blush, a Mexican American artist primarily based in Southern California, will be in residence at Bowdoin for the production starting in January 2024.
The play is a subversion of the Don Juan myth, explains Blush. "Replete with cross-dressing and a hilarious feat of masterful maneuvering, the heroine Leonor crosses geographical boundaries and defies social expectations of gender to bring her fickle lover, Don Juan, to justice."
The production will also feature original music performed live by members of the internationally renowned Ensemble La Chimera, which fuses Baroque and world music sounds in efforts coordinated by Assistant Professor of Music Ireri Chavéz Bárcenas. The production is a collaboration between the Departments of Theater and Dance, Music, and Romance Languages and Literatures, and in recognition of the twenty-fifth anniversary of the Latin American, Caribbean, and Latinx Studies Program.
"Blending the seventeenth-century Hispanic World with twentieth-century film noir, we are embarking on creating a wildly fantastical performance," adds Blush. "With cynical heroes, witty graciosos, dashing sword fights, stark lighting, and intricate plots, our production will embrace the thrill of Leonor's masterful plan for justice as she challenges social expectations of femininity and a shrewd plan for revenge with a Baroque noir aesthetic."
The translation to English from the original Spanish was created by a team of researchers as part of the Diversifying the Classics initiative. Associate Professor Margaret Boyle, who will provide dramaturgical support for the show, worked jointly with Blush to reincorporate some Spanish back into the script.
Auditions are being held this Sunday, September 24, and any students who are interested can sign up through Campus Groups and register for a one-hour time slot. Also, she adds, while there is Spanish language dialogue in the play, that could be amended if the actor is not a Spanish speaker.
"I'm looking for passionate, creative, and collaborative people who want to learn or sharpen their storytelling skills," says Blush. "Students of all demographics and levels of experience are encouraged to join the adventure of auditioning."
Valor, Outrage, and Woman, by Ana Caro de Mallén will be performed at the Wish Theater from February 29 to March 2, 2024.
Published September 21, 2023