The Sea Around Us at Schiller: Coastal Research Reveals Complexities of Marine Life
Published by Rebecca Goldfine and Adam Bovie
Backed by Bowdoin fellowships, more than a dozen students this summer investigated sea star locomotion, lobster communication, microplastic pollution, and the implications of rising temperatures on ocean ecosystems.
Depending on their project, the fellows on any given day were stationed at a bubbling seawater tank in the Schiller Coastal Studies Center's marine lab or running data through artificial intelligence (AI) programs on their laptops. Or—on some of the most popular days—they were out in the field exploring Maine's intertidal and subtidal zones to collect specimens and data.
Throughout June and July, two of Bowdoin's marine biology faculty—Amy Johnson and Katie DuBois—oversaw large research initiatives based at Schiller. By summer's end, both said that their student mentees—fourteen between them—had produced high-quality data that would likely lead to several articles.
Reflecting on the season, Johnson called it "remarkable," not just for the resulting data sets, but for the teamwork she observed. 
"When you get students working together, they support each other, help one another, and learn from each other," she said. "This group was amazing to the extent that, though they all had their own projects, with enormous fluidity they would step in and help others. They just made that happen."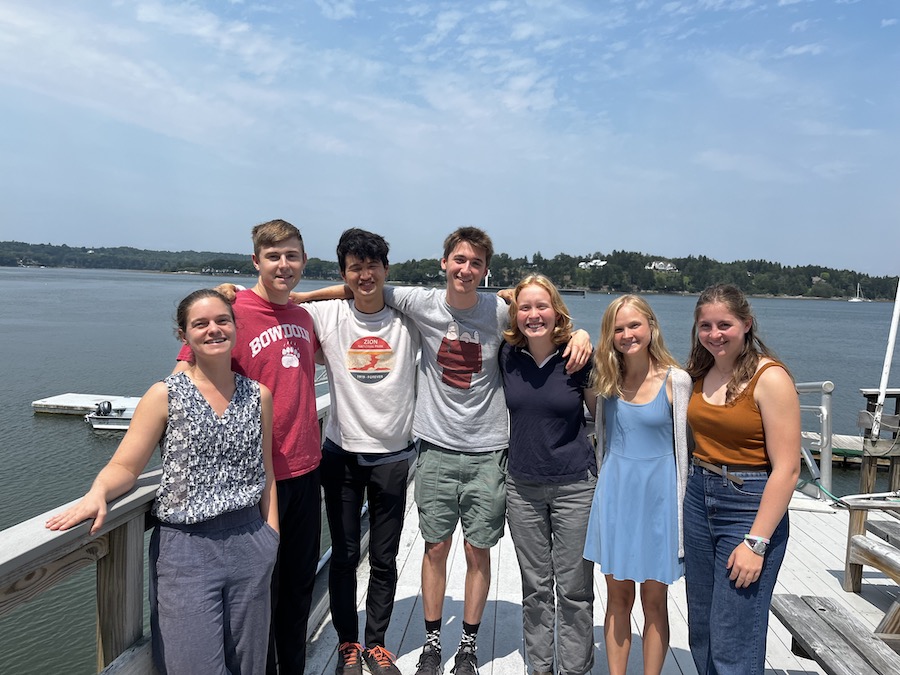 "The Whole Scientific Process"
Since becoming Bowdoin's Doherty Marine Biology Postdoctoral Scholar in 2021, DuBois has launched research projects with students that she anticipates will lead to five publishable articles for scientific journals. 
"I want my students to experience everything on a research project—from conception through the entire scientific process, to communicating their work at conferences and getting it published," she said.
What helps to make such an in-depth experience possible, she emphasized, is the Schiller Center and the intensive fall-semester program based there. 
"Students can start a project through the Bowdoin Coastal Studies Semester, continue it as a summer research project, and complete it as an honors project," DuBois said, "which means students who plan their time at Bowdoin that way have an opportunity to do two years of research on a graduate-level project."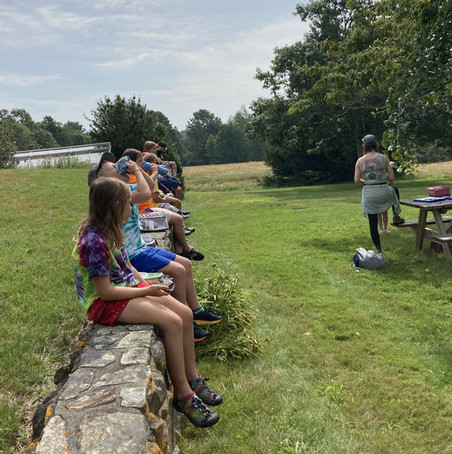 The Schiller Center for Coastal Studies is an asset for the whole community, says director Holly Parker. Just this August, the facility hosted a panel discussion about protecting the working waterfront, a talk by a local historian, and several summer camps. Read more.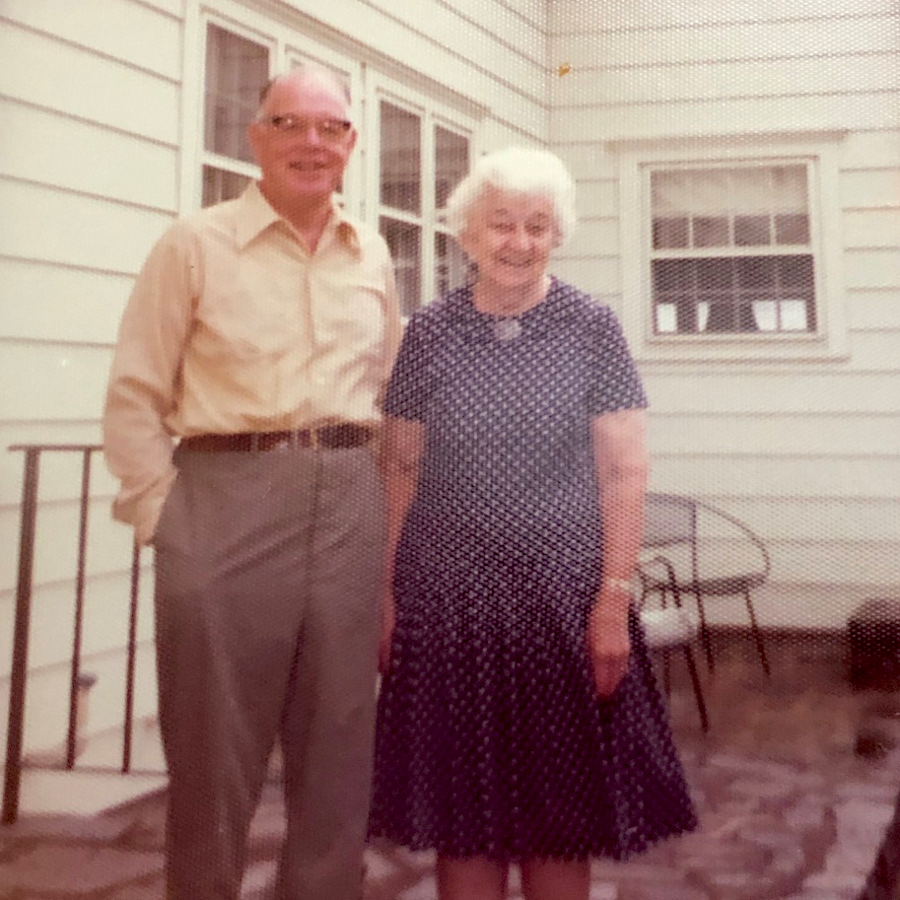 When William Hastings "Haste" Thalheimer '27, P'55, and his wife, Irma, transferred the deed  of their Orr's Island farm to Bowdoin, they were giving the College land with a long history and one that would transform the College's future. Read more.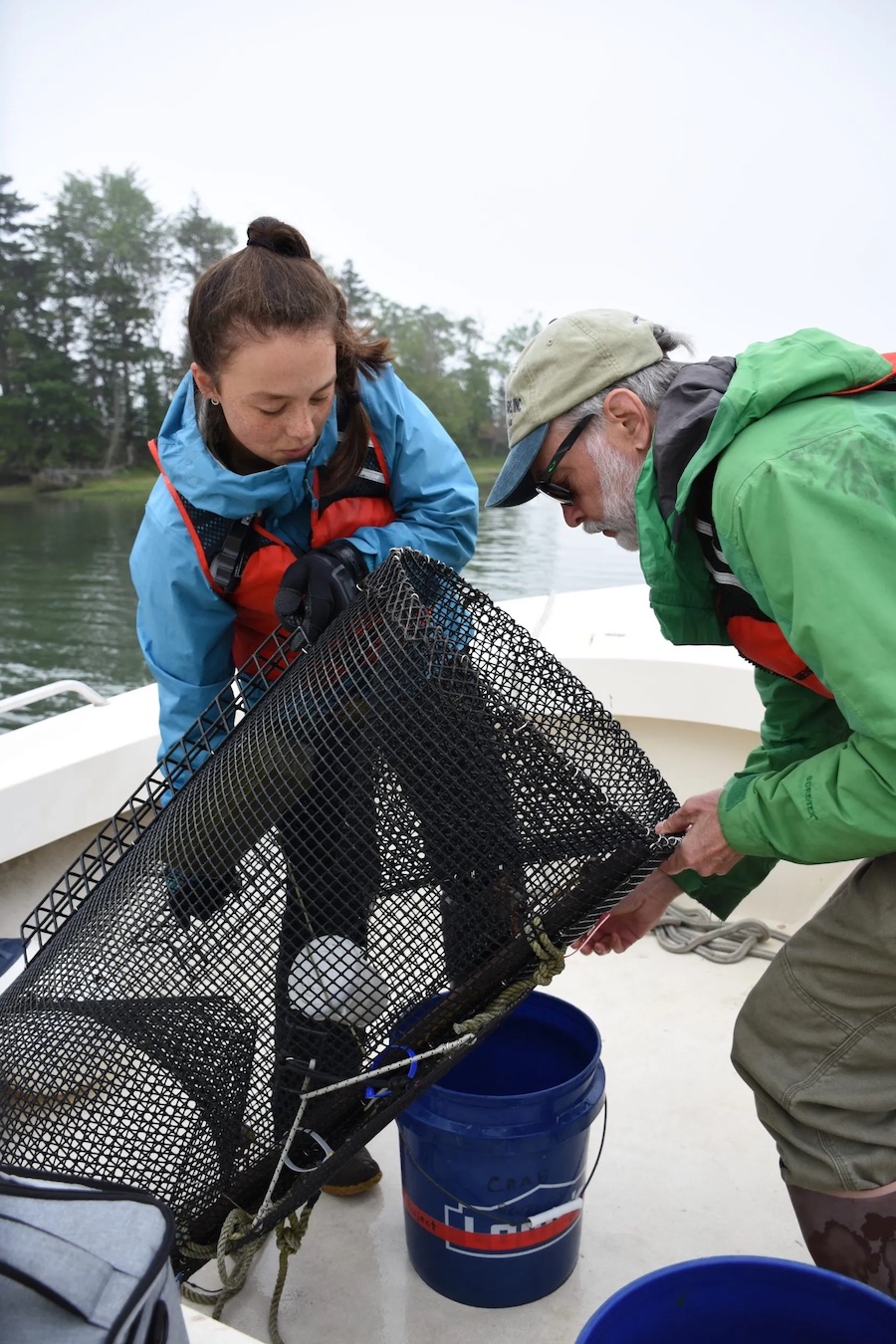 Dave Carlon, professor of biology and former director of the Schiller Center, in 2014 launched a long-term study of green crabs to investigate the underlying drivers of their population dynamics. The crabs, an invasive species, are devastating Maine's tidal habitats and the species that live there.
In recent years, one of Maine's most important fisheries—soft-shell clams—have declined precipitously, and many believe predation and the disruption of their habitat by green crabs are the cause. "It's the central reason why I started this project," Carlon told the Harpswell Anchor. "I knew about its economic impact, so I knew it had a lot of local relevance."
Research assistant Eva McKone '26 worked with Carlon this summer to analyze the relationship between sea water temperature and crabs, because Carlon suspects rising temperatures are a likely reason behind their growing abundance.
In the photo by John Gormley, McKone shakes crabs out of a trap with with Carlon. McKone received a Henry L. and Grace Doherty Charitable Foundation Coastal Studies Research Fellowship from Bowdoin.
The Lab of Amy Johnson: Sea Stars on the Go
Sea stars, which some might know better as starfish, are nimbler and fleeter than the average aquarium visitor might assume. An expert on the biomechanics of underwater legged locomotion, Johnson and her collaborators, including her husband Olaf Ellers, have discovered that the creatures have two main gaits: a shambling crawl and a bounce-like gallop, the latter used to evade predators and to catch prey.

Johnson's students this summer dove deeper into this area to tease out the subtleties of sea star movement—work that has implications for future submersible robots that can travel across the ocean floor. They also did studies on two Maine sea star species that are interacting and hybridizing: the increasingly prevalent Asterias forbesi and the declining Asterias rubens. Such knowledge will help us understand what tomorrow's ocean might look like.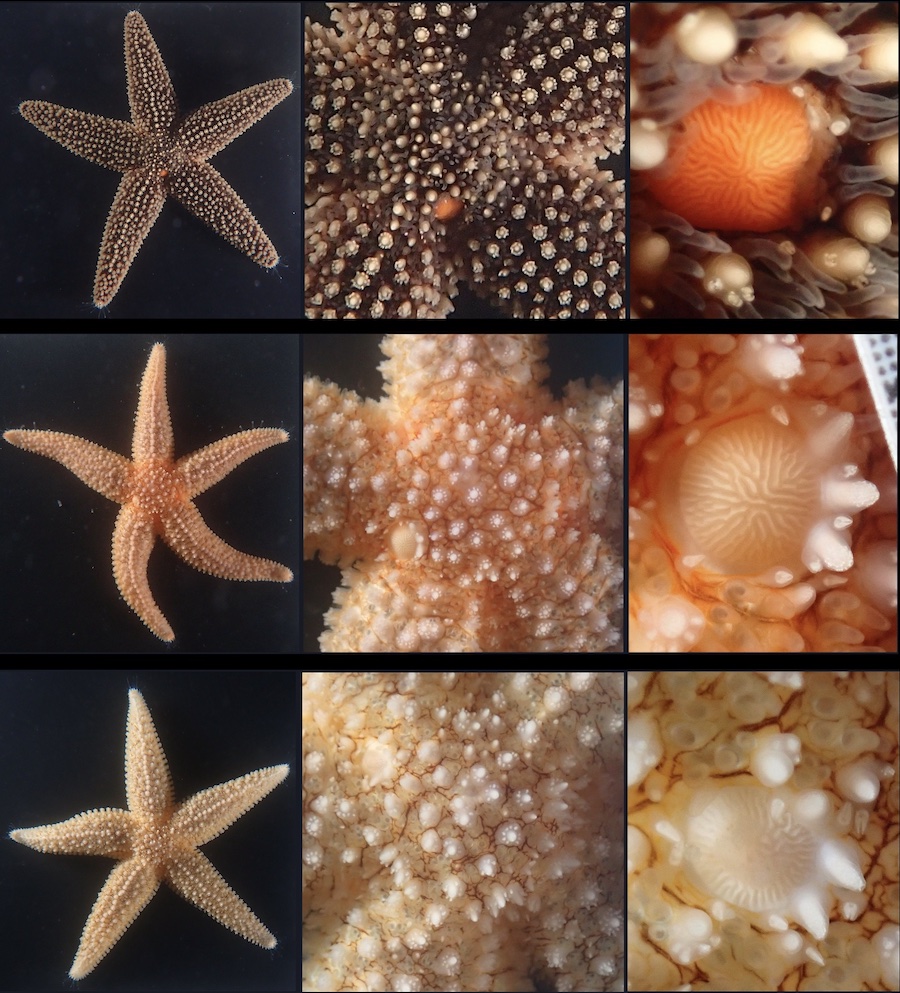 A Mixing Palette: Purple, Orange, and Purplish-Orangish
The pale Asterias rubens had, up until the 1990s, been the most common sea star along Maine's coast. But more recently, the purple-black Asteria forbesi has flourished here as its population has shifted north.

In the Gulf of Maine, the two sea stars are meeting, eating each other's juveniles (the more rigid A. forbesi can overwhelm the softer A. rubens—a discovery by Jon Allen, the first Doherty Marine Biology Postdoctoral Scholar and now faculty at William and Mary), and through release of sperm and eggs into the water column, create hybrids that display a range of orange-to-midnight hues.
Their madreporite, the small central dot that allows water into their vascular systems, are also different colors, depending on the species. A. rubens historically could be identified by a whitish-tan madreporite while A. forbesi have had a bright tangerine one. But the color of these dots, too, are transformed through hybridization.
To differentiate between the two species, Jolie Ganzell '25 and Abby Steinwachs '25 this summer worked on a color-based classification of A. rubens and A. forbesi that they will reinforce with a genomics analysis. To start, they took a series of underwater, standardized photographs of the animals in the lab, and then analyzed the images in Photoshop.
"We calculated the RGB (red-green-blue) value of each madreporite and the skin hues and graphed them," Ganzell said, "so that you can look at which points on the graph are A. forbesi and which are A. rubens, and see if there is a distinct area that is the hybrid zone." 

Johnson said the two students' work—which she said came out beautifully—is critical to her research on climate-driven sea star hybridization. "The thing I need next for the project is more certainty in knowing which sea star I have," she said. "If you could get a continuum of identification between who is most of one species, who is most of the other, and who is along the continuum of hybridization...that would tell you something about the differences in thermal performances of these different sea star species and also the consequences of the ongoing hybridization."
Sea Star Performance: What Happens to Sea Star Speeds in Warmer Water?
Over the summer, Cara Fields '25 was most often found at the far corner of the Schiller marine lab, peering at the bottom of a brightly lit flowtank. After placing a purplish A. forbesi or an orangey A. rubens upside down on the tank floor, she'd watch it gather itself before it raced down a short strip she called the "runway." She timed and filmed each run.
Later, she analyzed the video footage using an AI program trained to track sea star bounces. In this way, she assessed the speeds of twenty-two sea stars (11 of each species) at different water temperatures, from 7.8 degrees Celsius (46 degrees Fahrenheit) to 26 degrees Celsius (78.8 degrees Fahrenheit). Sea stars can move more easily in waters up to a certain threshold before the temperature becomes too hot and they start to shut down. This is known as a thermal performance curve.
"The overall goal of the project," Fields said, "is to see how both A. rubens and A. forbesi will be affected by warming waters—whether the increasing warmth will affect their ability to catch prey and escape predation and other threats."
The biology major said that working at Schiller this summer is her first working experience in a lab. "I'm interested in how climate change will impact organisms," she said, "And I want to work on the organism-ecosystem level. It has been so cool to have a hands-on experience, and to get to know a new organism."
What Effect does Temperature Have on Sea Star Growth?
Throughout the summer, James Benavides '25 and Brett Stoddard '23 spoiled their sea stars by giving them as many blue mussels to pry open and digest as they could ever desire. The ambient water in their tanks was pumped in directly from nearby Harpswell Sound, the sea stars' native habitat.

The students logged the naturally oscillating water temperature and how much each sea star ate. They also measured the growth of twenty sea stars of varying sizes—ten of each species—to see if there was a difference in temperature-dependent growth rate between the two species. Benavides, who will be a student in the upcoming Bowdoin Coastal Studies Semester, will continue the experiment into the fall as the sea water temperatures cool.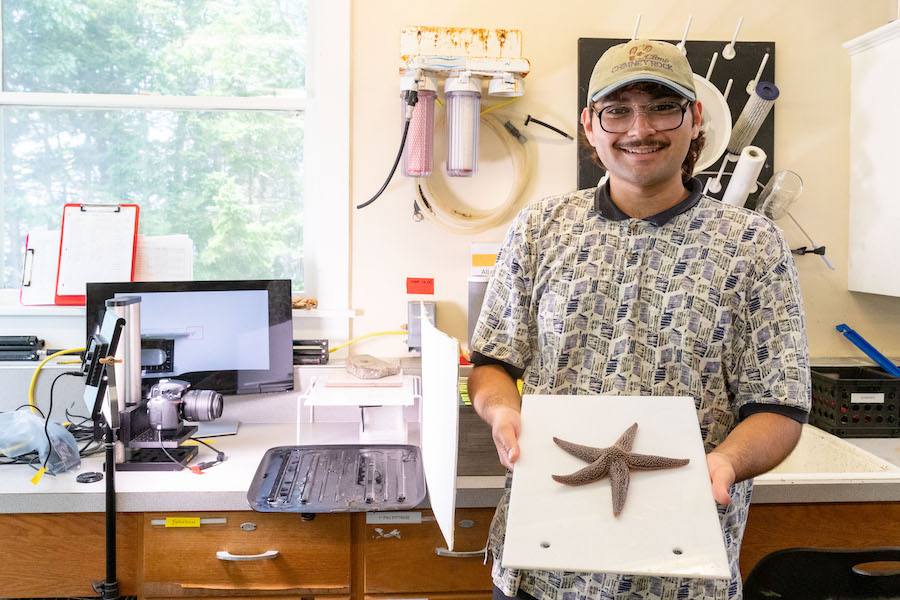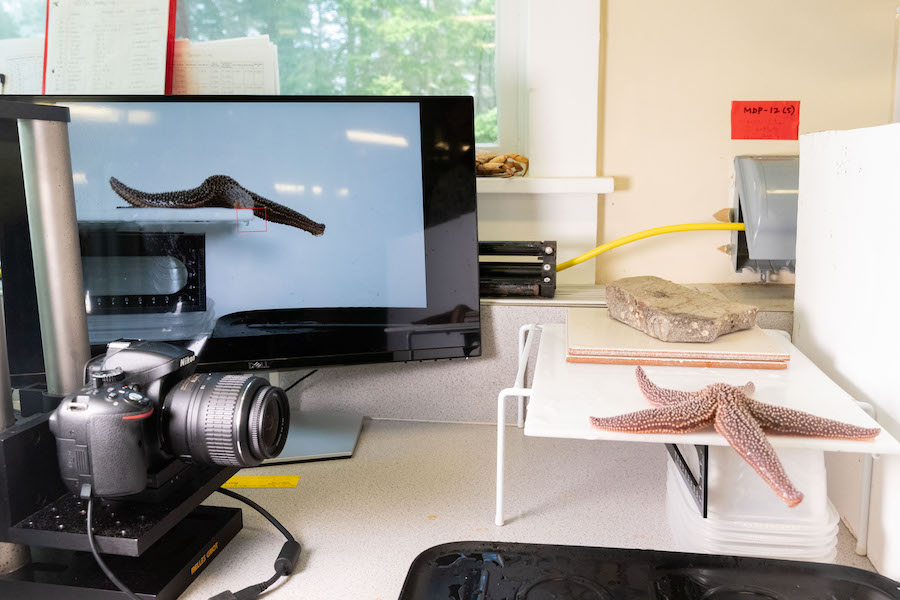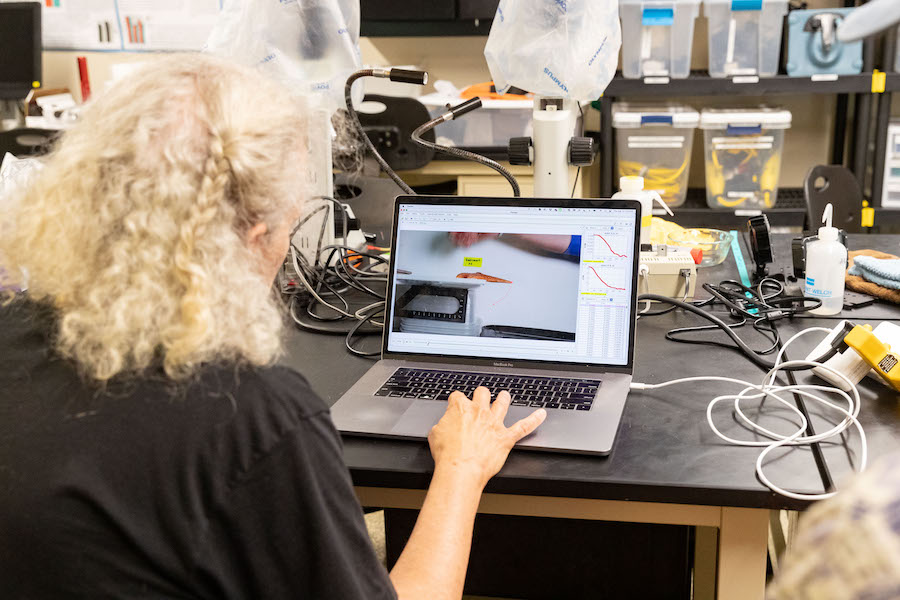 So far, the team has found intriguing results, Johnson said. As the water warmed through July, both species grew at similar rates. And when it got warm (peaks to 22 degrees Celsius), it looked as if the A. forbesi was continuing to grow at the same rate while the A. rubens was slowing its growth rate. But then unseasonably cold weather for Maine cooled the sea water, eliciting a corresponding recovery of the rate at which A. rubens grew.
Going into the fall, she and Benavides expect to see faster growth rates of the A. rubens, which is better adapted to cooler water. "I am super excited about this study because we are getting more insight into how sea stars respond to fluctuating temperatures," Johnson said.
For Benavides, who grew up on the Gulf of Mexico in Texas, getting the chance to study a new marine ecosystem has been fascinating. He also is enjoying tending to his wards. "I'm interested in the animal husbandry aspect, taking care of the sea stars, learning their feeding schedules, and finding ways to work with them that are not harmful but will grow our understanding," he said. He added, "If warmer temperatures are preventing sea stars from growing, we need to do more to preserve them."
Using Physics and Math to Dissect the Sea Star Gait
Graham Lucas '26, Hank Marriott '24, and Brady Nichols '24 applied their quantitative skills to analyze the biomechanics of sea star locomotion.
Sea stars navigate the seafloor on hundreds of small tubular feet called podia. In previous research, Johnson and her collaborators found that when sea stars break into a run, their podia simultaneously lengthen and stiffen, lifting the creatures up mid stride and vaulting them forward. At this juncture, the tiny podia start coordinating in a somewhat mysterious manner.
Johnson said the main discovery of the three students over the summer was identifying that precise moment between gaits, "applying mathematical tools to a movement to say, 'This is the point.' Not qualitatively, but in a quantitative repeated way."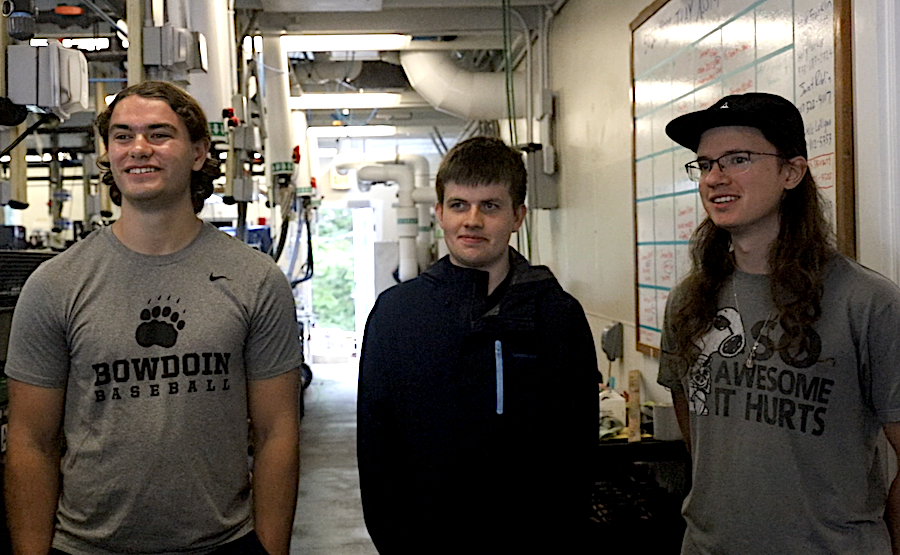 The next step is to investigate whether the mechanics remain the same across speeds, size, and species. "It is a complicated system," Lucas said, and one that has not been studied in depth. "While there has been a huge amount of modeling on human walking" and other terrestrial animals, there's been comparatively little research on underwater locomotors. "What we're thinking about is whether there is some way to model sea stars. But we have two legs, they have several thousand podia!"
Johnson and her team are curious about the "extent to which a sea star gait is mechanically constrained, like the movement of a pendulum, or mechanically constrained but modified, like a pendulum with a spring in it," Johnson said. Or, it's possible the sea star "doesn't fit a mechanical model, in which case the creature is exerting some control over its own gait," she added, despite it not having a central nervous system or brain. 
The robotics industry is intrigued by such a biological prototype as the basis for a future submersible craft. "Usually when you think of something coordinating in nature, there is a central nervous system controlling that," Lucas explained. "Robotics is interested in this concept of distributed control and how sea stars coordinate their podia without a centralized controller."
Nichols, Lucas, and Marriott all said they were drawn to this project for its integration of biology with math and physics. "I thought it was interesting to have the opportunity to apply math in ways I have never done before," Marriott said.
This project was originally conceived with physics major Charlotte Billingsley '24 for a summer fellowship and honors project.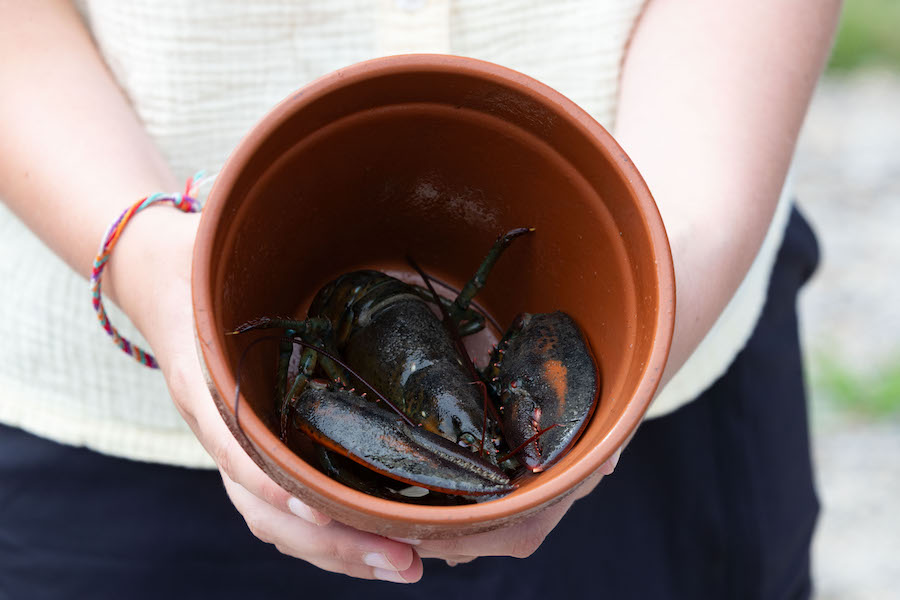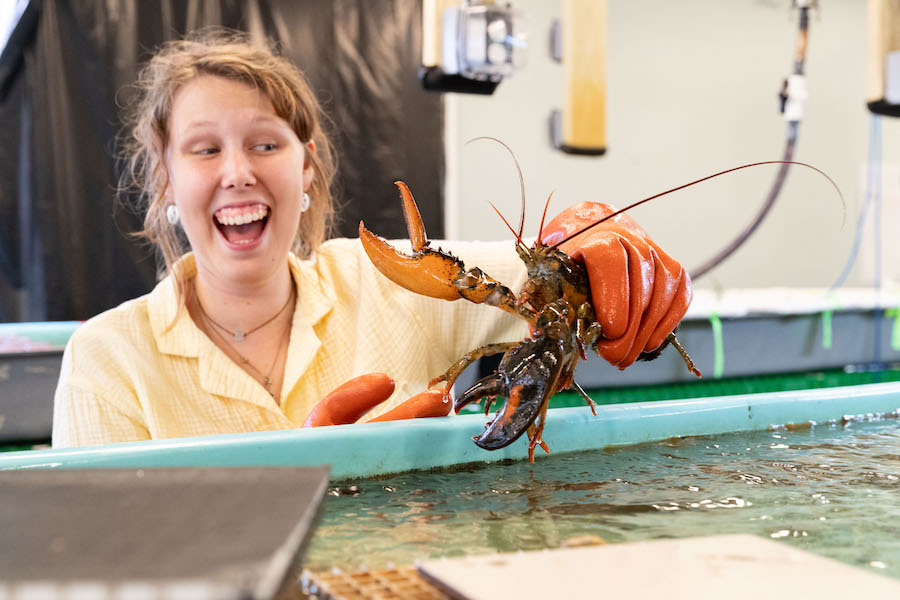 What is the Purpose of Lobster Sounds?
Just outside the Schiller marine lab, Renske Kerkhofs '24 has set up a "lobster box," a large soundproof tank draped in thick blankets. Their experiment requires a perfectly quiet environment to pick up barely audible lobster noises.
For their honors project, Renske (who prefers to go by their first name in articles) is trying to figure out whether American lobsters make sounds to communicate with one another or with other species. The creatures are already known to make a little hum, or grunt, when they're startled by contracting muscles in their back carapace.

"It is possible they're humming at each other, even though they're solitary animals," Renske said. To test their hypothesis, Renske is using underwater speakers to play the lobster's humming sound and other "white noises" inside the tank, recording reactions both by individual lobsters and pairs of lobsters. This project is a continuation of Renske's independent research project for the Bowdoin Marine Science Semester last fall.
Renske and one of their faculty mentors, Adjunct Lecturer in Biology and Research Associate Olaf Ellers, analyzed the sounds they heard with a spectrogram, the same tool used for bird songs. "The really exciting part is that Renske has possibly discovered a new previously undescribed sound that is a much high frequency version of the previously low frequency sound," Ellers said.

"Lobsters are so much smarter than I thought," Renske said. "I think it is important that we look into aspects we don't associate with animals like lobsters, like communication."
"Maine is such a great place to think about how organisms are responding to ocean warming, because you have this natural experimental setup with this huge temperature gradient from Casco Bay to northern Maine. "
—Katie DuBois
The Lab of Katie DuBois: A Natural Experiment
Much of DuBois's research focuses on understanding the ecological and evolutionary processes driving the adaptation of marine species to the changing climate. Johnson's research also is looking at the impact of climate change on sea stars, particularly as species populations shift northward.
"Maine is such a great place to think about how organisms are responding to ocean warming, because you have this natural experimental setup with this huge temperature gradient from Casco Bay to northern Maine," DuBois said.
DuBois's students in particular have taken advantage of this gradient, collecting and studying organisms from both southern and northern sites. "It allows us to test how organisms from different current temperature regimes will respond to ocean warming. And we can do that across any organism that lives in the two regions," she said.
The Resiliency and Vulnerability of Eelgrass
Two of DuBois's students have been inspired by her background in eelgrass research to explore the critical, but threatened, seagrass in Maine.
Noah Zuijderwijk '25 focused his eelgrass research on an infection caused by the pathogen Labyrinthula zosterae that disables the plant's ability to photosynthesize, eventually killing it. His experiment was designed to reveal whether temperature impacts the prevalence, spread, and severity of the infection, as there is concern that warming waters might foster more favorable conditions for the pathogen.
Right now, scientists are unsure what causes vast meadows to die off, a phenomenon that has been documented in the Gulf of Maine since the 1930s but has accelerated in recent years. "Higher temperatures might be stressing the grass so they're less healthy and the bacterial infection is more able to spread," Zuijderwijk said. "But it's also possible the infection may become more virulent with higher temperatures."
In the lab, Zuijderwijk measured the efficiency of photosynthesis in eelgrass samples collected from southern and northern Maine before and after being heated in an incubator. He also measured their rate of growth and the area of black lesions—outbreaks from the infection—before and after heat stress. 
Zuijderwijk said he was drawn to Bowdoin for its marine biology program. "And also because we have the Schiller Coastal Studies Center," he added. "Not a lot of small liberal arts schools have access to such great resources, so that was a big pulling factor for me."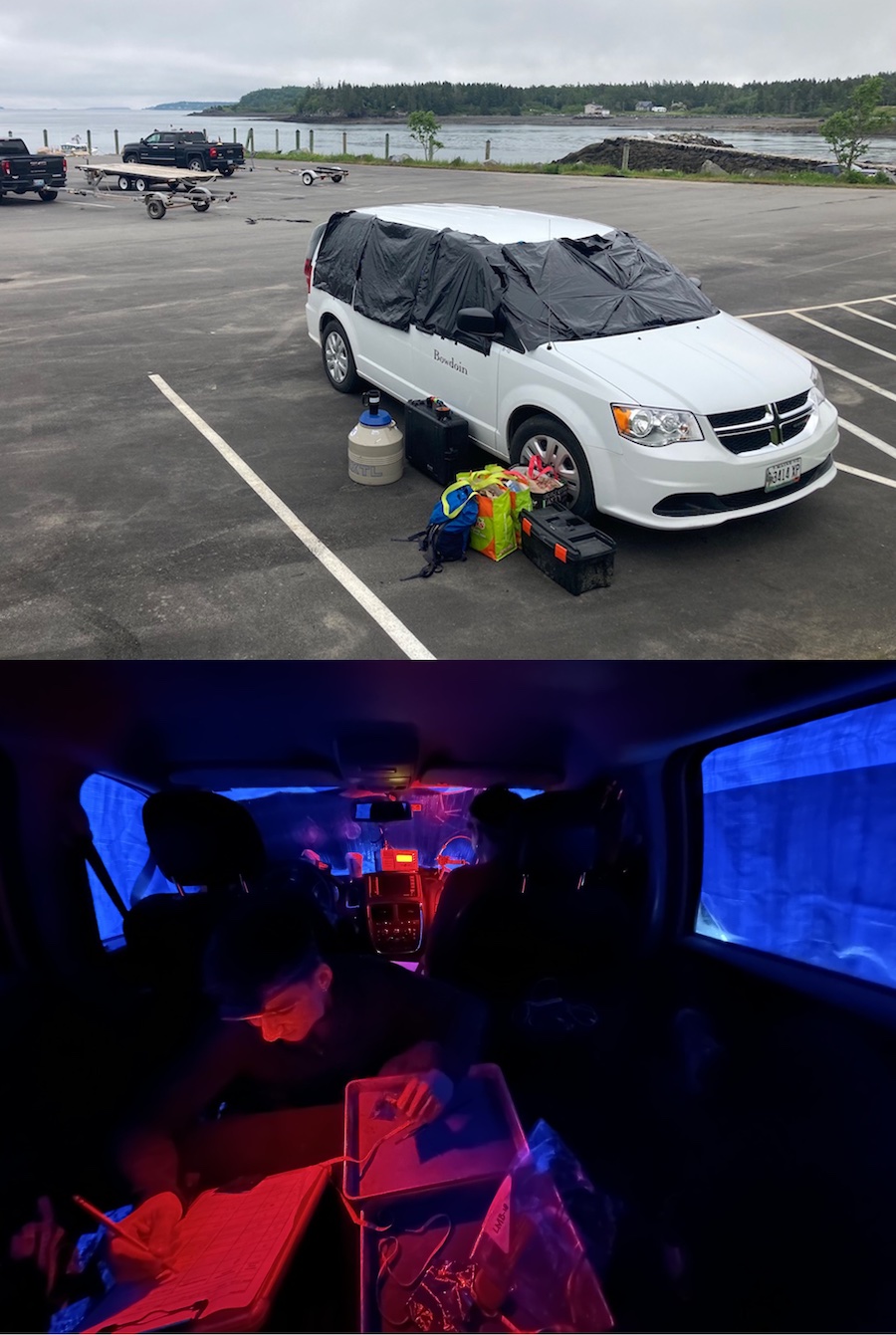 Nicky Yoong '24 is researching how location and seasonality affect seagrass health and robustness. To study this, he's focused on six eelgrass meadows, three in southern Maine and three in northern Maine, and is making measurements of how efficiently the grasses photosynthesize, as well as calculating canopy height and meadow density.
He's also researching the community of tiny animals called grazers that eat eelgrass, and in turn are eaten by larger creatures. "This community is very dynamic and can change over time," Yoong said. "It is interesting to see how it responds to variables," such as temperature changes.
Each month during low tide, Yoong heads out with DuBois and other students in a Bowdoin van that they turn into a "mobile lab."
After collecting grass samples from the meadows, he runs analyses and also painstakingly identifies all the microscopic grazers gathered in his samples. "I just came back from a field course in Panama run by the Smithsonian [Tropical Research Institute] to learn how to better identify them, " he said.
Yoong's interest in this field was kicked off when he took the course Biology of Marine Organisms. "I got interested in community ecology and evolution, and the interconnectedness of organisms," he said. "I really like how animals interact with one another, how animals can affect each other or be affected by the environment—these complex interactions."
Nicky Yoong was advised both by DuBois and Barry Logan, Bowdoin's Samuel S. Butcher Professor in the Natural Sciences. and funded with a Henry L. and Grace Doherty Charitable Foundation Coastal Studies Research Fellowship.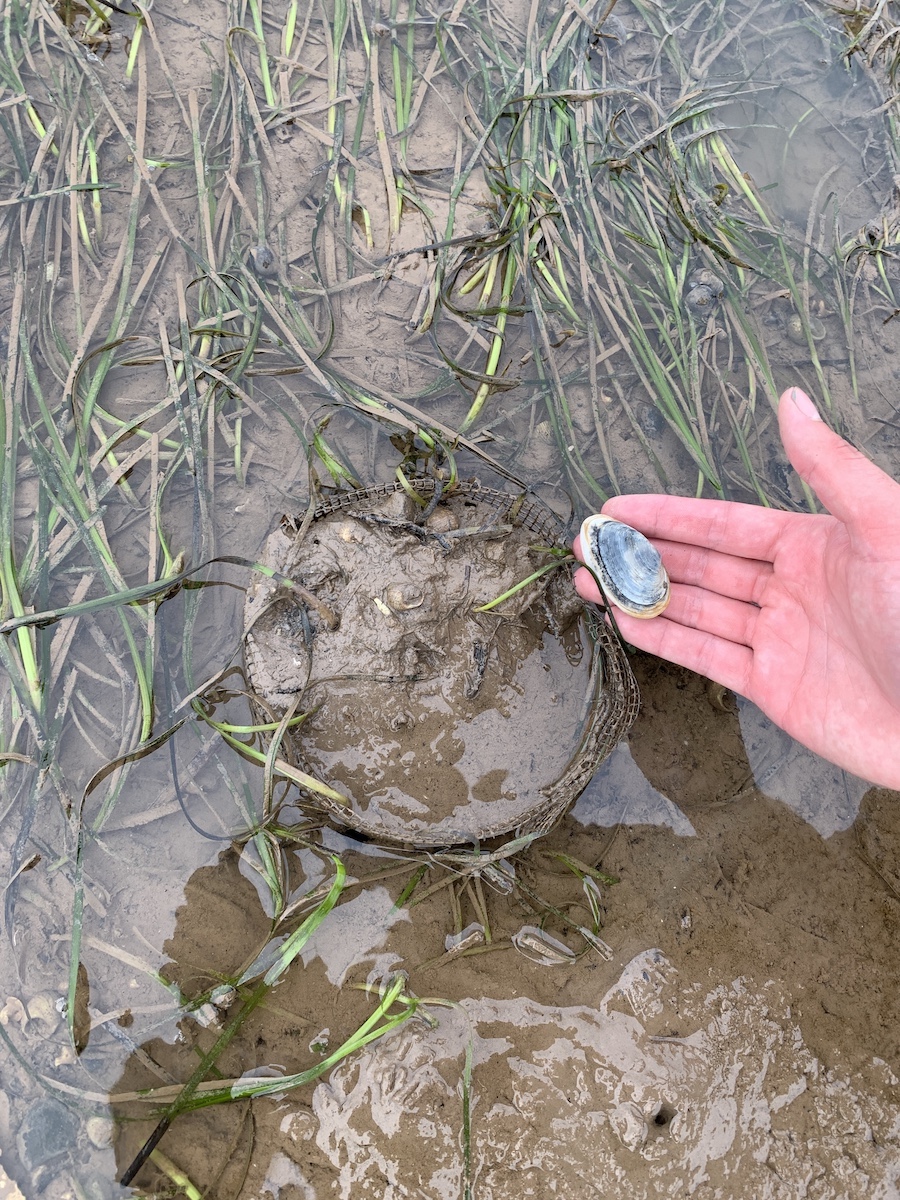 Saving Soft Shell Clams and Eelgrass
This summer, Everett Horch '24 designed an experiment in northern Maine to see whether there is a mutually beneficial relationship between clams and eelgrass, two critical marine species that are dying off.
Clams are being decimated both by climate change and the invasive green crab. Eelgrass are also being affected by warming waters and the predatory crab, which can clip grass blades and disrupt the meadows.
With advice from both DuBois and University of Maine ecologist Brian Beal, an expert in soft shell clams, Horch in early June placed juvenile clams in 150 twelve-inch flower pots, and then planted some of the pots in eelgrass meadows and others in nearby patches of unvegetated mud. Half are covered by a protective mesh to keep them safe from crabs. The biology major will continue to monitor the pots through October to see whether the clams grow better in the eelgrass or in the mud.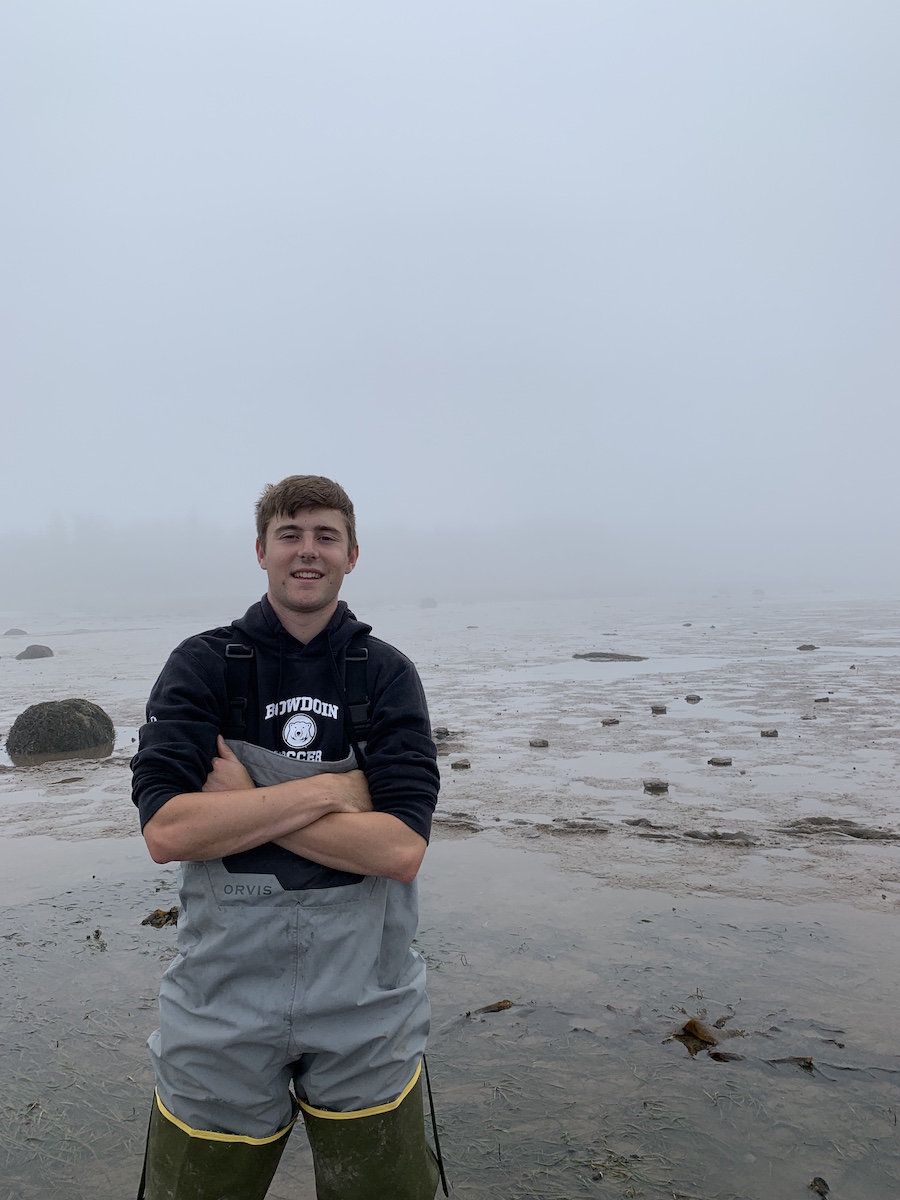 "There is some evidence that clams can help eelgrass by concentrating nutrients at the roots, or by filtering water and cleaning it," Horch said. "On the other side, eelgrass roots may be able to protect the soft shell clams from predation by green crabs."

As a teenager growing up in Brunswick, Maine, Horch earned a special license for young people that allowed him to dig and sell clams, giving him a unique perspective on the intersection of the economy and the ecosystem. "Clamming is the second largest industry in Maine behind lobster," he said, and yet every year, the state has to reassess the number of licenses it issues to protect the clam population. 
"I am super interested in the model of multiple species improving resilience in the ecosystem," he continued. "If we could conserve both these species together it would be so beneficial."
The Future of Seaweed
This summer, Tori Bacall '26 investigated how knotted wrack—a common seaweed in Maine—responds to varying water temperatures. She collected her specimens from six sites, three from northern Maine and three from southern Maine.
In the marine lab, she grew her seaweed tips in tanks at three temperatures: chilly, representing summer in northern Maine; ambient, representing the current Harpswell Sound; and at a warmer temperature projected for a future Gulf of Maine.
"This experiment allowed me to look for local adaptations, which means the populations are suited to their specific environments," Bacall said. "The work's important because it will inform our knowledge about how the range of this species will be impacted by climate change….If there is local adaptation, we would expect that the southern populations will be able to better tolerate warming, whereas the northern populations won't—they may be wiped out first. If there is no adaptation, southern species will be wiped out first because that area will warm first."
The ripple effects could be significant. "There would be an ecosystem effect, because the seaweed provides habitat for fish, lobster, and other species," she said. "Also there is an economic impact because a lot of the fish that rely on the seaweed are central to Maine's economy."
Driving her to do this type of work, she said, is a passion for the environment. "So I really wanted to do a study modeling climate change and its impacts," she added.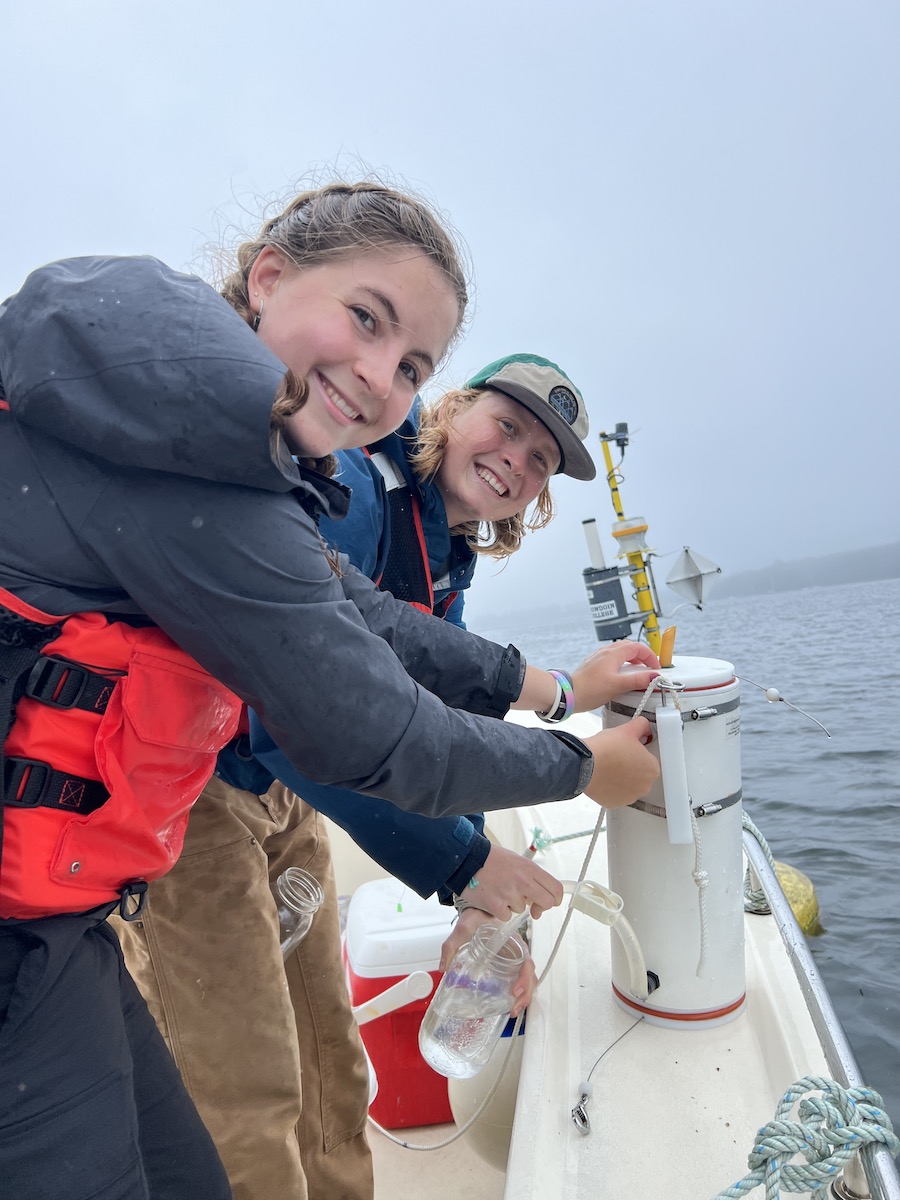 Using Filter Feeders to Measure Microplastics
Lucy Dutton '25 and Annika Bell '25 spent the summer studying the distribution of microplastics in Harpswell Sound to find where the plastic is most concentrated. They will use their findings to recommend sites for future shellfish farms in areas of lower pollution.
To gather data, the two students set oysters and mussels at three locations in the sound—far out in the inlet and close to its most inland point, as well as on the Schiller dock, midway between the two. Because bivalves are filter feeders, they can indicate the volume of microplastics floating in the water column.
To get this data, Dutton and Bell—like all scientistists studying microplastics in the ocean—first had to go through an elaborate process to separate the plastics from the bivalve tissue. So far, based on their data, they have calculated that there is roughly thirty to forty pieces of plastic per half-liter of seawater.
However, Dutton added, there is no indication at this time that local plastic levels present a danger to marine life. "The chemicals are not impacting the growth of the bivalves," she said, "but they are still ingesting plastics and it is building up in the tissue."
Dutton, who is continuing this research from her research project during last year's Bowdoin Coastal Studies Semester, said she is drawn to the developing field of microplastics. "There is not much research happening in more rural areas, especially in the Gulf of Maine," she said. "It is interesting to look at how and what plastics are entering the water here versus in a city."