Beyond Research, Schiller Center Also a Valuable Community Resource
Published by Tom Porter
"There were twenty-two kids who got the bus to school with me when I was a kid," said commercial fisherman Matt Gilley of Harpswell as he cast his mind back a couple of decades. "Today only four children ride that bus."
Similarly, recalled Gilley, when growing up he knew everybody who lived on his parents' street, whereas today he barely knows half of his neighbors, as the process of gentrification drives more and more families away from Harpswell.
Gilley was among the featured panelists at a recent community forum held at Bowdoin College's Schiller Coastal Studies Center (SCSC), situated in Harpswell. The event, the latest in a series of conversations about living and working in a waterfront community, was called "Gentrification, Access, and You."
Gentrification, the panel agreed, means the displacement of longstanding community members by wealthy outsiders who move into a place—in this case the scenic coastal community of Harpswell—changing its character and driving up property prices, putting them out of the reach of many working families.
The discussion was hosted by Monique Coombs from the Maine Coast Fishermen's Association (MCFA), a nonprofit dedicated to sustaining fishing communities in the region. Apart from Gilley, the panel featured Emily Coffin '22, who is the MCFA's seafood and fisheries policy coordinator, attorney Ben Ford, who works on coastal development issues, Marisa McMahan from Manomet, a nonprofit dedicated to coastal conservation, and Holly Parker, director of the SCSC. Around seventy community members attended the discussion, while several more tuned in via Zoom.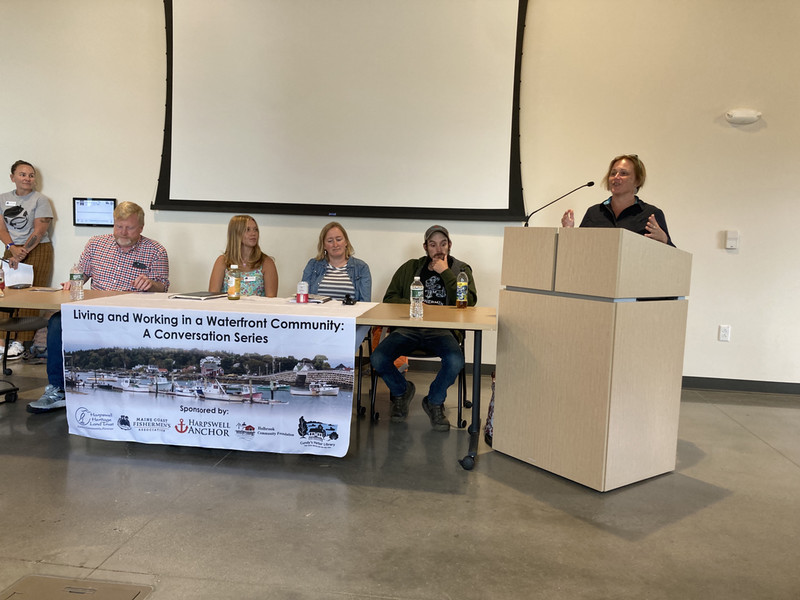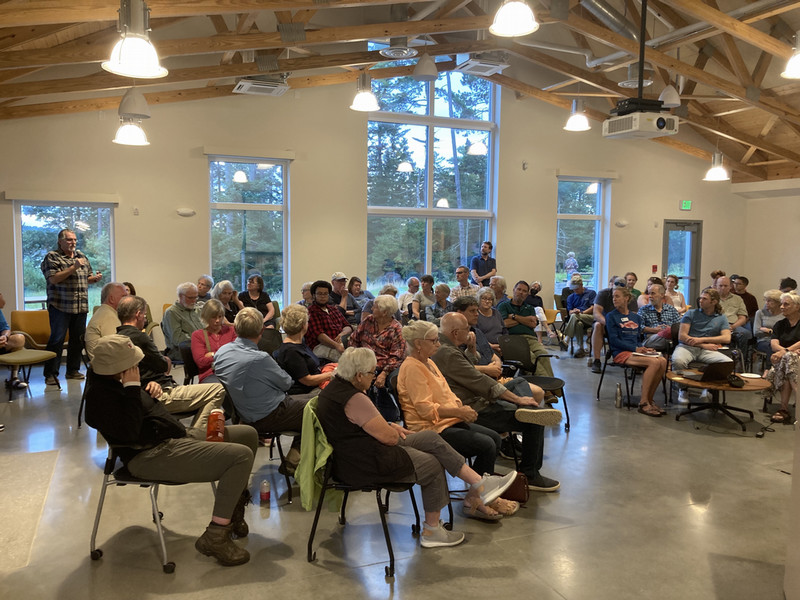 We may think property prices have gone up a lot here, said Ford, but the Maine coast is still excellent value if you're a wealthy New Yorker, for example. "You can buy a house up here, plus a share in a private jet company to fly in and out, and it's still cheaper than getting a house in the Hamptons, and easier to get to! So, people are still flocking here."
When asked if there could be such a thing as ethical gentrification, Coffin said she thought not. "I know there's nuance to this debate," she said, "but I really don't think you can have ethical gentrification because, as we've established, it displaces local people who are at the heart of the community."
Of course, not all development is gentrification, and not all new arrivals need to have a negative effect on a community, said Parker. She cited the example of the Schiller Coastal Studies Center, which last year completed a multiyear, multimillion-dollar renovation project. "I think there's a difference between gentrifying a community and investing in it, which is what we're doing at Schiller," she said. "As well serving the college community, our goal at Schiller is also to provide opportunities for the local community through our science and programming."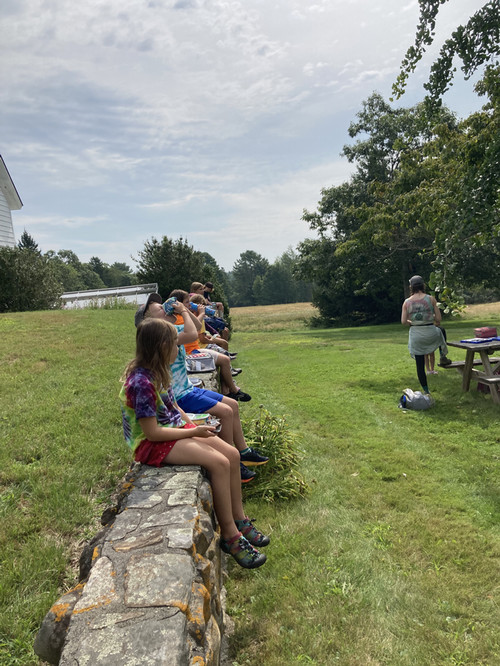 The gentrification panel was one of several community events taking place at the SCSC throughout August. On two occasions the facility opened its doors to elementary schoolchildren, who spent the day there as part of a summer camp program run by the Harpswell Heritage Land Trust.
"It's great to get the kids out in nature and learning about different ecosystems," said camp counselor Sophie Burchell '23, a biology and environmental studies double major who was overseeing a group of about twelve children ages six to nine. After some initial "ice breaker" games to get to know each other, they headed to the center's "wet" lab for some hands-on experience under the supervision of Bowdoin students, faculty, and staff. Here they learned about, and in some cases handled, a variety of sea creatures, including lobsters, clams, scallops, and sea stars. Then it was down to the shore to visit "mussel beach," where they splashed in the sea and looked for tiny crabs.
It's great for the College to share a facility like this, observed Burchell, who as a Bowdoin student took part in the Schiller's Coastal Studies Semester. "This place is really what drew me to Bowdoin," she said, "and it was a big part of my experience here." Which makes it all the more rewarding to introduce it to the next generation, she added.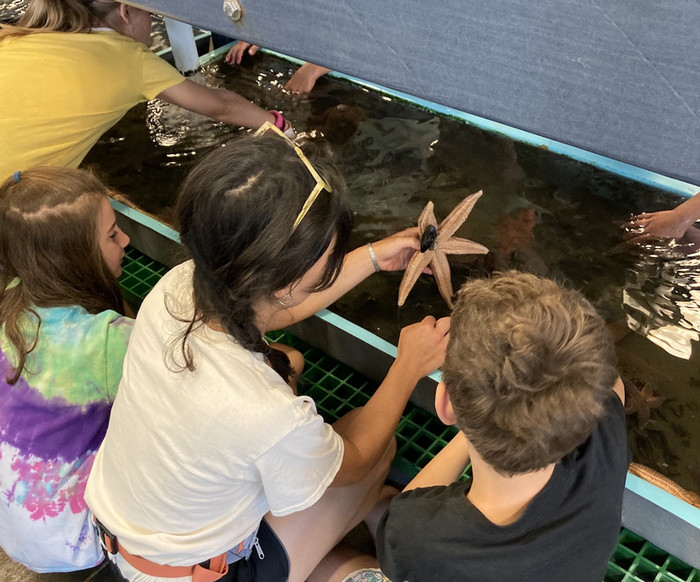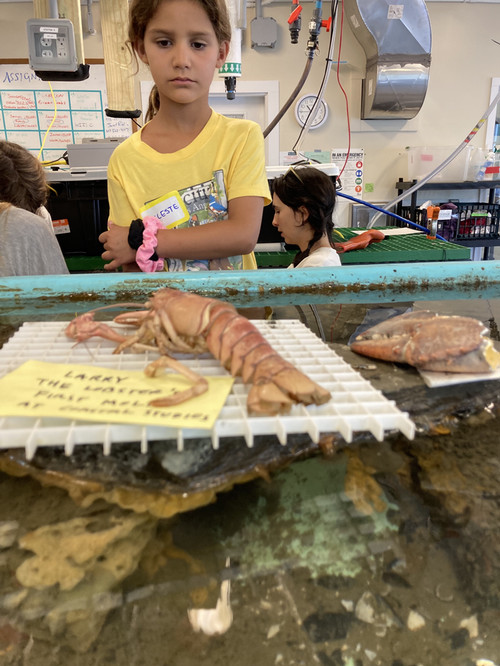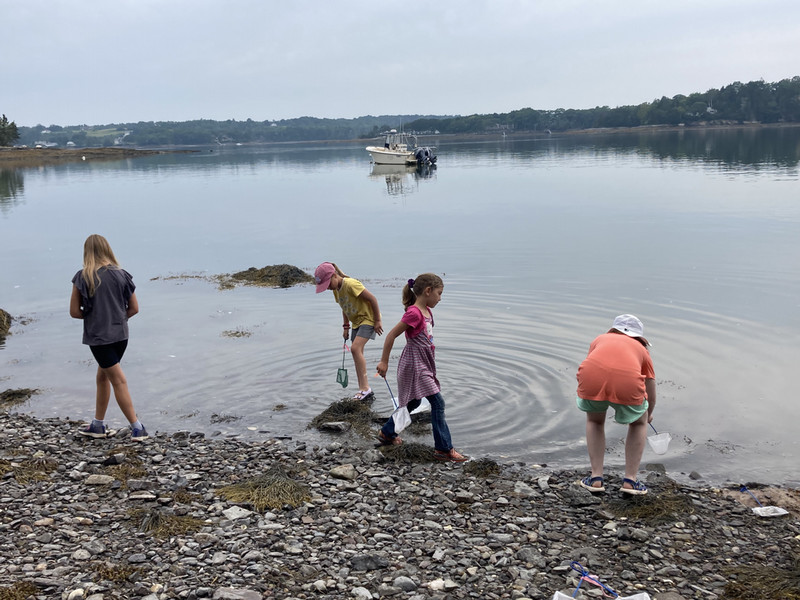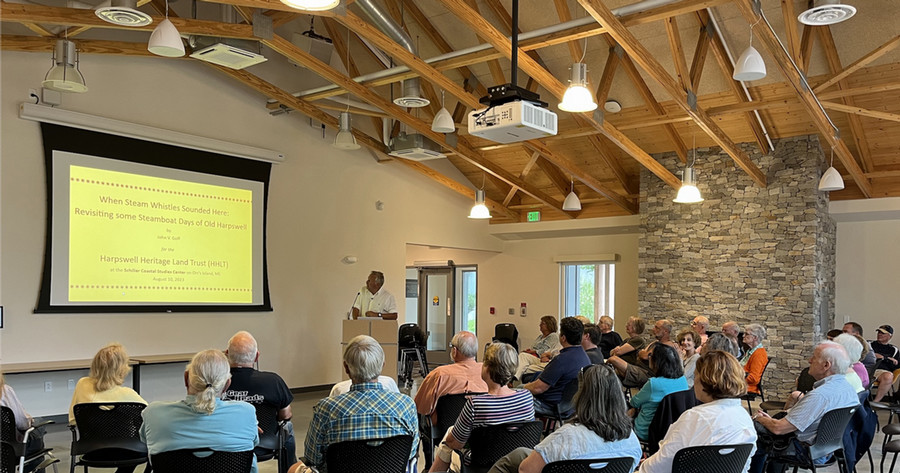 Another highlight of Schiller's community calendar recently was a talk by local historian and author John Goff.
His lecture, which was attended by about forty people, revisited those years of the nineteenth century when steamboats chugged their way along the Maine coast, and explored the effects these vessels had on the development of communities like Harpswell.
"Community partnerships like ours with the Harpswell Heritage Land Trust, Harpswell Aging at Home, and Maine Coast Fishermen's Association are critical to our work at the center," said Parker.
"As we do research that supports healthy coastal communities and environments, our community can and should play an important role in defining challenges and being part of the sometimes-hard conversations about the changes we are observing here in Harpswell. The center aspires to be a place where all voices and points of view are welcome as we chart a bright future."
Read more about the Schiller Coastal Studies Center: Coastal Research Reveals Complexities of Marine Life.
The Schiller Coastal Studies Center welcomed two additional staff members over the summer:
Jaret Reblin is no stranger to Bowdoin College, having worked here since 2001 as a laboratory instructor. The broadly trained ecologist is now associate director for science at the SCSC. Reblin has experience conducting and managing research in a wide range of different disciplines within the natural sciences. Reblin holds a bachelor's degree in biology, with a minor in chemistry, from Baldwin-Wallace University, Berea, Ohio. He has a master's from John Carroll University, also in Ohio.
Clinton Thompson is Schiller's new marine operations manager and a vastly experienced mariner. For twenty-five years, he was a marine patrol officer with the Maine Department of Marine Resources, responsible for boating, criminal law enforcement, and marine resources. Thompson also worked in search and rescue, recovery, accidents, and missing persons investigations. He holds a BS in environmental science from Unity College and is a registered Maine guide