Published June 27, 2023 by Bowdoin Magazine
The Art of Advising
Anita Heriot '88 has turned a knowledge of art and collecting into a finely honed craft of helping collectors and investors acquire and sell fine art, furniture, jewelry, and other valuables.
Tell me about the Fine Art Group and how you got involved.
Over its twenty-three-year history, the Fine Art Group has grown into a global network of art advisors, incorporating all aspects of art asset management and advisory with an international team of specialists and service providers. Our considered strategies and highly discreet services give us an unparalleled reach across the market and allow us to service virtually every aspect of art asset management in-house.
The Fine Art Group is unique in that it has five fully integrated verticals: appraisal, advisory, agent for sale, financing, and investment. Also unique to the Fine Art Group is our high-profile division, which provides 24-7 service for celebrities and those in the public eye. Lastly, we are also very focused on philanthropy and helping clients to utilize their art and collectibles to help those in need.
I was a founder of Pall Mall Art Advisors. We merged with the Fine Art Group in 2020. I run the US for the firm. We have locations in Hong Kong, London, Brussels, and in the US, we are in NYC, Philadelphia, Los Angeles, Silicon Valley, Atlanta, Palm Beach, and Charleston.
What draws you to the work you do?
With the dramatic increase in the value of art and collectibles over the last twenty years, it became clear to me that it is important to manage this part of the portfolio in the same way that the stocks and real estate are managed. It is estimated that upwards of fifteen percent of a high-net-worth client's portfolio is in art and collectibles.
I learned this personally when my grandfather, who was a collector, sold his collection at Christie's, and it became both a legacy for my family and important for museums such as the Tel Aviv Museum of Art.
I meet clients every day who have built businesses, who are entrepreneurs, and who do the work necessary to make intelligent decisions around their financial assets. But when it comes to acquiring art and collectibles, all due diligence goes out the window. I love to educate these clients to prevent others from taking advantage of them in acquisition or sale.
What do you think makes art appealing as an investment? What are the ways that art can be valued?
The DNA of our firm is investment. We were the first regulated art fund twenty years ago, and we have had funds and other investment structures since that time. We are one of the only firms with a track record of buying and selling art within an investment vehicle.
We have learned that if there is true intelligence and careful investment, in periods of recession and inflation, art takes longer to depreciate and rebounds faster. It is a semi-uncorrelated asset.
However, not all art is equal. This is a criteria for investment, and this is dependent on looking at the important categories of analysis. We look at the artist, the subject matter, the medium, the size, the provenance, the sales history, the literature, and exhibition history. Lastly, we look at the price and do a deep-market analysis. If the work meets with our criteria and is priced appropriately, then we have an investable asset. With thirty full-time art specialists, many of them former specialists in the major auction houses, we have the knowledge to make intelligent decisions. 
Are there differences in the types of clients who want to invest versus those to whom you lend art? How does the lending process work?
Clients who want to invest are looking for a diversification of their portfolio. They are also looking for assets that are uncorrelated. The reasons for using art as collateral are varied. Many clients who have art, jewelry, or watches that have increased in value may want liquidity. To sell these assets, one would have to pay high capital gains. Therefore, why not use the art as collateral and pull out some liquidity? Other clients leverage their art to buy more art. We will also provide an advance on a work a client wants to buy. We have seen clients use their art to pay their taxes and as a bridge loan for real estate.
If a client is interested in using their art, watches, or jewelry as collateral, the first step is for our in-house team of experts to determine if it is an appropriate asset for collateral.
How has the art world changed in the time you have been working in this field? Do you see differences in the types of people who buy art (for instance, in demographics)? Have there been changes in the way people sell their collected works of art?
The art world has changed dramatically over the last fifty years. When my grandfather collected, there were tight connections between a dealer and the collector. The auction house was secondary. What changed the art world dramatically was technology, the buyer, and the reason for buying.
Once a client could bid on an artwork on his laptop, that democratized the art market. You did not need to be in NYC or London. You could be in Brazil, Dubai, or Delhi. All you needed was a laptop, a way to bid online, and a bank account. At the same time, we saw immense wealth emerging in China, Brazil, Saudi Arabia, and other nations. The center of the art world shifted to these new areas of wealth.
In addition, the reasons for buying somewhat changed. New wealth wanted nonverbal ways of communicating power. A bottle of Chateau Lafite, a Warhol Mao, a Cartier Deco bracelet all told the world that you were wealthy.
Lastly, the art freeports opened in places like Geneva, Luxembourg, and Delaware, and this became a place where wealthy international buyers could buy art and store it in tax-free locations. The art became a hedge against economic, military, and political instability. Today these facilities store billions and billions of dollars' worth of art.
In terms of sale, it is very important that one should use a consultant to assist with sale strategy when the collections are varied and when they are high in value. Every collection has its own unique path of sale. It needs to be in the right venue, the right price, in the correct part of the sale, estimated correctly, and marketed correctly. Because we do a significant amount of sales at the major auctions annually, we have created preferred terms for our clients. When working with a client, we typically go out to market and have the auction houses compete for the business. We negotiate on behalf of the client and make sure the collection sells at the highest revenue.
For example, for a piece owned by a Middle Eastern client, we organized a very special experience and brought the top buyers to China as part of our marketing strategy.
Do you have favorite works of art?
My great grandmother and my grandfather were collectors. This certainly influenced the artists I love. I am a huge fan of German Expressionists, especially Gabriele Münter, as well as David Hockney's landscapes and Wayne Thiebaud's landscapes. However, in my own house, my husband and I love naïve landscapes and folk art. 
What inspires you?
I love to work, I love my job, and I love the people I work with every day. Helping a family create a strategy for art and collectables and seeing the plan implemented is extremely fulfilling. Listening to the incredible expertise of my team is inspiring when we're educating our clients. Creating a philanthropic strategy for a collection and knowing the proceeds of our strategy will help a nonprofit is so, so inspiring. 
Is there something about you that others might find surprising?
I do not live in NYC. While I travel a lot for work, when I am home, I love to be close to nature and far away from the noise. I live half of the year in a small town one hour from Yosemite and half of the year in a small town in coastal Washington. I love to take long walks in the Sierras and love during a break from a Zoom call to look out at the splendor of the vistas outside my house. When I am in Washington, I walk along the marshes and our little lake. I need this to balance me from the art world.
What do you enjoy doing in your spare time?
I love to cook. I love to walk with my two springer spaniel dogs. I love taking trips in our RV trailer to state parks. Lastly, I love to spend time with my adult children.
Favorite Bowdoin memory?
Many of my closest friends are the girls I met at Bowdoin. We still talk all the time and try to visit each other. I remember long runs with my friend Lacey out to Harpswell Island. I remember as a freshman walking with Susan Flood to downtown Brunswick after a snowstorm, the town so peaceful with snow. It was probably Bowdoin that began my lifelong love of small towns and nature.
---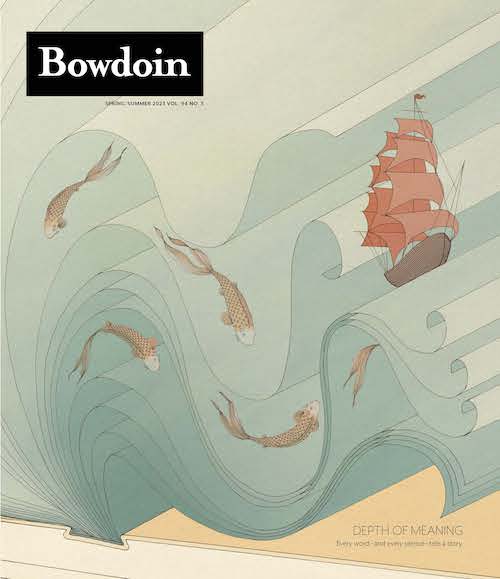 This story first appeared in the Spring/Summer 2023 issue of Bowdoin Magazine. Manage your subscription and see other stories from the magazine on the Bowdoin Magazine website.