Published June 27, 2023 by Bowdoin Magazine
Ready Player
Aidan Carey '24, a double major in computer science and math and an infielder on the baseball team, has the type of off-campus job that takes him to campuses all over—as a Division I hockey official.
Tell me about what sports you played growing up and then what athletics you've done at Bowdoin.
I played hockey and baseball while growing up. I was a varsity hockey and baseball player at Boston College High School, and I am a member of the baseball team here at Bowdoin.  
How did you get involved in hockey officiating?
I got involved in hockey officiating when I was in high school. I started for the same reason that most people start their first job: to make some money. But as I continued to mature as an official, I started to love it even more and wanted to continue to pursue it.  
What do you like about it? I've heard you're much in demand as an official—what do you think makes that so?
The best part of being a hockey official is being able to stay in touch with the game. Now that I'm no longer playing, I get to do the next best thing and officiate it.  
What drew you to Bowdoin?
I was drawn to Bowdoin by a few things. The most attractive aspect was the campus and its integration into the surrounding town. It felt like somewhere I could feel comfortable and call home. Additionally, the proximity to home was a bonus.  
What has the pandemic been like for you as a student? As an athlete?
The pandemic was extremely challenging as both a student and an athlete. As a student, it forced me to learn remotely away from campus, which was a struggle for most. As an athlete, it resulted in the loss of high school senior season of baseball as well as my freshman season of college. I was forced to get creative with training away from a team and campus.  
What inspires you?
I'm inspired to always be improving. It's important to recognize that you can never be perfect, but you can always improve. 
What do you enjoy doing in your spare time?
I enjoy spending time with my friends and teammates in my spare time. They really help to provide a break from the stresses of academics and life.  
Favorite Bowdoin memory or best thing you have learned at Bowdoin so far?
My favorite Bowdoin memories are the nightly dinners with my teammates at Thorne. It is a place where we can come together and build team chemistry. It has become a routine that everybody is there together at five o'clock.
---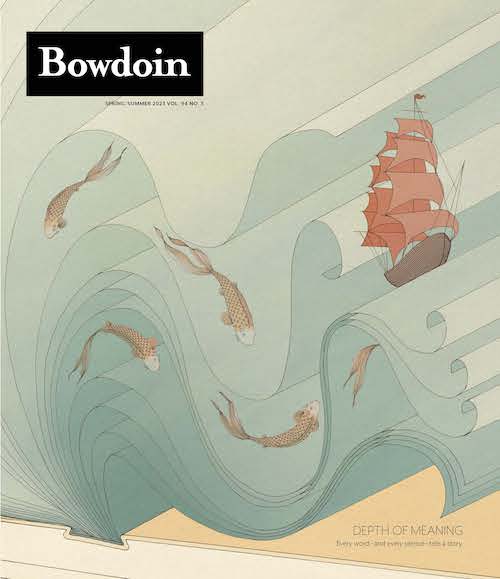 This story first appeared in the Spring/Summer 2023 issue of Bowdoin Magazine. Manage your subscription and see other stories from the magazine on the Bowdoin Magazine website.