Published June 27, 2023 by Bowdoin Magazine
Leave a Place Better
Film producer Xavier Santiago '01 directs the International Puerto Rican Heritage Film Festival and serves as chairman of the board of Manhattan Community District 11, where he lives with his family.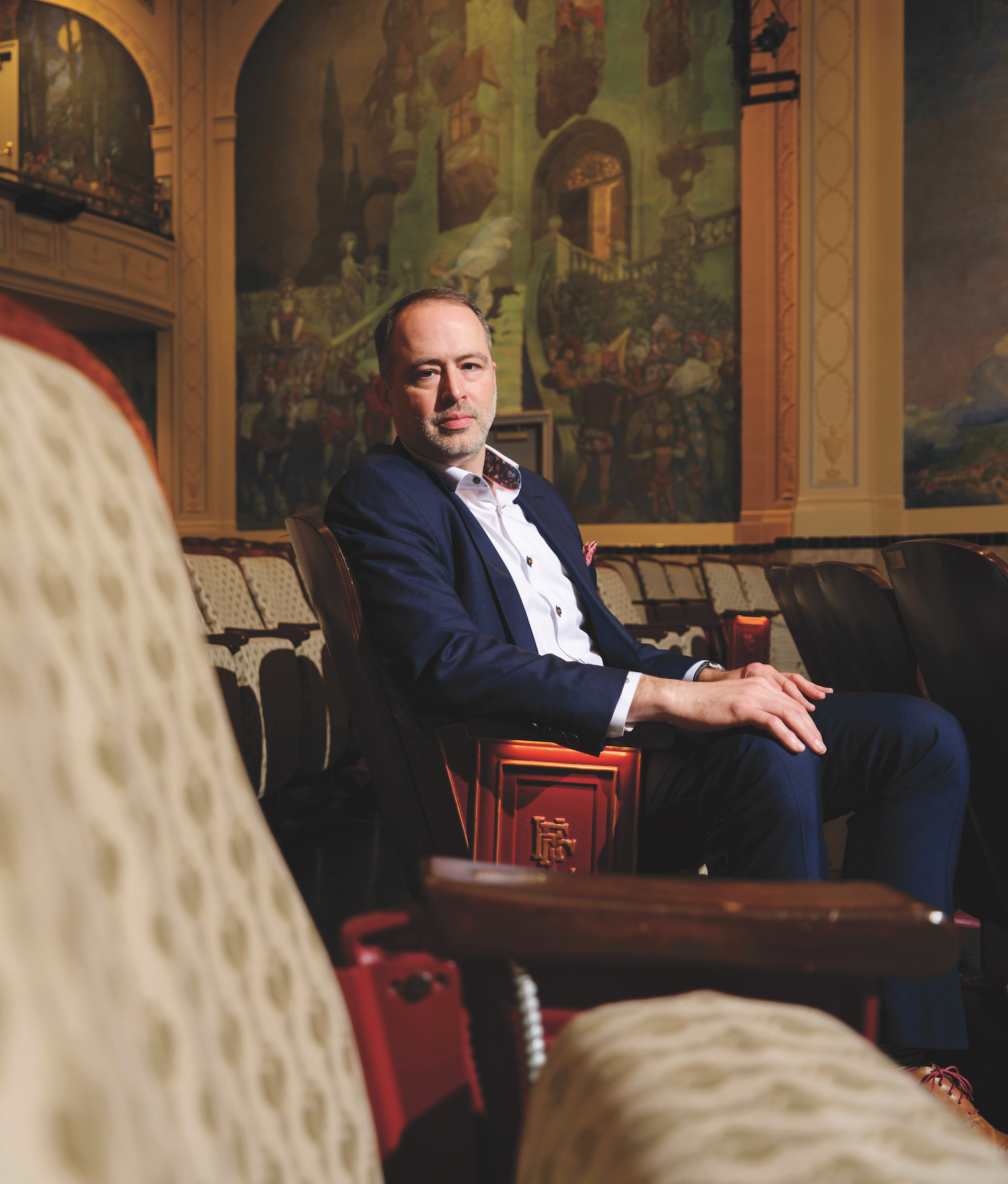 What draws you to the work you do?
Conveying a feeling, thought, or concept through the live story model. Every film I produce is not dissimilar to creating a new company. The collaboration, the process of producing, and the final result of when an audience experiences the film in a live setting are the greatest draws.
At its core, it's about creating an experience that everyone can connect and relate to for that cathartic release—creating a communal experience. Storytelling in all its forms remains an inexhaustible method for messaging. Whether it is a fluff comedy or period piece drama, there is a message being imparted.
Tell me about the Puerto Rican Heritage Film Festival and how you got involved.
The International Puerto Rican Heritage Film Festival is the longest-running film festival celebrating the island, people, and culture of Puerto Rico.
Based in El Barrio, also known as Spanish Harlem, its focus is to elevate an underrepresented population of the American society and, more importantly, its stories. Representation matters. Being part of the diaspora that has disproportionately served this country, are/were born citizens, yet are the lowest socioeconomically of all Latino/a/x while our island remains the longest existing colony on the planet remains a clarion call for elevating our narrative.
This fact became abundantly clear while I was living in London. I was campaigning a film called El Caballero, and I discovered that the International Puerto Rican Heritage Film Festival was celebrating its second year. As the former vice president of L.A.S.O., I knew it was important to support it. Ever since, I've supported the film festival with my productions. After many years, I was asked to join the board of advisors. When the pandemic hit, the founder and board of trustees asked me to become the festival director. Since then, I haven't looked back.
We not only exhibit films made by Puerto Ricans, but also Latinos and other international filmmakers that fit the programming's needs. Over the past several years, we've grown exponentially. Last year, we honored Rosie Perez with the Lifetime Achievement Award. As we celebrate our thirteenth year, stay tuned for some exciting news to come.
How did you get interested in film and television?
It definitely wasn't the traditional track. I started out in computer science. The tech bubble burst just as I graduated, so I went back to school to study entertainment. Although working in television is a more consistent paycheck, I prefer film for the unique stories one can tell. Candidly speaking, it is more of a grind that requires a mental stamina and, dare I say, obsession. But how?
Growing up, I remember watching films with my parents like Magic (the breakout film for Anthony Hopkins), Somewhere in Time (with the late Christopher Reed), and yes, my father took me to see The Terminator in the theaters. Even though I love live theater, film allows us to reach millions with singular stories that move us.
What do you think makes visual storytelling effective? How do you choose the stories you want to tell?
Show, don't tell. The most successful visual stories transcend language and culture. They revolve around our collective human experience.
When I option or create a story, I look for the human-centric hook. Even though I'm proud of my background and culture, the stories I produce extend beyond my identity into the commonality of human experience. Most of the stories have to possess a thread that others from different backgrounds will gravitate toward and enjoy. Whether it was our film The Violin with Matthew Rhys or Pardon the Intrusion with Laurence Olivier Award-winning actress Sarah Kestelman, those stories spoke to universal human experiences.
If you boil it down to the bone, stories of love and loss are what connect people. So many foreign films that end up being optioned for production here are because they transcend the culture and adapt easily for American audiences.
You devote a lot of time to public service. What leads you to that work and involvement?
Dating back to the days of [NYC urban planner] Robert Moses, generations of families from East Harlem and the South Bronx lacked the same equitable investments as other parts of New York City. Back when the Young Lords movement fought for equity in NYC, a spirit of service was created. Back in 2008 while the housing bubble was exploding, I noticed a lack of investment in our community, and I inquired with some friends who advised me to join the local Community Board.
As part of the NYC Charter, Community Boards serve as the ground floor of democracy. One must live, work, or have a special interest in the community. Now serving as the chair of Community Board 11 in East Harlem, I have as my goal to create better investments in our infrastructure, social services, and other unaddressed needs. At the end of the day, many of the socioeconomic inequities within this community can be traced back to the power broker. We must right the wrongs of Robert Moses as the first step.
What are your aspirations?
Anyone who says they don't aspire to win an award in their field is fooling themselves. But a greater win in my mind is opening a door for others. Every year, we tune in to the Academy Awards, and there is a small section where short films are honored in three categories: live-action, animation, and documentary. There are two tracts to qualify, but the traditional path is winning the relevant award at an Academy Qualifying Film Festival.
Currently there are at least 160+ festivals. To date, there are no US-based, Academy-qualified film festivals for Puerto Ricans or Latinos—that's a tragedy of representation. As we strive toward a more diverse and equitable world, my goal is to create an opportunity for those filmmakers and the larger Latino/a/x diaspora to compete at the Academy level by making the International Puerto Rican Heritage Film Festival the first US-based, Latino-oriented Academy Qualifying Film Festival.  
On the public service front, I get asked if I would run for office at least once a week. In jest, I say we need people in public office who can afford the cut in pay. Too many elected representatives are career politicians who are completely disconnected from the day-to-day grind of life.
During my time at Bowdoin, I very much felt out of place…an outlier. It wasn't until much later that the skillsets I learned from my professors imparted the gravity of a solid liberal arts education founded in logic. My father was integral part of the diversity initiatives at Wesleyan University (a legend unbeknownst to me) who had built and had a fortune stolen from him. When that occurred while I was still in middle and high school, we went from a comfortable middle-income lifestyle to food stamps overnight. Back then, you used color-coded tickets to get your school lunch. My perspective became hyper-focused on the needs of all people.
We need politicians who will serve the people and then go home and be part of the community—to be able to walk in all worlds. New York state has the highest-paid elected representatives in the country, yet the city and state are in disarray. It's a tragedy for part-time positions to be paid that much money. How many have subsisted on food stamps in their life, started a company, or understand the triumphs and travails of their district? But most importantly, how many are not owned by special interests and still possess the tools to serve the people—tools we are given at Bowdoin?
What inspires you?
My ninety-eight-year-old abuelita (grandmother), a single mother who raised my father in public housing in the Bronx, always said to me, "Leave a place better than you found it." She raised my dad back in the '50s by sewing cloth diapers in the garment district. Like many Puerto Rican women during that time, she was not paid minimum wage as required but by the piece. And when the clothing company did not pay her pension and the union did not help, she did not complain. She carried on.
As I sit next her to while answering this question, it reminds me that there is a dire need to have greater equality of opportunity. If we can create that reality for the next generation, there is no end to what we can accomplish. So, I keep calm like her and carry on. 
Is there something about you that others might find surprising?
At the heart of it, I'm very much a nerd (there's a throwback). Even during my time at Bowdoin, I had and still maintain a great interest in horology, wine, and vintage collectibles. Although back then I had "wine tastes but a beer budget." These interests all relate to the passage of time, which is the only commodity we have.
I remember someone breaking into my single room at Bowdoin to steal my Omega Seamaster and some other items. I was livid. The summer prior, I worked in construction to contribute to my tuition. I used the leftover money to buy a nice watch to commemorate my acceptance. It wasn't until ten years later that I revisited the hobby. I appreciate the craftsmanship just as much as spending time over a nice bottle of wine shared with family or friends. We are appreciating someone's efforts to create a beautiful experience.
What do you enjoy doing in your spare time?
To this day, I'm still an avid practitioner of judo and jiujitsu—martial arts that I'm sharing with my two boys. I also enjoy showing our Alaskan Malamutes and collecting timepieces. 
Favorite Bowdoin memory? Or best thing you learned at Bowdoin?
Part of the reason I chose Bowdoin was for the fraternity experience, and that went away just before I matriculated. I replaced the social networking that I missed because of that with more time getting to know professors and exploring Brunswick.
Richard Gnauck, who founded and still cooks at Richard's Restaurant, was one of the first Mainers who opened his doors to me. Many a weekend night would be spent chatting with him, discovering German food (which I had never experienced), and meeting the local townsfolk. As a pleasant surprise, this restaurant was also favored by my favorite professor, William C. Watterson in the English department. Although I took multiple courses with him, it was the independent study with Prof. Watterson that helped me the most. We would often finish the lesson with dinner and continue the discussion of Shakespeare versus Marlowe and the various differences and similarities between the two.
During this independent study, he taught me how to logically argue a point of view that I knew to be contradictory to the facts. These lessons/conversations have served me well by teaching me how to predict both logical and illogical positions while staying focused on negotiations. The highlight of our talks was when Richard would walk over and inquire about what we were discussing and offer a bright-eyed smile knowing his restaurant was playing host to the Bowdoin experience.
---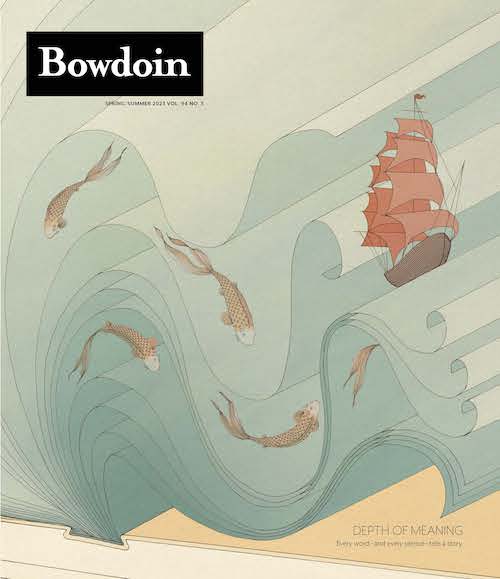 This story first appeared in the Spring/Summer 2023 issue of Bowdoin Magazine. Manage your subscription and see other stories from the magazine on the Bowdoin Magazine website.