Published June 14, 2023 by Bowdoin News
'Inside Higher Ed' Applauds Bowdoin Bootcamp
Sophomore 
Bootcamp
offers an"innovative" and "impactful" experience that readies students for a rapidly evolving workforce, and reinforces the broad applicability of a liberal arts education.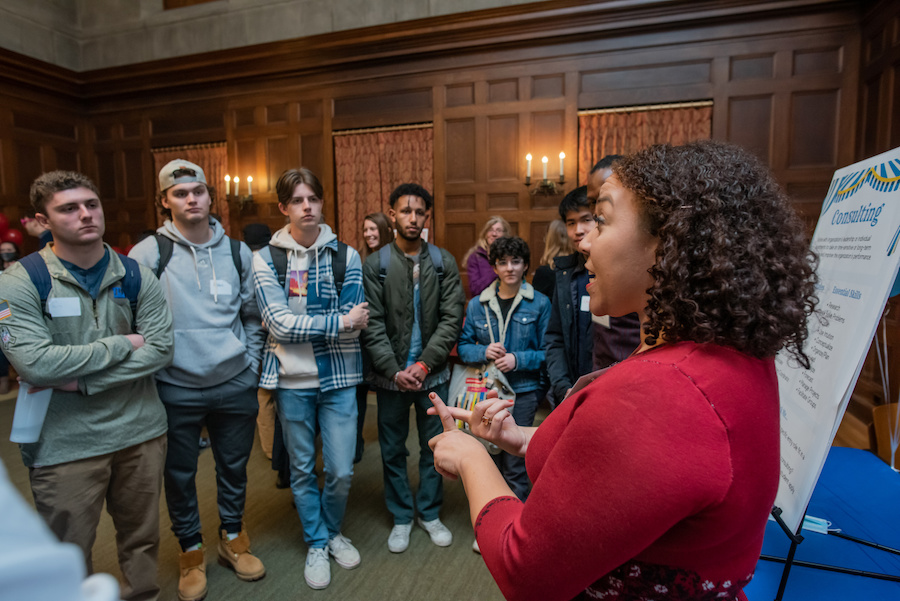 Inside Higher Ed recently took a look at the winter break program that the Center for Career Planning and Exploration (CXD) requires of every sophomore, calling it an effective solution for providing students with job skills, career options, and "peace of mind."
Bootcamp, which launched in 2019, is a mandatory three-day program that prepares students to apply for jobs and internships, and gives them networking experience and the chance to reflect on interests they may want to turn into careers.
CXD Executive Director Kristin Brennan told Inside Higher Ed that the program is scheduled during the break to not compete with academics. In this lull between semesters, it serves to relieve the stress on students starting to apply for fellowships, internships, and jobs. Importantly, it also ensures that every student, no matter their background, has access to the same career-readiness training and resources.
The article quotes Solomon Aborbie '22, who credits his Bootcamp experience with opening his eyes to all the possibilities awaiting him. Coming into Bowdoin as the child of immigrants who worked in grocery stores and factories, he didn't have a good sense of the breadth of the workplace. As a first-year, he was considering becoming a gym teacher. Now he's an engineer at Google.
Aborbie told Inside Higher Ed that it was Bootcamp that "set him on a path to declare a computer science minor," which led to competitive internships and eventually to his current job at Google.