Dedication of Gibbons Center Opens New Era for Arctic Studies at Bowdoin
Published by Rebecca Goldfine
The new John and Lile Gibbons Center for Arctic Studies positions Bowdoin as a world-class destination for Arctic research and education, an increasingly vital role as climate change and geopolitics shape the trajectory of the region and globe.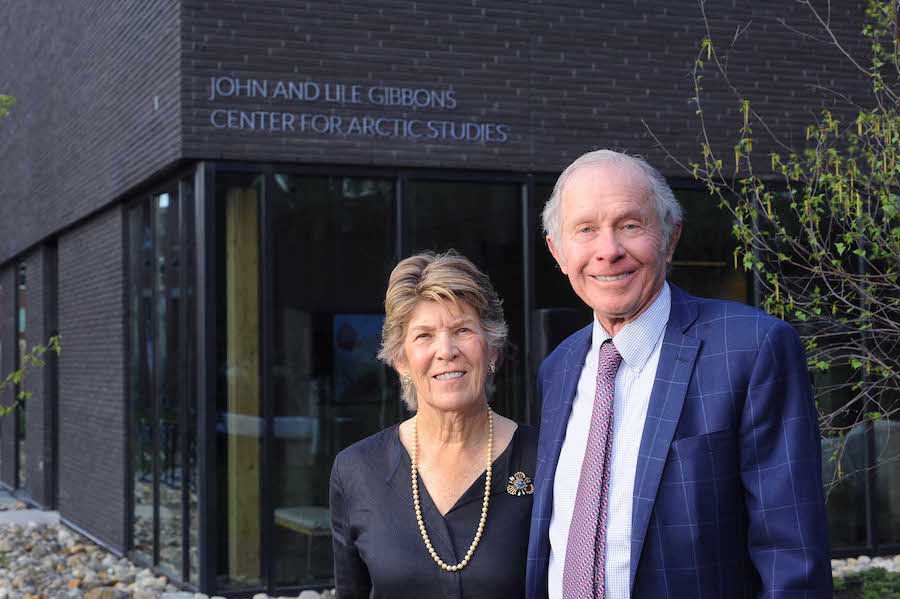 President Clayton Rose presided over the dedication of the center on May 11, 2023. He noted that he was joined by former Bowdoin presidents Robert Edwards and Barry Mills, and by President-elect Safa Zaki, as well as the current Bowdoin Board of Trustees and several emeriti trustees.
Many other alumni, faculty, staff, students, and others converged on the landscaped terrace outside the building to celebrate the center's opening and to thank its benefactors, John A. Gibbons Jr. '64 and Lile Gibbons. 
Joining John and Lile Gibbons at the ceremony were three of their alumni children (the four are Jay '88, Adam '91, Jenny '96, and Amanda '03) and two grandsons, Jamie and Matias, both Class of 2026.
The Gibbons Center provides a striking new home for the Peary-MacMillan Arctic Museum, for both its exhibition space and its environmentally controlled storage needs, and for the Arctic Studies Program. The building includes archeology research and teaching labs, a classroom, and offices for museum staff.
"The Gibbons have a vision for the museum," said Rose, one spurred by Lile's family connection to Alaska and their "great love and deep connection to the state and the Arctic."
The couple envisions the museum as a "world-class destination for exhibitions that focus on a wide variety of issues about and affecting the Arctic," and a place where the College "can build our Arctic studies program to engage with problems and opportunities facing the Arctic across every discipline," Rose added.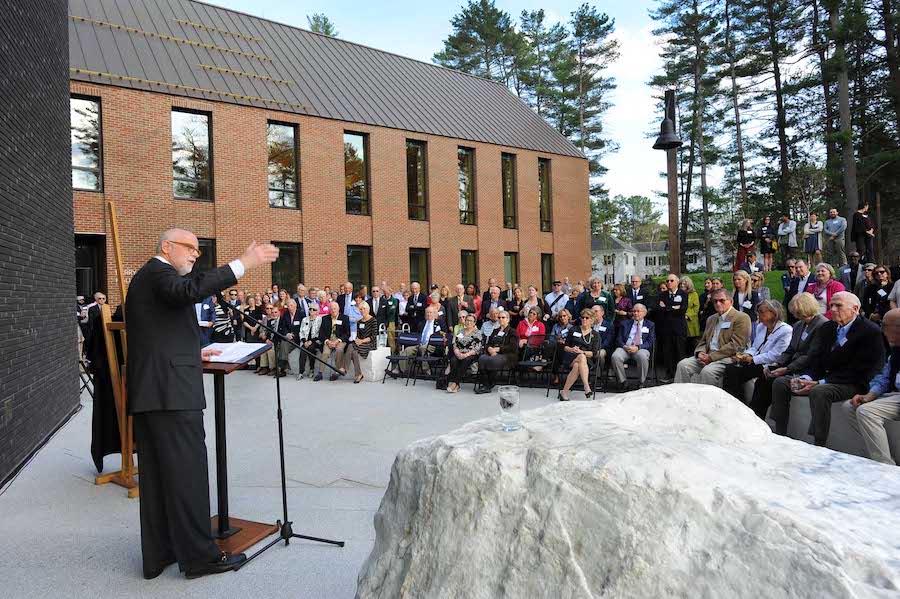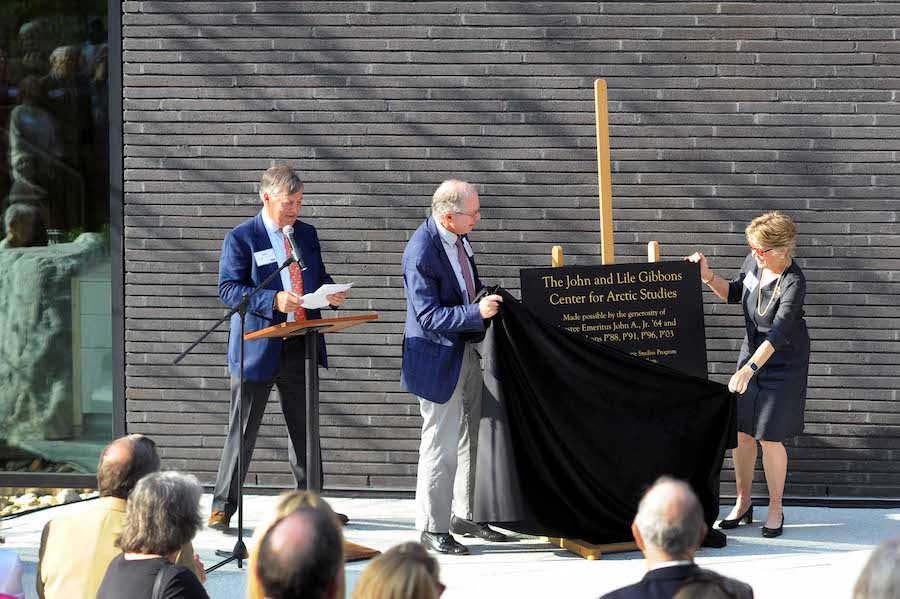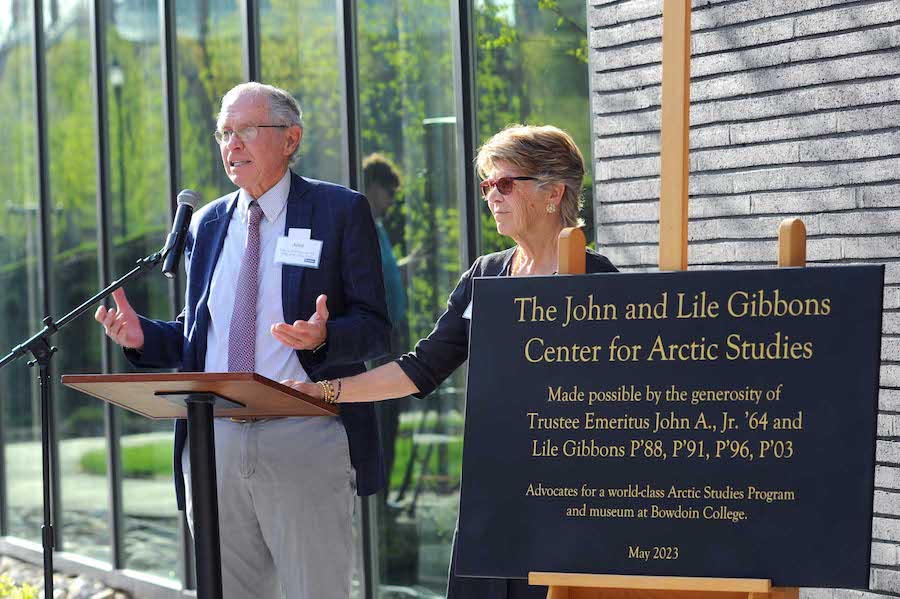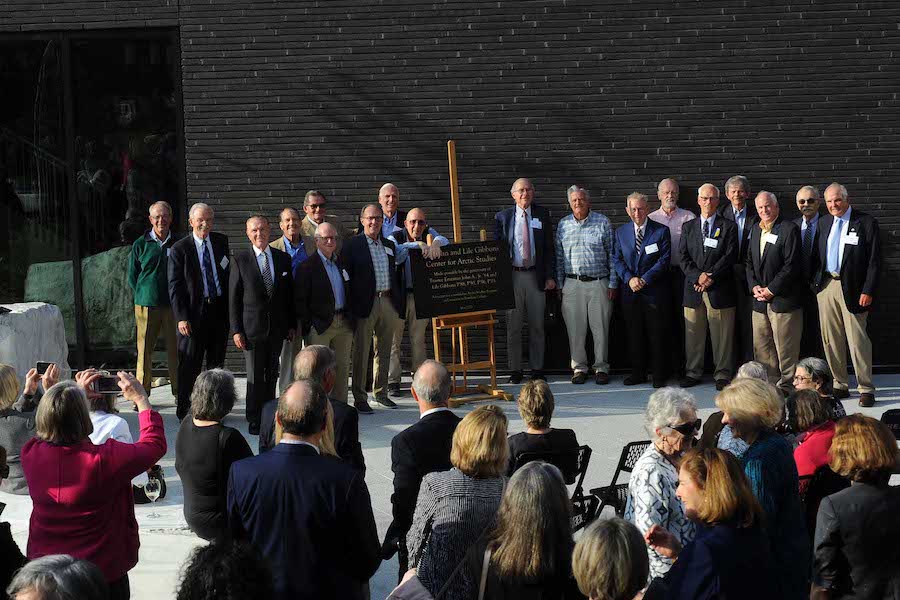 Susan Kaplan, professor of anthropology and director of the Peary-MacMillan Arctic Museum and Arctic Studies Center, also noted the growing need for such a space. "Massive changes are taking place across the circum-polar region, with local and global effects," she said. "This brings us to the heart of the importance of this building on this College campus. This center, and its associated resources, will allow faculty and staff to expand our efforts to prepare students for careers in the north where their talents are needed more than ever before."
Chair of the Board of Trustees Scott Perper '78 unveiled the dedication plaque and also offered remarks. "This is a fantastic modern piece of architecture that serves as an important foundation stone for further development of the Arctic and environmental studies, for Bowdoin's twenty-first connection to the Arctic, and for future scientific studies in geology, climate change, marine studies, and other fields."
Thanking the Gibbons for their vision, generosity, and hard work, Perper added, "This is a huge moment for Arctic studies at Bowdoin." 
Now that that Gibbons Center is open, it joins a constellation of Bowdoin spaces focused on the environment: the Roux Center for the Environment, Schiller Coastal Studies Center, and Bowdoin Scientific Station on Kent Island.
"Each stands on its own," Rose said, "but together there is something very powerful that we can knit together at a really important moment across every discipline, including economics, the sciences, geopolitics, art, and culture."
The new Gibbons building is notable both for its structure—constructed from state-of-the-art and environmentally sustainable mass timber—and for its aesthetic. Its black geometric shape forms a sharp outline that gracefully slices downward to the north. 
On hand at the dedication to talk about the building's design was head architect Nat Madson. He said he is frequently asked, "If this is a building about the Arctic, why doesn't it look more like an iceberg? Why is it dark?"
Importantly, he pointed out, the structure needed to limit natural light and maintain strict interior conditions to preserve the museum's old and delicate objects.
The Gibbonses have a long history of supporting Bowdoin, both through service and gifts.
John Gibbons served as a trustee from 2002 to 2017, twice chairing the board of trustees information technology advisory committee. He has also served as planned giving chair, class agent, campaign volunteer, Bowdoin Club president, and Alumni Council representative. 
He and Lile established the John and Lile Gibbons Arctic Studies Fund to support the Arctic museum and programming, as well as the Gibbons Summer Research Program and Gibbons Family Scholarship—both of which have impacted "hundreds and hundreds of students," said President Clayton Rose. They have also contributed to the Bowdoin College Museum of Art, the Philip H. Soule Memorial Fund, and the Jean and Raymond Troubh Scholarship Fund.
"We're incredibly lucky that one of the institutions they care deeply about is Bowdoin College, and that their love of the Arctic dovetails with their commitment to Bowdoin," Trustee Chair Scott Perper '78 said.
Beyond this, the concept was inspired by the museum's collection of glass lantern slides. "You'll find numerous photos set within the expansive icy Arctic landscape, and these are often photos with human figures, dogs, tents, or encampments," he said. "But the expansive Arctic backdrop turns every object in the image into a silhouette, imbued with mystery. And we asked ourselves rather early in the process, can this building somehow take on that quality?"
The glass lantern slides are part of the museum's extensive collection of anthropological objects, art, expedition equipment, film, archival papers, library, and specimens, much of it originally donated by explorers Donald Baxter MacMillan, Class of 1898, who made more than thirty trips to the Arctic between 1907 to 1954, and Robert E. Peary (Class of 1877). 
Starting in the mid 1880s, Bowdoin students and faculty began to travel north to study the Arctic cultures and environment, Rose explained. The actual museum wasn't dedicated until 1967—an event that MacMillian, at age ninety-three, was able to attend.
In the 1980s, Bowdoin students, faculty, and staff resumed going north regularly, conducting anthropological, archeological, and geological research, and reconnecting with the communities visited by Peary and MacMillan, Rose said. Since then, the engagement has only continued to grow, especially as the relevance of the region grows.
As the museum space aged and outgrew its home in Hubbard Hall, Barry Mills began to speak to John and Lile Gibbons about creating a new start-of-the-art space for it. When Rose stepped in as president of the College, "he never lost sight of how this could be an important macroeconomic, social, and environmental project," John Gibbons said at the dedication.
Though the architect and contractor changed, and COVID derailed the construction schedule, progress on the building continued. And the final result, John Gibbons added, is "even better than we expected....It's for the common good, it's for the community. It's for art, science, students, and the environment. It's very beautiful."
Photos by Fred Field