Bowdoin Pioneers Maine's First Pure Mass Timber Commercial Structure, Signals Continued Commitment to Sustainability
Published by Bowdoin News
The framework of Bowdoin's latest construction project supports more than simply the buildings that will become Barry Mills Hall and the John and Lile Gibbons Center for Arctic Studies; it also supports the College's ongoing commitment to sustainability.
From grade level on up through the roof, the primary load-bearing building material comprises mass timber, a mix of glue-laminated timber columns and beams, and cross-laminated timber (CLT) panels—making the project the first of its kind in Maine.
"This is the first complete mass timber commercial structure in the state and also the first commercial structure in Maine to utilize a mass timber wall system to resist wind and seismic loads," says Matthew Tonello, project manager at Consigli Construction, who notes that the addition of CLT walls was less of a performance decision and more about logistics, saying CLT walls are significantly faster to install and require much less labor than masonry walls.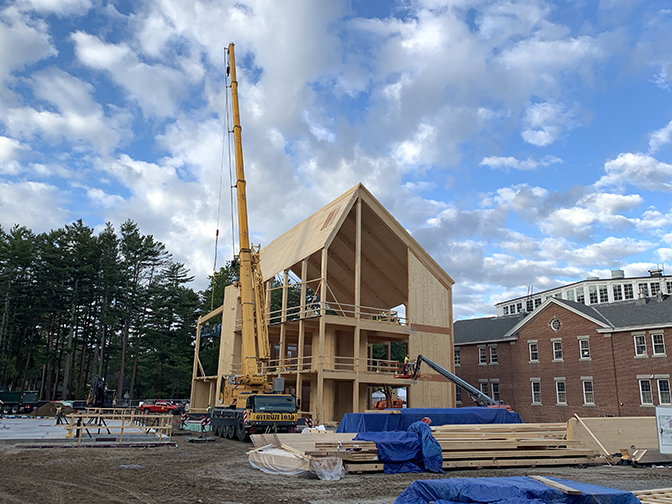 Since it is made from wood, a naturally renewable resource, the structure actually sequesters carbon from the environment.
Additionally, because wood requires fewer fossil fuels during production than would a comparable steel and concrete building, CLT is regarded as a greener, or more sustainable, construction material.
"Our design and engineering team evaluated two structure types to better understand the impact on the buildings' carbon footprint: mass timber and a traditional steel structure," said HGA Architects and Engineers structural engineer Lauren Piepho. 
"We found that using mass timber reduced the embodied carbon of the structure to roughly 25 percent of that of the steel alternative."
Bowdoin, which achieved carbon neutrality in 2018, two years ahead of schedule, continues to make decreasing its reliance on fossil fuels a priority in operational decisions.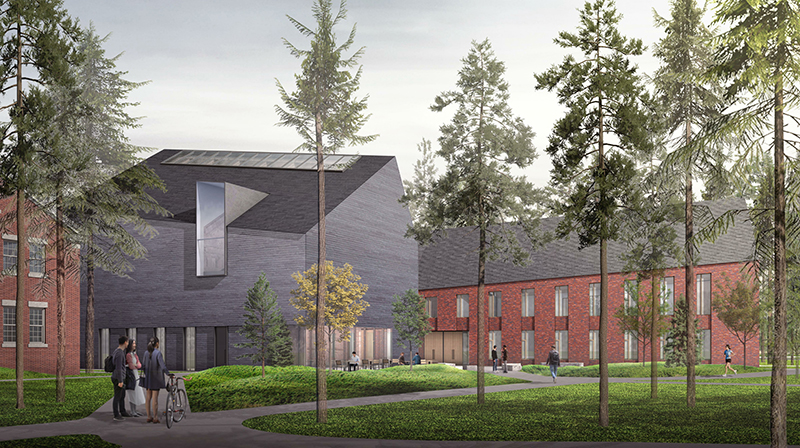 Read more about the John and Lile Gibbons Center for Arctic Studies and Barry Mills Hall.
"We're pleased that Bowdoin was able to use mass timber in the College's latest construction project," said Matthew Orlando, Bowdoin's senior vice president for finance and administration.

"Using mass timber and cross-laminated timber provides an environmentally conscious alternative to using a traditional steel framework and is in keeping with Bowdoin's commitment to making sustainable choices whenever possible."

Bowdoin is one of ten institutions to receive funding from the US Forest Service in partnership with the US Endowment for Forestry and Communities, Inc., a nonprofit corporation that works collaboratively with partners in the public and private sectors to advance systemic, transformative and sustainable change for the health and vitality of the nation's working forests and forest-reliant communities.
Barry Mills Hall is scheduled to be open for the spring 2023 semester; the John and Lile Gibbons Center for Arctic Studies is expected to open later.
View a slideshow of images from the project: