Published March 23, 2023 by Bowdoin Magazine
Trusted Expert
A Bowdoin basketball player turned lawyer, elected official, and NBA agent, Antwan Phillips '06 is committed to expanding opportunities and changing narratives in his home state of Arkansas.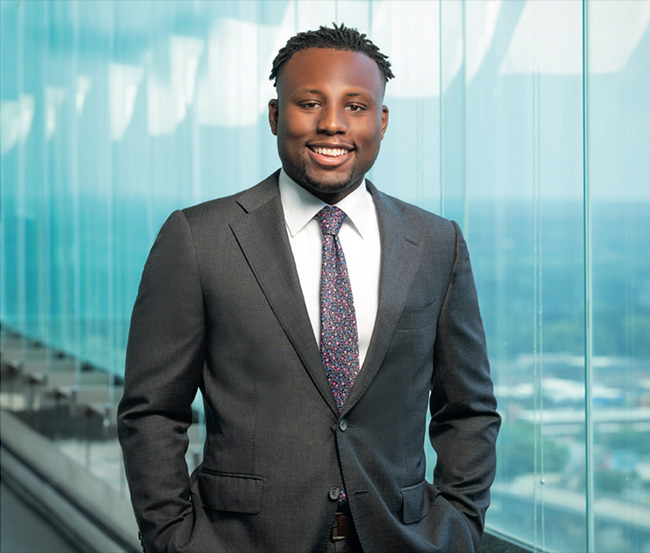 What draws you to the work you do? What's exciting about it?
As a lawyer and elected official, my job is to represent people. I appreciate the challenge and responsibility it entails when someone calls asking for me to represent their business in a court room or their neighborhood in the city board room. My clients and constituents are usually seeking representation related to matters that are extremely important to them. So it is fulfilling to know that they trust me to take a leading role in helping them resolve important issues.
How did you get interested in the law?
Actually, I did not want to be a lawyer, because my perception of lawyers were limited to criminal lawyers and "stuffy and overly formal" law firms. I went to law school initially not to be a lawyer but because I wanted to run for governor and become the first Black person elected to statewide office in Arkansas. I thought that having a JD would legitimize me in a gubernatorial campaign. While in law school, I clerked at Wright, Lindsey and Jennings (my current firm), and I loved it. I remember thinking to myself, if this is what being a lawyer is like then I can do this.
What led you into representing athletes?
As a former athlete (man, that is hurtful to type) and former member of Bowdoin's basketball team, I still love basketball. Representing future NBA players is the perfect marriage of my profession as an attorney and my passion for basketball. And it is fun. But, seriously, there are so many talented athletes from my home state that feel like they are forced to obtain representation from a bigger market. I plan to change that.
You devote a lot of time to public service. What leads you to that work and involvement?
I grew up in low-income neighborhood. I have multiple family members who have been imprisoned. Despite having twelve aunts and uncles and over fifty first cousins, I was the second in my extended family to graduate college and the first with a graduate degree. I know that I live a fortunate life that is founded on God's grace and professional opportunities. Unfortunately, there are so many people who grew up and are still growing up like me who don't have the same opportunities I was afforded—like attending the best liberal arts college in America.
As I often say: I'm not different, but my opportunities were. That's why I spend a lot of time volunteering.

I want to make sure that others have the opportunities to succeed. We cannot guarantee success, but we can create opportunities for those who traditionally have not have them. That's why I spend a lot of time volunteering and now working as a public servant.
What are your aspirations?
I guess it depends on what hat I'm wearing. As a husband, my aspiration is to be a better partner, supporter, and friend to my wife, Taneesha. As an attorney, my aspiration is to continue to build a reputation of trust and expertise that is valued by my clients. As an NBA agent, my aspiration is to advise and "do life" with athletes who are truly living their dream. And as an elected representative of Little Rock, my aspiration is to change the narrative and perception of what Little Rock is and what Little Rock can be.
What inspires you?
I'm inspired by music. I have found so many inspirational quotes from music that I have applied to my daily life, my goals, and my struggles. For example: "Everybody look at you strange, say you changed / Like you worked that hard to stay the same." Those are lyrics from Jay-Z's song "Grammy Family (Freestyle)." To me, these lyrics mean that we work hard to be something different than we were before and, despite that, people will look at you differently because your hard work has changed you—but it should! I did not attend Bowdoin College and Bowen School of Law to be the same Antwan I was in 2002.
Another quote I love is from rapper Lil Wayne, who said, "They disrespect the caterpillar, but rave about the butterfly." To me that means that people are excited and supportive once your hard work and transformation is visible, but not before then. Moreover, as a caterpillar you must always know that you will be a butterfly, no matter what your situation looks like currently.
Is there something about you that others might find surprising?
My first time getting on an airplane was to visit Bowdoin College. And I was born on Friday the 13th on Elm Street.
What do you enjoy doing in your spare time?
Traveling. I've visited thirty states—layovers do not count. I plan to experience all fifty, but I have a little work to do.
Favorite Bowdoin memory? Or best thing you learned at Bowdoin?
I know it is a cliché, but I have plenty of great memories at Bowdoin. However, the one that stands out—in light of my current life as a politician—is running for Bowdoin Senate as part of Professor Potholm's Conflict Resolution class. It was the first time I was candidate for and ran a "real" campaign and definitely was part of the foundation for me to run for office in Little Rock. The best thing I learned at Bowdoin is how to engage with and interact with people who are different from you. Because of Bowdoin and my upbringing (which was vastly different than that of most of my classmates), I am comfortable in so many different settings and conversations.

The best quote I discovered while at Bowdoin is: "Sleep does not make your dreams come true."
---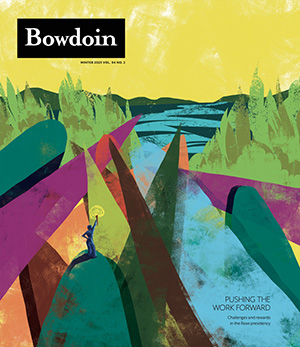 This story first appeared in the Winter 2023 issue of Bowdoin Magazine. Manage your subscription and see other stories from the magazine on the Bowdoin Magazine website.