Published March 23, 2023 by Bowdoin Magazine
The Responsible Traveler
Emily Tong '11 sees being an introvert as a strength. It allows her to tune into cultural differences and adapt to a wide range of communication and work styles across borders.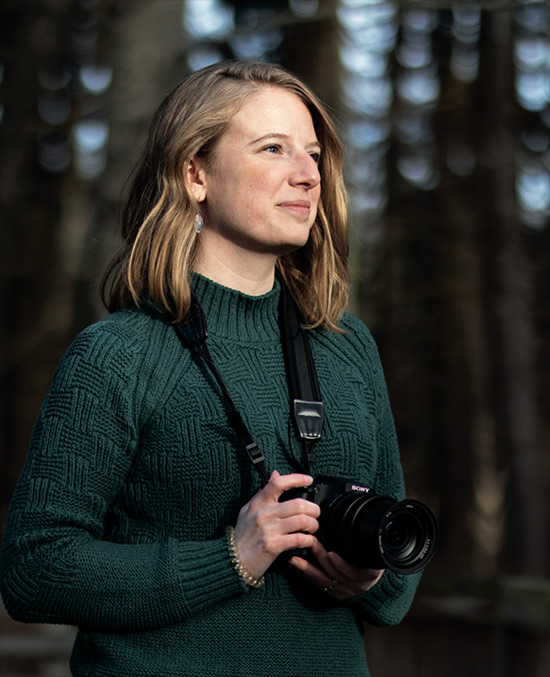 What draws you to photography? What's exciting about it?
I have loved photography ever since I borrowed my mom's camera while on a trip to Vancouver when I was thirteen. Since then, I've always had a camera of some kind in hand. Over the years I have learned to appreciate different things through photography. In college, I learned how to bring ideas to life; when I first began to do wedding photography, I learned the joy it brings to clients; when I lived in California, I learned how to bring movement into landscapes; and now, living with my birder husband, I have learned to understand bird behavior through photography.
How did you get interested in responsible travel?
It's a bit of a windy path that led me to working in responsible travel. I guess first we have to look at the "responsibility" piece. I have always been interested and passionate about conservation and sustainability and working toward the common good. This passion is largely what brought me to Bowdoin, majoring in environmental studies and becoming a leader in the Bowdoin Outing Club (BOC).
As for the travel piece, I have been fortunate to have traveled my whole life, with my first international trip being to Japan to visit my uncle when I was seven. My first solo trip was while I was at Bowdoin and received a Preston Fellowship to be a photography teacher to a group of at-risk teenagers in Varanasi, India. I have my parents to thank for this, but whenever I traveled it wasn't just to see the tourist sites; we often had a local person to stay with (family or friends). Traveling this way allowed us to see more of the local perspectives, gain meaningful connections, and get a deeper understanding of the local culture outside of the "tourist track." So already, before graduating, I had a base for "responsible travel."
Jump ahead—in 2015, I found a Craigslist ad for a position at an international education company that provided internships abroad for university students. I started as an intern and built my way to program coordinator, hopped to a sister company, and am now managing group programs with Kaya Responsible Travel. With my current position, we focus on creating group programs that work toward the UN Sustainable Development Goals and work with locally led and operated initiatives. I absolutely love working with our ground teams in-country and being a cultural liaison between universities and the local organizations.
What are your aspirations?
Since I started working with Responsible Travel, it has been wonderful to see programs focus on all of the UN Sustainable Development Goals. As I continue with my career, I know that sustainable development will be a focus, and I hope to continue using my skills as a cross-cultural communicator.
What inspires you?
It might sound like a cliché, but I would say I'm most inspired by the natural world. I am inspired to observe and conserve our incredible world! This is the driving force for my day-to-day life with all of the hikes and paddles I seek, and also for my job in traveling to new destinations and finding new ways to share the world with others in a sustainable and responsible way.
Is there something about the work you do that others would find surprising?
I have been lucky to travel to nine countries through working in international education, the latest to Peru and Brazil. Every trip has been fascinating, but it is extremely hard work! Often people think of my job as just getting a free vacation, but that's not the case. Super rewarding, but not relaxing :)
Is there something about you that others might find surprising?
Although my job is talking to people all day every day, I am an introvert. I actually find this to be a strength in this field, as I can tune into cultural differences and adapt to a wide range of communication and work styles across borders.
What do you enjoy doing in your spare time?
I am the queen of hobbies! When I'm not planning my next trip, I love to be outside, hiking and paddling with my pup. And when I'm not outside, you'll find me curled up on the couch watching the latest shows, crafting, and doing puzzles.
Favorite Bowdoin memory? Or best thing you learned at Bowdoin?
Although I did have great classes at Bowdoin, the absolute best decision I made was to go through the Leadership Training Course at the BOC with Mike Woodruff. I continue to draw on the leadership skills I learned in that semester every single day and have so many wonderful memories canoeing epic rivers in Maine!
---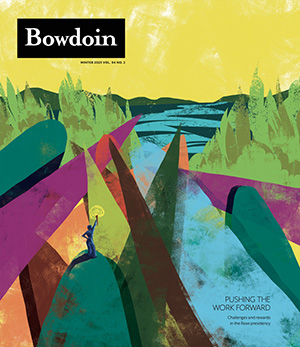 This story first appeared in the Winter 2023 issue of Bowdoin Magazine. Manage your subscription and see other stories from the magazine on the Bowdoin Magazine website.