Published March 23, 2023 by Bowdoin Magazine
Fidelity, Bravery, Integrity
As part of her role as a special agent with the FBI, Debra Sanders '77 attended the New England Telephone School, bucket truck training, and classes in carpentry, plastering, and lock picking.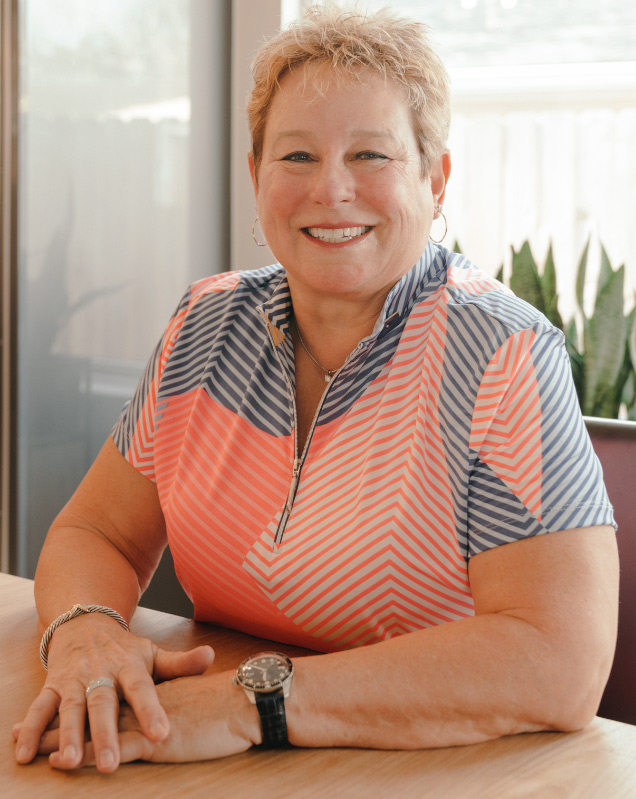 How did you become interested in the FBI?
The FBI had always intrigued me, but I'd never considered it as a career possibility. Initially, I was set on the business world, and I started my career as a commercial insurance underwriter with Aetna Insurance before moving to Royal Insurance and, ultimately, to Lexington Insurance, which was an excess surplus lines carrier. Each move I made was more challenging than the last because I was learning new things at each company.
Lexington was the most interesting and challenging and where I enjoyed my job the most. I worked with associations of insureds who were engaged in higher-risk businesses, such as amusement parks, ski areas, and crane and rigging operators. I had to write coverages to protect them from risks that were routinely excluded on the conventional policies I'd underwritten at Aetna and Royal. I also worked with the reinsurance market, which allowed me to wheel and deal. That experience with Lexington was fun and rewarding, but I still wanted something more from my career, which led me to my next move.
Fred, a friend who was an accountant, had read an article in the Boston Globe that the FBI was looking for accountants, attorneys, and "all other" candidates. He planned to go the local FBI office to ask questions. As a die-hard police detective, murder mystery, espionage book junkie, I told him I was going with him to ask questions too.
Fred and I went the next day at lunch to talk with the local FBI agents at their office. We were both told they were interested, although I would need to come back in a few years as they required candidates with bachelor's degrees to have a minimum of three years of job experience. They wanted candidates to have some seasoning in the business world and not be fresh out of college.
I applied a couple of years later and, after passing all the rigorous testing requirements, interviewing, physical training challenges and making it through New Agent's Class, I was sworn in as a special agent of the FBI and worked my first assignment in the Boston field office. During my career, I worked in Boston, Tampa, New York City, Honolulu, and Houston. I worked for four months on an assignment in Iraq and worked an assignment at the 1996 Olympics in Atlanta. I had the opportunity to work several other special assignments and enjoyed the challenges each of those assignments brought.
My favorite work assignments involved working foreign counterintelligence cases and as part of the Joint Terrorism Task Force in New York City and as a technically trained agent.
I've been retired from the FBI since December 2011 and can't believe how quickly time has flown by. I loved my twenty-eight-year-career and really miss the camaraderie I experienced with all the dedicated, compassionate, ambitious, brave men and women who aspire every day to make a difference.
What are you up to these days?
Currently I'm self-employed, working as a background investigations contractor for an oil and gas company in Houston, doing backgrounds on prospective employees to ensure the information they've listed on their applications and resumes is in fact honest and accurate. It's amazing to me, with all the information available out there on the internet, that some people lie about their backgrounds and think they won't be caught. I work out of the house and make my own hours, which is very convenient.
What inspires you?
I've always loved challenges. Challenges, learning new things, and being taken out of my comfort zone encourage me to rise to the occasion and have always made me enjoy what I'm doing even more. If things are too easy, I get bored. My parents always encouraged me to work hard, do the best job I could whatever I decided to do, and to never give up or look for the easy way out. Dad was a teacher and coach. He taught me to play baseball, basketball, football; how to throw, slide, run a play; and how to strive for perfection. I never wanted to disappoint him or my mom.
What was it like being part of the FBI?
Working as part of a team with the FBI was really fun! I was very lucky to work with a stellar group of agents throughout my career. There was nothing more fun than sitting in the squad bay with the team, brainstorming possible solutions for challenges we faced and trying to come up with methods to accomplish our investigative goals. I always took great pride in the work we all did trying to make a difference every day.
It was always fun as a technically trained agent in New York, Honolulu, and Houston to call a few of my friends and say, "Guess where I am now?" I can remember being on top of some of the tallest buildings in New York, putting up transmission antennas when the wind was whipping, and you didn't want to get close to the edge and get blown off. I spent time on the walkway above one of the Manhattan bridges, on top of transmission towers in Hawaii, on the catwalk over Reliant Stadium (now NRG Stadium), and on top of Minute Maid Park in Houston—as well as climbing telephone poles all over the boroughs of New York installing technical equipment. I attended the New England Telephone School, bucket truck training, and classes in carpentry, plastering, and lock picking. I never knew where I might end up!
Do you have any funny stories to share about your time with the FBI?
I have a funny story involving my Mom, who also enjoyed spy books. I couldn't talk about my job and ongoing cases, but she would give me tips from some of the spy books she'd read. One of her fears was I'd be too close to the edge of the subway platform and one of the spies I was working with would take the opportunity to push me off the edge of the track because I was learning too much about them and could cause them to get kicked out of the country because I knew why they were really in New York. She also warned me to look out for strangers carrying umbrellas because the points could be tipped with poison.
She asked one Christmas what I'd like as stocking stuffer ideas. I told her black knee-high nylons. She asked why? I told her black nylons were better for making my ankle holster less obvious if my pant leg rode up on the train. Less obvious than flesh-colored nylons. She said she knew she had to be the only Mom in the lingerie section at Jordan Marsh or Filene's buying black knee-highs to help her daughter hide her gun.
Is there something about the work you do that others would find surprising?
I transferred five times with the FBI. Pulling up stakes, leaving good friends and familiar places, and moving on my own was difficult, but with a good attitude and the will to embrace new experiences, I was able to succeed each place I went. I love New England, but having the opportunity to live in different parts of the country throughout my career gave me life experiences I wouldn't have had otherwise.
Is there something about you that others might find surprising?
My friends were very excited when I retired from the FBI because they figured I'd be able to tell my close buddies about all the cool things I got to do as an agent. I had to disappoint them and tell them there wasn't much I'd be able to tell them about the things I did other than generally refer to anonymous cases because most everything I did was still a secret. They were very disappointed.
What's something you're most proud of?
I'm very proud of my career as a special agent with the FBI. I can't imagine having done anything else as a career. Although I started in the business world, I feel being a special agent was my calling, even though it took me a few years to discover.
I believe strongly in the FBI motto—Fidelity, Bravery, Integrity—and have always tried to live by it. Despite the political acrimony present in the world today, the FBI is still the premier law enforcement agency in the world. My fellow special agents and I did our best to defend the Constitution from all enemies foreign and domestic every day and, most of all, to make a positive difference in the world and to protect the rights of the innocent.
What do you enjoy doing in your spare time?
My plan now that I've had a knee replacement is to get back into playing golf. When I was playing frequently, I was able to get my handicap into the single digits, and I hope to get back there again with practice. I haven't played much in the past few years because of my knee and can't wait to start playing again. I also love to read, lift weights, ride my bike, and speed walk. I've walked eight half marathons and hope to eventually break three hours.
Favorite Bowdoin moment? Or thing you learned at Bowdoin?
As a 1977 graduate, I was very excited to be part of the third class of women at Bowdoin. I was a good athlete in high school but wanted to play college sports if possible. I'd always wanted to attend a small New England college and not be a number at a large school. Bowdoin was perfect!
Academically, Bowdoin is and was a tough school, so I got a great education and the opportunity to help establish the women's sports program. I started in field hockey, basketball, and lacrosse and had a wonderful time with a bunch of very talented teammates and friends.
A fond memory about being on the basketball team is my dad came to almost every basketball game during my four years at Bowdoin. At that time, we didn't travel with a trainer. As a retired coach, dad knew how to tape, and my teammates and I looked forward to his arrival because Coach Dad would work with Coach Dick Mersereau to get everyone taped up before each game. We always knew we'd have at least one deep-voiced cheerleader on our side of the stands for every away game!
---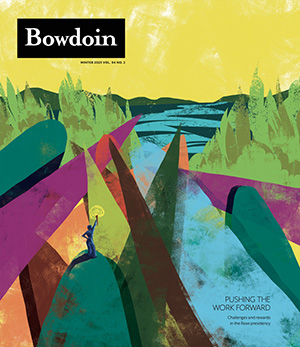 This story first appeared in the Winter 2023 issue of Bowdoin Magazine. Manage your subscription and see other stories from the magazine on the Bowdoin Magazine website.