BPS Students Visit the Capitol
Published by Tom Porter
Fourteen sophomores, along with three seniors acting as trip leaders, headed to Washington, DC, over the spring break as part of the Bowdoin Public Service Initiative.
The program, launched in 2018 and organized by the McKeen Center, is designed to provide students with the opportunity to delve into topics around government and public policy work in Washington, DC, and elsewhere. They also got the chance to meet with alumni working in those fields.
"Students learned about a range of careers that serve the common good," said the McKeen Center's associate director for public service, Wendy Van Damme, who organized the event and accompanied the cohort on the weeklong trip. "Thanks to so many accomplished alumni and friends of Bowdoin, doors were opened to the students. The learning and reflection that ensued were uniquely valuable to each student."
Among the distinguished alumni who met with the group were veteran diplomat Thomas Pickering '53—whose career included time as US ambassador to the United Nations and undersecretary of state for political affairs, the third-highest post in the US State Department—and William Cohen '62, former US Senator for Maine and secretary of defense.
Other alumni who made themselves available included John McClelland '91, director of tax analysis at the Congressional Budget Office (CBO), Rob Jenkins '91 from the US Agency for International Development (USAID), Sarah Cross '98 at the Bureau of Population, Refugees, and Migration, an arm of the State Department, and New York Times Washington bureau reporter Katie Benner '99.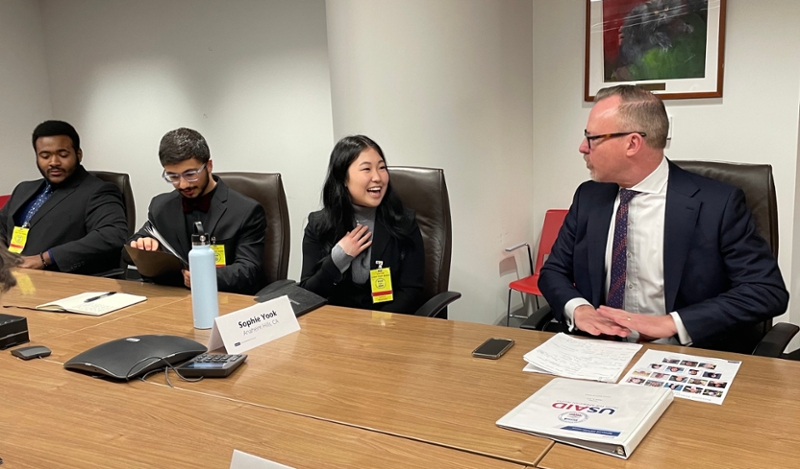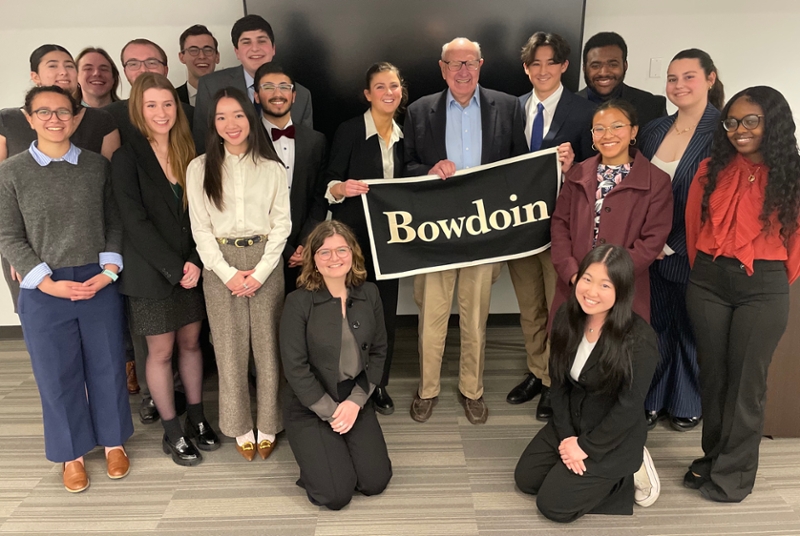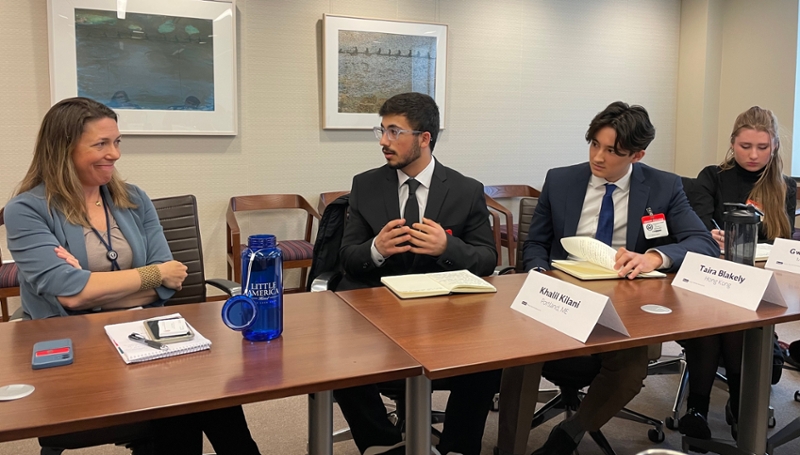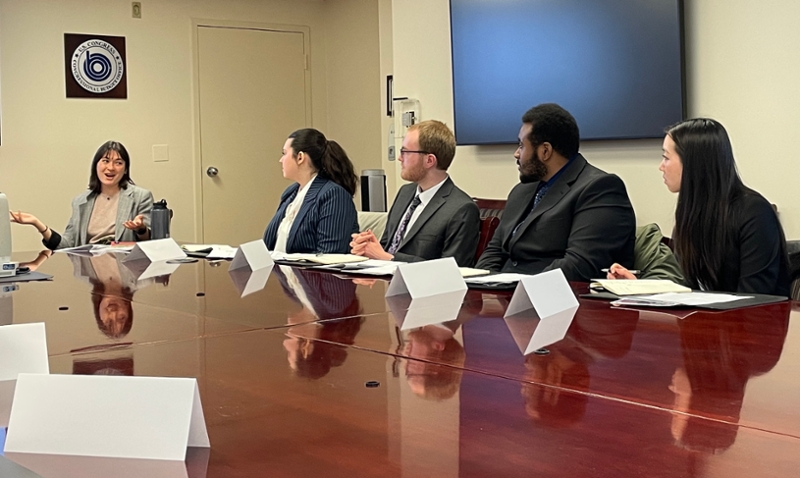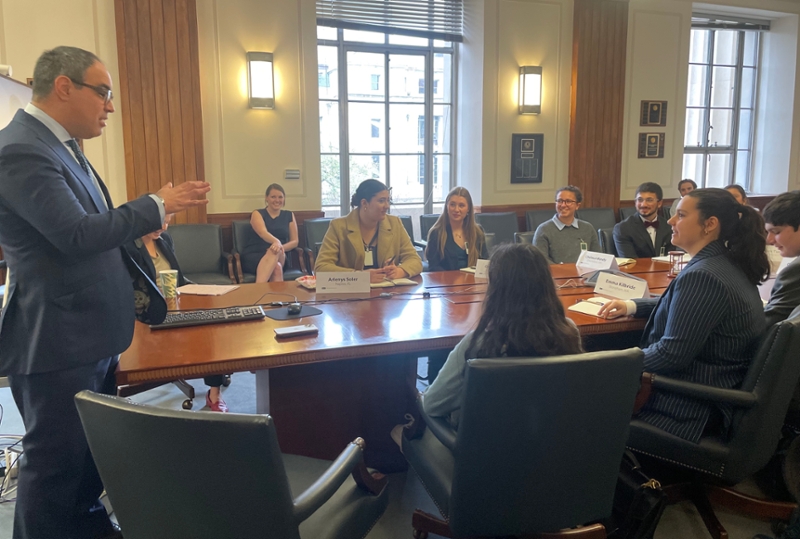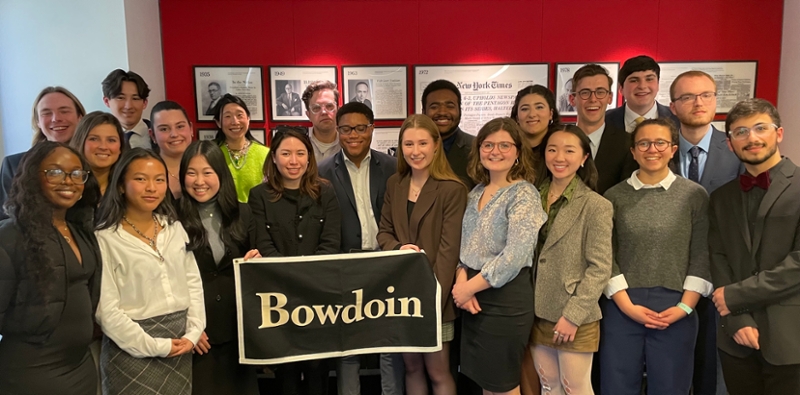 Additionally, students met with Conor Williams '05 from the Century Foundation, a progressive think tank, Ike Irby '09, senior advisor for policy to the US vice president, Shannon McCabe '17, who works at the US Department of Justice, and CBO analyst Kathyrn McGinnis '21. On one of the evenings, students and alumni met in a more social setting for a gathering and networking event at a Capitol area restaurant and wine bar.
Other highlights included conversations with Washington, DC, District Court Judge James Boasberg P'22 and US Senators for Maine Susan Collins (R) and Angus King H'07 (I), as well as representatives from other government agencies and nonprofits that operate in the DC area.
The seven-day immersion trip was the culmination of a seven-week process for the BPS cohort, said the McKeen Center's Van Damme. "From January to March, they engaged in weekly seminars on campus, meeting with public service professionals." An essential component of the trip to DC, she added, was the involvement of the three seniors, whose collaboration and leadership were central to the success of the program.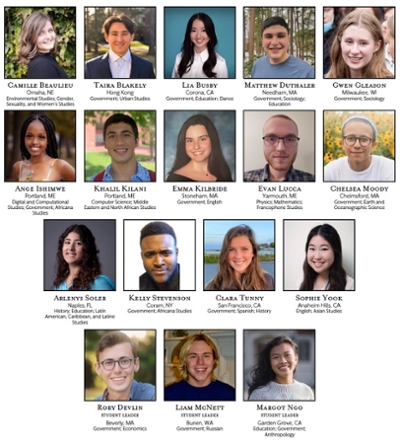 "As one of the student Leaders for BPS in Washington this year, I was impressed by the growth of the cohort throughout the semester," said Liam McNett '23, a government and Russian double major. "By the time we arrived in DC, the cohort's engagement, preparation, and lines of questioning to our speakers elevated our conversations and the experience more broadly. In short," he added, "this group of sophomores was fantastic, and having the chance to work with them and watch them in action has been a highlight of my time at Bowdoin."
"My highlight of the trip was speaking with our Maine senators and with Sarah Cross from the Department of State," said computer scence major Khalil Kilani '25, who is also pursuing a minor in Middle Eastern and North African studies. "I really enjoyed the free-flowing nature of our conversations and having the opportunity to ask them questions about topics relevant to our daily lives," he continued.
"Public service and the world of politics as a whole had felt inaccessible to me as a first-generation student," said Lia Busby '25, a government and education major. "Throughout this semester, however, BPS in Washington opened a new realm of possibilities for me." Busby said the program has reaffirmed her desire to center her career around public service, and this summer she plans to continue pursuing this passion as a Congressional legislative intern.
"At the Peace Corps panel, Dr. Darlene Grant gave us a piece of advice that has stuck with me: 'Public service is a form of self-discovery and connecting to your true inner identity and will be the toughest job you'll ever love. Stay curious and live a life of fascination.'"
Students from all academic and life backgrounds are encouraged to apply for the Bowdoin Public Service Initiative. No coursework or prior policy experience is required. The BPS Initiative also offers a ten-week summer fellowship program, working in the fields of government and public policy.