Published December 15, 2022 by Tom Porter
Visual Learning: German Students Embrace Art
It may not, on the surface, seem like an obvious connection, but German studies scholar Birgit Tautz saw great learning potential for her students when she heard about an exhibition of Oceanic masks opening at the Bowdoin College Museum of Art last October.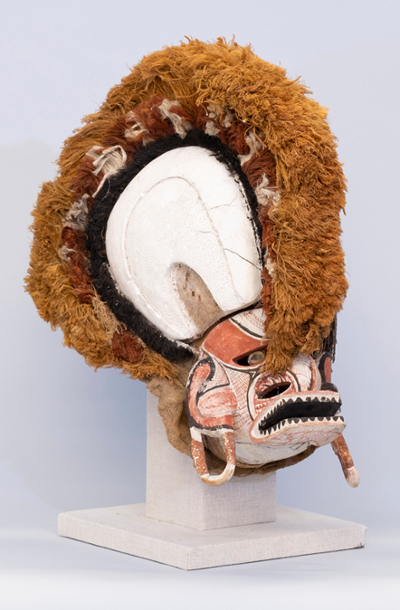 Tautz is the George Taylor Files Professor of Modern Languages, with a particular interest in eighteenth- and nineteenth-century German literature, philosophy, and culture, among other things. The exhibition—Masks of Memories: Art and Ceremony in Nineteenth-Century Oceania—highlights a number of masks that were collected in the 1890s by Harold Sewall, of Bath, Maine, brought back to the US and then donated to the museum. Sewall was US Consul General to Samoa at the time, and the artifacts were purchased in New Ireland, today part of Papua, New Guinea.
"New Ireland was actually a German colony at the time," said Tautz, making the show very pertinent and interesting to her class Myth, Modernity, Media, which explores the important role that myths have played in German cultural history. "We've dealt a lot with myths supporting colonial enterprises this semester," she explained, referring to the way such expansionist adventures fueled the European view that these faraway lands were exotic and otherwordly.
Taking advantage of this great resource on their doorstep, Tautz's students visited the museum, where they looked closely at the mask exhibit under the guidance of curator Casey Braun. "When we put this show together, we had no idea it would be of interest to the German department, so this was really exciting," said Braun. These masks, she explained, were each commissioned by family members of a deceased person to be worn at the funeral and are made largely from plant fibers and pieces of shell. "They were not designed to be kept and were usually discarded or burned after the ceremony, which makes it all the more extraordinary that they found their way here."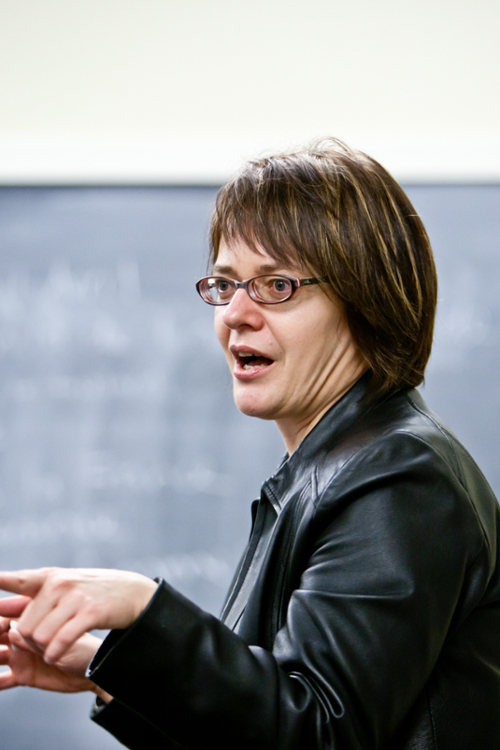 This also means Bowdoin has one of the few collections of such artifacts obtained in the nineteenth century, said Braun, a fact that led to a lively conversation (in German) among Tautz and her students about the wider issues of art theft (even though these masks were acquired legitimately, said Braun), restitution, the way artifacts can be used to create myths about the non-Western world, and the place such colonial objects have in museums.
Adding yet more perspective to the debate, said Tautz, was visiting academic Cynthia Porter, assistant professor of German at Ohio State University and an expert in German literature, media, and popular culture. She came to campus last October, explained Tautz, to deliver a German embassy-sponsored lecture about issues of body modification in moments of historical upheaval with particular reference to the Weimar Republic. "Professor Porter also came to the art museum to visit the mask exhibit with my students and was able to talk to us and lend her expertise on the subject of masks as body modification."
On a separate visit to the museum, students examined another work of art, which, while being notably different from the masks of Oceania, was also connected to their Myth, Modernity, Media class.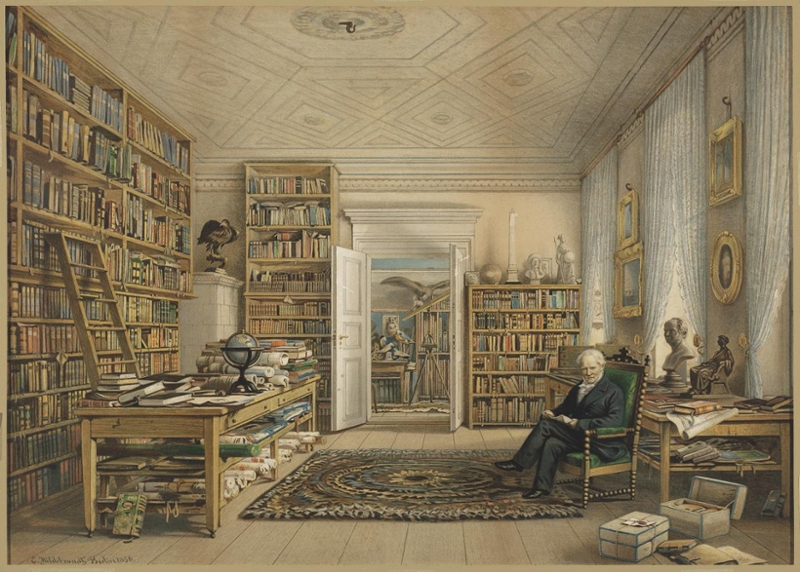 "Last year we acquired a print made in 1856 depicting the German scientist Alexander Humboldt in his study, an old man surrounded by the trappings and symbols of his long and accomplished life," said Braun, "and I was delighted to be able to show this to Professor Tautz and her students."
Humboldt, who lived from 1769 to 1859, was a towering intellectual figure in Europe who traveled the world obsessively, collecting many artifacts. "He was a polymath and a Renaissance man," explained Braun, "who at one point incurred the jealousy of Napoleon because the French emperor felt Humboldt was more famous than him!"
The class then went on to read Vermessung der Welt (Measurement of the World), a fictionalized account of the relationship between the well-traveled Humboldt and the German mathematician Carl Friedrich Gauss, who hardly ever left his home province, and the conversations they had about how to "measure the world."
The book is a great way of examining how different myths and narratives originate, and how these affect our worldview, said Tautz. "It also helps underline the truly interdisciplinary nature of German studies, making use of art exhibits, guest speakers, honors projects [see right], and other sources, positioning itself increasingly in a more global, inclusive, and diverse context."
Next semester, Tautz will be teaching German History through Visual Culture and Ethics of the Image. Both classes, she said, will be making use of the resources available in the Bowdoin College Museum of Art.
Hear Birgit Tautz on a recent Bowdoin Presents podcast discussing German literature, translation, and how she works within the field of digital humanities. Listen on Spotify. 
Students in Professor Tautz's class were required to read a chapter of 2022 graduate Gita Kant's honors project as one of their assignments. The project—titled Unraveling Paradise: Colonialism and Disguise in German Language Literature—reflected her strong interest in marginalized perspectives and the different ways through which we come to understand various viewpoints and lived experiences.
"My project uses the concept of masks in reference to the erasure of Pacific island culture and identity when only exhibited through colonizing perspectives and interpretations," said Kant. Her thesis also explores three works of fiction—which are roughly a century apart, starting in the early 1800s— each focusing on a different Pacific island "paradise."
"The authors Gita chose use the notion of 'paradise' to obscure the realities of colonial conquest and violence while simultaneously creating (often ironic) distance between white male European colonizers and the European/German society they have chosen to leave," said Associate Professor of German and Department Chair Jill Smith. Kant's project was especially noteworthy, said Smith, because of how it offers changing perspectives on the dominant narrative.
Kant now works for Bank of America, where she focuses on issues of diversity and inclusion. As a sophomore, she was an intern at the Bowdoin College Museum of Art, an experience she said sparked an interest in "whose voices we center."