George Taylor Files Professor of Modern Languages
Birgit Tautz specializes in literature, philosophy, and culture around 1800, the legacy of the eighteenth-century today, and  post-1945 visual and cinema studies. Tautz is particularly interested in global contexts of German literature and culture and its transnational impact, and the study of race and ethnic difference. She is the author of two books, an edited and a co-edited collection of scholarly essays, and numerous articles. Her recent book - Translating the World: Toward a New History of German Literature around 1800 (PSU Press, 2018) - is the winner of the SAMLA book award (2019) and was shortlisted for the Kenshur Prize in 18th-century studies the same year. Tautz also works with Digital Humanities methods; in cooperation with Crystal Hall (Digital and Computational Studies), she edited German and European Cultural Histories around 1800: Between Network and Narrative (Oxford Studies in the Enlightenment, 2023). The book originates from an international conference which brought a distinguished group of scholars to campus for a Humboldt-Kolleg and Symposium (April 2017). 
Birgit Tautz's research and teaching are interrelated, and this connection shows in many of her innovative courses, for example in seminars like Myth,Media,Modernity, which involves work in the Museum of Art; in moduls on migration and Afro-German culture she developed for Made in Germany, or in (Not) Lost in Translation: German across the Disciplines, in which students pursue their own translation and German language projects across disciplines, including computer science, economics, or film. Her contributions to Cinema Studies include Ethics of the Image and Terrorists and Spies, Borders and Bridges. The different courses are unified by Tautz's project-driven pedagogy and her commitment to creating inclusive environments for students' inquiry and success at all levels.
Birgit Tautz regularly works with students on their independent research projects (honors) and mentors them in advancing this work beyond Bowdoin: In 2022-23, Annika Moore '23 works on recent contemporary German novels by women authors, and Sofie Brown '23 studies the role of translation in "exporting" Uncle Tom's Cabin to 19th century Germany. In 2021-22, Brigita Kant '22 uncovered the impact of colonialism in German Samoa. Prof. Tautz also enjoys working with students as research assistants, most recently with Sophia Hirst '24, Joseph Vorno '22 and Lily Poppen '22.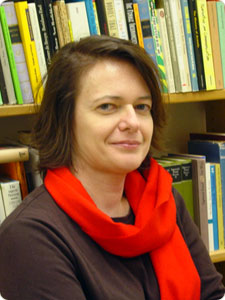 Education
PhD, German, Comparative Literature, University of Minnesota, 1998
MA, German, University of Wisconsin, 1992
Diplom Germanistik, University of Leipzig, 1991