George Taylor Files Professor of Modern Languages - on leave for fall semester 2021
Birgit Tautz specializes in literature, philosophy, and culture around 1800, the legacy of the 18th century today, and post-1945 visual and cinema studies. She is the author of two widely acclaimed books, an edited collection of scholarly essays, and numerous articles. Her most recent book - Translating the World: Toward a New History of German Literature around 1800 (PSU Press, 2018) - is the winner of the SAMLA book award 2019. It was shortlisted for the Kenshur Prize 2019 and will be featured in a roundtable at St. Andrews, Scotland, in May 2021. She just completed a collaborative project with Crystal Hall (Digital and Computational Studies), on Network@1800: New Directions in European Cultural Studies. The latter brought a distinguished group of scholars to campus for a Humboldt-Kolleg and Symposium (April 2017) and involves new and collaborative ways of bringing research to the public.
Tautz's research and teaching are interrelated, and this connection shows in content and approaches in many of her innovative courses, for example in (Not) Lost in Translation: German across the Disciplines. The course explores aspects of contemporary German language and culture beyond literature and film, especially in the contexts of business, politics and law, environmental policy and science. All students develop their cultural competence through specialized linguistic and interpretive skills and appropriate techniques of translation. Likewise, Tautz's work on film, cinema, and image ethics draws much of its inspiration from her Cinema Studies courses (Ethics of the Image; Terrorists and Spies, Borders and Bridges; Nazi Cinema). Tautz is presently writing a book on film, and she recently edited a special journal section on "Ethics of the Image" in South Central Review 36.3 (2019).
Birgit Tautz regularly works with students on their independent research projects (honors), and she enjoys working with them as research assistants. Most recently, Joseph Vorno '22 has assisted with Professor Tautz's work in Digital Humanities, as well as on a project about 18th and 19th century objects, and Lily Poppen '22 has supported Tautz's editorial work for the Goethe Society of North America.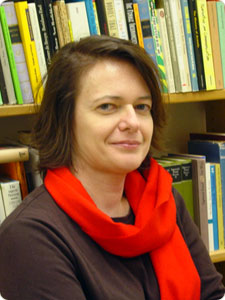 Education
PhD, German, Comparative Literature, University of Minnesota, 1998
MA, German, University of Wisconsin, 1992
Diplom Germanistik, University of Leipzig, 1991