Published November 15, 2022 by Bowdoin Magazine
The Revivalist
Gabriele Caroti '97 has an encyclopedic knowledge of films and music that he's using to give new life to vintage, underseen, and underappreciated works as the founder of Seventy-Seven.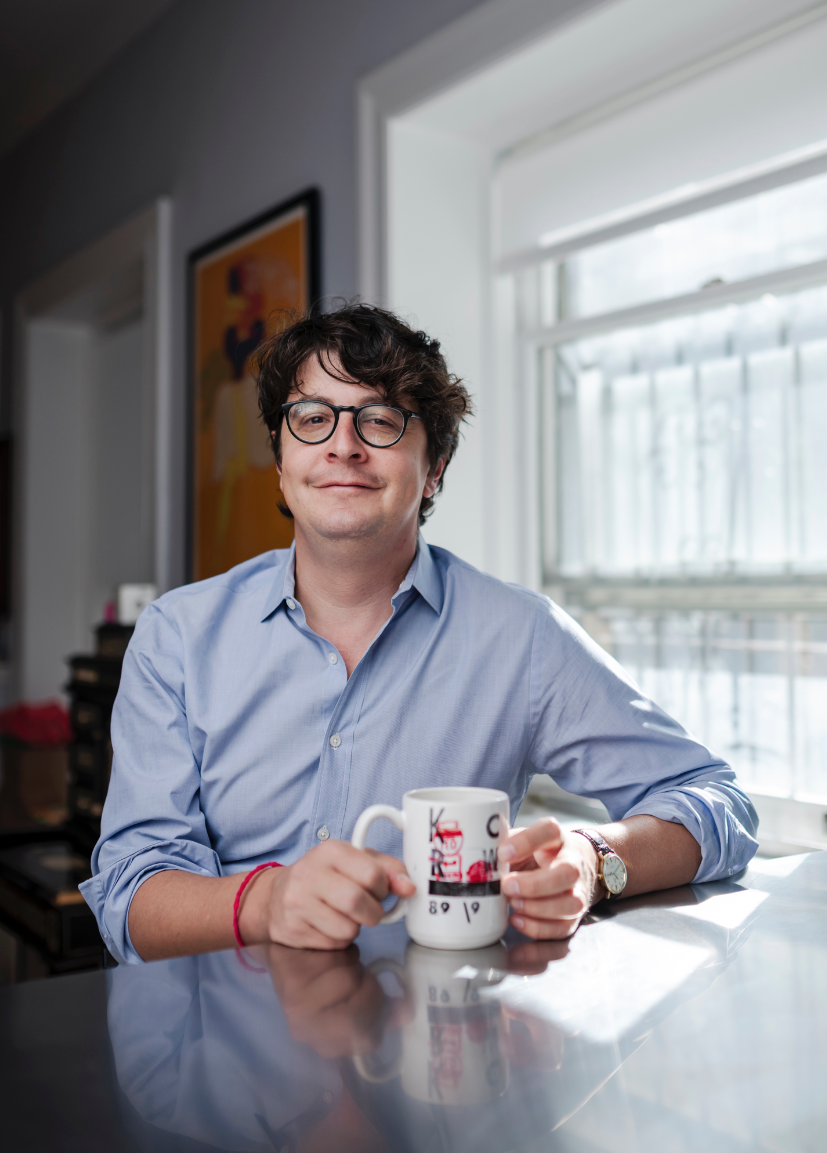 How did you become interested in repertory cinema and music? 
I've always been interested in "old" movies and music, starting from when I was a kid. I was always listening to music that wasn't really part of my "era," so to speak, not just "classic rock" (I hate that term), but bands that had stopped existing ten years prior. In sixth grade I became obsessed with the second volume of the Beatles' 1967–1970, known as the Blue Album, and then a year later Led Zeppelin II—"The Lemon Song" was my favorite tune. I remember being in awe—and still am—of John Paul Jones's bass playing. Although soon after I discovered The Smiths' Hatful of Hollow, and the doors blew wide open: in 1989 under my eighth grade middle school yearbook photo I wrote "The Smiths," "Joy Division," and "Steely" [Dan]! I had eclectic tastes even way back when.
I fell in love with movies maybe a little later, in high school. Freshman year we rented Spike Lee's Do the Right Thing from our local video store, and I had never seen something that powerful. I then discovered Sidney Lumet's Dog Day Afternoon (shot in Windsor Terrace, Brooklyn, only a few blocks where I would end up living) maybe a year later. Later, at Bowdoin, my first obsession became Truffaut's Les quatre cents coups (The 400 Blows) from 1959 and his whole Antoine Doinel Cycle—four films featuring Doinel as the main character, an alter ego of sorts for Truffaut, played by the iconic Jean-Pierre Léaud. I remember writing a paper for Professor Welsch on Baisers volés (Stolen Kisses) from 1968, Truffaut's second feature in the cycle, and then later being completely—ahem—boulversé by postwar European cinema such as [Michelangelo] Antonioni and Luis Buñuel.
I saw contemporary foreign films at The Movies in Portland, as different as Chen Kaige's Farewell My Concubine and Nanni Moretti's Caro Diario. And then in Paris my junior year second semester, I went to a Blaxploitation festival at the Cinémathèque française and saw Melvin Van Peebles' debut The Story of a Three-Day Pass and Tamara Dobson as Cleopatra Jones.
I think cinema is the best art to lose one's self in. As the "seventh art," it has every artform within it—two-dimensional moving images and narrative; sound and music; and also it can be the most lyrical and poetic. And to paraphrase the folks at the Cinema60 podcast—founded and cohosted by another '90s Bowdoin alum, Bart D'Alauro (Hi, Bart!) and the great pop culture critic Jenna Ipcar—it's the ultimate way to time travel! If you wanted to see how life was in the '60s the best way is probably movies made back then—or, even better, documentaries or documentary fiction hybrids. How was it to see Jimi Hendrix play live? Watch D. A. Pennebaker's Monterey Pop. How was la dolce vita in Rome among the glitterati? Watch Federico Fellini's eponymous film with Anita Ekberg and Marcello Mastroianni. How about crossing the Atlantic into the next decade and hanging out in Times Square in the early seventies? Ivan Passer's Born to Win with George Segal and Paula Prentiss! (Here's a shout-out to my friends Fun City Editions who just released the definitive edition of that film on Blu-ray!) Or maybe just travel a few blocks south to Madison Square Garden that same year (1971) to see Muhammad Ali face Joe Frazier in William Greaves' seminal documentary The Fight. Or do you want to go out west in LA but wish it was 1969? Jacques Demy's Model Shop could provide the answer. Or what about a concert in North Africa in 1980? That would be Trances from 1981 a documentary following who Scorsese called the "Rolling Stones of Africa," the band Nass El Ghiwane. Or let's to loop back to Seventy-Seven's films: how was it being an East London teen in '69 or a twenty-something Black reggae DJ ten years later under Prime Minister Margaret Thatcher? The answer could be in Barney Platts-Mills' Bronco Bullfrog or Franco Rosso's Babylon.
Can you explain a little about what Seventy-Seven does and what you do in your role?
The line on the Seventy-Seven website distills it pretty well: "a boutique movie label focusing on vintage, underseen, and underappreciated work." When you see a studio logo on a film release—be it Universal's globe or the Paramount mountain circled by the twenty-two stars—that is the company that owns and releases the film in theaters. In the case of the big studios, for the most part they produce, or coproduce, the film themselves. But there are many smaller companies "picking up" and distributing independent films, after the film was already finished and premiered at a festival. Fox Searchlight (Fox's mini-major "independent" arm) does that as well, as does NEON; they might've purchased the worldwide rights to the film and will release it on all platforms in all territories.
Seventy-Seven does the same thing, but with films that were either never released in the US (e.g., Babylon) and gives them new life, first in theaters, streaming, and then eventually blu-ray; or movies that maybe were released but fell into obscurity, as is the case of Bronco Bullfrog, which only played for about a week in the Upper West Side in 1972, and for an even shorter stretch in LA and San Francisco a bit later.
I'm a man of many hats, so I manage acquisitions, marketing, sales and more. It's a labor of love and a little operation with a small group of passionate folks I work with to make everything happen. 
What was the inspiration for Seventy-Seven, both the name and your founding of the label?
I'll start with the name: it was difficult for me to come up with a good name and I had a lot of different ideas, none of which I was really happy with. All of a sudden that number popped into my head. Seventy-Seven refers to the year that my family moved to the States—to suburban Connecticut from Milan, Italy, in the fall of 1977. The name just stuck, especially because it's an amazing year for movies—and music. That year we got Friedkin's Sorcerer, Buñuel's That Obscure Object of Desire, Allen's Annie Hall, Altman's 3 Women, Cassavetes's Opening Night, Lynch's debut, Eraserhead, Mel Brooks's High Anxiety, the Taviani Brothers' Padre Padrone, and two family movies: my favorite of the "Love Bug" movies, Herbie Goes to Monte Carlo, and Race For Your Life, Charlie Brown (the whitewater rafting one!), which I remember seeing on TV in the early '80s and for me it was the television event of the year. Also, Herzog's La Soufrière, one of the greatest documentaries ever made, and a couple of low budget sci fi indies, not sure if you've ever heard of them, Close Encounters and Star Wars.
And with music, the list is even longer: David Bowie's Heroes, Kraftwerk's Trans-Europe Express, P-Funk's double live album documenting their 76-77 Earth Tour, Fleetwood Mac's Rumours, Steely Dan's masterpiece, Aja, The Isley Brothers' Go For Your Guns, and a ton of first albums from Talking Heads (77, natch), Peter Gabriel, Black Uhuru, Elvis Costello, Television, Suicide, Chic, Ian Dury, The Jam, the Sex Pistols' first and only album, and arguably the first techno record ever, Donna Summer's seminal single "I Feel Love." And so many great punk and hardcore bands formed on this side of the pond: Bad Brains, Black Flag, X, the Misfits…
It's one the greatest years for reggae, too: The Congos' Heart of the Congos, Culture's Two Sevens Clash, Althea & Donna's hit "Uptown Top Ranking," Gregory Isaac's "Mr. Know It All," Black Uhuru's "I Love King Selassie" and, last but definitely not least, of course, The Upsetters' Double Seven is one of my favorite reggae records ever, although it's from '73!
My inspiration essentially could be traced to Bowdoin and WBOR. I will never forget watching all 207 minutes of the Criterion Collection LaserDisc of Kurosawa's Seven Samurai in the basement of Sills on a rainy weekday afternoon. But back to reggae: While I was music director at WBOR, the—what would eventually become legendary—reggae reissue label Blood & Fire, started by Jamaican music historian Steve Barrow, had just launched and the US distributor sent us promo CDs. I can honestly say, and I'm not exaggerating, that it changed my life. I remember where I was when I first heard King Tubby "at the controls." I was in my room in Brunswick Apartments listening on headphones played on a borrowed discman. Exhuming impossible-to-find reggae 45s in the most definitive editions with stunning artwork, it was—and still is—one of the most inspiring companies.
What are your goals with the label?
I've always said that my goals are very simple: exposing as many people as possible to art—in this case, movies—they wouldn't have otherwise known about. I'm a big believer and supporter of the theatrical experience. To me, that experience is key: the moving image, although linked to a solo viewing experience from the advent of the nickelodeon, has always been a collective artform, like going to the concert hall or the theater. Watching a movie with a group of strangers is a physical, palpable, and at times transcendent experience; it's both collective but deeply personal.
What do you find to be most satisfying about dealing with repertory works?
I think the archeological, historical research aspect to me is the most satisfying. Part of the narrative of the film is the narrative of the discovery of it; they're intertwined. The fact that Bronco Bullfrog's original negative almost got destroyed and was rescued from a dumpster by an archivist becomes part of the story of what you see on the screen.
Among your many accomplishments, what are you most proud of?
I've said this before, but I keep going back to it: helping rediscover one of the greatest-ever New York movies, Stations of the Elevated, by Manfred Kirchheimer, is to me one of my most proud accomplishments. He's a true NYC auteur, and Stations is the first-ever film about graffiti, a stunning elegiac wordless experimental documentary and ode to New York, shot in the late seventies and set to Charles Mingus and Aretha Franklin. We hosted Manny for the world premiere of the restoration at BAM's historic Harvey Theater in front of a sold-out crowd of eight hundred people, with an incredible overture by the Mingus Dynasty. Manny and I have been friends ever since, and it's always been an honor for playing even a small part in having these films out for the world to see.
What gets you out of bed in the morning?
I could say "all of the above," as well as a big cup of my new favorite coffee (Caffè Hardy) from a moka pot, but primarily my five-year-old daughter, Lucia, yelling out "Is it time to wake up?!" (That happened today at 5:45 am.) 
What makes you feel most alive?
Seeing Lucia speed ahead of me on her little pink bike while spending time with our lil fam—there are only three of us!
What are you passionate about?
See above and below! Also, here's some comedy in somewhat accurate chronological order: the Marx Brothers, Peter Sellers, Don Rickles, Mel Brooks, Conan O'Brien, Mike Myers, Chris Rock, Ricky Gervais (yes, controversial, I know!), and Dana Carvey's recent impression of Joe Biden. Oh and the most beautiful song ever written, Thelonious Monk's "'Round Midnight."
Is there something you believe few people know about you that they may find surprising?
My unwavering love for Gordon Ramsay.
What pursuits do you enjoy in your spare time?
Cycling
Skiing
Tennis
Gardening
Tinkering
What I like to call "light" electrical work
Playing records for myself and others (I DJed a bit in NYC in a past life)
Playing the "thunderbroom" (the bass guitar)
I would say hiking, too, but I don't do it enough!


---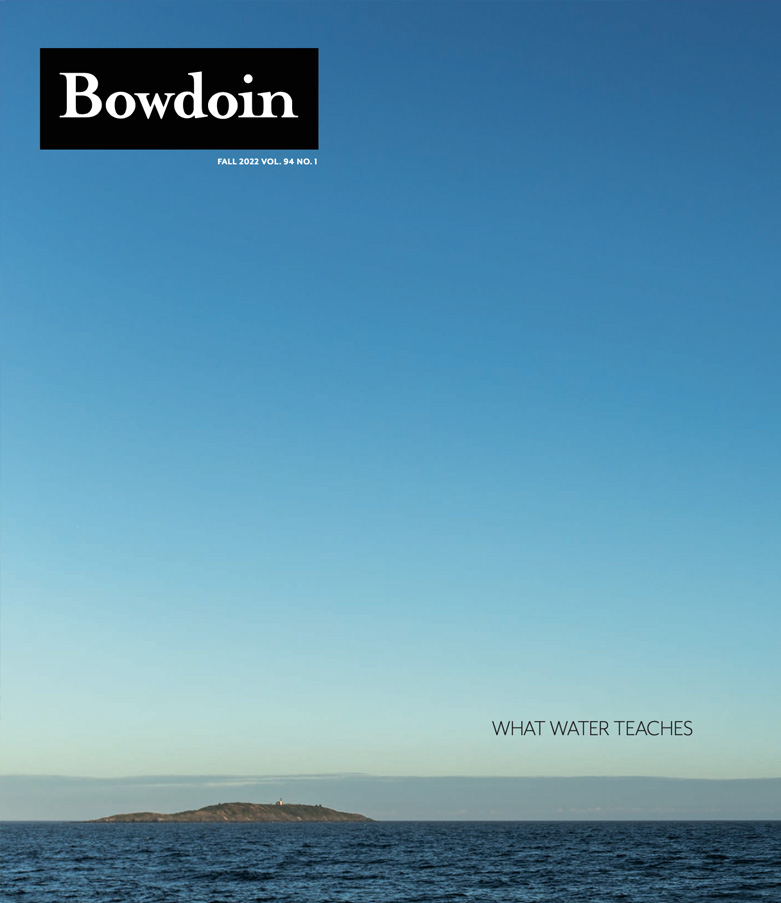 This story first appeared in the Fall '22 issue of Bowdoin Magazine. Manage your subscription and see other stories from the magazine on the Bowdoin Magazine website.