Published November 15, 2022 by Bowdoin Magazine
Steady Ship
As head of American Roll-On Roll-Off Carrier Group (ARC)—a major cargo and freight company—Eric Ebeling '98 is responsible for navigating everything from a supply chain crisis spurred on by the pandemic to global wars and geopolitics.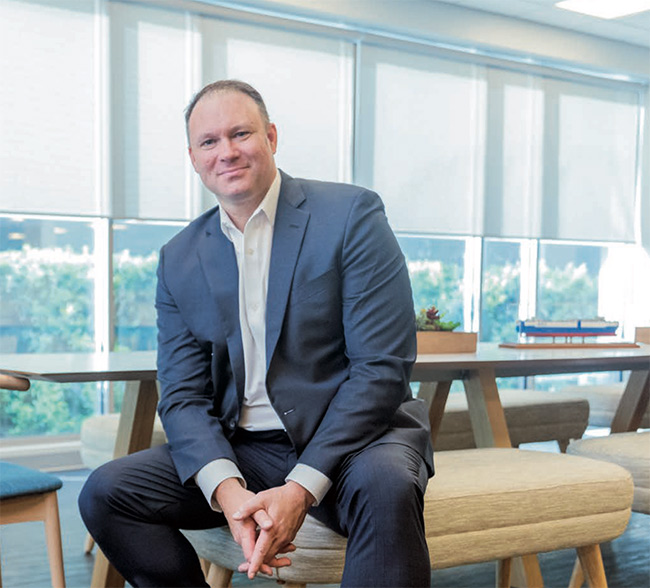 People think of shipping fleets as moving consumer goods around the world. On a daily basis, what are the types of things being carried on your ships?

Our ships are roll-on/roll-off—or ro-ro—ships, essentially giant floating parking garages with twelve adjustable decks, each 600 to 850 feet long, and capable of carrying 6,000 to 8,000 autos or other configurations of what is referred to as "high and heavy" cargo for industries such as mining, construction, and agriculture.
What caused the supply chain crisis and why is it so hard to fix?

It was a mismatch of supply and demand. At the outset of the pandemic, global trade fell off a cliff, and hundreds, perhaps thousands, of ships were laid up because there was nothing to carry. All of a sudden, consumer demand—largely driven by the boom in e-commerce and at-home online shopping—spiked, and demand reached levels that were impossible to predict and difficult to meet in an economy that was still largely shut down, especially overseas. It takes years to build a large commercial ship, and the global ship orderbook is now chockablock full through 2025 or so. It will take time to bring capacity online.
You do a great deal of work that's critical to the Department of Defense. What shape does that take? Why is that important?

The Department of Defense and US Government writ large relies on US-flag carriers to support global operations. We move everything from privately owned vehicles and household goods for military service members and Department of State diplomats to M1 tanks, V-22 Ospreys, various types of helicopters, and other power projection equipment. We also move project cargoes such as locomotives, railcars, buses, generators, and satellites, as well as commercial autos, agricultural equipment, and construction and mining gear.
The dedicated transportation and logistics professionals that I'm privileged to lead have enabled ARC to support DoD and its mission for over three decades—from the post-Cold War European drawdown and the Balkan wars in the '90s to Iraq and Afghanistan post-9/11 and today, as the world responds to Russia's invasion of Ukraine. Our services go well beyond just ocean shipping, encompassing terminal service, stevedoring, trucking and intermodal operations, and life support services. The mariners employed by ARC and other US-flag commercial operators also provide the reserve manpower pool that crews government-owned ships in times of war and other national emergencies.
Does port congestion and ports with limited on-shore facilities affect your business? Are you at all concerned about the ability of the US to build and maintain modern port facilities? What about Chinese ownership or part ownership of US ports? Does that concern you?

Port congestion definitely impacts our business, and it points to the importance of infrastructure investment. However, ships and ports are just one part of the supply chain. Supply chains also include suppliers, manufacturers, rail, truck, distribution centers, warehouses, vehicle processing centers, and IT systems, among others.
Port congestion has actually been a much larger issue in Europe and parts of Asia and South America than it has in the US. The main issue in the US—particularly for container ports—has been throughput, i.e., getting containers off the valuable and limited real estate in the port.
In our federal system of government, it is not really feasible to have a national port strategy that favors building up one or two strategic ports on a given coast. However, federal funding is very important to building up infrastructure and ensuring that ports are dredged to a level commensurate to support the larger ships in international trade. The recently passed infrastructure bill should help.
The Chinese Communist Party has prioritized a leading role for China in maritime and trade. About a quarter of US trade moves on Chinese ships, whereas less than two percent of US trade moves on US-flag ships. Over ninety-six percent of containers are made in China and about half the world's large commercial ships are built in China. Fewer than 200 large commercial vessels flew the US flag at the end of 2021 versus more than 5,000 Chinese ships. Much of this is due to decades of heavy state subsidization by the Chinese government.
Regardless of one's political views, this kind of market concentration is inherently risky.
The US is still largely preeminent in terms of defense and "sea power," and the US-flag fleet in international trade is a part of that calculus, existing as it does primarily to support national security and a modicum of economic security. The size, scope, and projection afforded by the US Navy largely helped to underwrite seventy-five years of economic growth and globalization. Arguably, that is now at risk. And the lack of a true national maritime strategy means that we have insufficiently focused on the nonmilitary elements of the maritime ecosphere.
Trade and peace are often historically interlinked, and we should hope that leaders and policymakers in both the US and China find ways to build toward peaceful coexistence, but there is of course an undeniable "great power" geopolitical element to the relationship that must be borne in mind.
How has the war in Ukraine affected your business? The US has been sending weapons and other support to Ukraine—is that the sort of thing you do?

Yes, we have been supporting the US and NATO response to the Russian invasion of Ukraine. In fact, we have been quietly doing so since the Russian invasion of Crimea in 2014, which helped galvanize NATO out of its post-Cold War malaise. ARC moves unit cargoes, sustainment, vehicles, and other support cargoes. We work especially closely with US Transportation Command, which is headquartered at Scott Air Force Base in Illinois. 
With Hurricane Ian having hit Florida so hard, this question is kind of top-of-mind: How does weather affect your business? With more storms and more severe storms predicted as a result of climate change, what kind of adaptations are you needing to make?

Ocean shipping and logistics is a global business and, as a safety-conscious organization, we are always mindful of weather as a huge factor. We have advanced weather routing systems on all our vessels, and there is constant communication between leadership ashore and the officers and crew onboard the ships, so that we ensure safety while staying on schedule to the maximum extent practicable.
Your fleet sails in some pretty challenging places. How do the geopolitics of waters like the Taiwan Strait and the Persian Gulf affect what you do?

As a US-flag carrier employing American citizen merchant mariners and carrying government and military cargoes, there are certainly challenges and opportunities that come with that territory. Piracy was a major issue off the Horn of Africa a decade or so ago, and we at ARC took the decision to put armed security guards on board to protect our crews, cargo, and ships.
Was there any impact to your fleet in March 2021, when the Ever Given was stuck in the Suez Canal?

The Ever Given situation was an example of the relative fragility of the "just in time" nature of global supply chains. It was not a major issue for ARC per se, since our trading patterns are more in the trans-Atlantic these days, but on a macro level it shows the need for investment in modern infrastructure to support the ever-larger ships in international trade.
You majored in English and government at Bowdoin and then earned a JD. How do you use your education in these fields in your work today?

Majoring in government and English at Bowdoin helped expose me to a broad range of issues, viewpoints, writing styles, and implications. We deal extensively with the federal government on policy and defense issues and other national and local governments on trade, maritime, and related issues. The joint JD (focused on international law) and MA in international relations program at American University in Washington, DC, also provided useful grounding for a range of issues.
A member of the Bowdoin swimming team and a water polo player and now a leader in the shipping industry—are you at your happiest around water?

I guess you could say I've always had an affinity for the water.

You're coming up on your 25th Reunion—what's most memorable to you about your time at Bowdoin?

That's an easy one. The people. Many of my best friends to this day are from swimming and water polo at Bowdoin. And many nascent leadership and teamwork lessons were learned as a captain of the water polo team, as an officer at Alpha Delta Phi and the Inter Fraternity Council, and elsewhere. There were a lot of great academic experiences too of course—special shoutout to Professors Collings, Potholm, Watters.


---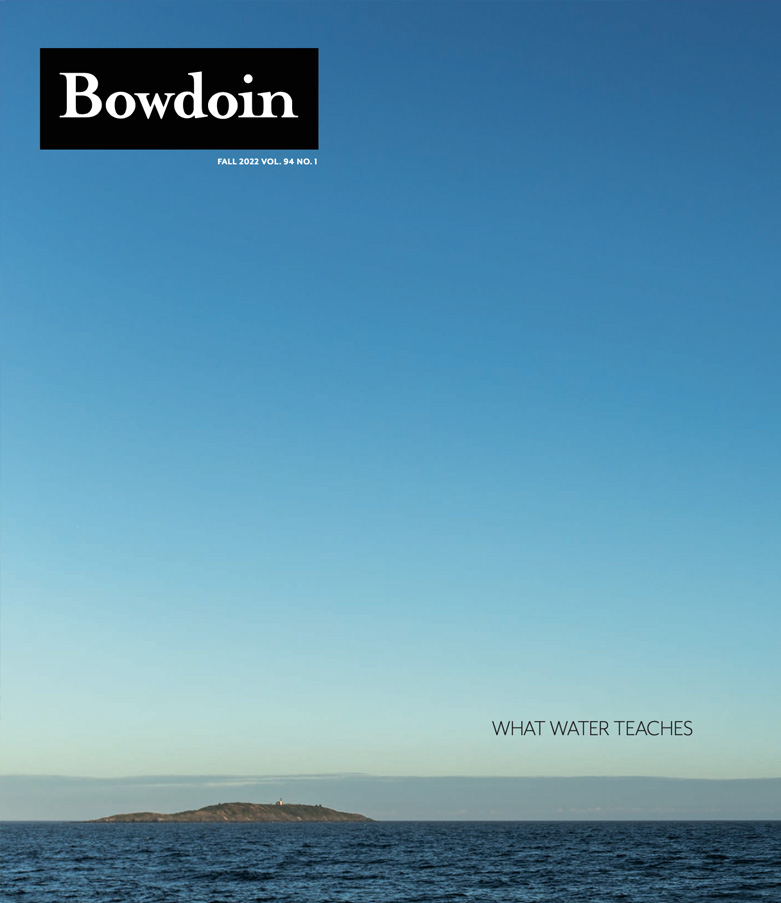 This story first appeared in the Fall '22 issue of Bowdoin Magazine. Manage your subscription and see other stories from the magazine on the Bowdoin Magazine website.