Published November 15, 2022 by Carl Spielvogel '13 for Bowdoin Magazine
Honoring the Animals
I knew I wanted to become a wildlife and aquatic veterinarian in high school. I spent summers volunteering for the New England Aquarium animal rescue team and interning at Woods Hole Oceanographic Institution, and was inspired by veterinarians who used their talents to help animals.
I loved my time at Bowdoin. I was a bio-chemistry major but took classes in the history of the Civil War and music classes in audio production. Through a connection in the Bowdoin network, I spent a summer in China studying an invasive tree species on the Wolong Giant Panda Reserve—one of the most eye-opening experiences of my life.
I remember a biology class where Professor Bruce Kohorn used his nondominant hand to draw cellular structures because he had accidentally shot the other one with a nail gun. He taught me and so many Bowdoin students so much.
My friends included students from all backgrounds, ethnicities, and sexual orientations—people with a variety of interests, opinions, and career aspirations. During an average meal, I would sit at a minimum of three tables, chat about classes and social life, talk curling with my team I helped found, and do some pepper flipping (if you know, you know).
After graduating, I took a year off before applying to veterinary school, and then moved to Montana to work the night shift at a cattle ranch called the IX, where I helped manage a group of pregnant two-year-old Angus heifers and assisted in their deliveries in temperatures as cold as twenty below. At IX I learned that good ranching involves a significant amount of data collection and analysis. The ranchers monitored soil nutrient levels and considered the genetics of cows and bulls used to rear new cattle. They monitored birthing outcomes and complications, and they graded the mothering abilities of cows to help guide the genetics of the fathering bulls. We even did our own cesarean sections because the nearest veterinarian was a multiple-hour drive away.
The cowboys I worked with followed a strict moral code and taught me the importance of maintaining appropriate welfare for their cattle and working horses. Despite being one of the largest ranches in the Americas, they did not use motorized vehicles like ATVs to herd cattle, saying that ranching with horses is more honorable and less stressful for the cattle. The wildlife appreciated that too; during cattle drives through the mountains, elk and deer would travel with the herd and sometimes seem close enough for me to touch. The ranchers taught me to shoot high-caliber rifles, and I learned the necessity of staying on your horse, especially when you are crossing a river in freezing weather.
Near the end of calving season, I woke up in the machine shop where I slept and checked my email, finding a congratulatory message from the dean of admissions at the University of Pennsylvania School of Veterinary Medicine. I finished up at the ranch and started veterinary school in 2014.
Vet school was unlike anything I had ever experienced—even at Bowdoin. There were so many species and biological systems to learn, and we had to know the exact mechanisms by which medications are absorbed and metabolized differently between species or even differently between breeds. We had to learn which medications are safe for different animals, breeds, and age groups, and anatomic differences detected on X-rays or differences in laboratory test results between animals.
I was awarded a scholarship to perform research at the New England Aquarium's Sea Turtle Hospital on the use of ventilators in cold-stunned sea turtles and delivered a presentation on my research, which I later finished and published, at an International Association for Aquatic Animal Medicine conference.
That conference was the first I ever attended, and at the opening dinner, I sat next to Juli, the woman who would much later become my wife. Juli remembers me talking a lot about shrimp farming.
I left vet school with a degree and a license to practice veterinary medicine, a cat my classmate found on the street named Snoopy, and a kitten from a Philadelphia dumpster that another friend had rescued, named Woodstock. Together, we moved to Massachusetts, and I started work at a one-year internship in a specialty and emergency animal hospital outside of Boston.
As part of my internship, I spent a month at the New England Wildlife Clinic and the Aquarium of the Pacific. At the clinic, I performed my first-ever surgery on a wild bird and got my first experience as a doctor treating a variety of exotic and wild animals. At the aquarium, where Juli and I had the opportunity to work together, I gained experience caring for animals ranging from penguins and sharks to seals and sea otters.
After my internship, I was accepted to a residency in Buffalo, New York, where I worked in a private practice specializing in the care of birds and exotic species. There I learned to treat parrots, snakes, turtles, frogs, rabbits, guinea pigs, emus, falcons—you name it. I also worked for a wildlife hospital, where one of my favorite patients was a wild female snowy owl whose wing I repaired after she was hit by a car.
I also worked part-time, on my days off, for the Aquarium of Niagara, initially helping care for their penguin colony. By the end of my residency, I was providing care for their entire collection, and I'm now also in charge of their animal welfare and research. I also work as an emergency vet for dogs and cats at the Greater Buffalo Veterinary Emergency Clinic.
I now know a great deal about animals and birds. But I've learned that my work is not just about their care—it is as much about their humans.

I have treated eighty-plus-year-old parrots that have been with their now-elderly owners since they were children. I have worked with police dogs and their canine handlers, who rely on each other to safely execute their duties, and I know an army medic who owes his life to a dog that shielded his unit from incoming bullets in Afghanistan.
As an emergency veterinarian, I am regularly confronted with difficult, sometimes combative owners. Many don't understand that an easy and cheap fix is not always possible. Some animals don't get the care that they need, whether their owners can afford it or not. I also see owners who struggle to make ends meet and yet take out thousands of dollars in loans to prolong the lives of their animals. I face moral dilemmas on a daily basis, and it can be difficult for me to distance myself.
Extreme staffing shortages amid an unprecedented increase in animal ownership means that I regularly work twelve- to fifteen-hour shifts as the only doctor at the emergency room. I perform critical care and surgeries on very sick animals while dealing with an ER often bogged down by noncritical conditions or diseases that could have been prevented by routine care and vaccinations. I also have to euthanize animals on a regular basis. There is a cumulative toll to the sorrow and difficulties that we encounter.
But the positive aspects far outweigh the negative, and writing this column reminded me of people who helped me choose my path and pursue my dreams. I am grateful for my friends and family, and the many professors, scientists, and animal care professionals I have learned from.
First table-mates and then colleagues, Juli and I got engaged on a beach in California, and I managed to convince her to move to Buffalo. We were married in September 2021 at her parents' home in Durango, Colorado, in what was my first reunion with many of my Bowdoin friends. We now work together at the aquarium. We bought a house this year and are expecting our first child (a boy) in March. I am so excited to be a father, and I have been spending every minute of my free time scraping, hammering, or painting, making the house perfect for our new baby. We love western New York and enjoy camping, kayaking, fly-fishing, and hiking along the many rivers, gorges, and waterfalls in the area. I can't wait to introduce my son to the many creatures who share this world with us.
---
Carl Spielvogel '13 works at the Greater Buffalo Emergency Veterinarian Clinic and the Aquarium of Niagara. At Bowdoin he majored in biochemistry and founded the curling team.
---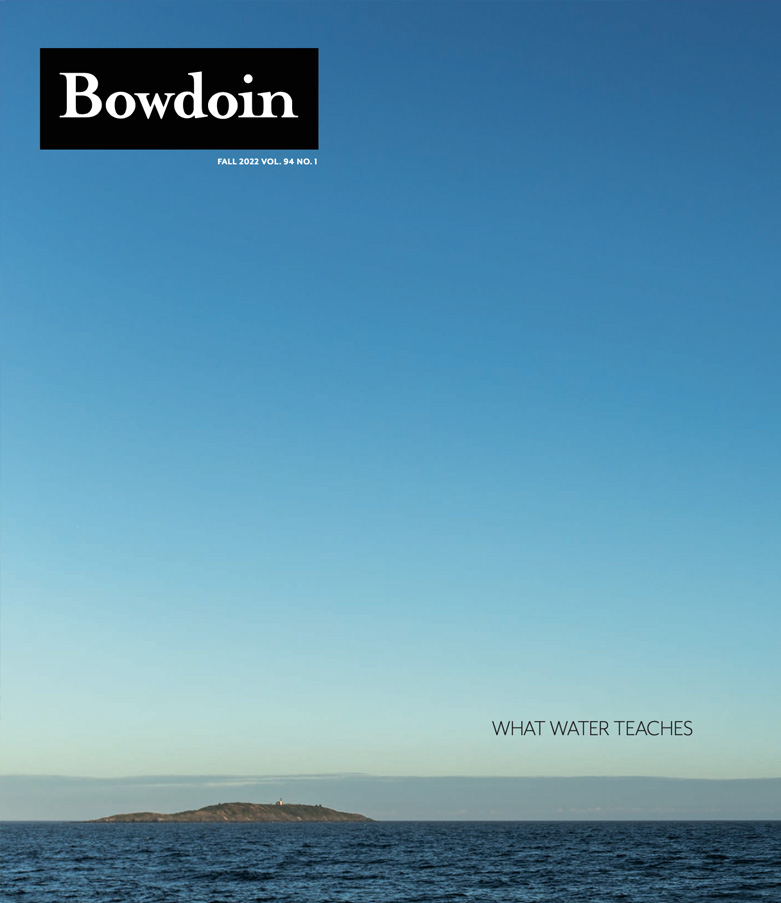 This story first appeared in the Fall 2022 issue of Bowdoin Magazine. Manage your subscription and see other stories from the magazine on the Bowdoin Magazine website.