Published November 15, 2022 by Bowdoin Magazine
Digital Humanist
When she's not studying for her PhD in Screen Cultures, you might find Golden Owens '15 practicing tae kwon do (she's a fourth-degree black belt), singing a cappella group, or reading—her tattoo says "so it goes" in a nod to Kurt Vonnegut's Slaughterhouse Five.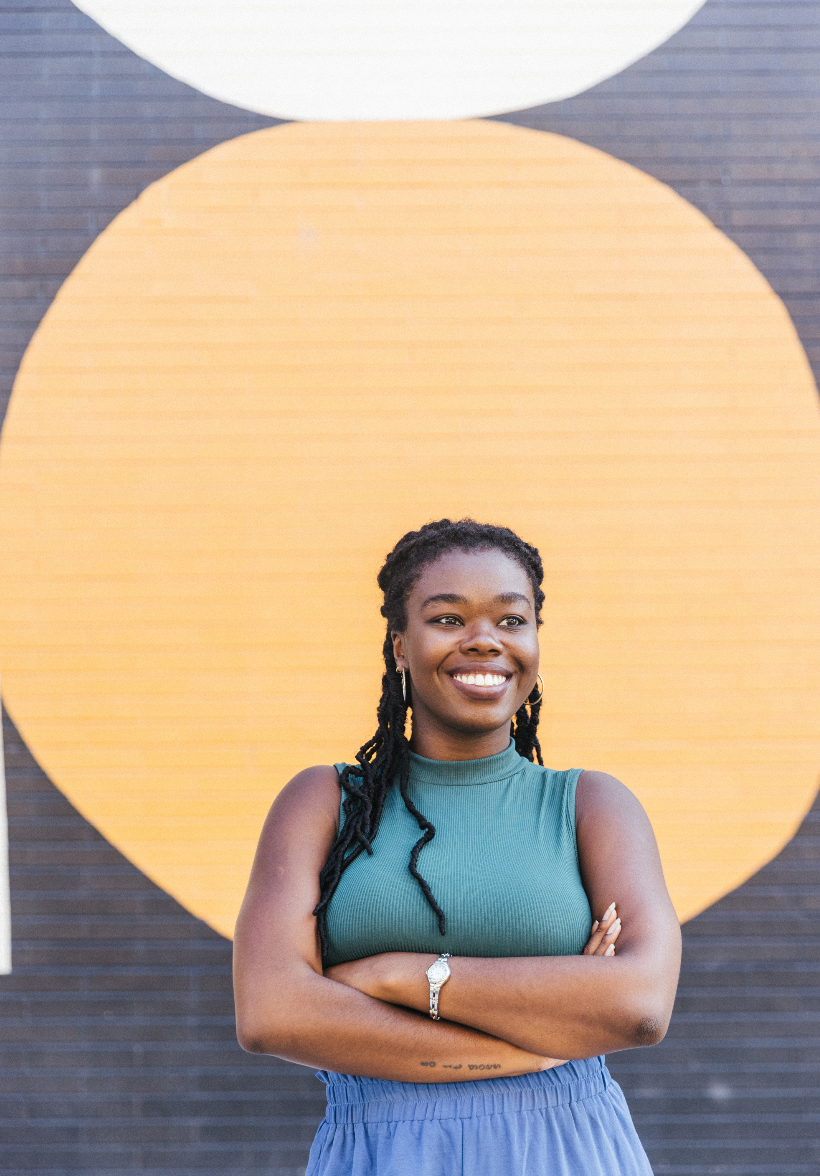 What draws you to the study of digital humanities? What's exciting about the work that you do?

I was initially drawn to the digital humanities by my PhD dissertation, which examines digital assistants like Apple's Siri and Amazon's Alexa and how they are tied to/haunted by a history of Black women's labor in the United States. I've long been drawn to the humanities (I was an English major at Bowdoin, and my honors thesis was on reality television), and doing digital humanities work allows me to take my humanities training and apply it to digital technologies and media, which is something I never thought I would be able to do. The work is exciting because I've always been an interdisciplinary thinker, and digital humanities encourages interdisciplinarity by allowing those who study it to combine one or more humanities fields with the study and analysis of digital technologies. My project enables me to engage with a lot of different fields and schools of thought—even those that may seem unrelated at first glance—and use them to demonstrate and support my argument and uniquely approach my dissertation.  
How did you get interested in the field?

I became interested in the field through the Screen Cultures PhD program at Northwestern University, which is a program that encourages projects that engage in the history, theory, and analysis of film, television, and other forms of media.
In my first year of the program, I took a class called Science Fiction and Gender, and our professor showed us the first commercial for the Amazon Echo, a voice-controlled speaker that housed the digital assistant Alexa, who could assist with household tasks, entertain children, set alarms, etc. The commercial is narrated by a young girl, and at the end of the ad she says, "With all the things Echo can do, it's really become part of the family!"
That language called to mind the way employers often used to describe real and fictional Black female domestic servants as "just like one of the family" and led me to an exploration of digital assistants and how they are programmed to function and respond, how they are depicted in popular media, the types of work they are designed to perform or assist with, the types of work they are designed to do, and how users interact with them. This exploration, which is the basis of my dissertation, has revealed even more similarities to Black female domestic workers, who were often trained to behave in similar ways and perform many of the same tasks, both in the real world and on the silver screen.
Unpacking and analyzing these similarities sparked my interest in digital humanities work.            
What are your aspirations? What do you hope to do when you finish your graduate work?

I aspire to create work that can make people look at and think about everyday things in ways they otherwise may not have. When I tell people what I'm working on, they often say that they hadn't thought about digital assistants in this way, hadn't considered their ties to a longer history of domestic labor and race in the United States, and that makes me feel like I'm doing work that matters. I think it's important to examine how present-day media and technology interact with the past, and I aspire to produce scholarship that encourages people to do that.
When I finish my graduate work, I hope to publish my dissertation and become a tenure-track professor, and I would also love to do media consulting work.  
What inspires you?

I'm inspired by the people around me. I'm in two fields (digital humanities and film/media studies) with people doing such incredible, interdisciplinary work, and being able to share space with them and see the work they're doing motivates me to keep pursuing my own.
I'm also inspired by my friends, inside and outside of academia. I've been blessed to meet people who are always striving for success and achievement in their personal and professional lives, and watching them graduate from law school, thrive in urban planning, or excel as financial consultants—all while working to better themselves—is incredibly inspirational for me.
Finally, I'm inspired by my students. Having taught at Northwestern, been an instructor and advisor for the Mellon Mays Undergraduate Fellowship Program at Bowdoin, and assisted students applying for internal and external fellowships through Northwestern's Office of Fellowships, I have worked with so many incredible students whose own goals and aspirations constantly remind me why I wanted to pursue academia in the first place.
Is there something about the work you do that others would find surprising?

I think people would be surprised by how many different fields this work intersects. Because I'm approaching this digital humanities project through a media studies lens, I engage with film, television, radio, print advertisements, and TV commercials from the nineteenth through the twenty-first centuries. Because I am engaging with digital technology, I'm engaging with science, technology, and some degree of computer programming. Comparing and contrasting digital assistants to Black women domestics means engaging with American history, African American studies, and gender and sexuality studies. My focus on labor means reading a lot of Karl Marx, and my examination of how digital assistants speak and what they sound like means employing sound and voice studies, and scholarship on language and dialect.
It's a project that spans a lot of arenas, which is part of what makes it exciting. 
Is there something about YOU that others might find surprising?

Some of my classmates know this already, but I think most people would be surprised to know that I am a fourth degree black belt in tae kwon do. There are nine degrees, or levels, of black belt in tae kwon do, and to be a fourth degree/fourth dan means that I am a certified master of tae kwon do. I've been practicing the martial art since I was four years old and was teaching my own classes in between graduating from Bowdoin and starting at Northwestern. I am currently a member of the tae kwon do team at Northwestern.
What do you enjoy doing in your spare time?

I love to read, and when not working I enjoy reading things that have nothing to do with my dissertation (everyone needs a break!). I also love singing, and I currently sing with an a cappella group at Northwestern composed of other graduate students. I also like practicing with the tae kwon do team, spending time with my friends, and continuing to explore Chicago; I've lived here for five years but am always discovering something new.
What does the tattoo on your arm say?

It says "so it goes." It's a quote from Slaughterhouse Five by Kurt Vonnegut, and it's pretty hard to read because it's (deliberately) upside down! "So it goes" is repeatedly said throughout the book as a response to death, as an indicator that life continues despite tragedy. The book itself is about a war veteran suffering from PTSD and becoming "unstuck in time" as a result of his experiences in World War II, so death and tragedy are repeating themes, as are the main character's coping mechanisms during and after the War.
An example of "so it goes" appearing is the following quote: "On an average, 324,000 new babies are born into the world every day. During that same day, 10,000 persons, on an average, will have starved to death or died from malnutrition. So it goes."
To me, "so it goes" is a reminder to keep things in perspective and to keep moving forward even when things are hard/sad/objectively awful, because life goes on, even in the face of tragedy.
Favorite Bowdoin memory? Or best thing you learned at Bowdoin?

I have too many fond memories at Bowdoin to pick just one, but the best thing I learned is to be confident in my thoughts and ideas. I have a habit of doing work that others find unexpected, bizarre, or outright ridiculous, and being at Bowdoin and having the support and encouragement of professors helped me to become more confident in myself and my work—even when its validity has been challenged.
---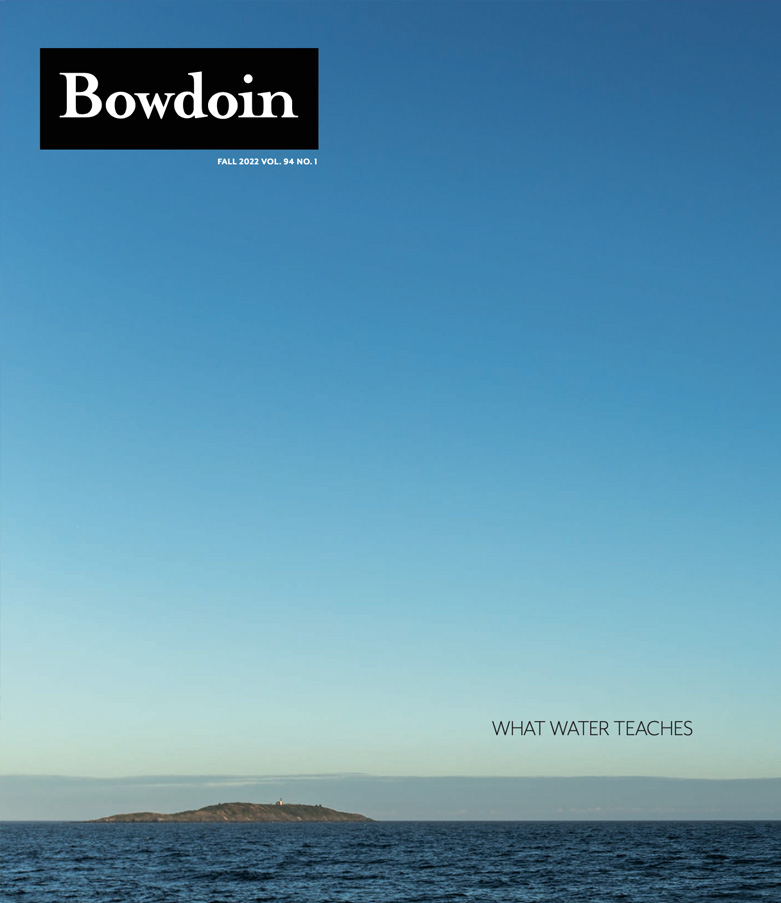 This story first appeared in the Fall '22 issue of Bowdoin Magazine. Manage your subscription and see other stories from the magazine on the Bowdoin Magazine website.