Published November 11, 2022 by Tom Porter
Bowdoin Honors Students and Staff Who Have Served at Veterans Lunch
As the nation honors those who have served this Veterans Day, the College held a special lunch event to say thank you to those among the Bowdoin community who once wore a uniform.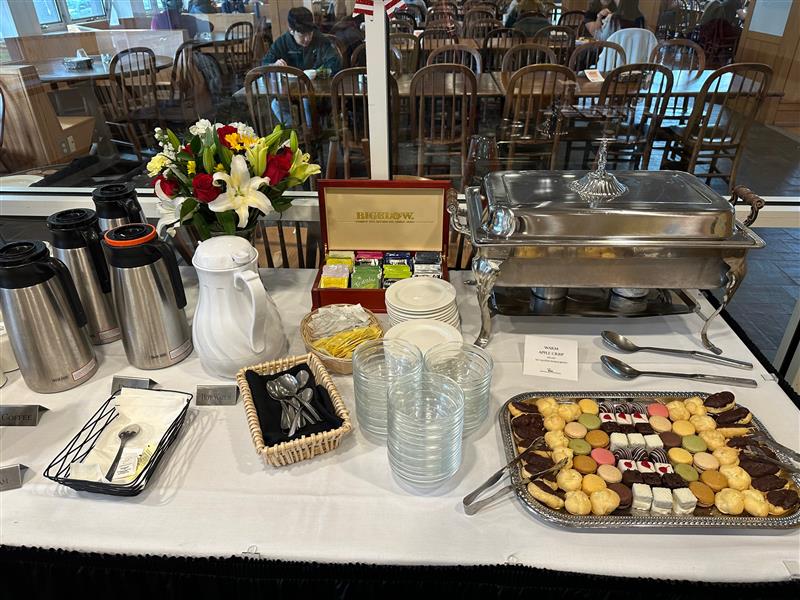 Almost twenty US military veterans, students as well as staff, gathered in Thorne Hall's Pinette Dining Room on Friday, November 11. Among those present was Daniel Hennelly '26, who served eight years in the US Marine Corps, deploying to Japan and South America, among other places. The event gave Hennelly the chance to meet other veterans in the community, including former submariner Hunter Johnson, a ten-year navy vet who now works as a steam engineer in the Bowdoin power plant.
Greg Wallace '24 also served time in the US Navy, where he worked as an Arabic linguist for eight years. "It's really cool to see all this appreciation," he said, pointing out that he only knew one other veteran at the College before this event. "I didn't know there were so many veterans here at Bowdoin," said Wallace. He was sitting next to staff member Paul Joyce, who served in both the army and the Coast Guard and who is now marine operations manager at the Schiller Coastal Studies Center.
Hennelly and Wallace are among the six student veterans now enrolled at Bowdoin. Four years ago, the admissions office began making a concerted effort to enroll more veterans. They find their way to Bowdoin with the help of programs like Service to School (S2S) and VetLink.
"We are incredibly proud of and thankful for our staff, students and faculty who have served and continue to serve in the military," said President Clayton Rose. "Today's lunch is a modest way for the College to acknowledge their service and to thank them."